Mon March 26
It has taken me longer than usual to get over jet-lag this time……a sign I am getting older! Last week there was much to do & people to contact. Friday I flew to Adelaide for the weekend – Saturday being the 1st home game for Port Adelaide. Before the game there was a picnic lunch in the car park with the friends I sit with. It was a good start to what was a great afternoon, with Port winning by over 8 goals. Now I am back in Melbourne & look forward to Holy Week at All SS. On Saturday I go to Sydney, as Port Adel are playing the Sydney Swans on Sunday afternoon.
First-game-march-2018-pinic-lunch-2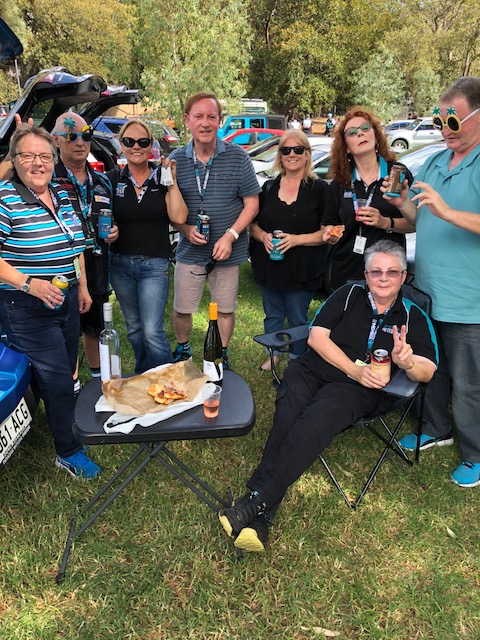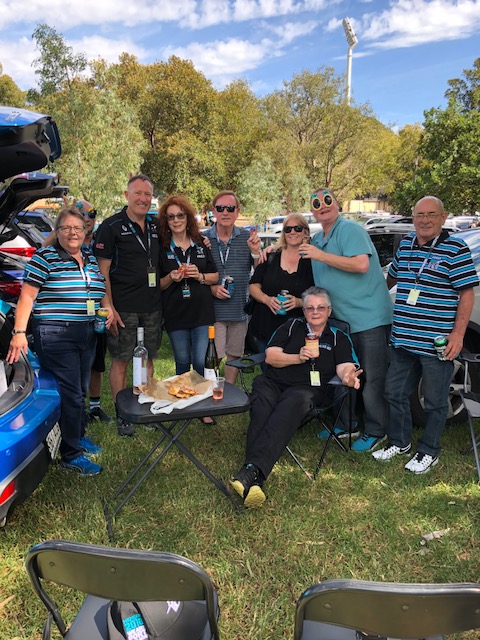 Tues April 3
I had a wonderful weekend in Sydney. Went to Easter Day High Mass at Christ Church St Laurence, the famous Sydney anglocatholic church. 50 years ago when I usually went to Sydney for summer holidays, CCSL & its well-known priest, Fr Austin Day, had a great impact on me (as on so many others). So it was nice to be back. It was a long time ago & my friends from those days have all moved on – but I am grateful for those exciting days of my youth. Then in the a/noon I went to the SCG to see Port Adel do battle with the Sydney Swans. It was a wonderful game as Port came from behind to kick 7 goals in the 3rd 1/4ter & run out winners. I was sitting with the cheer Squad only 2 rows from the fence & it was very exciting. At the end of the game the players came down to us to show their appreciation, as usual.
I flew back to Melbourne yesterday – in time to go to the MCG for the Easter Monday game. And what a game it was, won by a point in the last minute. No wonder I love my footy! Today I assisted at the funeral of Fr Ian Hunter at All SS. I have known Fr Ian for 40 years & we were great friends thru our membership of SSC. The church was packed for the Requiem with a choir of 20 singing glorious music. It was a great send-off for a fine priest whom everyone loved.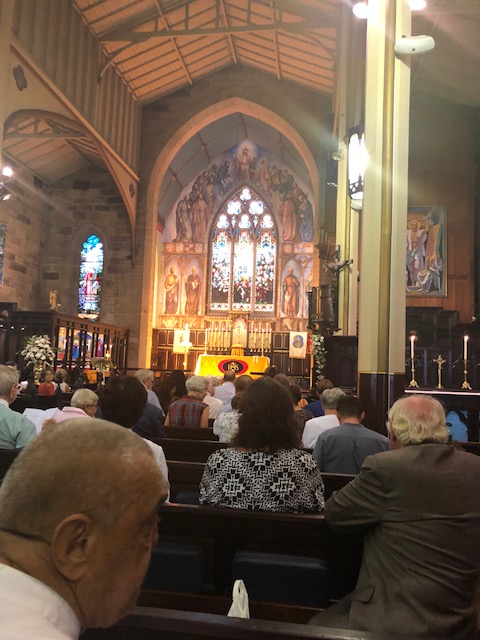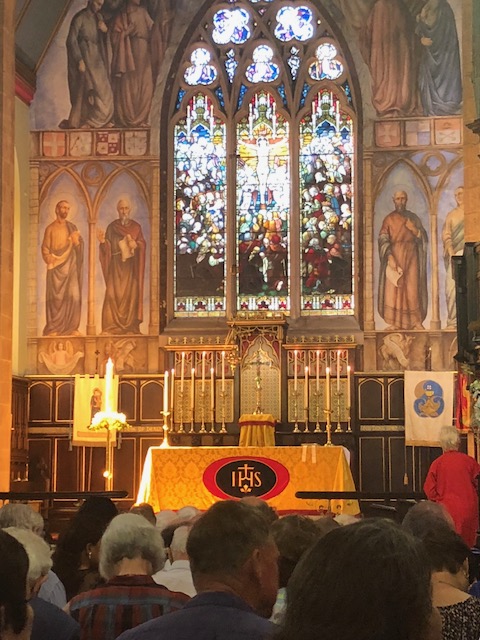 Watch this Easter 2018 Monday game short movie
Tues 17
Last Wed I attended the monthly lunch of the Royal Society of St George. This is one of the British patriotic groups that exist in Australia to promote & celebrate our British heritage. Back in 1974 I belonged to a similar group in Adelaide, the Victoria League for Commonwealth Friendship, & was able to enjoy some of their functions when I lived in London. The R S St G is a small group of interesting people & I decided to join it.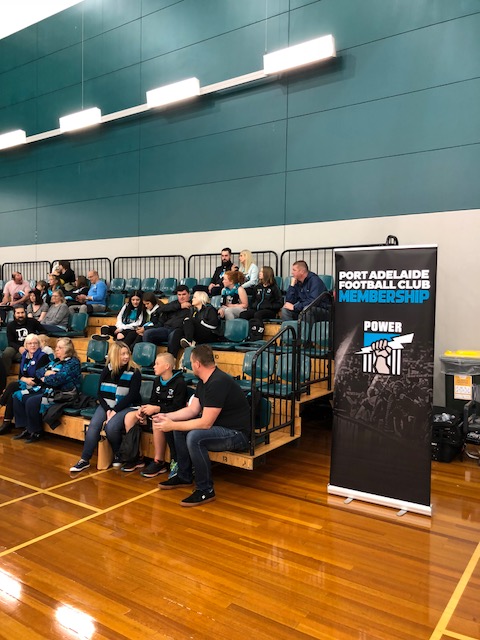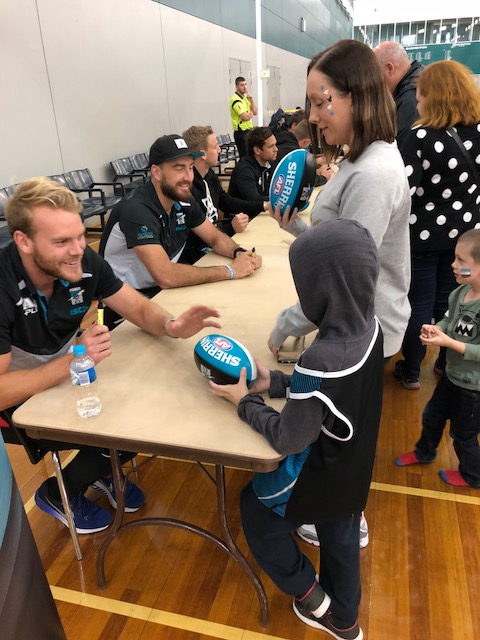 On the weekend I was in Melbourne for a change, as Port Adelaide were playing here on Sunday. On Saturday the PAFC Vic supporters group held a family day at the Melbourne Sports Centre. Despite a wet day it was a great event, with lots of supporters & all the players there. I was impressed with the way that they engaged with the fans, signing autographs & kicking footies with the kids. I got a great pic of our star, Robbie Gray, chatting to little Sophie, daughter of one of my friends. On Sunday I went straight from church to the footy. It was fun to be sitting with the Cheer Squad behind the goals & catching up with old friends. Unfortunately we lost 🙁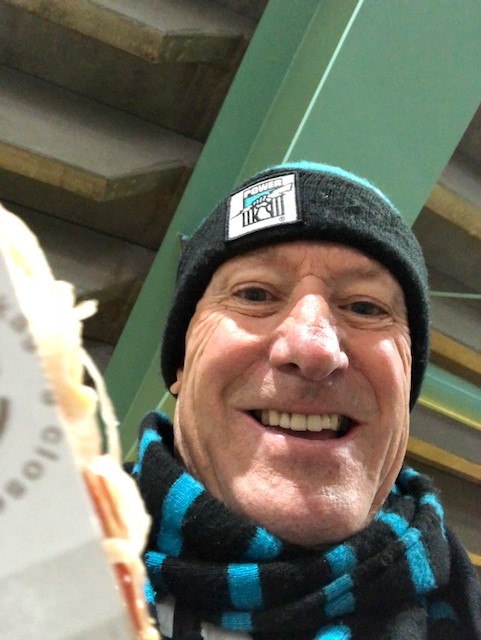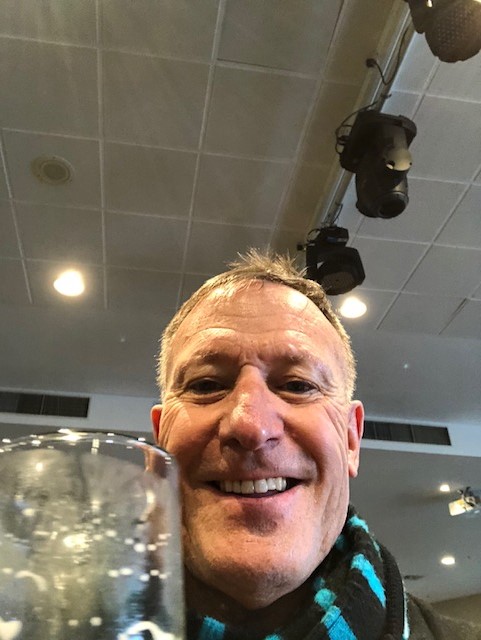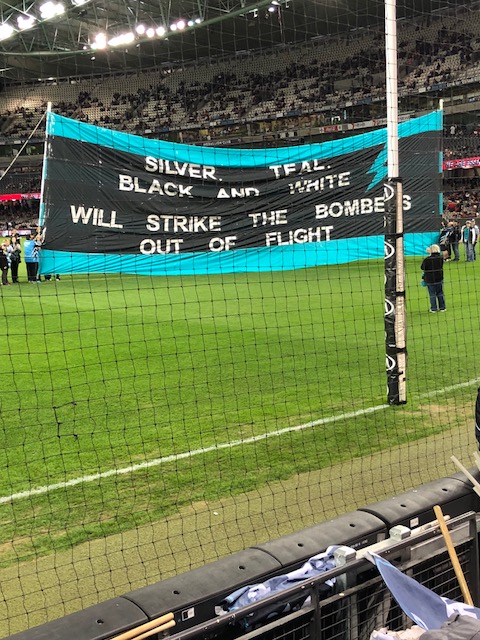 Sun 28
The past 10 days I have been occupied with watching football & catching up with friends. As usual, I went to the ANZAC Day game at the MCG between Collingwood & Essendon. The ceremony before the game is always moving. C/wood won, which made it a great day! Yesterday Port Adel were in town to play North Melb. We had a Vic Supporters Group function before the game & then I sat with the Port Cheer Squad to watch what was a fantastic effort. It was a great win after the Club has endured a terrible week on many fronts – not least with my favourite player, Hamish Hartlett, injuring himself at training & now out for the year. This morning I will attend Mass at All SS & then to the MCG for another big game – C/wood vs Richmond, reviving memories of when they were powerhouse clubs in the 80's.
Sat May 5
This has been a successful week……..my San Diego condo was sold on Tues (US time). It has been quite an amazing experience, with my signing many documents via email without actually signing. The wonders of the digital/internet age. When my agent emailed me to say it had been sold I was delighted, but also amazed at the whole process. Subsequently there were many things to do, such as cancelling automatic payments & advising my US tax agent.
On Friday I flew to Perth for the w/e. Port Adel plays West Coast this a/noon at the new Perth Stadium. Shortly I go to the gathering of WA Port supporters & from there to the footy. I fly back to Melb on Monday.
Sat 19
Yesterday was my birthday. After last year's big 70th celebration I had a quieter one this year. It began on Wed night with 3 close friends coming over for dinner. Friday morning I went to Mass & then spent several hours re-doing my Will. This was necessary since I sold my SD condo. One of my beneficiaries is the National Trust appeal for St Mark's, Fitzroy. So I phoned to tell them I was re-doing my Will & wanted the St M's a/c #. I subsequently received an email giving the National Trust bank a/c details & asking me to let them know when I gave the donation. I replied that it was for my Will & I intended to live a few more years yet! In the evening I had dinner with my friends, the Dalle Molle family.
Today I am going to watch the Port Adel game played in Shanghai at the hotel where the Vic Port Adel Supporters Group meet up. Last year I went to Shanghai – but this year my finances are tight. Tomorrow I will have another lunch with old friends after going to Mass at All SS. Then it is just 2 weeks before I fly back to SD.
Sun June 3
I have had a good 2 weeks, incl the Walsingham monthly Mass at All SS, medical appointments & watching the Handmaid's Tale. The highlight was going to see Barry Humphries – a b/day treat to myself. I thoroughly enjoyed it…….he has not lost his touch. Today I attended Mass at CC Brunswick & then had lunch with my friends, the Dalle Molle family, for Robert's 50th b/day. Tomorrow at 9.25 am I fly off to the US. I have 2 days in San Diego, then fly to Europe for 2 months of travels. 1st I travel around Germany by train for 17 days, then to Transylvania for 10 days. In July I will go to Walsingham & then back to SD.
Sun 10
I did not sleep well on my flight to US, unusually. A brief stopover in SD & on Thurs flew to Frankfurt. Another flight with little sleep & have been very tired since I arrived. It has been very hot & to get over jetlag I went for walks. As well as a nice walk along the river, I visited the former headquarters of IG Farben, built 1928-31 in the modernistic style popular in Germany then. IG Farben was the world's largest chemical co & coperated with the Nazis in using concentration camp labour & developing Zyklon B – the gas used in those concentration camps.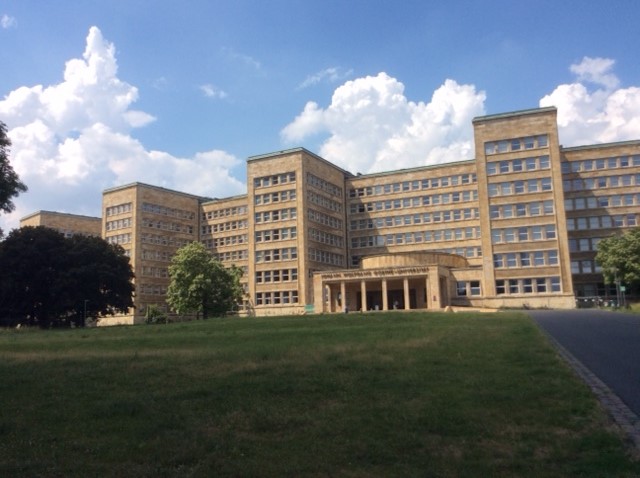 Today I catch the train to Berlin, where I will stay 2 nights before going on to Hamburg.
Fri 15
It was nice to return to Hamburg on Tuesday. I was there exactly 2 years ago when I looked after St Thomas' Anglican church for a month & it was good to walk around the familiar streets & places. On Wed I caught the train to Schwerin to see the famous Schloss. Built in 1845-57, onto a 16th cent castle built on the site of a fort from 963, it was the home of the Grand Dukes of Mecklenburg. A stunning building with a magnificent collection of porcelain & silverware.
On Thurs I caught the train to Dusseldorf. I had 2 purposes for this visit, both of which I achieved today, thanks to DB trains. This morning I went to Kevelaer. Here is a Marian shrine erected in 1654 – a small hexagonal chapel with a miraculous picture of Our Lady, comforter of the afflicted. I arrived in time for the daily Solemn Mass in the basilica next door. It was a wonderful Mass in a stunning church. There is also the chapel of the Candles built next to the small chapel & other interesting buildings. I have wanted to visit this shrine & it was a real pilgrimage for me.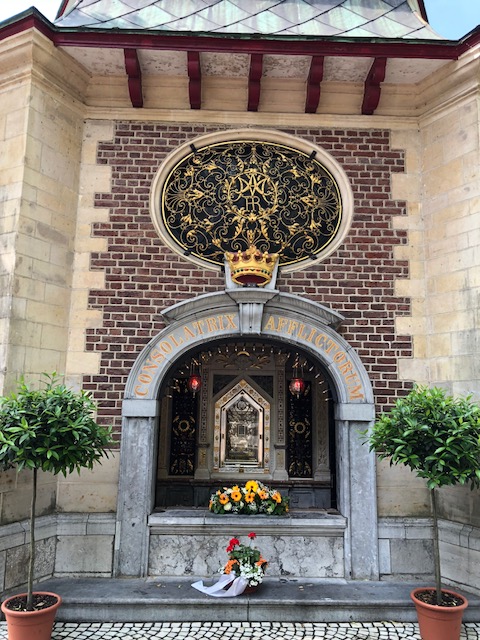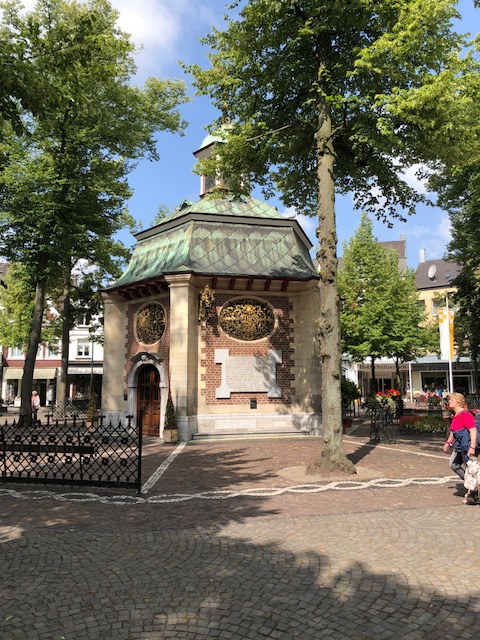 After Kevelaer I went back to Dusseldorf, then caught a train to Wuppertal. Last year when I passed thru Wuppertal I noticed an old elevated railway running thru the city. I discovered it was the Schwebebahn & determined to experience it. Built in 1901, it is the world's oldest electrical elevated railway with hanging cars. There are modern cars now, but the structure is old & unusual. When the cars stopped at stations they swayed! I enjoyed going to the end of the line & back, then returned to Dusseldorf.
Tomorrow I go to Munich & will be there 4 days.
Wed 20
I am now in Frankfurt after a very busy & rewarding 3 days in Munich. Sunday morning I went to the Dom for Mass & discovered it was the festival of St Benno, patron saint of Munich. It was a pontifical high mass with a choir & orchestra performing a Mozart Mass. It was a beautiful Service & the celebrations continued with a fair in the city square. I returned to the Dom at 5 pm for Solemn Vespers & procession of a relic of St Benno – another beautiful service.
On Monday I caught the train to Regensburg, one of the royal Bavarian towns. It has a wonderful Dom & other historic buildings, incl the former Schloss of the Thurn & Taxis princes. He was the hereditary post master general of the Holy Roman Empire & the family is still the wealthiest of the German nobility.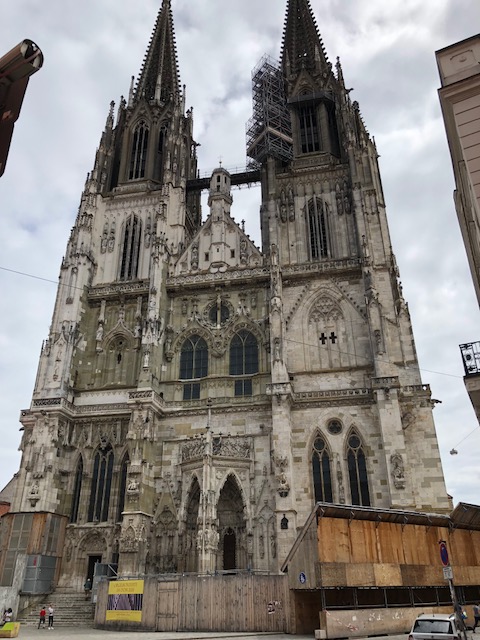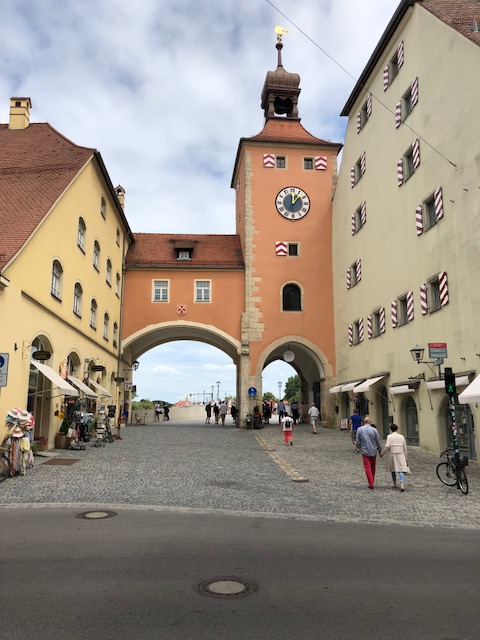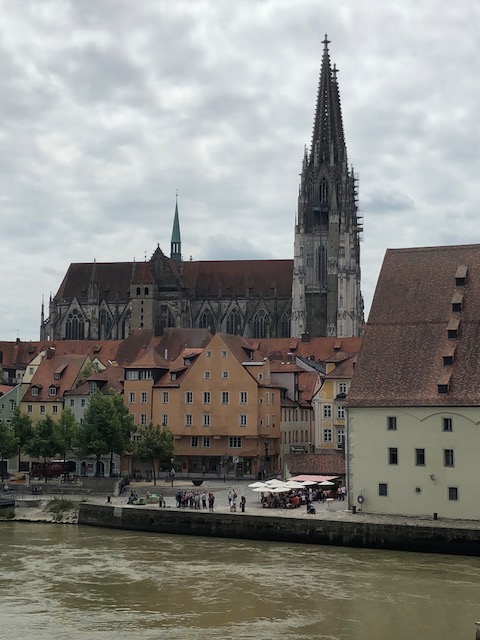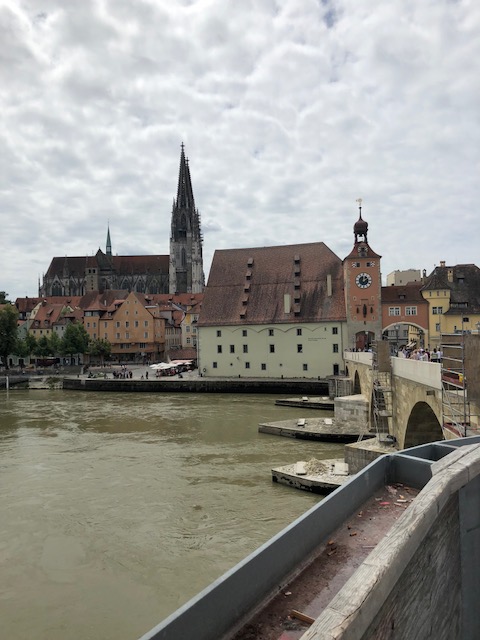 After exploring the town I caught the bus 10 km into the country to see Valhalla – a monument built by King Ludwig 1 in 1842 as a German hall of fame, based on the Parthenon. It was quite a climb up the mountain, but the view over the Danube was worth it.
Yesterday I caught the train to Passau, another historic Bavarian town. It is at the junction of 3 rivers & is famous for the organ in the Dom – the largest cathedral organ in the world. It consists of 5 organs (incl an echo chamber in the nave ceiling) & has 17,974 pipes + 4 chimes & 208 stops. I arrived just in time for the daily organ recital, which was truly wonderful.
After exploring the town I crossed the river Inns & clinbed a very long, steep set of stairs to the famous shrine of Mariahilf. The view of the old town was well worth the climb.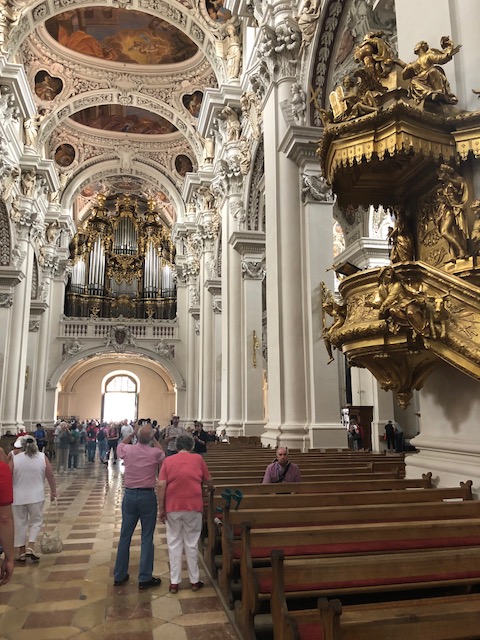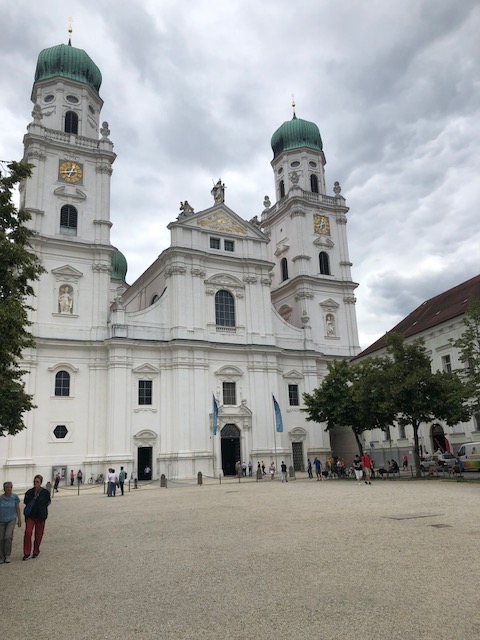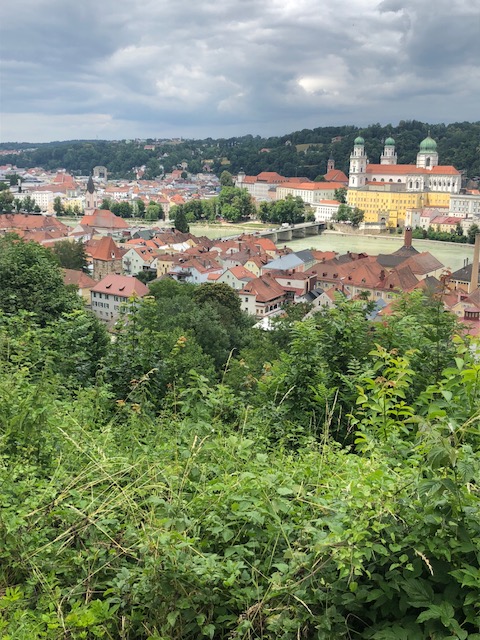 Sat 23
I have just had 2 busy days exploring the Romantic Road. This is a famous part of the Rhine that most tourists explore by boat. I am not "most tourists", of course! 2 years ago on the train from Bonn-Frankfurt I noticed that we were tracing the route along the Rhine & last year I made a note of the various villages with stations & did my research. So Thursday I caught the train to Boppard – 90 mins to the top, south of Koblenz. Firstly I walked to the Rhine, then explored the town. The parish church of St Severus (designated a basilica) dates from 1236 & is late Romanesque. There is also a lovely Carmelite Church from 1320.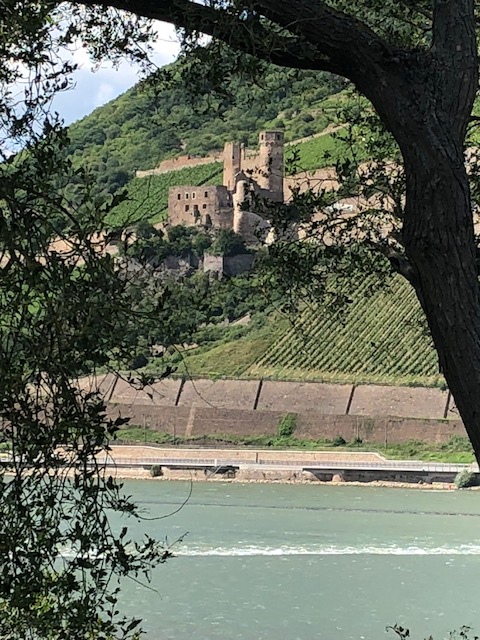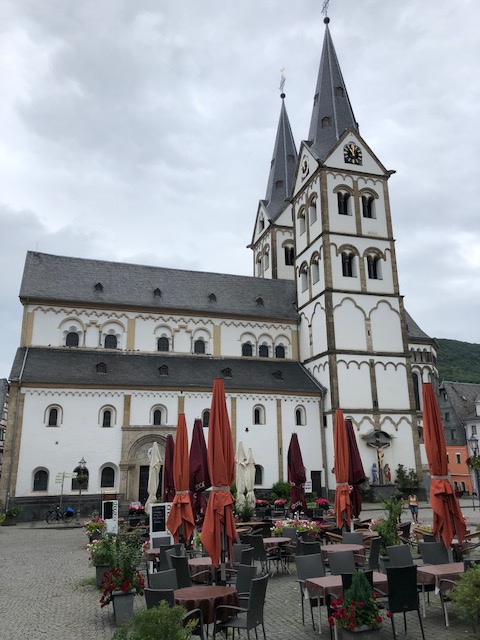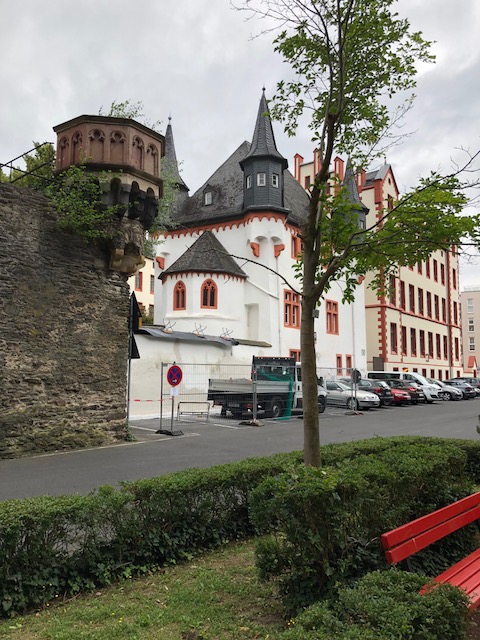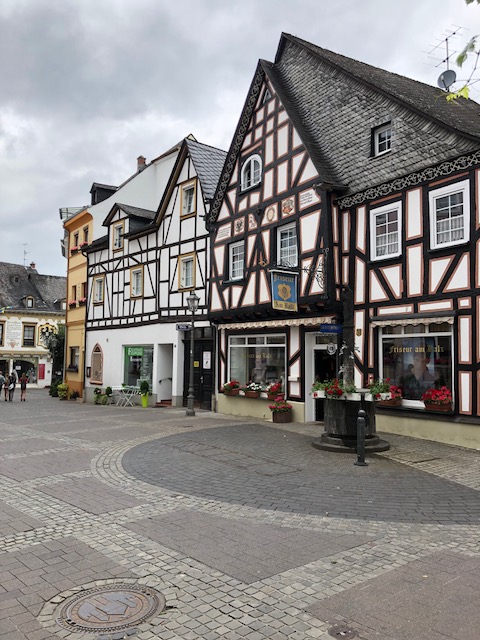 I then set out south by train, calling at Oberwesel. Oberwesel has retained its mediaeval walls & you can walk around them & on them. This includes 16 original towers. One tower is the belfry of St Martin's church which has paintings on the interior walls from the 17th cent.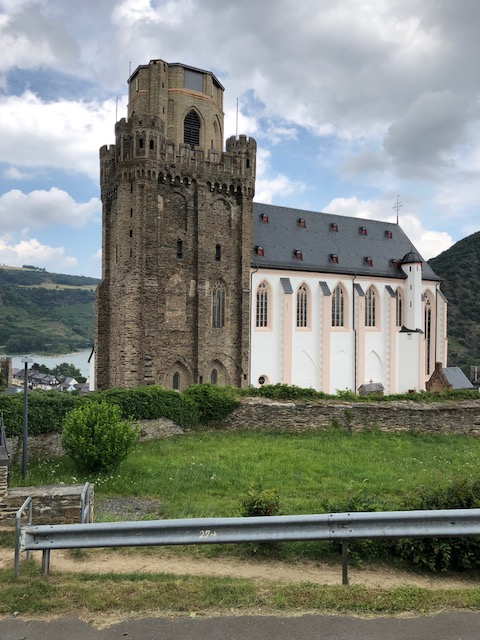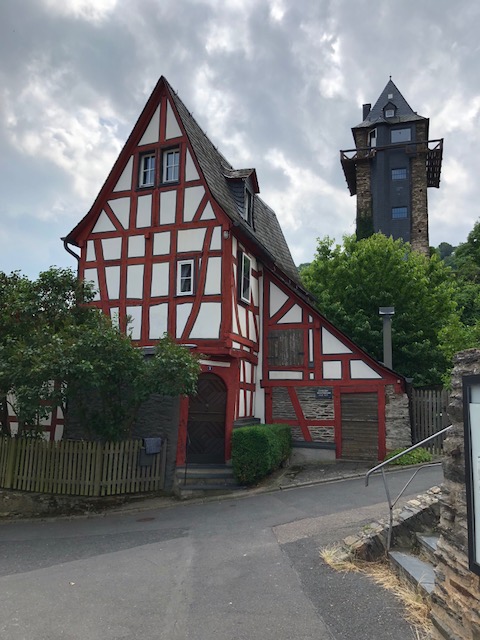 My next stop was a small village near Burg Reichenstein, one of the many castles overlooking the Rhine. I spent an enjoyable hour in this 1,000 year old castle, formerly a monastery & now a residence. My final stop was Bingen – famous for St Hildegard.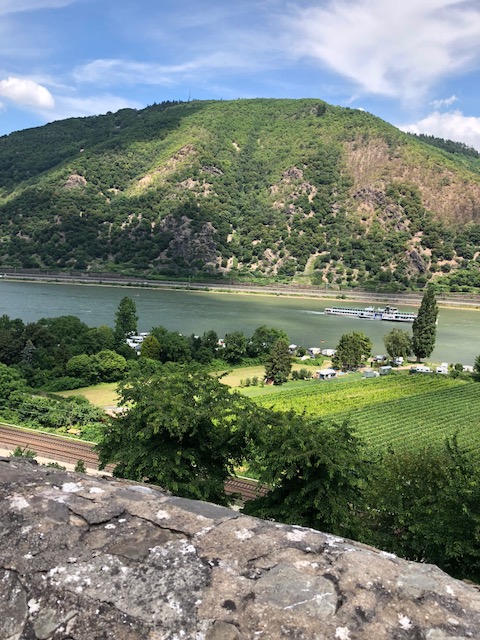 Yesterday I caught the train on the opposite side of the Rhine to St Goarshausen. The attraction here is Lorelei – a high peak at a sharp bend in the Rhine where shipwrecks were common. A legend arose that sailors were lured by the singing of a maiden, called the Lorelei. I learnt about this when I studied German in high school. The peak is 5 km from the town & to get there I climbed a steep, rugged path. It was well worth it for the adventure & the view.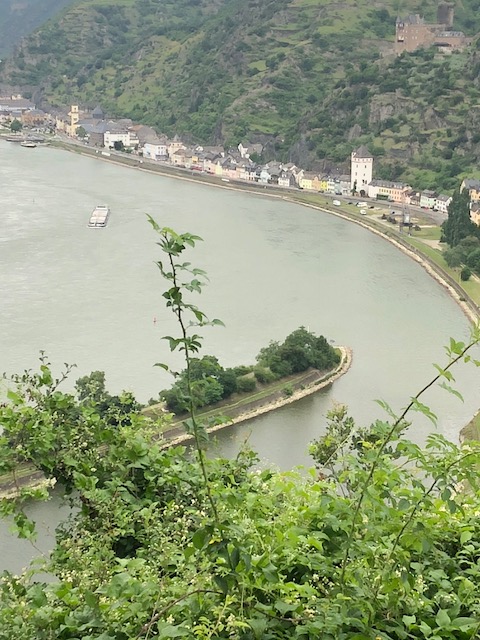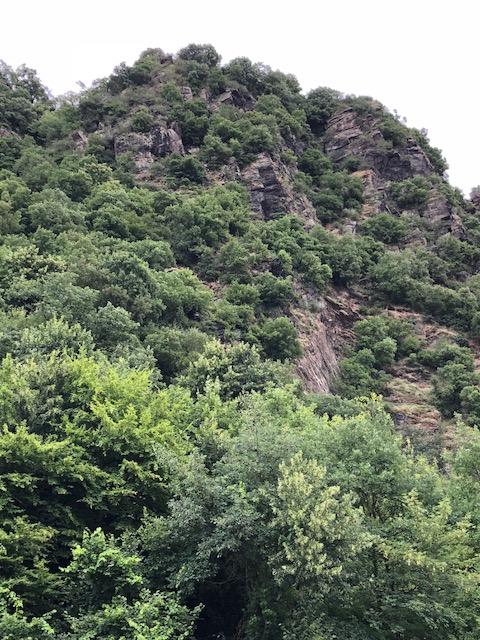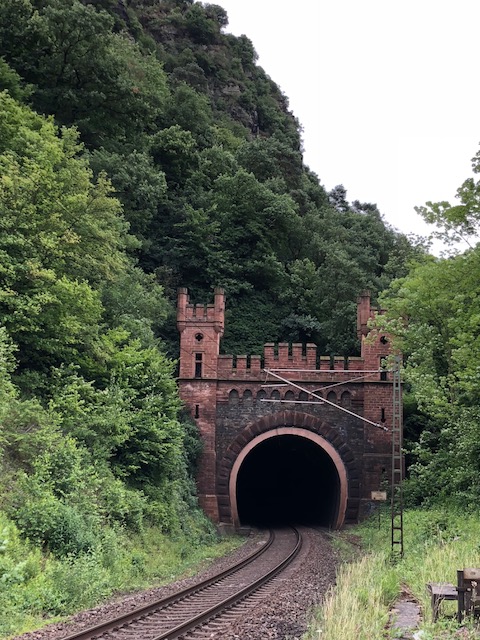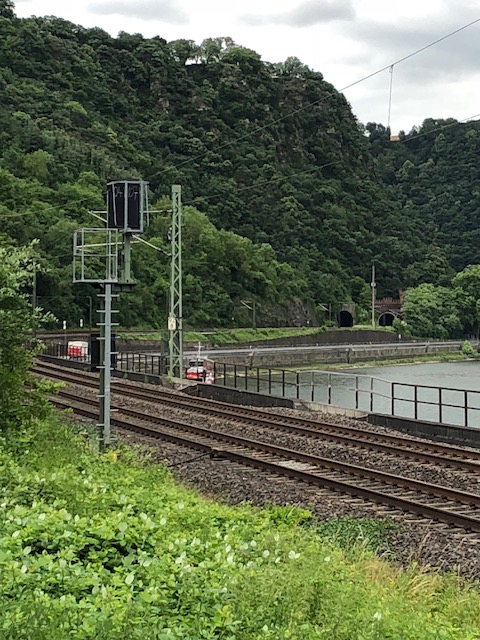 After Lorelei I caught the train back to Rudesheim. Unlike the other towns, this is a tourist town with the usual shops, cafes, restaurants & souvenirs – catering mainly for boat-loads of Americans, Brits & Aussies who stop here. A feature is a chair-lift over the vineyards to a nearby hill. I went on this & enjoyed the view over miles of countryside & the Rhine.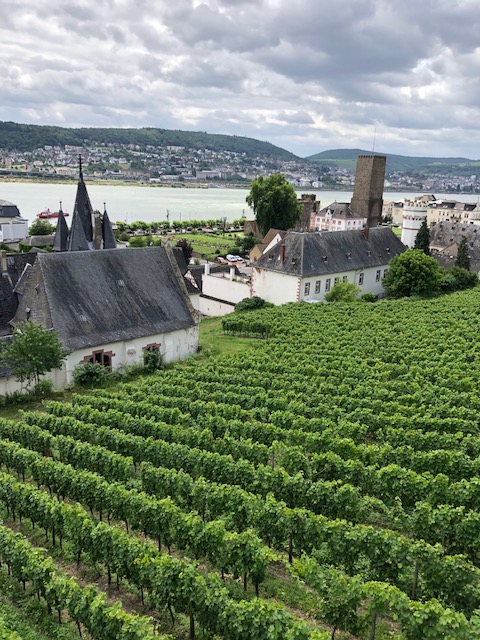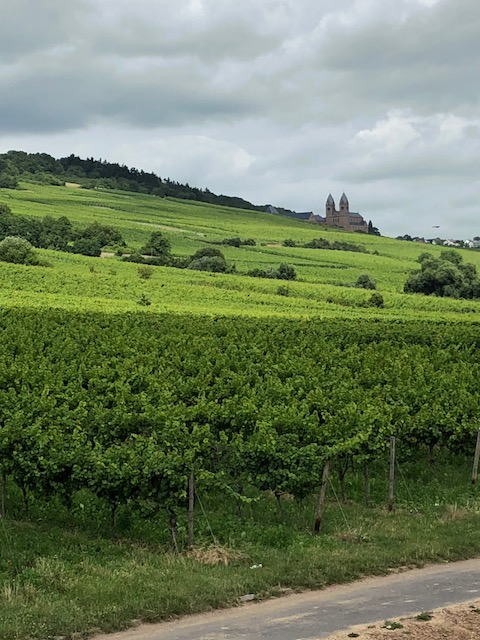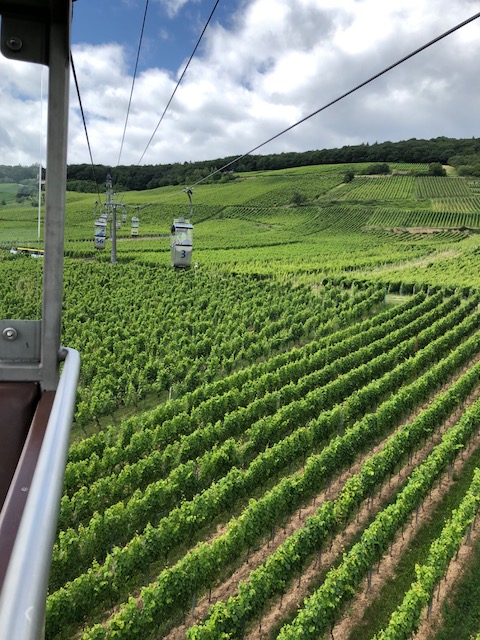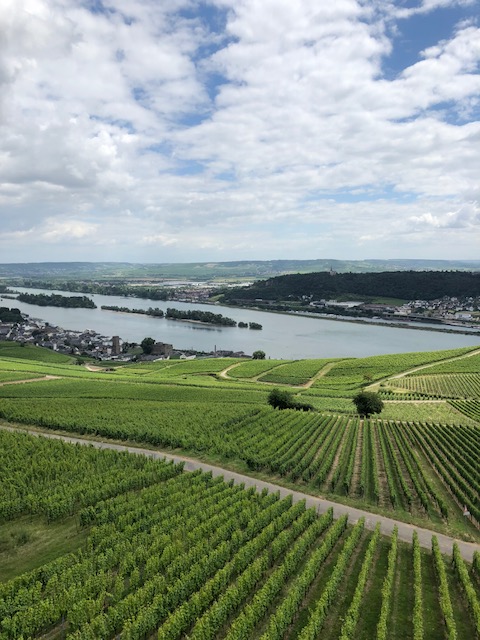 Tomorrow I fly to Sibiu, the ancient capital of Transylvania. I visited here last year, renewing my fascination with Romania. Afterwards I decided there are more things for me to discover, so I am returning!
Thurs 28
I have had 3 wonderful days in Transylvania! It was nice to be back in Sibiu, despite the horrendous traffic. On Monday I set out to discover the fortified churches in the various villages north of Sibiu. These were settled by Germans (hence called Saxons) in the 12th & 13th cent. They built churches which were fortified externally & by walls in the face of the Muslim invaders in the 15th cent. After the reformation they became Lutheran & kept their German culture, but since the 1970's many of the descendants have left Romania (as I discovered on my visit in 1991) & many of the churches are closed. I managed to visit 18 such villages & was not disappointed.
On Tuesday I drove to Hunedoara. In 1991 I travelled here by train to see the famous castle – but it was closed for renovation. It was wonderful to finally visit what is a wonderful medieval castle, built in the 15th cent.
On Wed I caught the train to Brasov, a 2.5 hour train trip East. It was raining all day, but I still got a good view of the mountains. Today it was still raining, but this did not deter me from exploring the old town centre for 3 hours. Brasov (formerly Kronstadt) is a wonderful example of the German towns of Transylvania. I visited the museum in the Town Hall, where there was a special exhibition of the communist era & the revolution. Was surprised to find that from 1950-56 it was called Stalin City.
Tomorrow I catch the train to Bucharest, where I will spend 4 nights.
Mon July 2
I have had a relaxing 3 days in Bucharest. It was nice to be back at the historic Athenee Palace hotel – a hang-out for spies & journalists in the Cold War. Last year I saw most of the sites that I wanted to, so this visit I have gone for leisurely walks each day, discovering new things & admiring the wonderful pre-war buildings. Tho most are in need of restoration/renovation, like the city's infrastructure. Saty night I attended the Vigil Mass at the catholic cathedral, only to discover it was a Nuptial Mass. I trust it fulfilled Sunday obligation……..the priest did wear green vestments! On Sunday I alternated between the Orthodox liturgy at a nearby Romanian Orthodox church & Mass at the catholic cathedral. Both had excellent choirs & the music was excellent. Tomorrow I fly to Munich.
Mon 16
I am now in Walsingham, having arrived here on Friday. Last week I was in London & had 2 interesting museum visits. At the British Museum I saw an exhibition about Patrick Leigh Fermor. He is one of my favourite authors as a result of my reading his 2 books which were an account of his walk thru Germany & Transylvania as a young English undergraduate in 1938. He eventually settled in Greece & the display centred on his life there with a small group of artists & writers.
The 2nd museum was the Postal Museum – to experience the newly reopened old underground mail train. It is a little train on narrow tracks under London, with sidings where mail was delivered or collected. It was a fascinating experience – but more was to come. As I wandered around the museum I came across a display of the old staff magazines. I opened up one of the bound volumes & to my amazement, there was an article about Walsingham written in May 1938!
My trip to Walsingham on Friday was not uneventful. The train to Norwich arrived on time & I walked to the bus station. To my surprise, the timetables had been changed dramatically. The bus to Fakenham was now leaving 30 mins later – but instead of the Walsingham bus leaving there 5 mins later, it now leaves 10 mins before the Norwich bus arrives. This meant that instead of arriving in Walsingham at 2.45 pm I would arrive at 4.15 pm. To make matters worse, the next bus did not arrive as scheduled…..it just never turned up! So I finished up arriving quite late.
Despite all the hassles, it was great to be back. Several priests I know came for the w/e with their parishes & it was great to see friends & staff again. On Sunday I preached at the parish church, which went well. The last line was, "Joy is the secret of evangelism". Today I lit candles in the shrine for friends, including recently departed, & my parishes. I have also said Mass with many special intentions. The rest of the week will be relaxed, apart from Thursday. It is the Sisters' festival & I am the preacher at the Mass.
Tues 24
I had a very nice week in Walsingham. It was very warm, which was a contrast to when I am usually here in Feb & Oct. On the weekend there were several groups from London with priests I know, incl St Magnus the Martyr. This is the church I usually attend, so I was glad to mix with them socially. The Sisters festival on Thurs was enjoyable. Another highlight was on Sunday, when I was asked to preside at the afternoon procession & Benediction…….at the very last minute! It meant I got to wear my cope, which I gave to the shrine last year.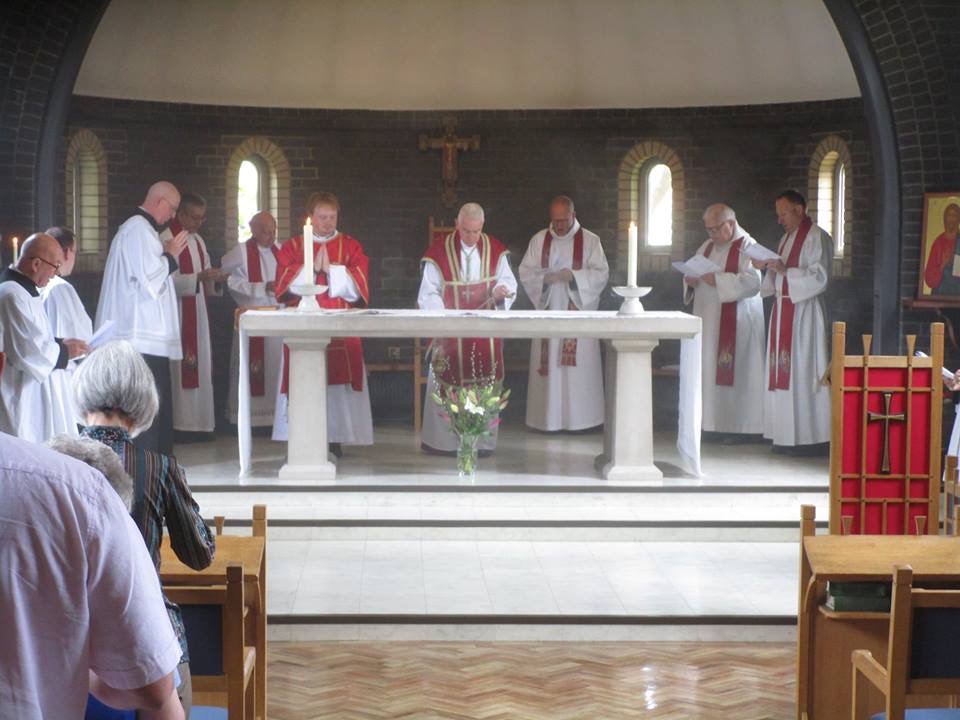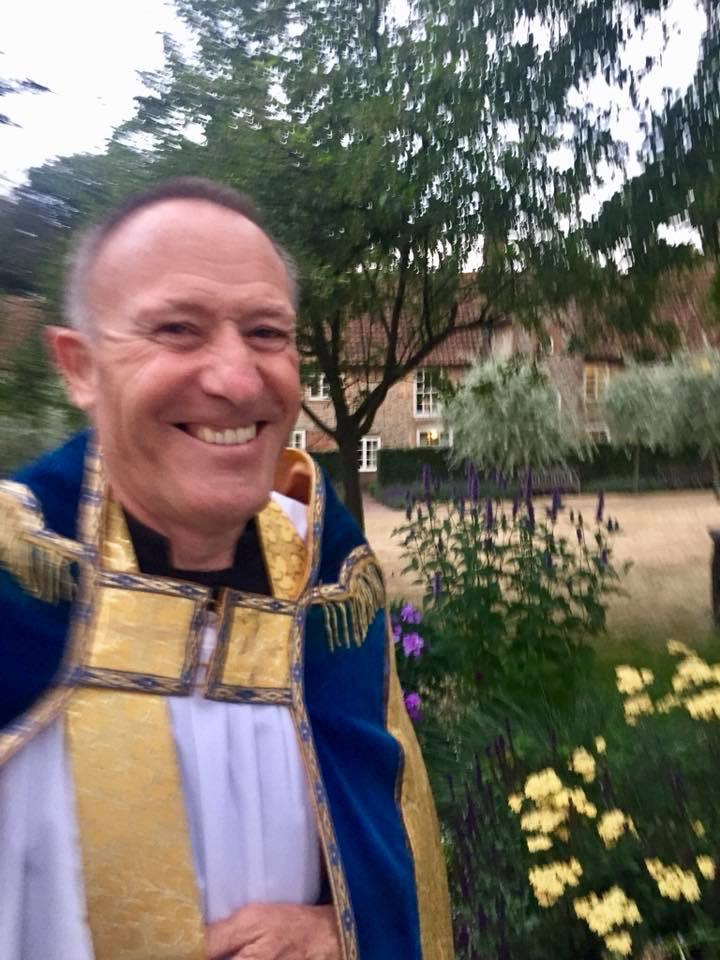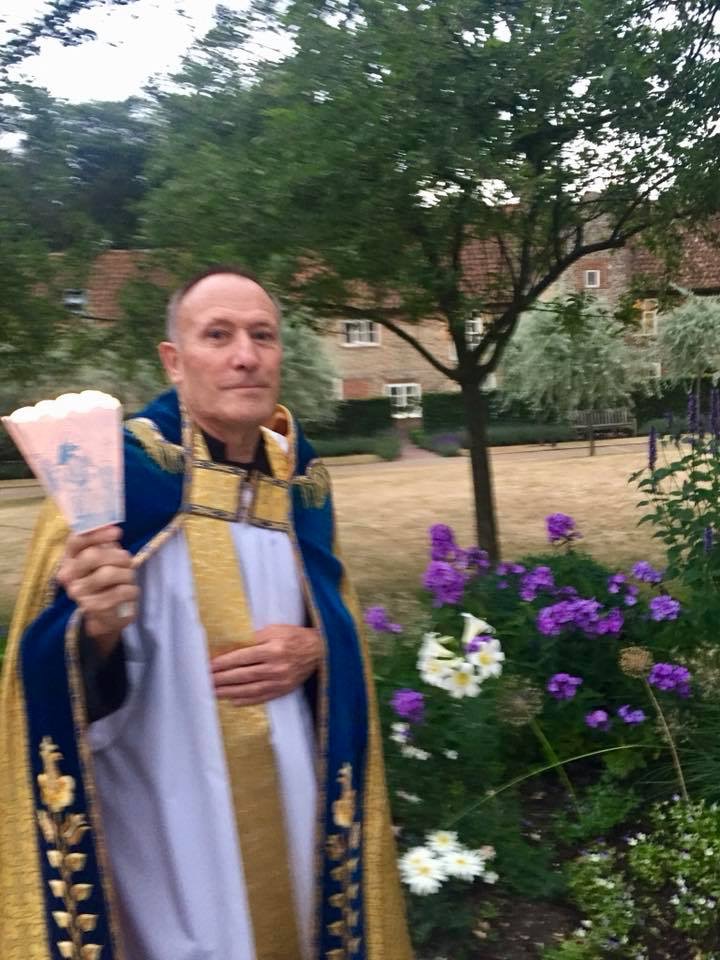 On Monday I caught the train from Peterborough to Leeds, which I have never visited. The main reason was to visit the famous St Saviour's church, which I did this morning. The church was built by Dr Edward Pusey & is stunningly beautiful inside. It is now combined with the next door parish, St Hilda's. I was invited by the parish priest to say their 7 pm Mass tonight & am looking forward to that.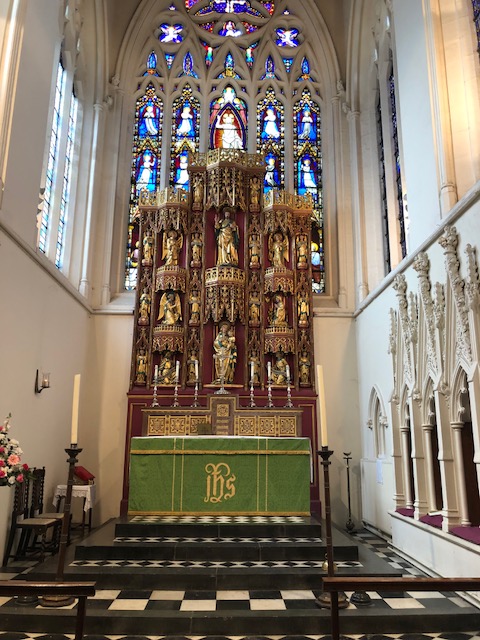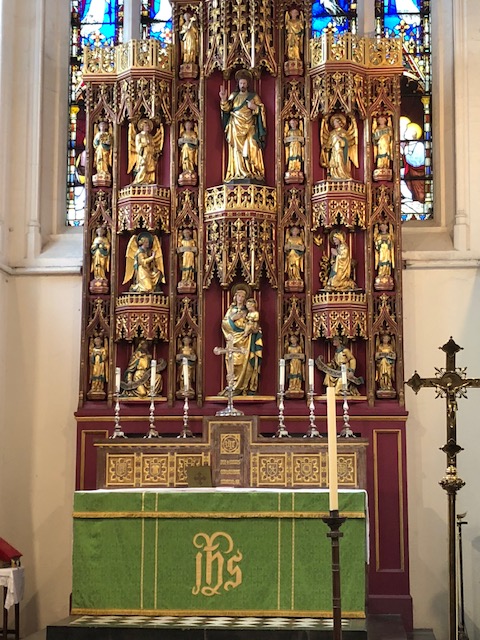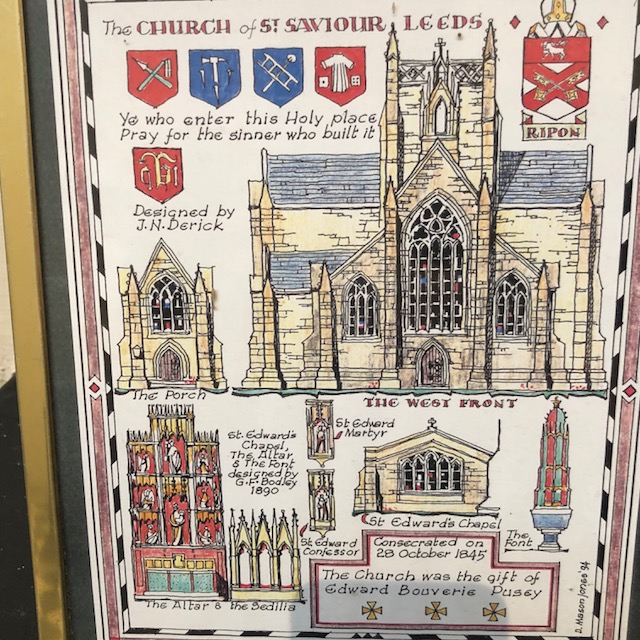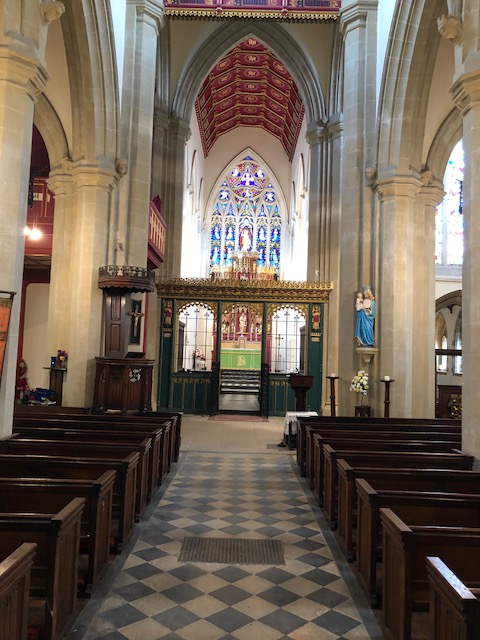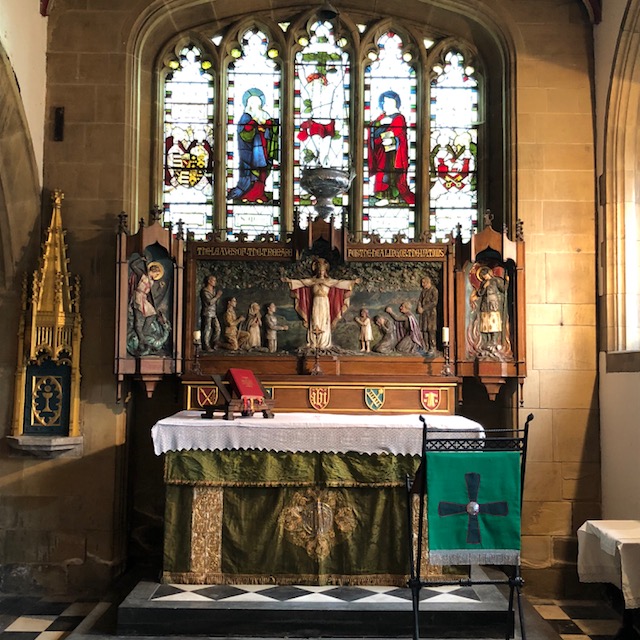 Tomorrow I catch the train to Carlisle, another city I have not visited. The train goes thru Settle & is a famous scenic route thru the Yorkshire Dales. It is said to be one of the world's great railways & has been on my "to do" list for some time.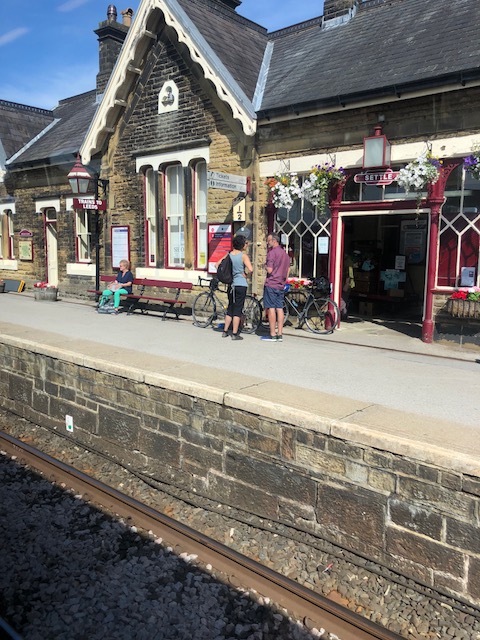 Tues 31
The Settle-Carlisle railway was a wonderful adventure. Beautiful scenery & amazing old stations. Thursday I had a nice day exploring Carlisle, incl the interesting cathedral & castle, returning to London on Friday. On Saturday I went to the laundromat & visited my old Fitzroy friend, Alan. Sunday I attended High Mass at St Magnus & enjoyed catching up with my friends there.
On Monday I attended the commissioning of my much younger namesake, Fr Jack Noble, as assistant curate & schools chaplain at the famous church of St Marylebone. I met Fr Jack at Walsingham 4 years ago, when he was newly ordained, & have kept in touch. I look forward to getting to see more of him now he is in central London.
Today I caught the train to Lingfield, an hour south of London. My destination was the College of St Barnabas. This is a home for retired clergy who need care & is in a lovely country setting. My old friend, Fr Martin Smith, moved there earlier this year & we had lots to catch up on. We were both pleased to see each other. I also visited another priest whom I knew, Fr Michael Shields, who recently moved there. Both had visited Australia for our SSC Synods & stayed with me at St Mark's.
Tomorrow I fly back to the US, on my way back to Australia.
Wed Aug 29
I have been back in Australia 3 weeks now. From the time I got home the weather has been very cold……the last 2 days have been 1 c when I wake – the coldest Melbourne day for 60 years! Most of the time I have been catching up with friends, which is the usual thing when I return to St K. One thing out of the ordinary happened yesterday when I caught the tram from the city to St K. I noticed an older lady who looked suspiciously like a nun (I can tell!). I sat next to her & we started chatting about football (she supported Essendon) & living in St K. After awhile she revealed that she was a nun. I said that I knew & that I was an Anglican priest. We laughed! She said that she knew one years ago called Fr Tony. I said that it was me. Turns out she was involved in AIDS ministry 25 years ago & assisted me in some funerals. We chatted at length – then she revealed that she lived in the block right next door to me. I said that she must come to my place for dinner & we exchanged phone numbers. What an amazing thing 🙂