Oct 15
Joan & I had a smooth trip to Walsingham on Monday. The weather was sunny, but on arrival it turned cold & light rain has continued since then. We gave a ride to Fr Graham, the Shrine priest, who was in London. He is a happy, cheery Irishman, so lots of conversation ensued. It was nice to be back at Walsingham, of course, & I received a great welcome from the staff. Groups here this week who remembered me from previous years also welcomed me enthusiastically. I can't remember them all, but they certainly remember me………must be the accent! One group of priests have asked me to be their chaplain next year & I have accepted.
The first 2 days I had no duties, so said Mass for Joan & my intentions. However, I have been given plenty of tasks since then, including some new ones. On Wed & Thurs I said the 7.30 am Mass & on Wednesday night I assisted at the Pilgrims Mass & gave the homily for the outdoor procession in the evening, for which the rain held off. Today was the great festival of the Translation of Our Lady of Walsingham. A lovely Solemn Mass was celebrated at 11 am. I was on duty at Sprinkling this a/noon & an old Melbourne friend arrived, knowing I was here.
Tomorrow my long-time friends from St Paul's, Port Adelaide, David & Peter, arrive for the w/e. It will be great to give them the pilgrimage experience.
Tues 20
David & Peter arrived safely on Friday & had a marvelous w/e. Were impressed with the accomodation & meals & the staff they met. On Fri night we spent time with the 4 young people who are doing Y4D this year. On Saty morning I said a special Mass in the shrine for St Paul's, Port Adelaide. The rest of the w/e they experienced all the usual Services, which inspired them – esp the Pilgrims Mass & Candlelight procession that night. The Parish Mass on Sun morning was wonderful, with over 200 present. As always, the singing in Walsingham is fantastic. Sun a/noon David was thurifer for the Eucharistic Procession, which proved an excellent climax for them both. Although the weather has been dull & cold, we were able to have both processions outdoors.
Mon morning David & Peter left for Liverpool. Later Clare & Ruby arrived from San Diego. This is their 4th visit & it was good to see them. They arrived just in time to participate in a walk of reparation thru the Priory grounds. This was new to me & was a series of devotions & prayer at various sites of the old priory in reparation for the sins & violence done to the shrine at the reformation. It gave us the opportunity to explore the grounds, which you usually have to pay to enter! I said a special 4.30 pm Mass in the shrine for All SS, then left them to themselves, as I had dinner planned with some retired priests at one of the pubs.
Today Ruby & Clare came to the 7.30 am Mass which I said & at 10.15 am we visited the sisters at the Priory. At 12 noon we attended St Mary's for a special Mass which concluded a 2 day conference at the Shrine for 30 young priests & deacons. It was wonderful to see all these newly-ordained clergy of the anglocatholic tradition, with their bishops. Bishop Norman Banks convenes this conference for young clergy here every year at this time & invites me to be involved as a friend & mentor. It is a privilege to meet all of them & to concelebrate the Mass with them. I met a 25 year old Fr Jack Noble & was thrilled to see another Fr Noble just beginning his ministry as an anglocatholic.

The above pic was taken on Friday, when it was a lovely sunny a/noon. But mostly the weather has been cold & overcast. Last week was busy each day until Friday. Clare & Ruby enjoyed being back.
Mon 26
On Fri night an Aussie priest whom I know, Fr Rene, arrived. This was his 1st pilgrimage & he didn't know I was here. So I organised him saying Mass at 10 am Saty & gave a tour. Saturday turned out to be a very busy day full of twists & turns. At 12 noon I said the Day Pilgrims Mass for about 40 people who had come for the day. They were here this time last year & remembered me, incl the newly ordained assistant priest who enjoyed concelebrating with me.
At 2.20 pm I returned to do the Sprinkling Service……..only to find 120 Ukrainians had taken over the church! This was a last minute arrangement, but no-one told me. It was chaos – so I postponed our Service until 3.30 pm. I returned for that & had just begun when the orthodox priest who was saying Vespers came down & said I was too loud!
So to the 6pm Mass, for which we had a large number staying for the w/e. At the last minute I was asked to preach. So I changed the 1st reading to suit my sermon. To my horror, the reader read a different one! So I revised my sermon there & then. Then for the 8.15 pm Candlelight Procession Fr Graham realized they hadn't chosen an officiant – so looked at me & said, Fr Tony? It was a crazy day, & I slept like a log.
Sunday St Mary's was packed for the Parish Mass. Very few villages get 250+ on a Sunday. As usual, the singing was wonderful. Ruby & Clare left for London after that & should now be arriving in NY. I did not do anything special for the a/noon Service & after supper went to the pub with Fr Rene. This morning I attended his Mass in the Holy House, followed by a quiet day. Tonight we began Bible Week – a week-Long conference with about 160. In the absence of Bp Lindsay I will be doing quite a few things I haven't done before, incl preaching & celebrating the Wed night Mass.
Thurs Nov 5
Bible Week was very busy & very good. It finished with a lovely Sung Mass on Friday. Joan arrived that a/noon – whilst I was having tea with 2 parishioners I have become friendly with. In the evening Joan & I went to the Black Lion for dinner & on Saturday we had lunch with our good friends Stephen & Jo, who took us to a delightful pub overlooking the sea. The weather for the w/e was beautiful & sunny – gr8 for the candlelight procession on Saty night & for the procession on Sunday. I said farewell to the parishioners on Sunday at yet another packed St Mary's. They all asked when I would be returning – the answer being February 🙂
We drove back on Monday – with a delay of 30 mins due to road works & passing the end just as they were removing the signs! I attended the All Souls' Day Sung Requiem at St Mary's & had a good sleep – up early & caught the first tube to Heathrow. Good flights to SD & a busy day yesterday. Today I fly to Costa Rica for 5 days – a country I have not visited.
Sun 8
CR is as nice as everyone said. I arrived at night & it was raining – but in the morning I had a stunning view from my hotel room on the 19th floor. In the background are huge, lush hills & below are nice houses, trees, shrubs & a huge park where the original airport used to be. On Friday I walked into the town centre (35 mins). It is a typical Latin American country, with Spanish colonial buildings – but the infrastructure is in good condition & there is a peaceful atmosphere. This is probably because most of the people are of Spanish descent (the Spaniards having wiped out the natives!) & the fact that the military was abolished in 1949.
I enjoyed exploring the city & discovering churches, museums & interesting modern buildings. There is even a suburban railway, tho I didn't see any trains running. In the evening I relaxed in the hotel. There is no exec lounge, but at the Sky Bar there was Happy Hour with free food. I ordered a beer & was told it was free because the free food had not arrived!
Saturday Morning I went for a walk thru the park & continued my favourite occupation when I travel – looking at old houses, etc. This included the Vatican embassy. In the a/noon I walked into the city to attend a concert at the stunning National Theatre. This is a beautiful building erected in 1890. I got a seat in a balcony box for what was a very interesting concert. The 1st half was by the National Youth Orchestra & the programme had a British theme: Walton's Crown Imperial, Holst's Hammersmith Prelude & Scherzo & Lincolnshire Posy by Percy Grainger. If only they knew there was an Aussie from Melbourne in the audience!
The 2nd half was by 3 different choirs of the National Youth & Junior Choir. They sang 15 different pieces from as many countries, sung in German, French, Latin, Hawaiian, English, Spanish, Hungarian & even a Kyrie. They were delightful & professional. Afterwards I attended the Vigil Mass in the cathedral.
Today is my last day here & I will do more exploring. The days have been beautiful – 25c – but there are clouds over the hills today. I fly back to the US tomorrow & will have a few days in Connecticut, a state I have not visited yet.

Monday 16
I had a nice 3 days in Hartford CT. There was light rain on Thursday, but it didn't prevent me exploring the old Capitol & the Athenaeum Museum of Art. The collection in the Museum was not large, but it was a wonderful selection of art with some well known artists represented. Friday it was sunny but cold. This allowed me to do a lot of exploring on foot, incl the stunning modern Capitol. Now, after 6 weeks of interesting travel I am at LAX waiting for my flight back to Melb. It will be good to be back home in time for summer.
Sunday 22
I arrived safely back in St K on Wednesday. A busy few days, with the usual things to sort out, bills to pay, appointments…..& next year's travels to plan! Jet-lag saw me asleep by 8 pm & awake at 2 am until last night. I did make time to see a recently released Aussie movie, The Dressmaker. I thought it was marvellous, with a great cast & story. Today I went to Mass at Christ Church, Brunswick. In the 6 weeks I have been away there are noticeable changes, not least in the music. 2 old friends were present & agreed with me as to the excellent sermon we received. Numbers have increased & included 3 street people. One entered during the sermon & in his usual way Bp Lindsay said, Welcome my brother – then continued on with his sermon! Afterwards I had brunch with Bp Lindsay in a local cafe where he is already known. Now another busy week ahead for me.
Mon 30
Wednesday night I went to the opera – The Marriage of Figaro. This was my last opera because I am not renewing my subscription in 2016, on account of being overseas April-Aug. The same with my symphony sub. Last week I was patiently waiting for a new washing m/c, as my old one broke down whilst I was away. Rob, who looks after my place when i am away, arranged warranty reimbursement & I purchased a new one the day I got back – with expected delivery of 1-2 weeks. By Friday I had a pile of washing to do & still no m/c, so went to the local laundromat. Also on Friday a tradesman came to put new skirting boards in a corner of the living room. This was due to water damage a year ago. Now with winter past & no further damp, it was time to fix the boards. He was supposed to come on Thurs, but changed to Fri at the last minute. This gave me the opportunity on Thursday to see another movie I wanted to see – Bridge of Spies. Having walked over the Glienecke Bridge in Berlin last Aug, I was esp interested in seeing the movie.
Saty a/noon I went to an organ concert in St Patrick's cathedral, which was excellent. To my delight, I saw an old parishioner of St Mark's, Brenton Fyfield – a violin maker. he was a good friend & I officiated at his wife's funeral & daughter's wedding. It was so good to catch up with him. Sunday I went to Mass at CC, Brunswick. The AGM followed & Bp Lindsay gave a stirring Vicar's Report, which was really a charge & plan for the future. Sunday 5pm I went to the Advent carol Service at All SS, E St K. It was followed by drinks on the vicarage lawn & everyone was pleased to see me again.
Tomorrow I am off to Cairns for 2 nights. I have been visiting here each December since I returned to Aust. On this visit I am going to the Gr8 Barrier Reef – another thing on my "to do" list!
Sun Dec 6
My visit to Cairns was a nice relaxing time. The highlight was the Great Barrier Reef. On Wed I caught a ferry to Green Island, where I boarded a glass-bottom boat. We cruised over the Barrier Reef & had great views of the coral & fish. Such lovely coral & beautiful fish. After the boat trip I had 2 hours walking around the Island, which is quite small. Half of it is a National Park with a interpretive signs along the board walk. It was both instructive & interesting. The tropical forest & the beaches were beautiful. I finished up entering Marineland Melanesia – a family owned park with Melanesian artifacts & crocodiles. The lunch-time feeding of the crocs was fascinating.
I flew back to Melb on Thursday. On Saturday my new washing m/c finally arrived. the rest of the day I did all the loads of washing that had been piling up. This m/c is much better than the previous one & also has a bigger tub, even tho it is the same small size as the last one (in order to fit into the space in the laundry). This week I am off to Sydney Tues-Sat. I will be going to the Blue Mountains – another 1st visit! My purpose is to visit my old & dear friend, Fr Andrew Duncan, who was in seminary with me. He visited me in SD in September 2008 & I have been trying to visit him since I returned to Australia 4 years ago.
Fri 11
I have just had a wonderful 2 days in the Blue Mountains. After staying overnight in Sydney I caught the train to Lithgow on Wed – a 3 hour trip. Andrew was waiting for me & drove me back to his home for lunch. Here I met for the first time his wife, Pam. She had heard about me & there was lots of chatting & reminiscing about our time together in seminary. Later he drove me to Katoomba, which is the tourist centre of the Blue Mountains. I was staying at The Carrington, a 19th cent historic hotel. It was wonderful & furnished in 1930's style.
Thursday after breakfast I walked to Echo Point – 30 mins downhill. Here you have a magnificent view of the Blue Mountains & the famous 3 Sisters. I then walked around the hillside to the Skyway – the highest cablecar in Australia. This takes you to Scenic World – a family owned park which started in 1945 when a brother & sister bought the old mines to develop into a tourist attraction. The admission fee was well worth it as they have preserved & developed the rainforest & mining history into a lovely park. From the Scenic World centre at the top I caught the scenic railway – the steepest passenger train in the world. It landed in Jamieson Valley where paths led thru the rain forest. After exploring I caught the cablecar back to the top. The admission included unlimited rides on these 3, which I took advantage of. I also walked all the way from the top to the bottom, which led thru the National Park. You can walk between the 2 parks, but must have the pass to take the Scenic World rides.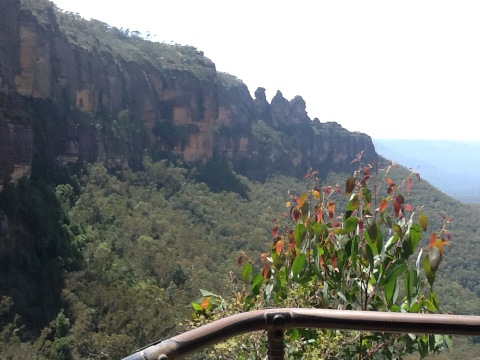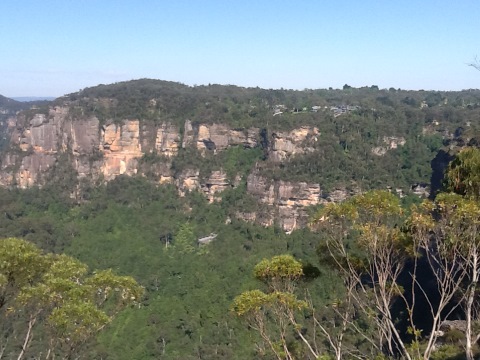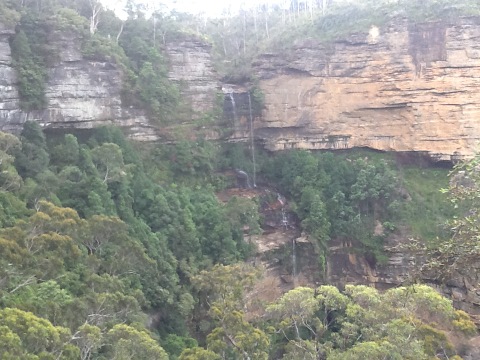 After 4 hours of wonderful exploring I walked back to the hotel, where I enjoyed afternoon tea in real style. It was a wonderful day of exploring. This morning I caught the train back to Sydney, where I am staying tonight. Tomorrow I catch an 11 am flight back to Melb.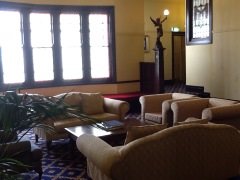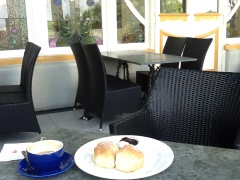 Sun 20
After my wonderful visit to the Blue Mountains I returned to Melbourne. Life was back to normal routine, with nothing much to report. We have just endured a heat-wave here in Melbourne & of course, it is the crazy build-up to Christmas. I do enjoy a relaxed approach to the great festival now that I have few responsibilities 🙂
Boxing Day
This was my 2nd Christmas in Melbourne since I went to San Diego & was very nice. Midnight Mass at All Saints', E St K was beautiful, with stunning music. Christmas day Mass at CC, Brunswick was also nice – tho a small congregation, as is common on Christmas Day. In contrast Christmas Eve came with sad news of the death of Naeidra Layton, my pastoral assistant at St Mark's for 15 years. A wonderful faithful woman who was gr8 support to me & the parish.
For Christmas lunch I joined my good friends, Ian & Dale, at the Pullman Hotel. Very pleasant & relaxing. Afterwards I visited more friends for drinks (as if I needed any more!). A nice relaxing day. Christmas is when I miss being a parish priest – but I have 30 years of wonderful memories to reflect on & enjoy! Now for a quiet few days.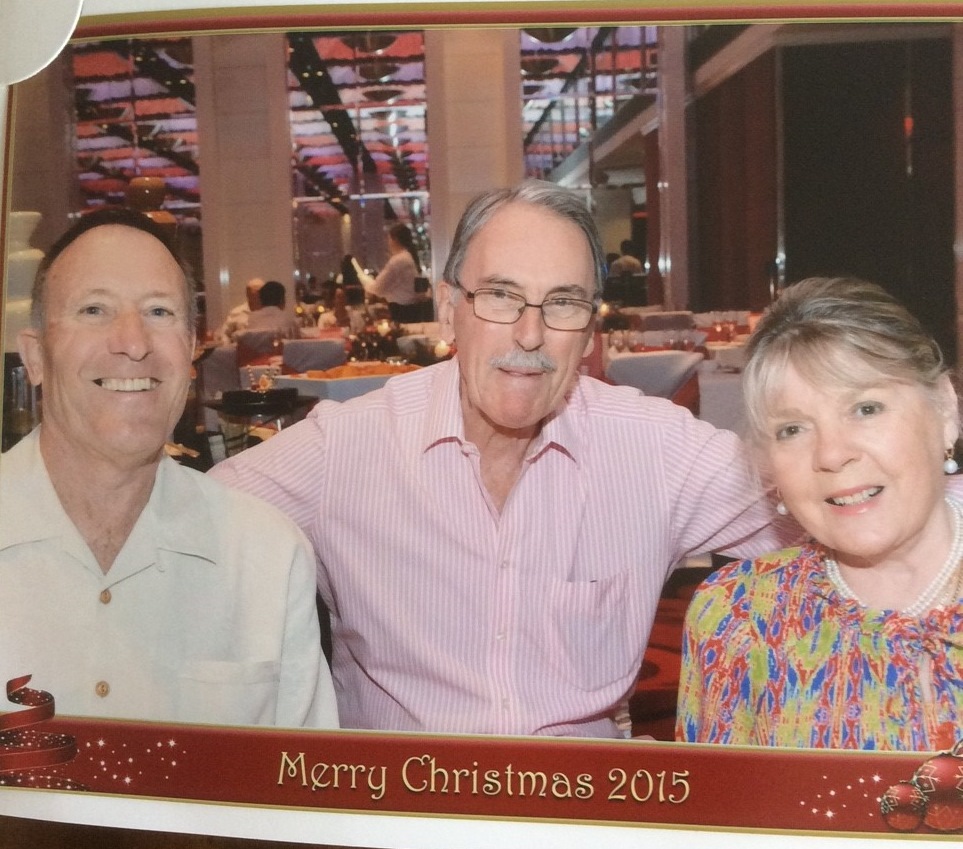 Jan 2 2016
I have just had a nice few days in Adelaide. For the first 2 days I stayed at Seaford (on the south coast) with my friend, Fr Reg. This included lunch in Goolwa with former parishioners from St Mark's, Marc & Sylvie. On Wed I went to Port Adelaide to stay with my old friend, David. Whilst there I caught up with a guy who was one of my altar boys at St Catherine's. It was 30 years since left there & it was great to see him again. Going out to Elizabeth brought back memories of my 3 years there & the streets were all familiar. On NYE David organised a party for a small group of old friends from St Paul's 45 years ago. It was a quiet night. On Friday I walked from the Port to Sema4, where I grew up. The place has changed, but as I walked along the Esplanade I enjoyed reminiscing about growing up there. I flew back to Melbourne today – St K is still intact after new year!
Mon Jan 11
Last week began with the installation of new air-cons in my study & bedroom. These are mainly for heat during Melbourne winter. The rest of the week was spent catching up with friends for meals. A highlight was lunch with Bishop David Farrer & his wife Helen, whom I have known for 45 years. After being Vicar of Arundel in the UK he has returned to Melbourne to be Vicar of All SS, E St K, for 2 years. Tomorrow I go to Brisbane for 3 days, returning Thurs night. Then it will be just 5 days before I fly back to the US.
Sun 17
My visit to Walsingham in 3 weeks time has a pall over it. My dear friend, Joan Hooton, died suddenly on Thursday. I met Joan 20 years ago at the shrine & we became close friends thru our shared love of Walsingham. From 1998 she began driving me there & back on my annual visit. I would catch the tube to her station in Kenton (she lived right next door to one) & we would drive from there. It was a 3 hour drive full of fun, laughter & church chat. When I retired & started assisting at the shrine Joan offered to store things that I needed there. This saved me bringing cassock, alb, clerical shirts, shoes + winter sox, beanie & scarf from the US or Australia. We had been enthusiastically planning our visit there on Feb 8th & later in October.
The news was a real shock & my visit in February will not be the same. I have now re-arranged to get to Walsingham by train via Norwich – something I have done in the past. There has also been contact with her Vicar & friends, as well as the shrine. Everyone there is shocked, as I am. The first thing I will do when I get there is say a Requiem Mass for Joan in the Holy House, where we first met.
Now to prepare to fly to the US on Tuesday.