Sun Aug 6
I landed safely in Melb last Thurs – but was taken aback by the weather. 3c when we landed………Melb's coldest Aug day for 50 years, they said! Since then I have been organising my life back in St K & trying to adjust to jet-lag. This means my usual daily 1 hour walk – but I am tired by 3 pm & no matter when I go to bed I wake at 12 midnight. Yesterday I went to the footy at the MCG & today will watch the big Port Adelaide game with my PAFC friends at our pub. Then follows a week of the usual appointments & catching up with friends.
Thurs 17
I have been back 2 weeks now & life is back to normal. That means I went to Adelaide for the footy last weekend. Great to catch up with various friends before the game & to have lunch with my cousins on the Saty. Meanwhile in St Kilda the weather continues to be a mix of winter & early Spring. Most days I go to Mass at All SS & have lunch or dinner with friends, either at my home or their place………& try to find time for reading. This Saturday I catch the train to Ballarat to see Port Adelaide play Western Bulldogs. This is the 1st AFL game in Ballarat & I have a seat in the stands from the club. Hopefully it will not be a typical Ballarat day – cold & wet!
Sun 20
On Friday I entertained Bp Lindsay & his former assistant at Walsingham, Fr Stephen, with his wife, for lunch. They are in Australia for a 3 week holiday – their first visit here. We were a great team when I used to assist at the Shrine every October. Lots of reminiscing about Walsingham. In the evening I went for dinner with my friends, Dale & Ian. This is the couple who loaned me their apartment in the city when I visited Melb during my time in SD. It was Dale's b/day & 7 of us started with champagne at their home & then went to a nearby restaurant. Next morning I was off to Ballarat for the footy. At the station I was met by an old friend, Andrea, who shares my b/day. We had brunch at the Ballarat gallery, then she drove me to the stadium. I had an excellent seat amongst Port Adelaide members in row 2 of one of the new stands. There were a lot of Port supporters at the game & we witnessed (eventually) a gr8 victory for Port! This morning I went to Mass at CC Brunswick & it was nice to be officially welcomed back.
Sun 27
On Thursday I went to the airport to meet Clare Jacob. Clare was my Warden in SD & a great friend. She is having a month travelling around Australia, based in Melb. We had lots to catch up on, after which I gave her a tour of St K. I was going to Adelaide for the w/e, so organised accomodation for her, as well as being taken to the footy on Saturday & St Mark's, Firzroy on Sunday.
Yesterday was the last home game for Port Adelaide & I caught up with my usual friends. Port won well……now for the play-offs!


Sun Sep 3
Big news this week was the resignation of my successor as Rector of All Saints', Fr McQueen. This was quite unexpected. He gave just a week's notice, so the parish must be in shock. I am sorry I am not there as an old friend & their former pastor to boost their morale. Ironically, I will be back in SD in exactly 1 month – so I can give personal encouragement to them.
Today I fly to Perth & then to Broome for a few days. Last year the AFL introduced a bye w/e before the Finals. With no footy, I flew to Perth & on to Kalgoorlie for a few days. I enjoyed discovering a famous town on my travel list & resolved that in future the AFL bye w/e would be an opportunity for me to travel to WA & discover places I had not visited. So this year I am going to discover Broome.
Sunset on Cable Beach, Broome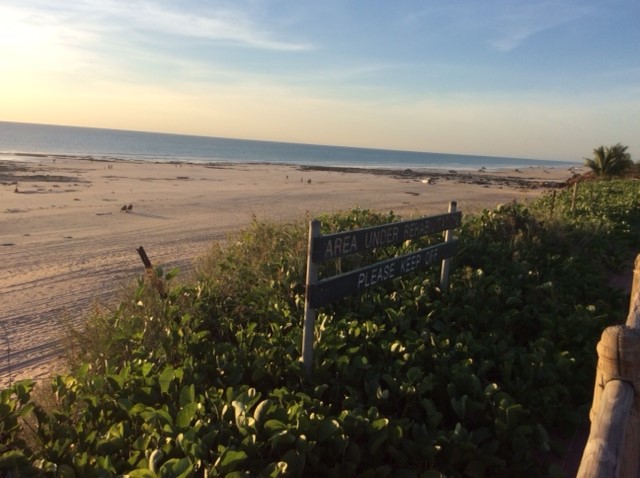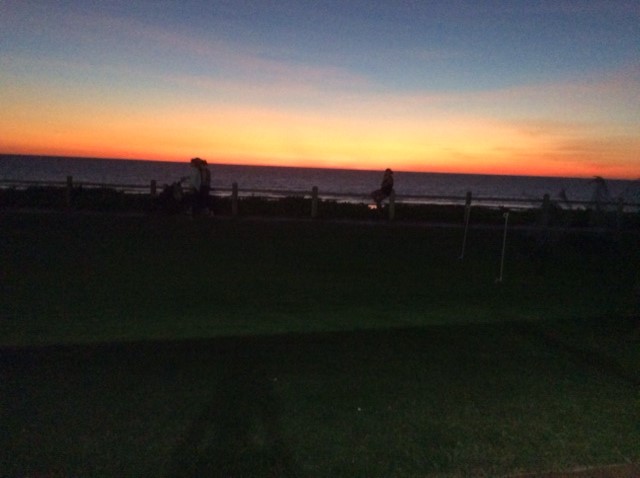 Tues 12
My 2 days in Broome were very relaxing, with 35c weather. Dining whilst the sun set at Cable Beach was a highlight. I returned to Melbourne on Thursday & on Friday attended the stunning AFL Final at the MCG with 95,000 people, mainly Richmond fans. It was an amazing atmosphere as the Tigers massacred Geelong. Clare Jacob returned to Melbourne yesterday – she is my guest for dinner tonight with Bp Lindsay, whom she met at Walsingham when he was Administrator. Tomorrow we will go to the 10.30 am Mass at All SS & in the evening I have another dinner party with Clare & Fr Rene, the priest at All SS.