Thurs Jan  17
I arrived in the US on Jan 9 very tired – but have had a nice week, incl a few days in San Diego & Honolulu. I first visited Honolulu in 1986 & that started my love affair with America (never thinking I would eventually live there). Today I am off to my next adventure & another new country – Lima,, Peru.
Fri 18
I arrived in Lima at 12 midnight & got to my hotel in Miraflores by 1 am. After a good sleep I enjoyed a marvellous breakfast. Peruvian food is delicious, & it kept coming. At 11 am I set off to discover my surroundings. I walked along the cliffs which look over the Pacific. The beaches are not great, but attracted surfers & paragliders. I finished up at Huaca Pucllana. This is the remains of a temple (c 500 AD) built of mud clay bricks. It was fascinating. They had women priests who sacrificed women……..no wonder they died out! I then walked to the central park, where there is an historic church & the municipal offices. After 3 hours of walking I returned to the hotel.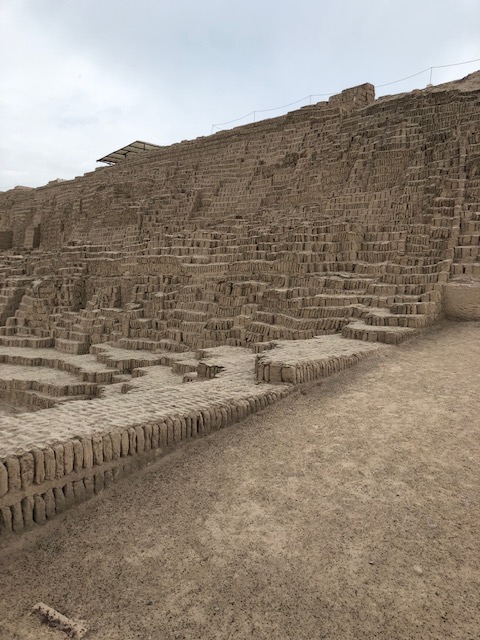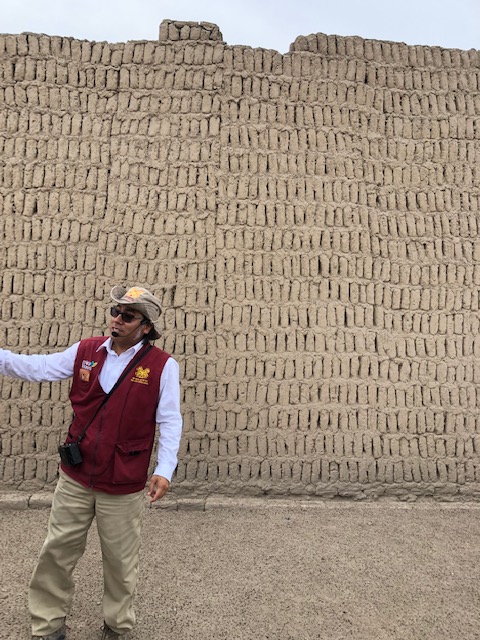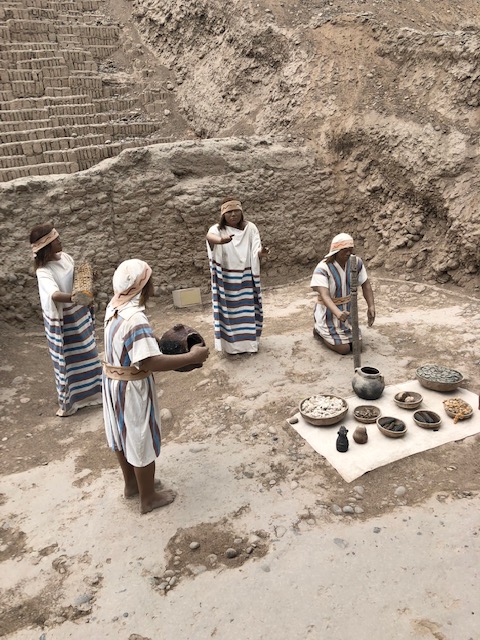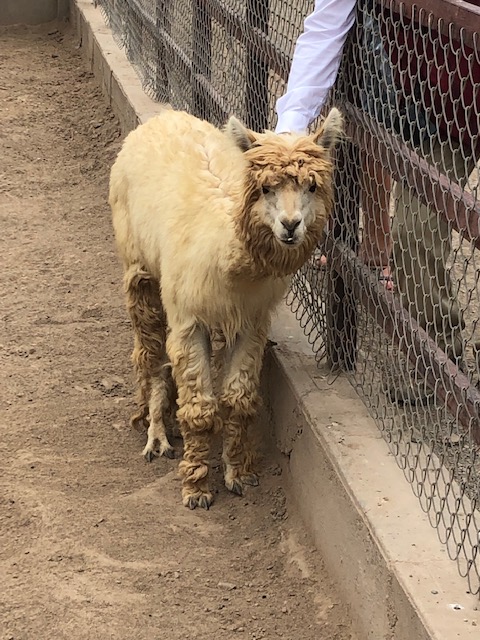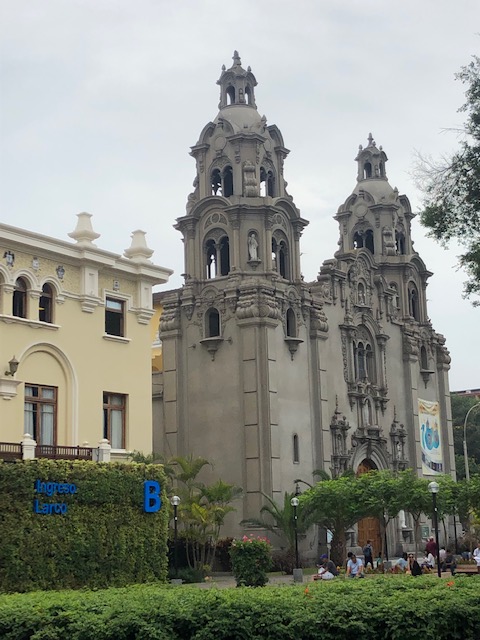 Sat 19
Today I walked into the Historic Centre. This took 2 hours & lots of people were out for Saty shopping. Eventually I got to the centre & spent 2.5 hours exploring it. I started at Plaza Mayor. This square is surrounded by beautiful old buildings: the cathedral, archbishop's house, municipal offices & presidential palace. Unfortunately the cathedral was closed for siesta. I then walked to San Francisco. This is a Franciscan monastery still home to Franciscans. I joined a tour thru the complex (no pics allowed) but again, the magnificent church was closed.
In the evening I attended Vigil Mass at the local church. One of the fascinations with overseas travel is the music I encounter at Sunday Mass. On this occasion the Gloria was sing to the tune of the Battle Hymn of the Republic. The chorus, of course, was: Gloria, Gloria, Hallelujah!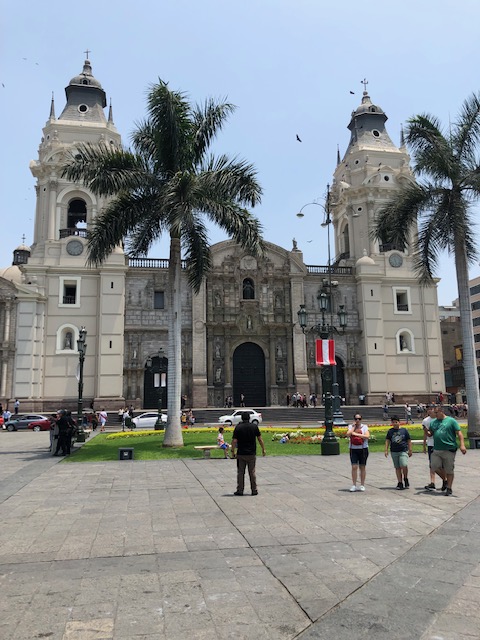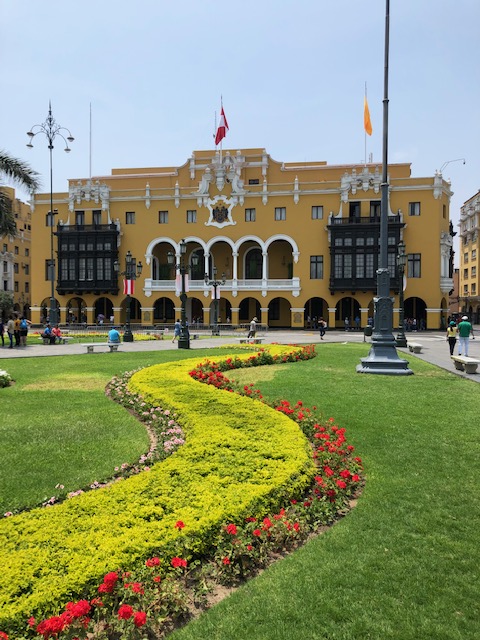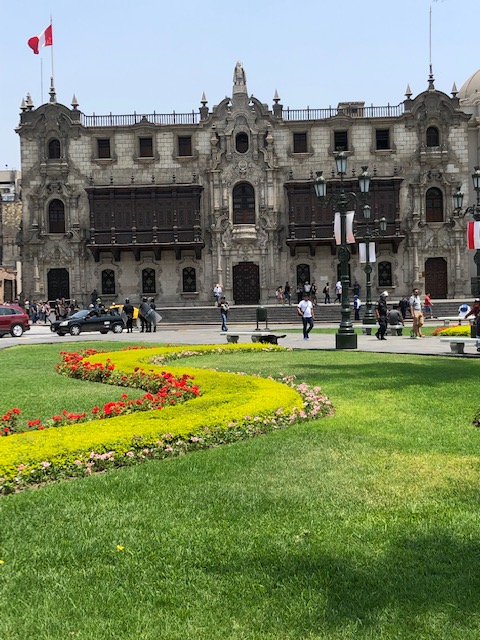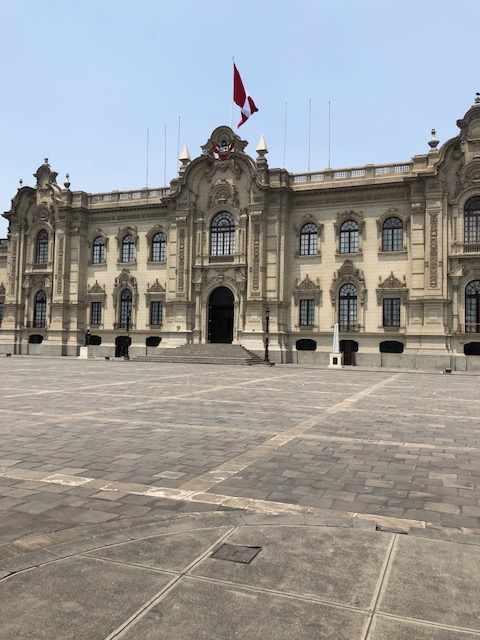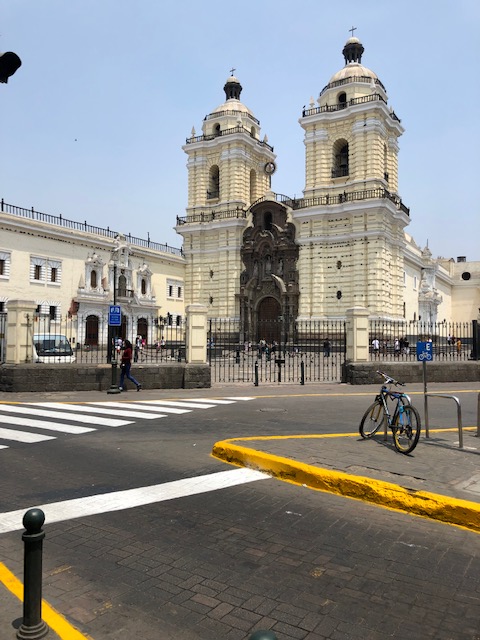 Sun 20
This morning I walked around Barranco, the suburb a short walk south of Miraflores. It has a long history as Lima's bohemian area – I call it the St Kilda of Lima!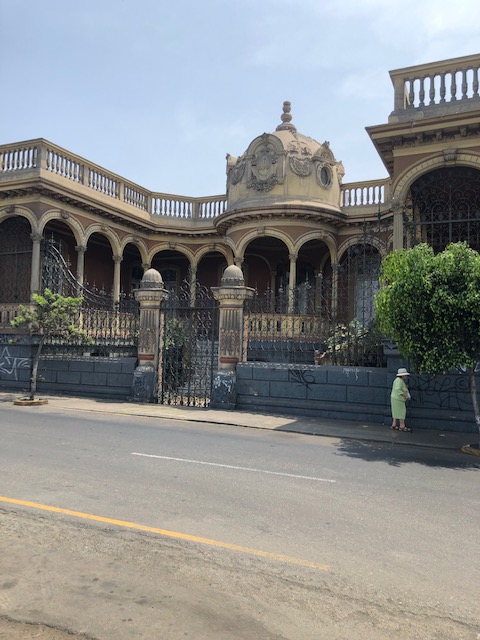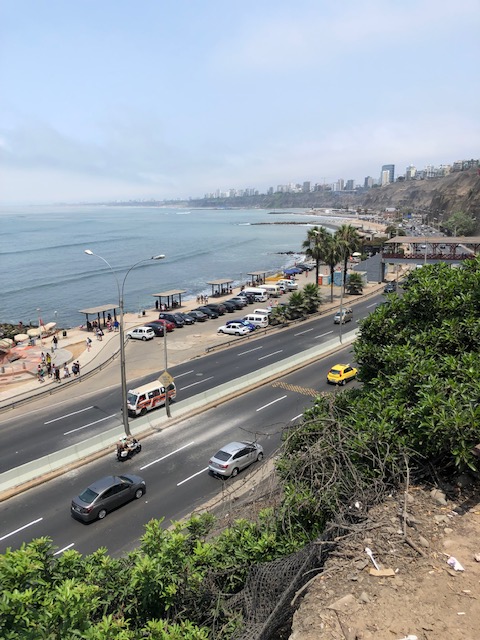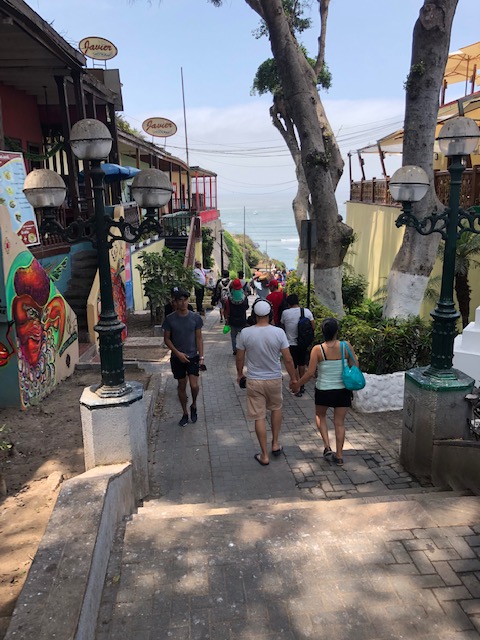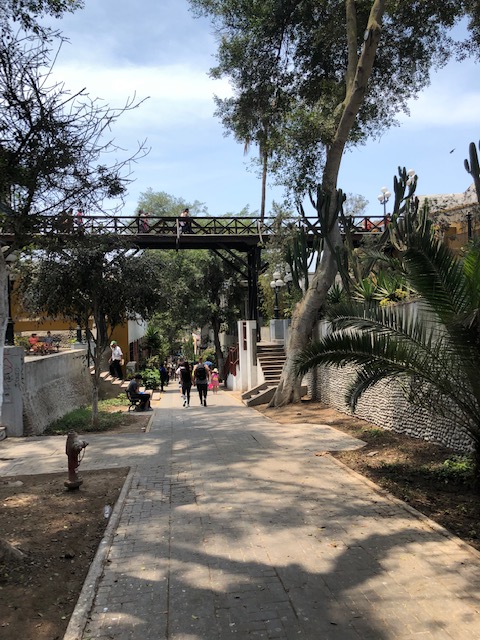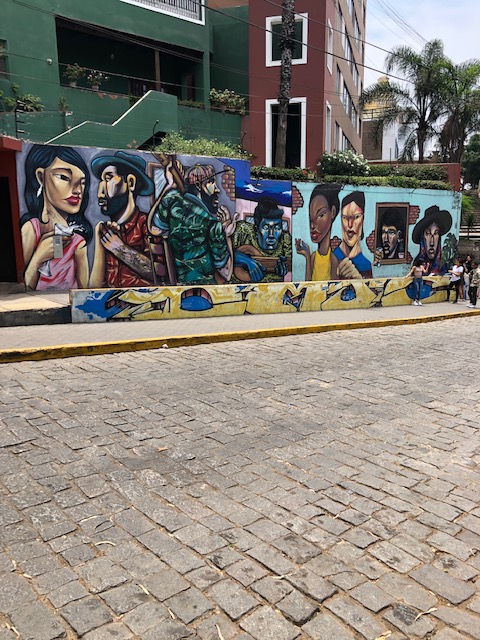 Fri 31
I returned to the US from Lima on Mon 21 & had a relaxing week based in SD. I flew to London on Mon 28, arriving next day & checking into the Bankside Hilton, the hotel I enjoy when in London. I was welcomed back by the staff who remembered me & spent the day recovering from jet-lag. Today I went to 12.30 pm Mass at St Magnus – the church where I am to be special preacher for Holy Week & Easter in April. It was good to catch up with the Rector & 2 parishioners I know. After Mass I spent the rest of the afternoon in the Imperial War Museum. Tomorrow I go to Walsingham via train to Kings Lynn.
Sat Feb 2
I arrived in Walsingham yesterday on a very cold day, but the sun was shining. Good to be back & to see everyone again. Today is the 39th anniversary of my ordination to the priesthood. In Adelaide that day it was 33c – today it snowed! So I walked in snow to St Mary's for the 11 am Mass with Candlemass ceremonies. I enjoyed concelebrating the Mass as I reflected on that day & all that has happened over the years since then. After Mass I joined the parishioners for lunch, which was an initiative from the new Vicar, Fr Harri. I enjoyed meeting him & his wife.
Tomorrow is the 40th anniversary of my Deaconing & I have been invited to be Deacon at the Parish Mass. Afterwards I will have lunch with my friends, Stephen & Jo. The annual priests retreat starts on Monday & I am looking forward to experiencing this for the 1st time. So 2 Walsingham firsts this visit – Candlemass & the Priests Retreat.
Mon 4
Yesterday was a lovely celebration of my anniversary. I wasn't expecting any fuss – but I was prayed for in the intercessions & during the notices the Vicar, Fr Hari, congratulated me & presented me with a bottle of Frech champagne. Parishioners were also very kind with their congratulations. A lovely lunch with my friends followed.
This morning I said Mass in the shrine, using the propers from the missal for the anniversary of ordination. This is a very personal sort of Mass & is only the 2nd time I have used it. Now I look forward to being on retreat with 140 priests & being in silence until Friday morning.
Sun 10
The retreat was excellent. 3 talks about 20th martyrs which each had a relevance to me: the New Guinea Martyrs, Edith Stein & Oscar Romero. The worship & singing were uplifting. On Fri I returned to London for the weekend.
Yesterday I caught the train to Lingfield, Surrey, to visit my old friend, Fr Martin. We chatted & reminisced for hours, remembering good times we had in both our parishes.
Today I went to High Mass at St Magnus. It was excellent, with wonderful music & the usual superb brunch afterwards. Several people said that they were looking forward to my return to St M to be the special preacher for Holy Week & Easter. After I returned to the hotel I walked to the Imperial War Museum. I still had things to see from my visit on Jan 31 – in fact I spent another 2 hours there.
Tomorrow I catch the train to Oxford & will be there 2 nights. The purpose is to meet with the principal of Pusey House. He is in charge of the arrangements for the Peter Toon memorial sermon, which I am to give in May – like St Magnus, another great honour & challenge.
Thurs 14
I had a wonderful 2 days in Oxford. I arrived Mon a/noon & caught a bus to my hotel on the outskirts of Oxford. I was delighted to discover that it was near Littlemore, the village to where Cardinal Newman retired & preached his last sermon as an Anglican. Now a suburb of Oxford, I explored it & found Newman's parish church. More interesting was the view from my hotel room – St Nicholas Priory, erected in AD 1111.
Tuesday I caught the bus into the city & was excited to pass St Luke's, Cowley – the church from which I obtained the Harrison organ for St Mark's. That was exactly 21 years ago! Returning to the railway station, I then walked to Pusey House. I knew of Pusey House, but had never been there. It is a wonderful anglocatholic establishment providing accomodation for students with the magnificent chapel as its centre. There are daily Services, lectures, seminars & a significant library. I enjoyed staying there as much as for the atmosphere as anything else.
After meeting with the principal (whom I enjoyed meeting) about my preaching in May I then explored Oxford. What a wonderful place it is, with so many old buildings & famous Colleges, with their beautiful chapels. I returned to the House for Evensong, which was beautfully sung. Next morning I attended Mass & joined the residents for breakfast. I then explored more of Oxford before catching the train at 12 noon.
I am now in Walsingham for the Partners w/e, which I have attended every year since I retired.
Mon 25
After an excellent 3 weeks in UK, I had the w/e in Frankfurt. The weather here has been brilliant sunshine, but chilly. Sunday a/noon I walked around the old town. This was completely destroyed after the war & debate raged for decades about what to do with it. Thankfully they decided to avoid modern buildings & 15 years ago started to reconstruct the original buildings. I have watched it over the years & now it is finished. A wonderful result, incl an open-air museum of the original Pfalz.
Today I fly to Madrid. I have a week in Spain, incl 3 days in Seville – a new city for me.
Fri Mar 1
The weather in Spain has been amazing, almost like Summer. I wandered around Madrid all day Tuesday, most of it still familiar from my last visit years ago. On Wednesday I caught the train to Seville. What a wonderful, relaxed city this. And so many wonderful churches & buildings. Yesterday I went to Mass in the Royal Chapel of the cathedral. A stunning chapel only open to worshippers. After that I wandered around for 3 hours, finishing at the Macarena basilica – home of the weeping virgin.
Today I went to 10 am Mass in the cathedral itself. This was before they let the tourists in & I arrived when the Canons were chanting morning prayer. Wonderful to sit there & take in the impressive sanctuary. Mass followed, accompanied by organ, choir & incense. Afterwards I wandered around the cathedral for 15 mins, having it virtually to myself – fantastic. I then explored more of the city for 3 hours. More of the same tomorrow!
Sun 3
Yesterday I explored more of the city, incl Tirana on the other side of the river. I finished up at the stunning church of El Salvador – a wonderful climax to this wonderful city. Today I catch the train back to Madrid & tomorrow fly back to the US.
Thurs 14
I arrived back in Australia yesterday after a wonderful week in Spain, followed by a week in the US. Now I have just 4 weeks in Melbourne before flying to London for Holy Week & Easter.
The flight back to Melb on Monday was a strange experience – it was the last time I will fly between Melb & San Diego with United. For future trips I will be flying with Virgin Australia from Melb to London & returning thru the US. This is due to 2 factors: It is almost impossible to get upgrades on United & it is cheaper to book Bus Class on  Virgin to London than flying United thru SD & hoping for upgrades. This is significant as I now have less income for travel since the sale of my SD condo. It means I will no longer be making SD a base for travel, & I look forward to experiencing travel on Virgin with new planes, new crews, new terminals, new lounges & new elite benefits 🙂