Tues Jan 5
My Christmas was nice. Midnight Mass at St James & Mass of the Day at All Saints, followed by a great lunch with a diverse group of 6. The following Monday I had my new neighbour, Justine, here with Beata (my favourite neighbour) for lunch. On the Wednesday I flew to Adelaide, mainly to avoid being in St K on NYE. I was not surprised when the noisy, badly behaving crowd in St K that night made the national news next day! In Adel I enjoyed drinks on NYE with old friends & then caught up with other friends each day before flying back home yesterday. So now we are in 2021……what will it be like, I wonder.
Mon 25
I watched the Jan 6 attack on the US capital with dismay – but not with surprise. It was the logical end to Trump's reign. We shall see what the fall-out will be. By contrast, I watched the inauguration of President Biden with hope. I thought it was a wonderful occasion, especially the poet, Amanda Gorman, & Lady Gaga singing the Star Spangled Banner. Biden has a great task ahead – not least the Covid pandemic. We can only hope that he is successful & that Trump is consigned to the rubbish bin of history. How nice that the US now has a President who goes to Mass on Sunday, instead of worshipping the golf course!
Tomorrow I catch the train/bus to Kaniva to stay for 3 nights with my friend, Julie, who runs the puppet shop. I think it is very appropriate that I should spend Australia Day in a small country town where the biggest excitement is a puppet shop 🙂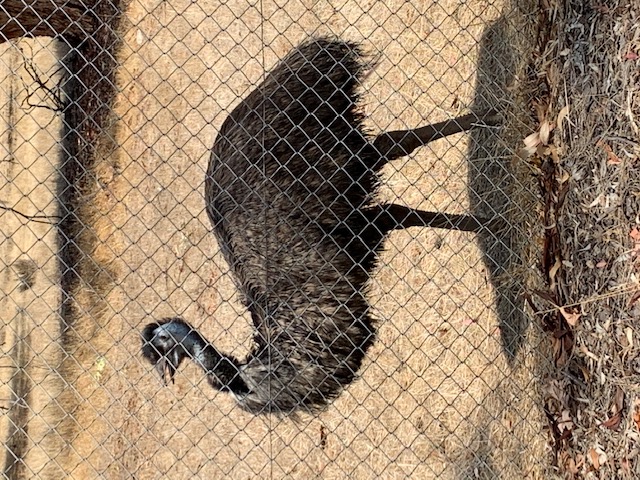 On Friday I catch the Overland train from Nhill to Adelaide, where I will spend 4 nights. On Sunday I attend Mass at St Paul's, Port Adelaide. Afterwards I will celebrate the anniversary of my ordination by enjoying lunch with friends – & remembering my wonderful 40th in Walsingham 12 months before. When I return to Melbourne I will only be there 5 nights, as on Sunday Feb 7 I fly to Brisbane for 2 nights & then to Alice Springs. After 2 nights there I will catch the Ghan train to Adelaide. I have caught it before from Alice Springs to Darwin. It will be nice to now complete the journey.
Tues Feb 16
My planned trip was changed by a new Covid outbreak in Melb & interstate border closures. I subsequently cancelled my flight to Brisbane on Sunday & then to Alice Springs, booking a direct flight to Alice Springs on the Tues. I had an interesting 2 days in Alice, discovering their cultural precinct with its 2 museums & the Albert Namatjira gallery. Adjacent to the precinct was the town cemetery. I wondered around & was thrilled to find Albert Namatjira's grave, complete with a replica of one has famous paintings.
On Thursday I caught the Ghan to Adelaide, which was a marvellous trip. On arrival in Adelaide those who had been in Victoria the previous week were interviewed & kept isolated. I had planned to spend the weekend in Adelaide, but offered to fly back to Melbourne that night. The alternative was a 14 day quarantine in Adelaide at my expense!
I was able to reschedule my flight back to Melbourne & cancel the hotel without penalty. 5 of us were then taken to the airport in a mini-van with a police escort & kept in a quarantine area until we boarded our flight. Everyone was nice to us & in the end I was glad to get back to Melbourne. The whole point of the trip was to go on The Ghan & it was worth it.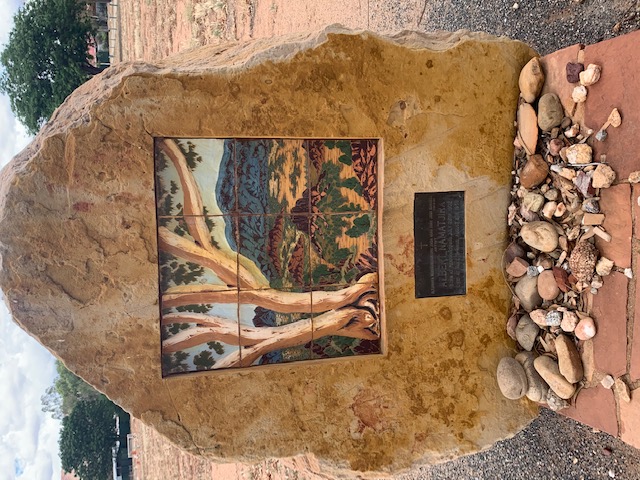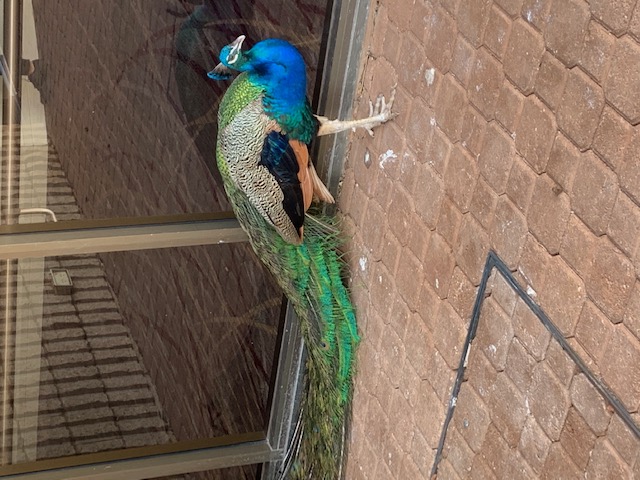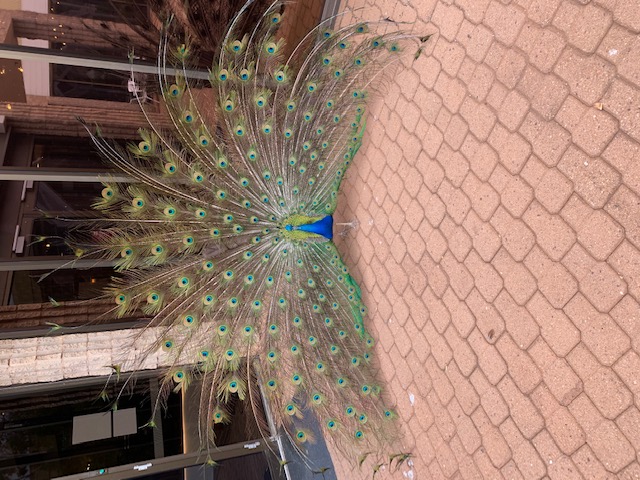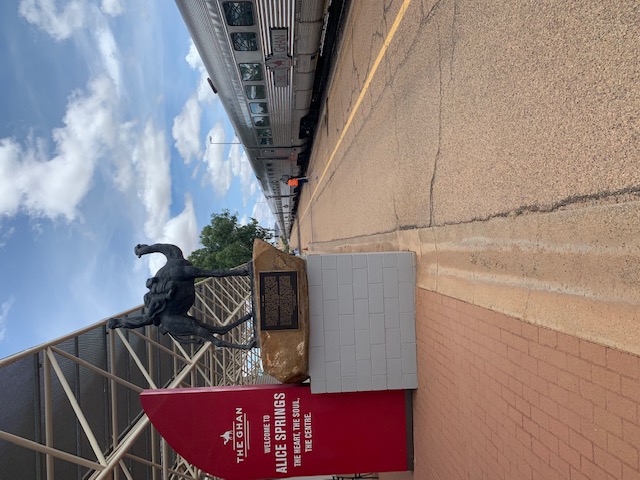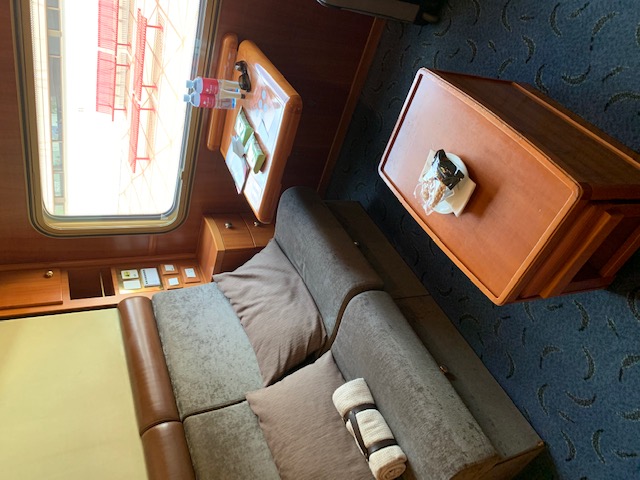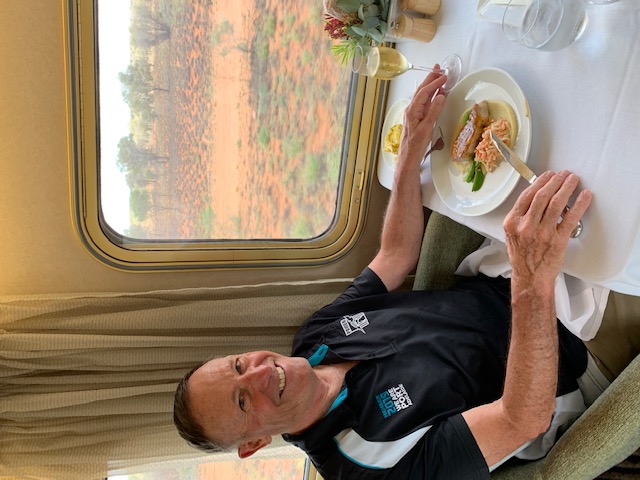 Sat 27
I have just had another trip to the country. I caught the train to Echuca, on the River Murray, which I had not visited before. I stayed in the old 19th cent post office, which has been transformed into a delightful boutique hotel. It was very nice, with personal service from Naomi, the daughter of the couple who bought it 20 years ago & restored it. Naomi provided a fantastic breakfast. Echuca is a delightful historical town, with the old port restored. On Thursday I went on a paddle-steamer cruise up the river, which included lunch at a winery. It was a wonderful 3 day break.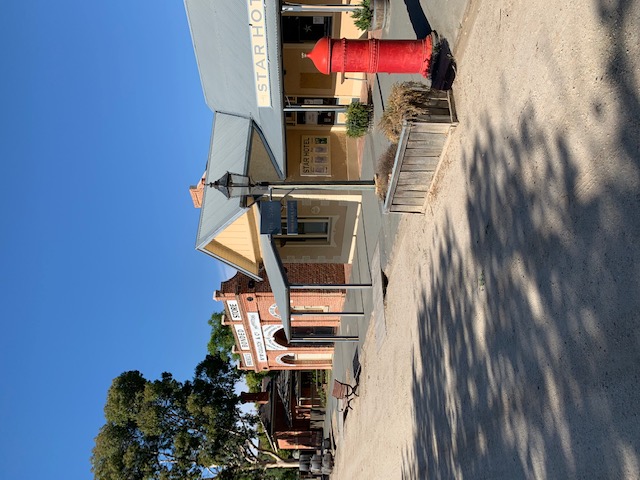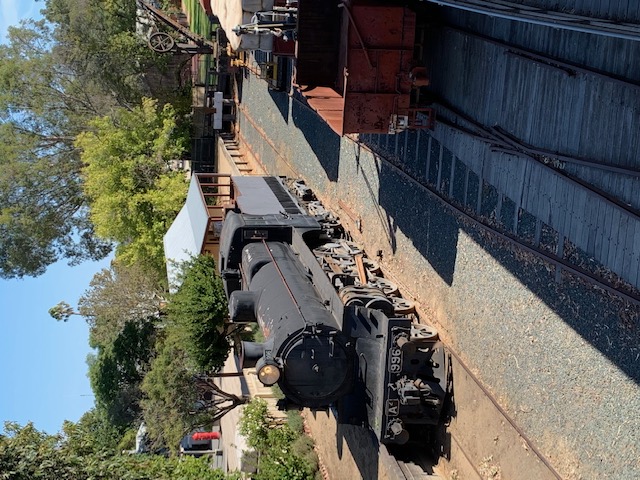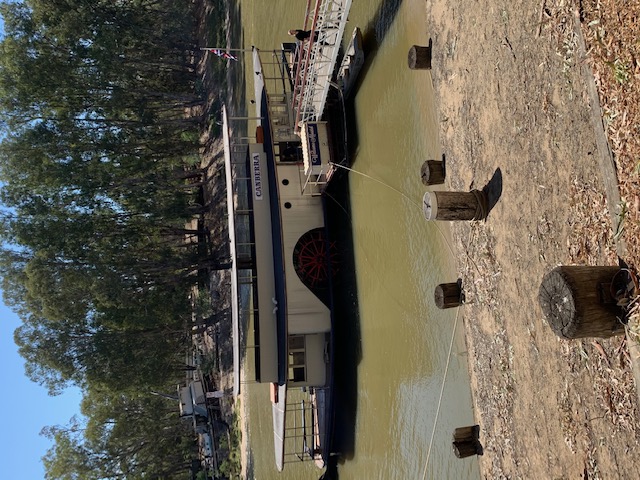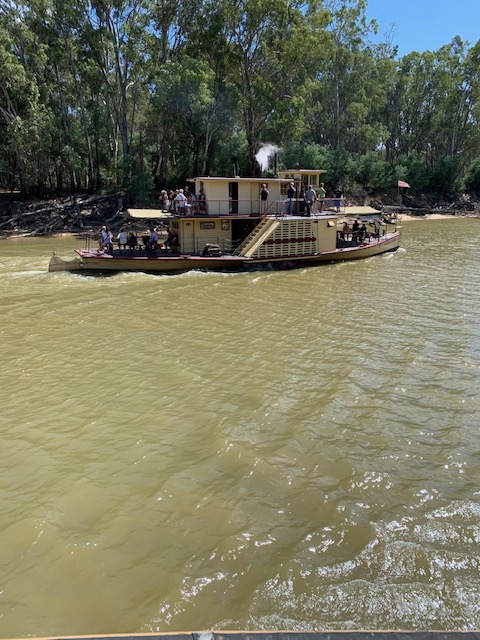 Sun Mar 7
10 years ago I celebrated my last Mass as Rector of All Saints. I had a wonderful 8 years in San Diego & give thanks to God for that & the people of the parish. It was an exciting & fulfilling time. This means I have now been retired 10 years…….where have the years gone!!
Wed 31
The football season has started! The 1st round saw Port Adelaide playing North Melb here in Melbourne on Sunday 21st. Capacity of stadiums is 50%, with members of the home club getting 1st choice. So to guarantee that I got a seat, I booked lunch in the AFL members dining room. This was very nice & great to see Port win 1st up.
Last weekend Port played their 1st home game. To support the club financially (after last year's Covid affects) I had upgraded my membership to a package that gives me 6 invites to the Chairman's pre-game function as well as 2 good seats in the Western Stand. It was a great way to watch the footy & I met several people who knew me. Port were wonderful in the 1st 1/4ter & won well.
It was good to be back into the routine of going to Adelaide for home games & having a weekend there. I also plan to go to other interstate games – but am always aware that Covid could change my plans. This will be the 1st year that I have seen Port play a whole season since I left Adelaide in 1985. Tomorrow I fly to Perth for our game there on Saty. The Easter Triduum won't be the same.
Wed April 7
I had a lovely weekend in Perth……apart from the footy. Port Adel were between very badly! Before the game I attended the Port supporters pre-game function at a local pub. The chairman, David Koch, was speaking about Port supporters coming to the game from all over the country. He then referred to the 2004 Grand Final, when he & his father sat with an Anglican priest who had come all the way from San Diego. I immediately pushed through the crowd & said, "I am here"!
The weather was warm all w/e & I was able to attend all the liturgies at St Mary's cathedral. Good music, good preaching & good crowds, with standing room only on Good Friday & the Easter Day Solemn Mass. The hotel I stayed in was only 4 months old & very nice. It is right on the Swan river & I was given a room facing the water, with wonderful views from dawn to dusk.
Tomorrow I fly to Adelaide for Port"s big Fri night game against last year's premiers, Richmond.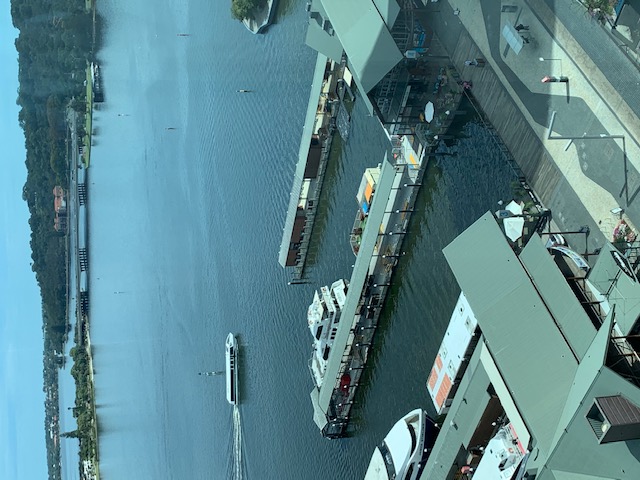 Wed May 5
I have not added to my Blog for a month because each week is much the same. On Fridays I fly to Adelaide (or another interstate city) to see Port Adelaide play. In Adelaide I catch up with family/friends & have enjoyed going to Sunday Mass at St Paul's, Port Adelaide, my home parish. I return to St K on Mondays. This only gives me 3 days in Melbourne, so I am quite busy. Apart from practical things & medical appointments, I have had meals with friends & 2 weeks ago attended the premiere of the movie, 6 Minutes to Midnight, which I enjoyed. In 2 weeks time I will have a 5 day stay in Adelaide to celebrate my birthday.