July 14
After my wonderful trip to Germany it took me a week to get over jetlag. Lots of practical things to do, of course, as well as contacting friends. There was also the usual round of medical appointments. Last weekend I went to Adelaide for a Port Adelaide home game, which was very enjoyable, as we won! There was the usual catching up with friends & with my cousin, Noelene. I also found time to visit Semaphore, where I grew up, which was a nice exercise in nostalgia & reflection. This weekend Port Adelaide are playing in Alice Springs – so I will be watching the game at the pub where our Vic supporters group meets.
Sep 29
It has been ages since I updated my Blog. The reason is what Americans call, "same old, same old"! The weeks are much the same with no trips to post pics of. Every 2nd weekend I go to Adelaide to see Port Adelaide play at home. As well as the footy I catch up with my cousin, Noelene & other friends, & also do some exploring of my home town. A highlight was visiting the new Port Club social rooms. It is a wonderful new development with a great restaurant, where I had lunch, a bar with outdoor area, museum & shop. When Port has played in Melbourne I book an AFL members lunch/dinner for the game – usually taking my friend, Peter. Unfortunately Port had a bad season & weren't in the Finals. However I went to the MCG Finals, which were exciting, & bought a Grand Final package, which wasn't exciting! Now the season is over I am off overseas. On Tuesday I fly to London, then explore by train France, Spain & Germany.
Oct 16
My flights to London were good. Altho it took me all week to get over jet-lag, I had a nice week in London catching up with friends, particularly at St Magnus last Sunday. On Wed I caught Eurostar to Paris & had 2 nights there. It was exactly 20 years since my last visit, which was significant in that I had come from San Diego where I was 1st asked to consider going to All Saints. On Thursday I walked for 3.5 hours around the city: Notre Dame, Eifel tower, Arc de Triomphe & other interesting sites.
Friday I caught the train to Barcelona. It is 10 years since I was last here. On Saturday I went walking for 3 hours & explored the Diocesan Museum. Today I went to Mass at Gaudi's fantastic Basilica of the Holy Family. Despite arriving 30 mins early, there was a long line of people waiting to get in. So I went to the security office, produced my All Saints, San Diego card, explained I was a priest & asked if I could get into the Mass. A young woman made several phone calls & then I was allowed in. When I entered the church another young woman was expecting me. She took me to a young man, who ushered me to the sacristy. I explained that I just wanted to attend the Mass, but a nice priest insisted I participate as a priest.
I was made very welcome by the friendly servers & clergy & given vestments to wear………I was to be a concelebrant of the Mass celebrated by the visiting bishop of Lima. The parish priest introduced himself & asked me to say part of the Eucharistic Prayer in English. So I was to concelebrate Solemn Mass with a congregation of 400 & also distribute Holy Communion. What a privilege & unexpected joy!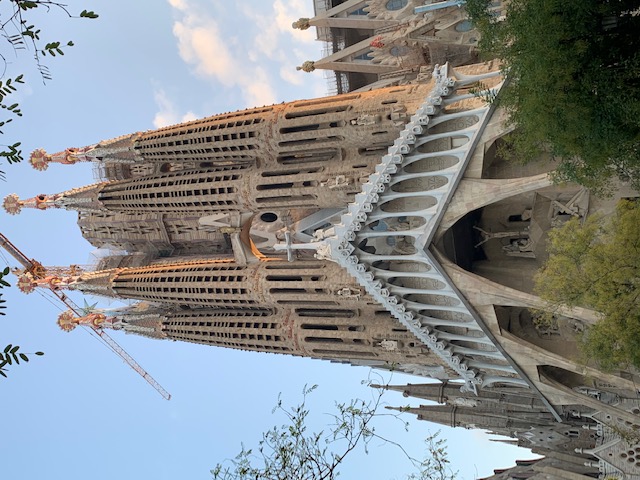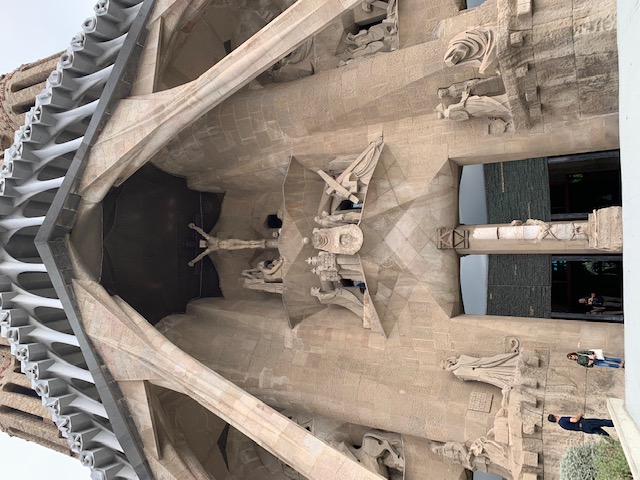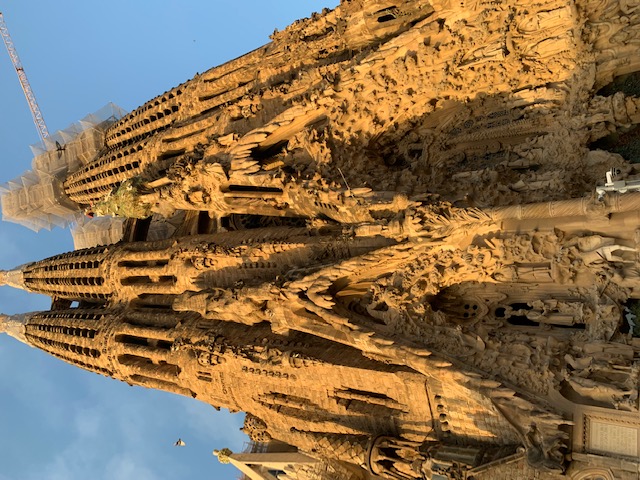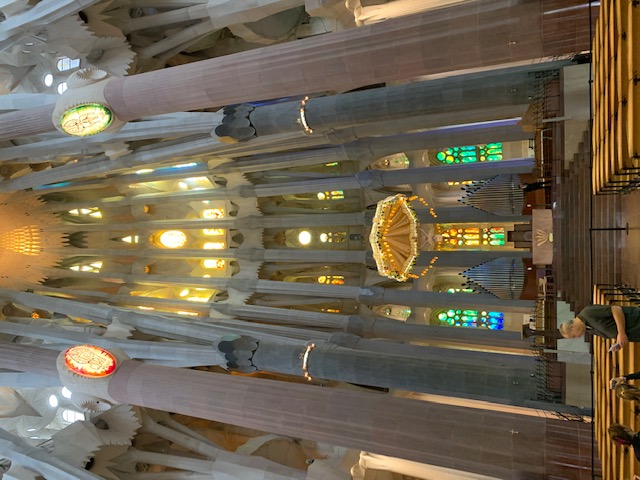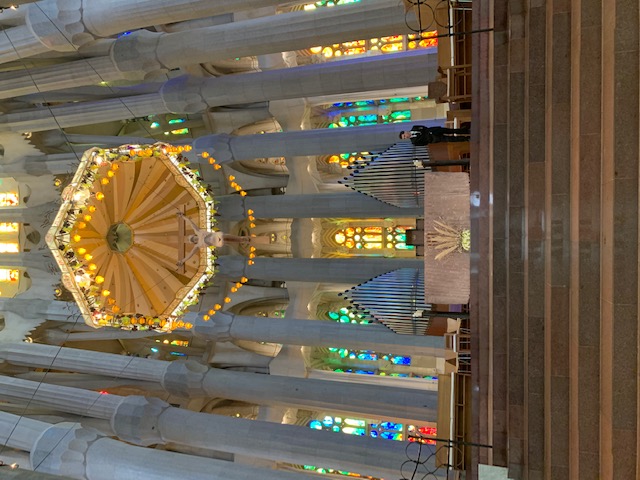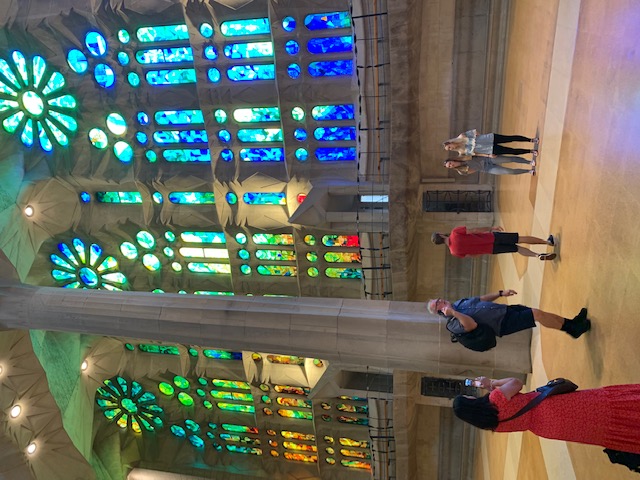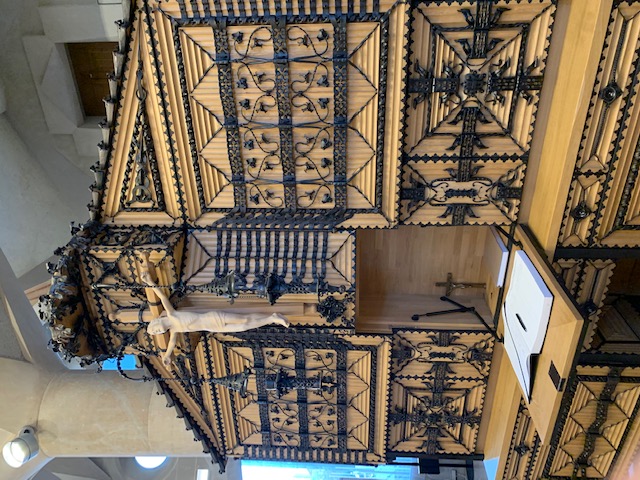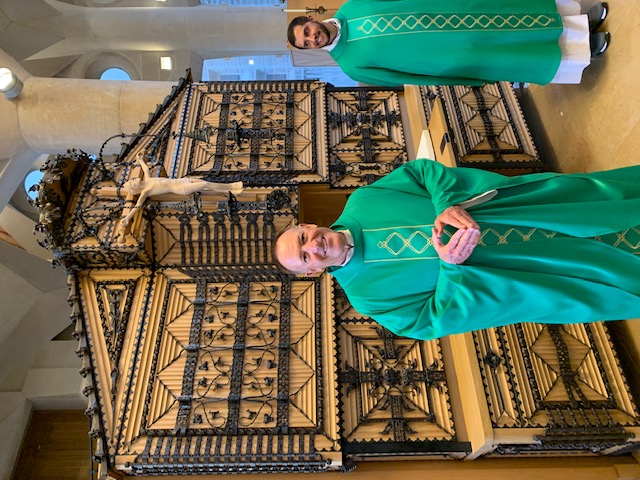 Sun Oct 30
After that wonderful Sunday in Barcelona I caught the train to Madrid next day. I had a relaxing 2 days in Madrid, then 3 days in Valencia. It was an interesting city & I enjoyed the various churches. The cathedral was esp beautiful & I attended Mass in the chapel of the Holy Grail. It was very warm for the 3 days I was there & I enjoying having dinner in a local outdoor restaurant each night. Great food & staff! Back to Madrid Saturday & on Sunday I attended Mass in the magnificent cathedral.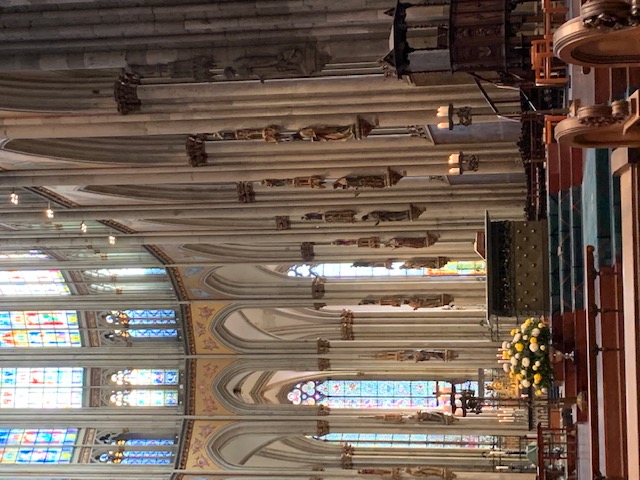 On Monday 24th I flew to Berlin because I wanted to experience the new Berlin airport. I had booked flights 10 years ago when it was supposed to open, but the opening was delayed due to construction problems – unusual for Germany. I was welcomed back to the Berlin Hilton & had 3 relaxing days. Wednesday I went to a free concert by the Berlin Philharmonic Orchestra. On Thursday I caught the train to Cologne & am here until Tuesday. I have enjoyed wandering around & visiting various churches. On Friday I went to the Gestapo Museum. A fascinating & enlightening 4 hours. Cologne resisted the Nazis more than other German cities, until they siezed power in 1936. This was due to its liberal outlook & being 75% catholic. The Mayor at that time was Konrad Adenauer, who became the 1st leader of West Germany.
This morning I went to Mass in Koln Dom & tonight will attend a JS Bach concert in St Ursula's basilica.
Mon Nov 7
After a pleasant 5 days in Koln I caught the train to Hannover on Tuesday. I was able to attend evening Mass for both All Saints & All Souls in St Clements Dom. On Wed I went to Hildesheim. The main attraction was the Dom, which has a 1,000 year old rose bush growing on the outside of the apse. At the reformation the cathedral remained catholic, even tho the town converted to Lutheranism. Today it still has a large catholic population & the Dom is a thriving centre of worship & evangelism. Thursday I wandered around Hannover, discovering parts of the city I had not seen before. On Friday I returned to Koln for a relaxing final weekend. Each day I wandered around the inner city & found churches that I had not visited before.
Today I caught the train to Frankfurt airport & am staying in an airport hotel tonight. Tomorrow I fly back to Melbourne. It has been a good trip. Now I look forward to returning home……& planning the next trip!