Wed April 10.
I have landed in London! I certainly made the right decision to fly with Virgin. The flight with Virgin Atlantic from Hong Kong to London was the best I have experienced on any airline. The Bus Class cabin, the friendly crew, the wonderful food…….all made for a wonderful flight. I got 5 hours sleep, which is pretty good. Flying westerly to London was better for jet-lag, too. Now for 2 weeks of involvement in St Magnus the Martyr.
Tues 16
For this visit I am staying in a flat in Kennington – a part of South London that is new to me. Coincidentally, around the corner is St Agnes church, where I preached in 2001. The 1st few days were quiet as I recovered from jet-lag. So to Palm Sunday & my 1st sermon. The liturgy itself went for over 2 hours, which included processing outside & around the famous Monument. The church was full & the music excellent. In the evening I went to a Service at St Stephen's, Gloucester Rd, where I used to attend in 1974.
Today was the the Bishop of Fulham's Chrism Mass. St Magnus is under his jurisdiction & I was invited to participate with the other St Magnus clergy. It was a wonderful service with standing room only – over 200 present. Not bad for a Tues morning! I was one of 80 priests who concelebrated & renewed our vows. It was good to catch up with many friends, both priests & laity.
Holy Saturday
The Maundy Thursday Mass was very moving. I admire the clergy & altar servers in how they present these traditional (& very involved) liturgies. They are a great team & I have enjoyed getting to know them.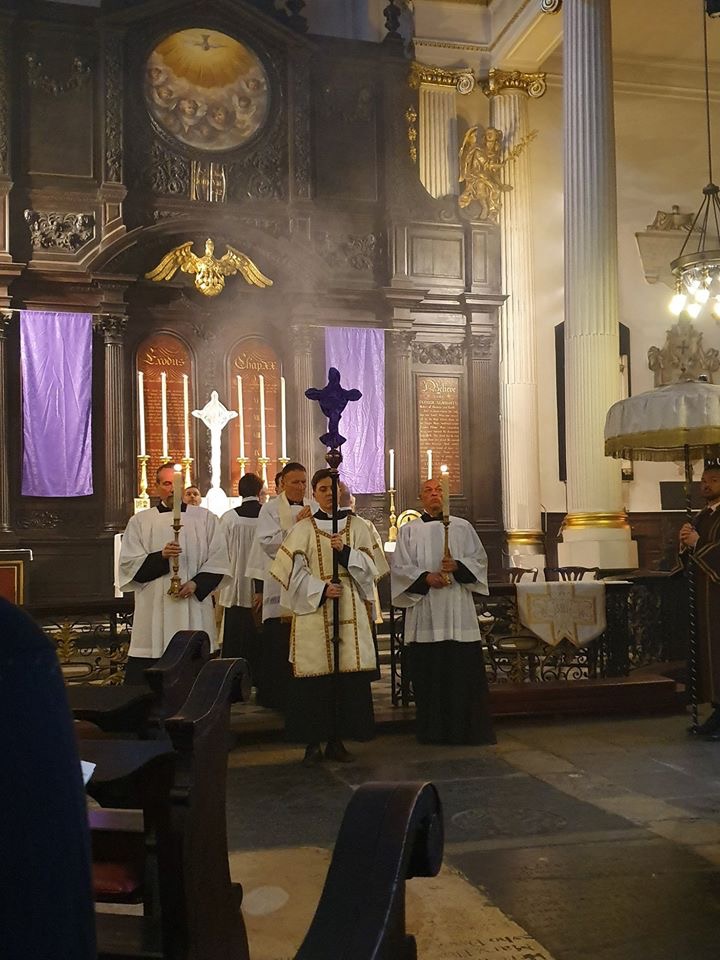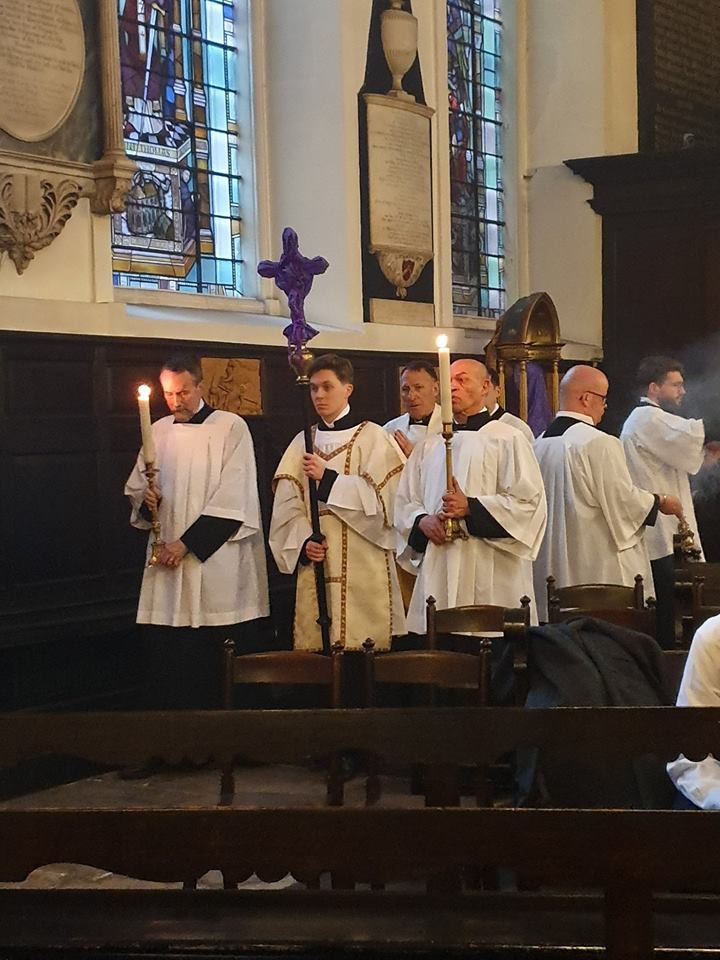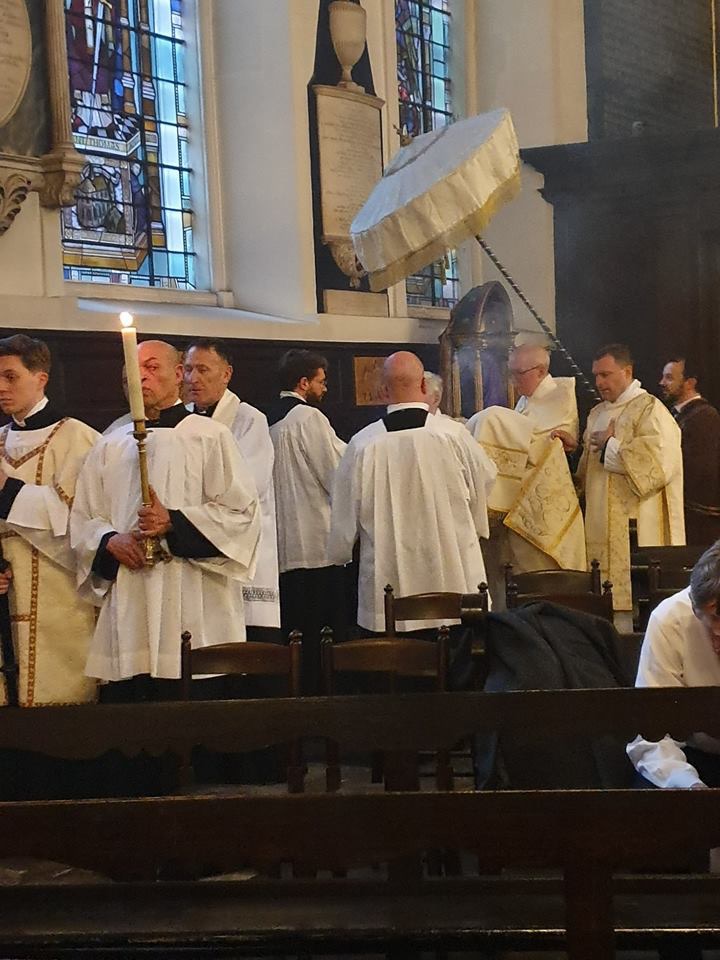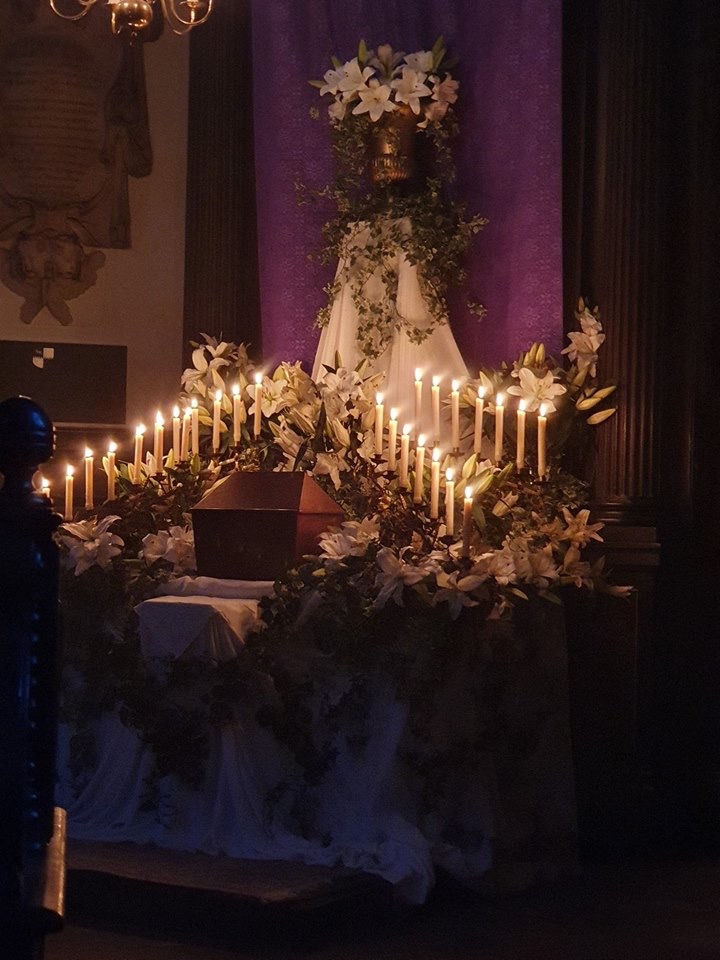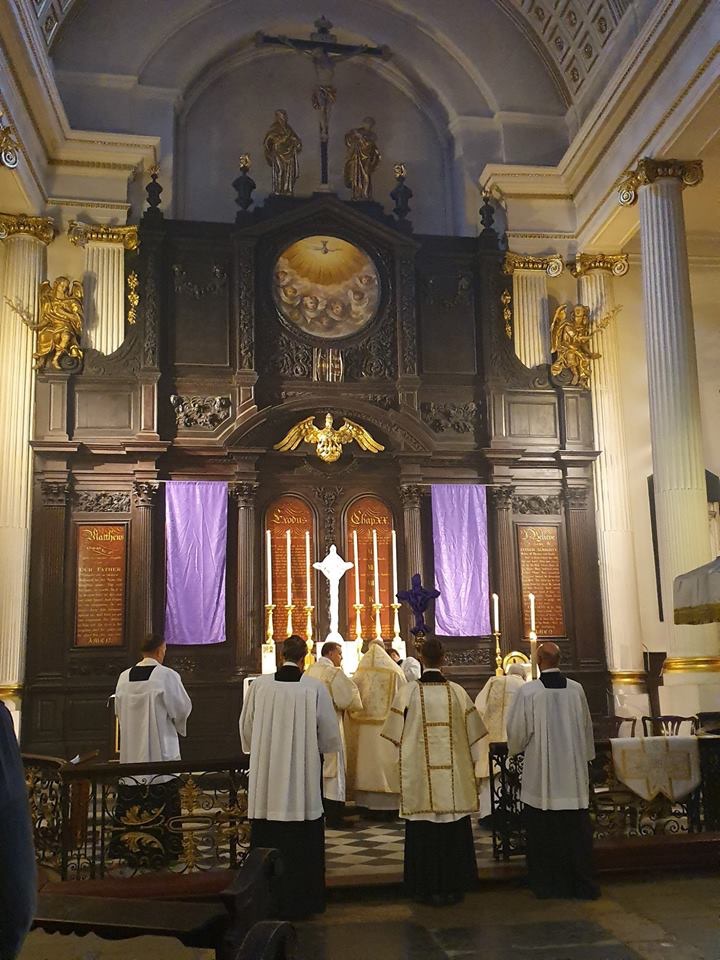 >
On Good Friday we had Stations of the Cross at 11 am & the Liturgy at 1 pm. Fr Warner invited me to be the celebrant of the liturgy – which was both an honour & daunting. At St Magnus they celebrate the ancient liturgies & I have only ever done the modern versions. However, any apprehension I felt was overcome by the assistance of Fr Warner & the servers. I survived!
This was a significant event for me – the 1st time I have worn black vestments. On the other hand, I am now used to the pulpit & know the regular parishioners. Both celebrating the liturgy & preaching took me back to all the wonderful Holy Weeks I have celebrated in San Diego, Fitzroy & Elizabeth Downs. After the liturgy we had hot cross buns with cheese on them……..another new experience! I returned to the church at 6 pm for a performance by the St Magnus festival choir of the choral work, From Olivet to Calvary, which was excellent.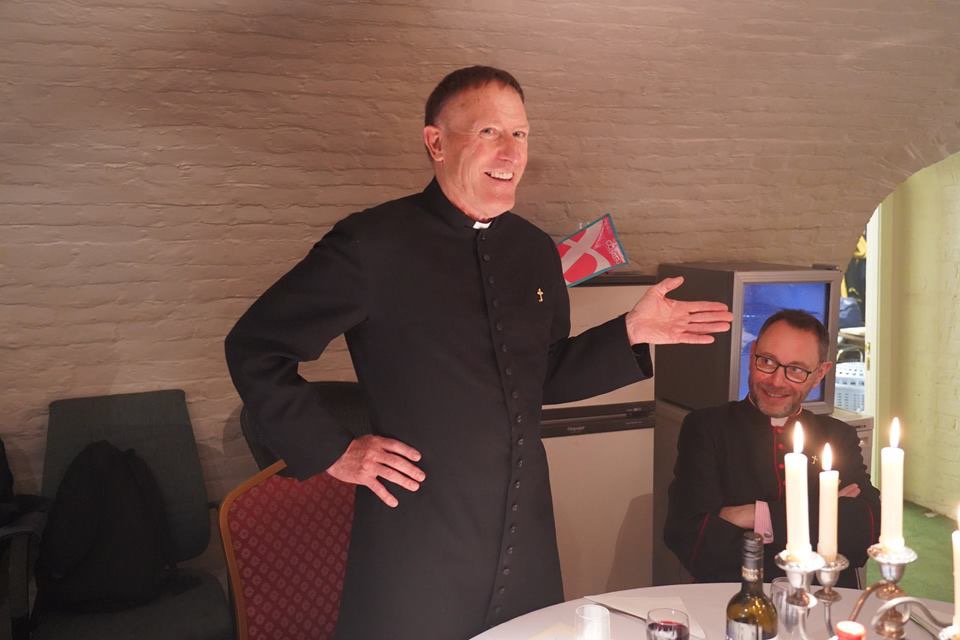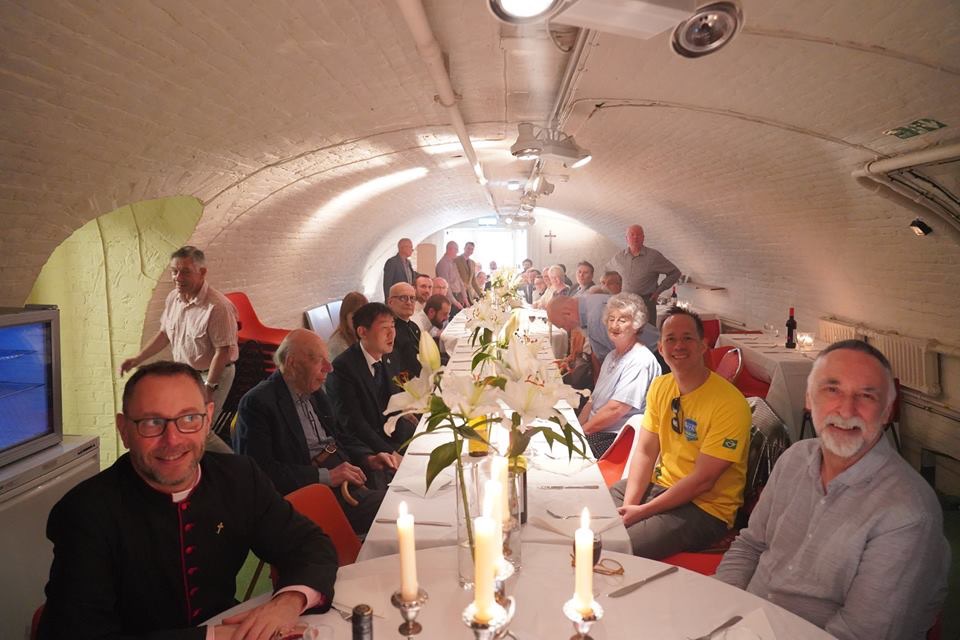 Easter Tues
It has been a wonderful Easter for me. The weather has been warm & I went for a nice long walk on Saty a/noon. More significantly, the Services at St Magnus have been outstanding with magnificent music. The Easter Vigil was the very old rite, which I had never experienced. It began with the church in purple & then all the hangings were removed & the gold vestments appeared. It looked a complicated rite & I was glad that I was only preaching!
The Vigil was trumped by Easter Day. The High Mass was one of the most wonderful that I have ever experienced. The church was full – attendances all week have been the best ever, I was told. It began with a procession. I wore a lovely cope – part of the High Mass set which came from Nashdom Abbey. Afterwards bubbly was served (as it was on Saty night).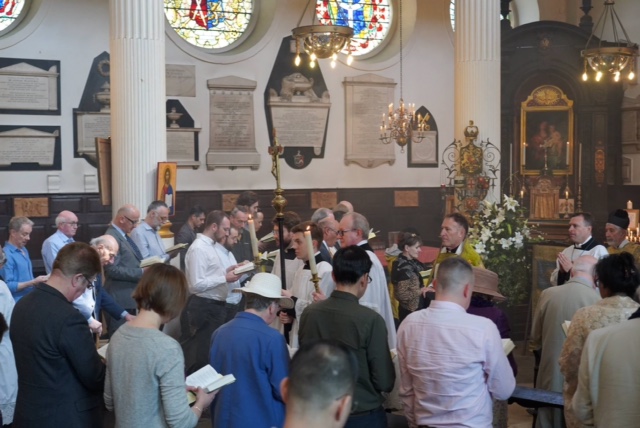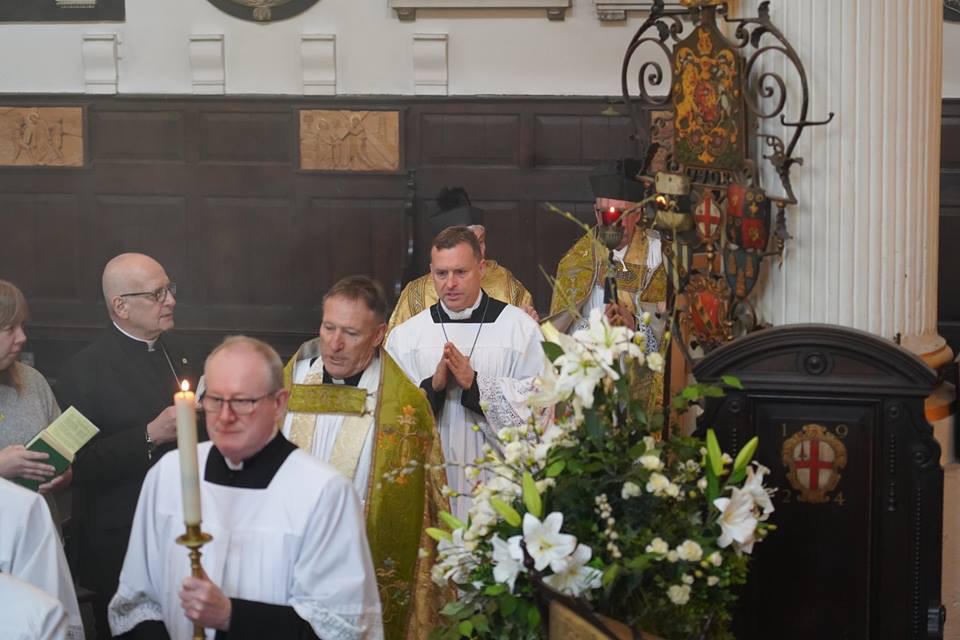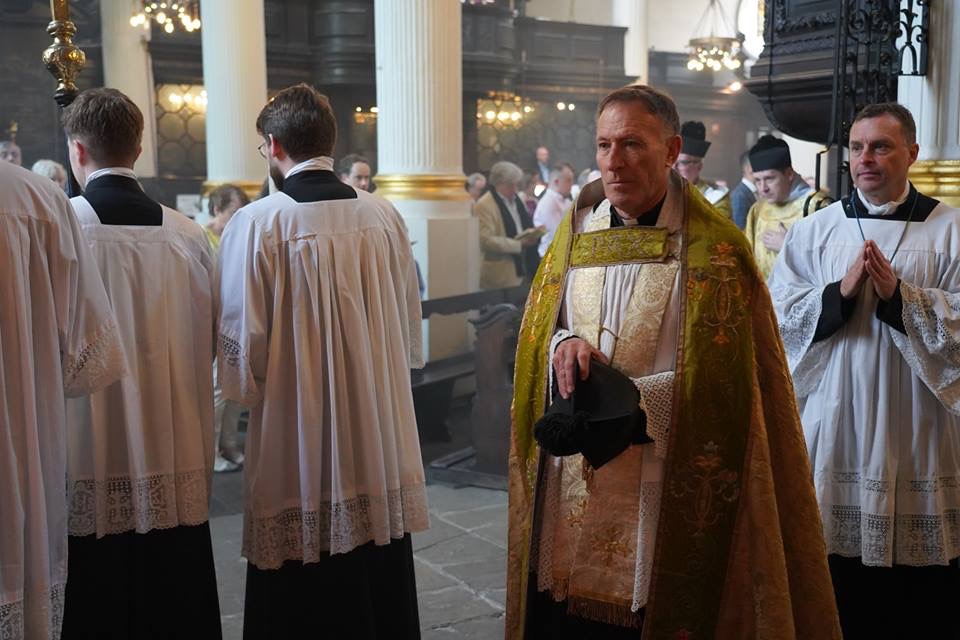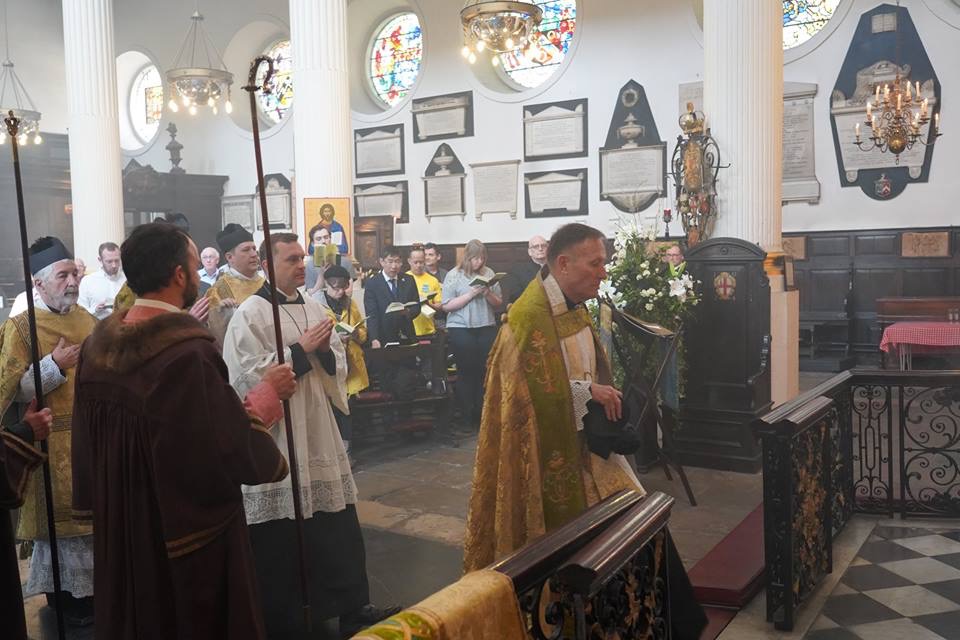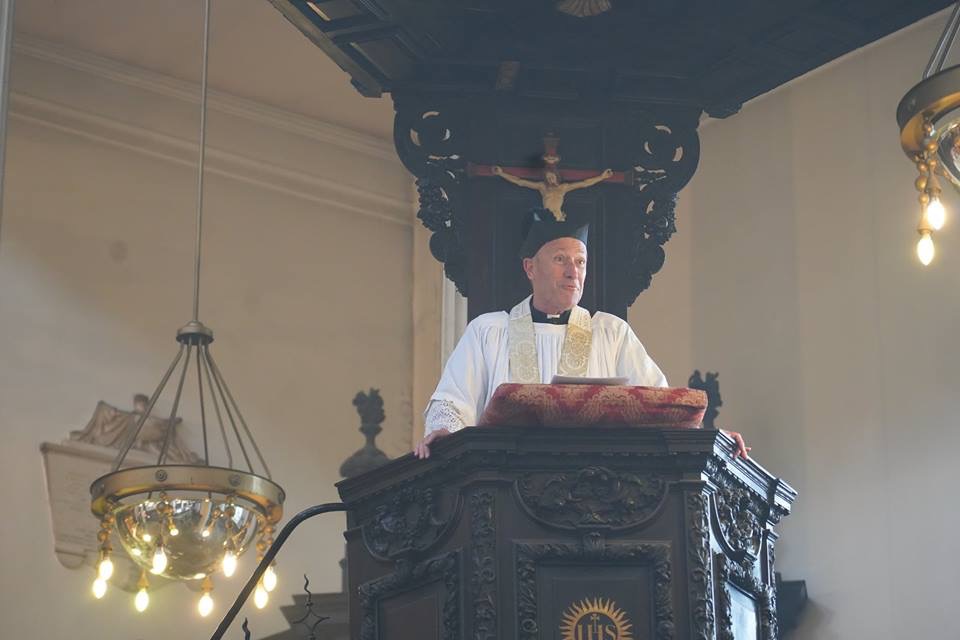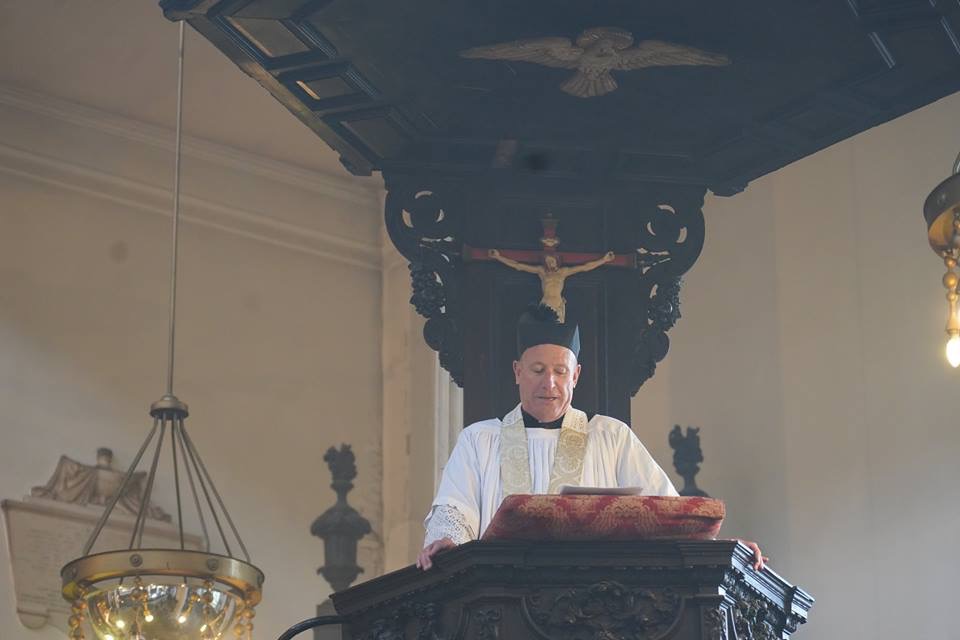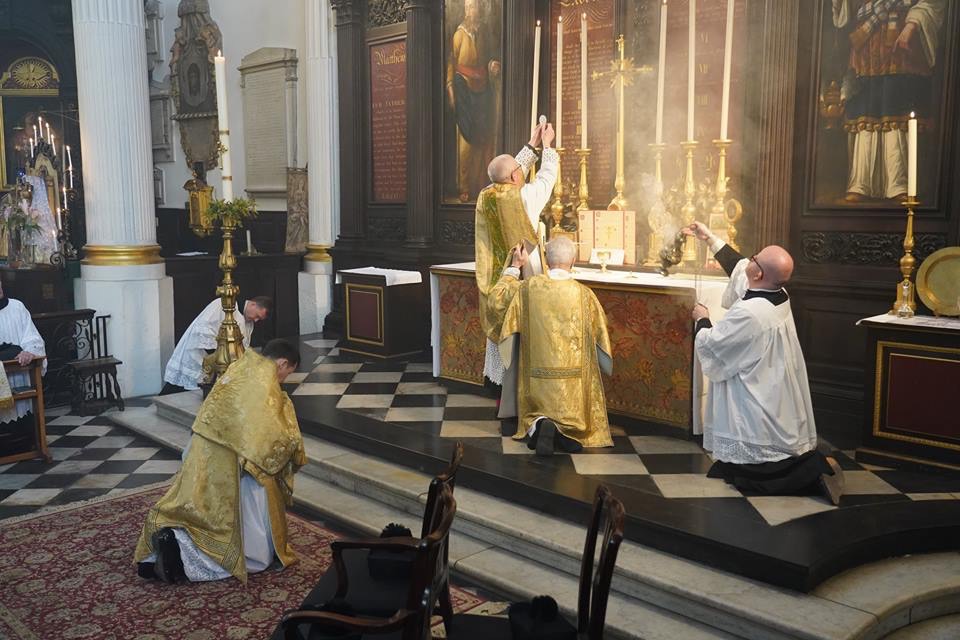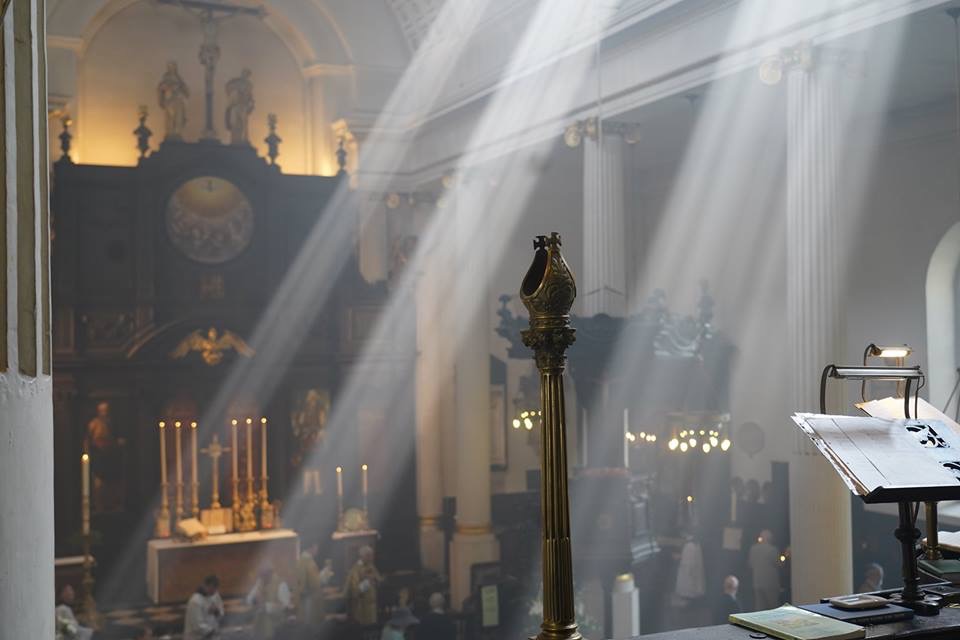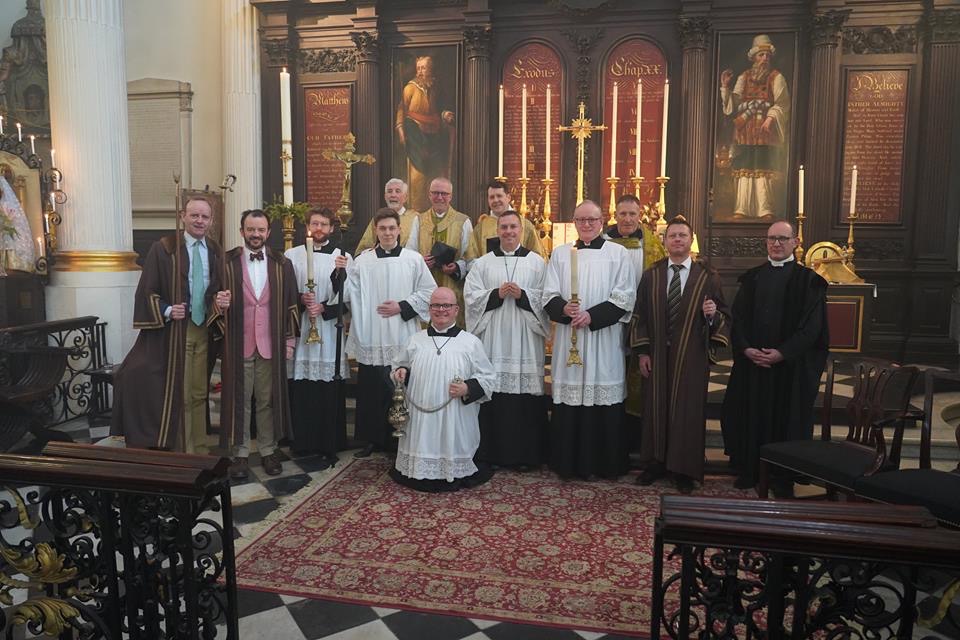 A sit-down lunch for 60 followed in the crypt. This was fantastic & done cheerfully by a small team. The parish never ceases to amaze me with its hospitality, not to mention its team of servers & the wonderful mix of friendly parishioners. Many expressed appreciation for my preaching & official thanks were given by the Rector & a Warden (who is an Aussie). He amusingly commented that it was nice to hear a real Aussie accent in the pulpit 🙂
On Easter Monday I said Mass, which was a great joy for me. Afterwards I went to the Verger's home (driving thru the quiet streets of London in an uber) for lunch with the clergy & servers. It was a lovely conclusion to my time at St Magnus & I have made many new friends here.
Today I am having lunch with Phyl, the woman I worked with in 1974/75. We will meet at the hotel opposite where we worked in the Strand. Tomorrow I fly to Frankfurt. I have 2 weeks travelling around Germany by train, then go to Serbia – a country I have not visited yet.
Thurs May 2
1 week in Germany & weather has changed each day! After a day in Frankfurt I had 2 days in Berlin. Then it was to Dresden for 3 nights. I stayed at the very nice Hilton & was upgraded to a lovely suite with a view of the Frauenkirche. I visited Dresden in 2012, after the Frauenkirche had been reopened, & have seen everything there is to see. On Sunday it was rainy & I went to Mass in the stunning Hofkirche. I came across a new shrine to local priests killed in Dachau concentration camp. This was a thrill as during Lent I read a book about the 3,000+ priests interred in Dachau – a very moving & inspiring story. In the a/noon I went to the Grosser Garten & had a ride on the mini-railway.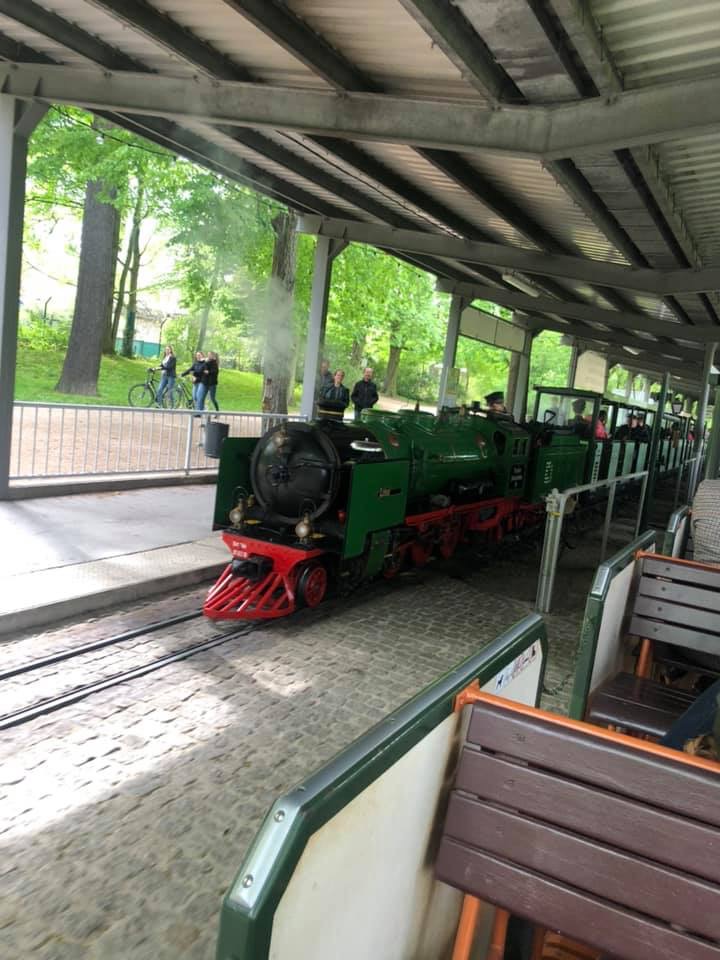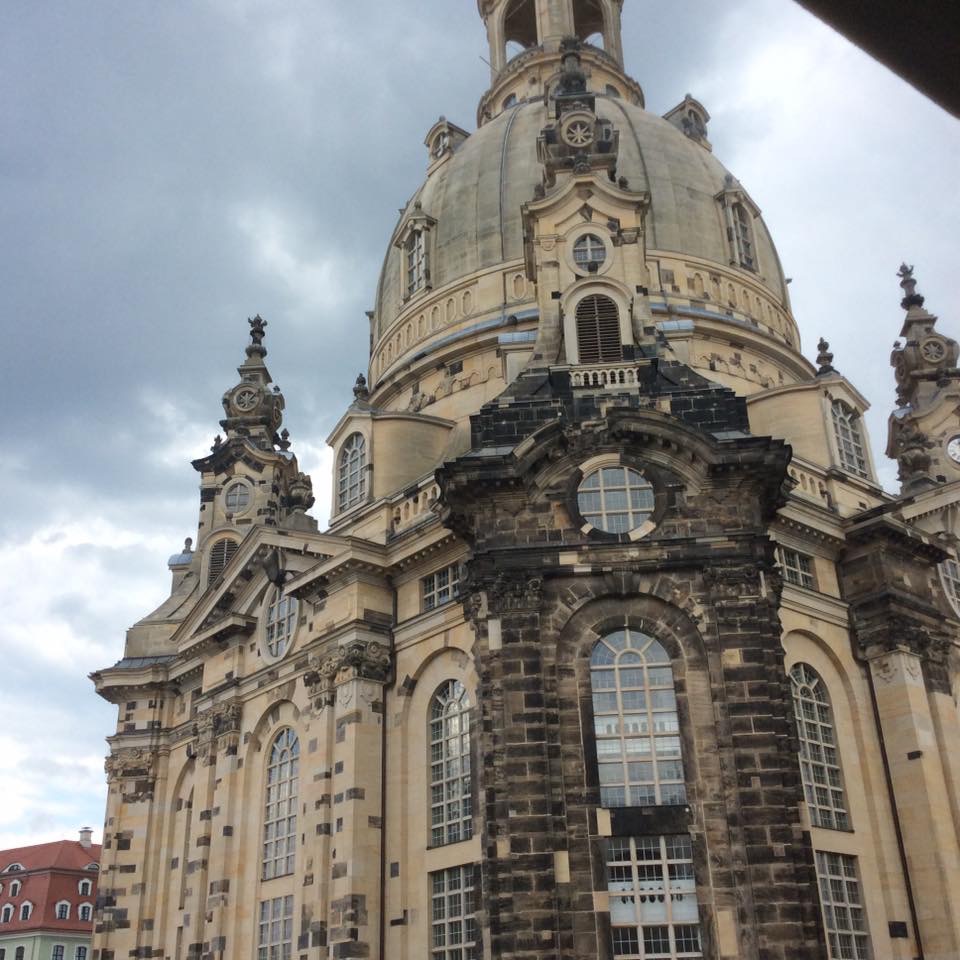 On Monday I caught the train to Goerlitz. This is in Silesia, from where German immigrants to Sth Aust came in 1845. I thought my family were descended from them, but have never verified it.
Goerlitz is actually a town sitting on either side of the river Neisse. After WW2 Germany lost its 3 states east of the Oder/Neisse line (Silesia, Pommerania & E Prussia) to Poland & Goerlitz was divided into 2 towns. Now that the border is not a reality the 2 are reunited. So I walked across the bridge & spent an hour in Poland!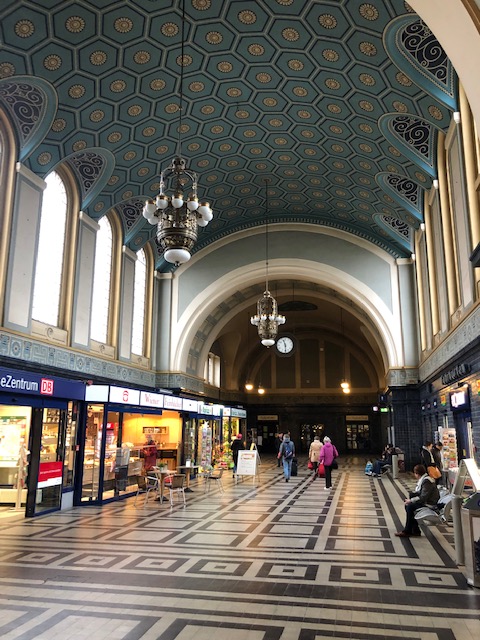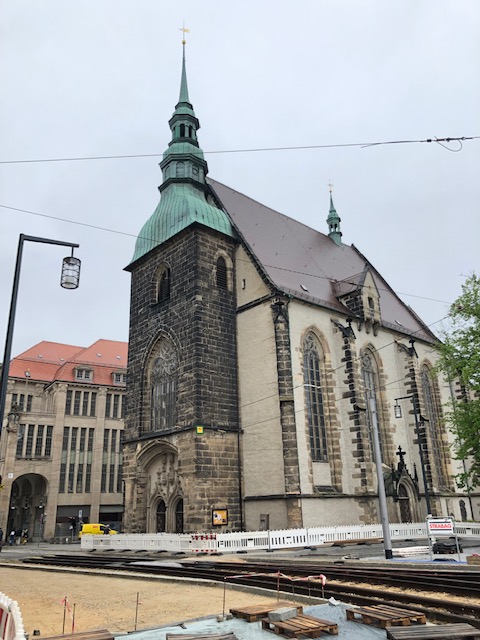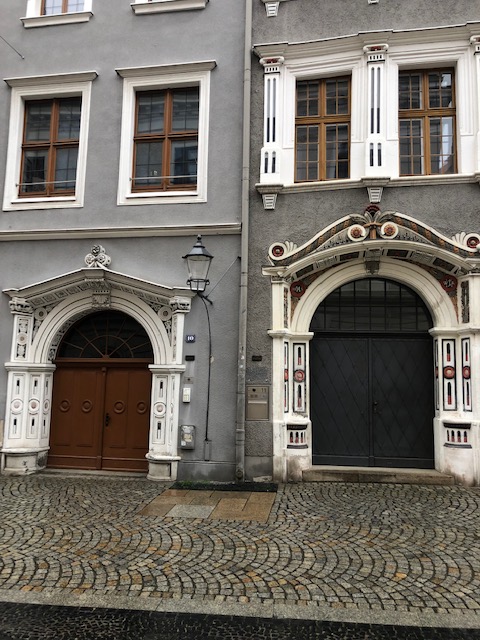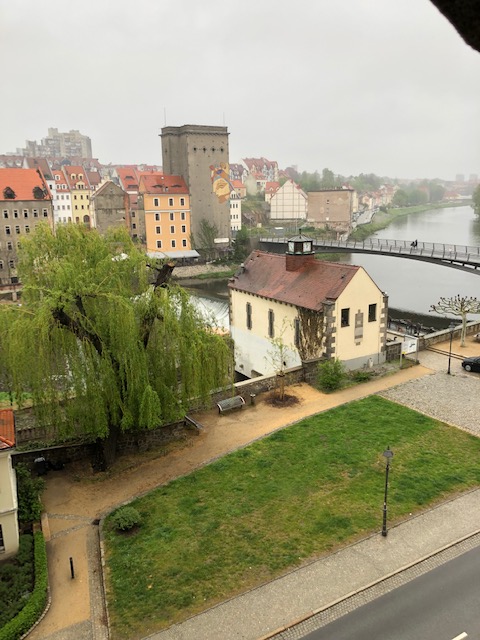 Tuesday I caught the train to Nuremberg. I am using this as a base to explore more towns in Bavaria. On Wed I went to Bamberg. The old city has wonderful buildings, especially the KaiserDom – one of the German imperial cathedrals. Like Mainz & Speyer it has a choir & sanctuary at each end. It looked splendid, with candles all alight. The Dom is set within a royal compound, with the Residenz opposite. This is because the city was ruled by Prince Bishops. It was my intention to visit St Michael's abbey, but it was closed for major restoration. So I returned to the Residenz & enjoyed lunch in the rose garden!
Bamberg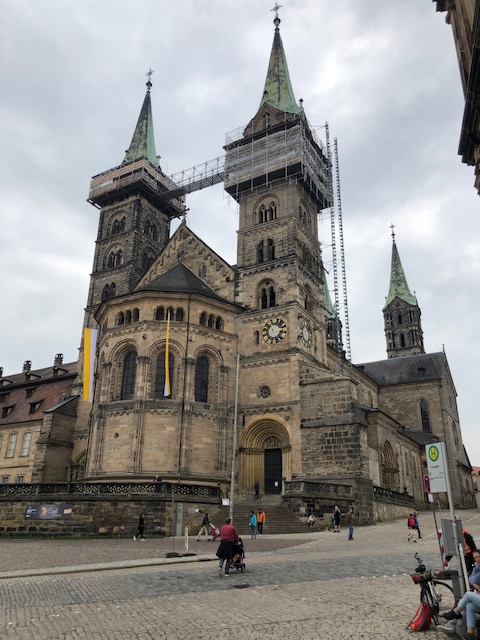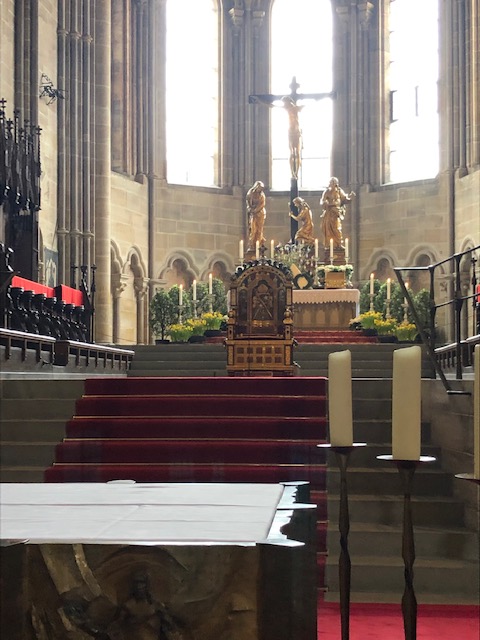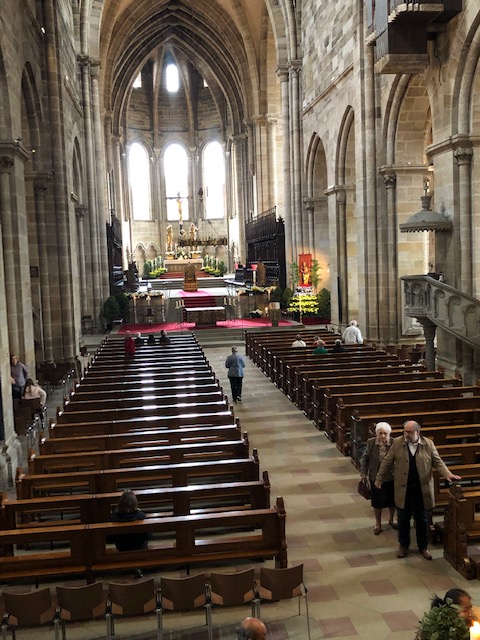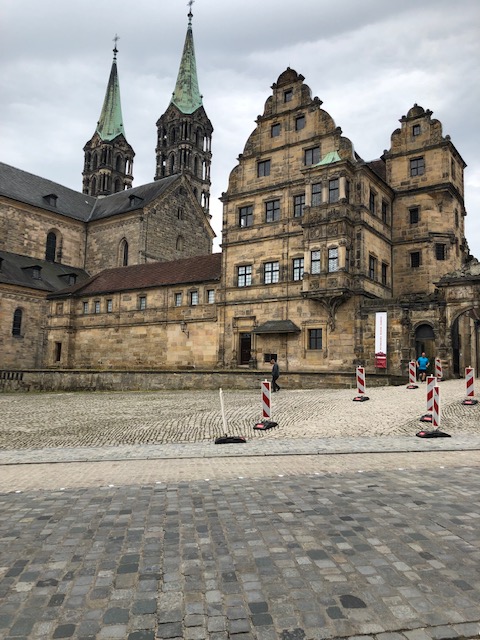 Nuremberg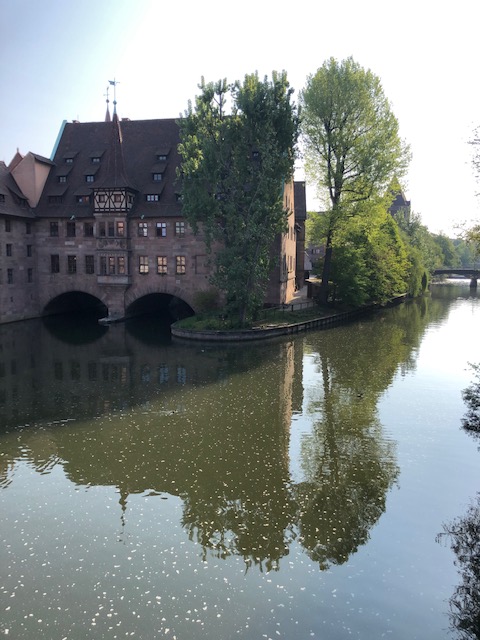 On the way back to Nuremberg I stopped off at Forchheim, another lovely town for me to discover.
Forchheim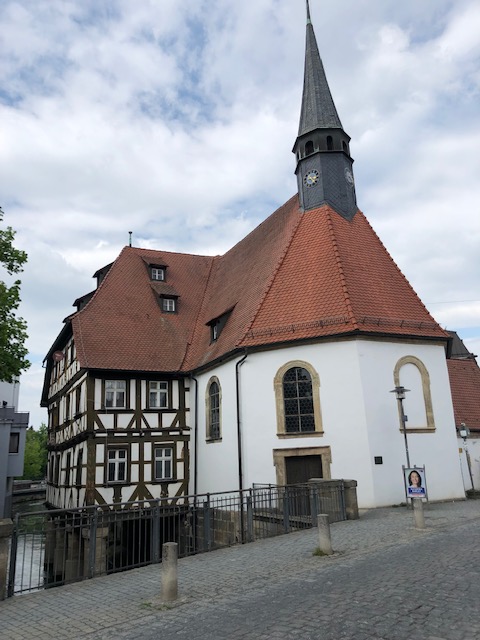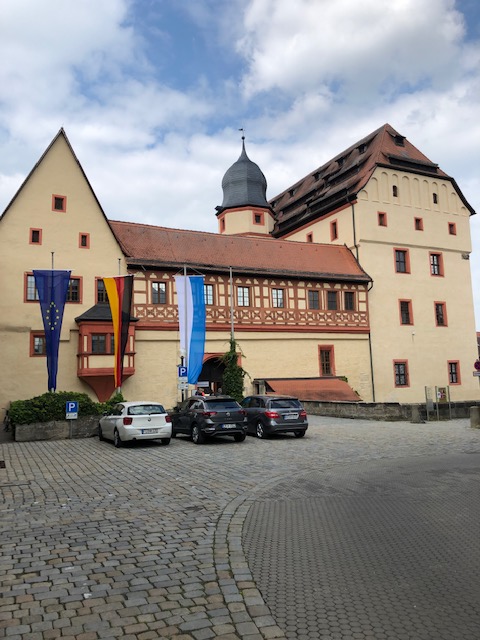 Today I caught the train to Rothenburg ob der Tauber. This was described by the Nazis as the perfect German town – & they were right. It reminded me of Sighisoara (Schassburg) one of the German cities in Transylvania. Like Sighisoara, it is surrounded by a wall – but in this case you can walk along it for almost the entire circumference of the town. The various towers were still in excellent condition. I enjoyed that walk & could imagine soldiers rushing to their posts for an enemy attack. In the town there were plenty of beautiful old buildings for me to enjoy, but the churches were disappointing.
Rothenburg ob der Tauber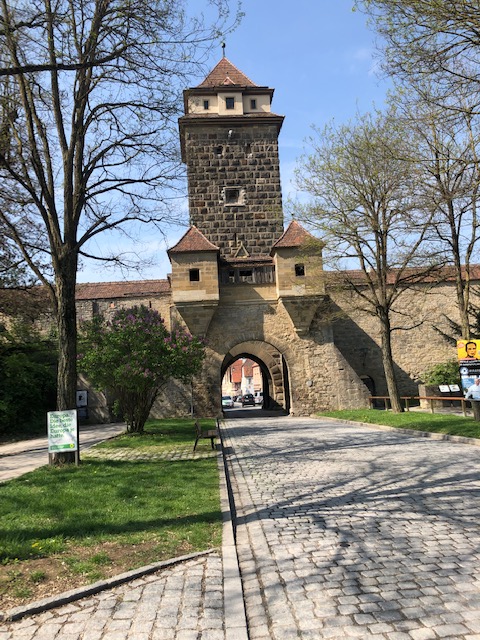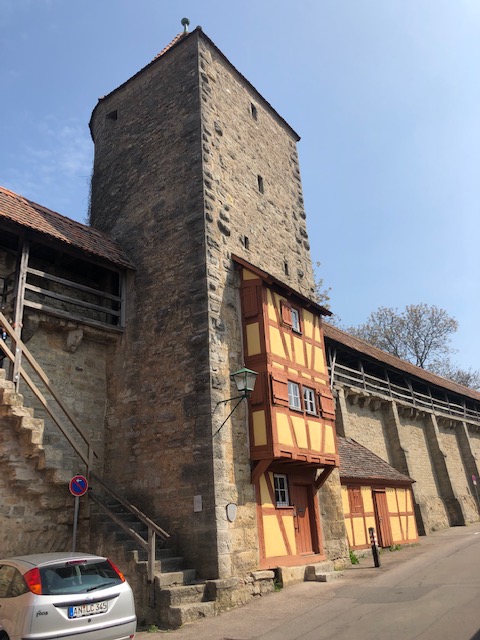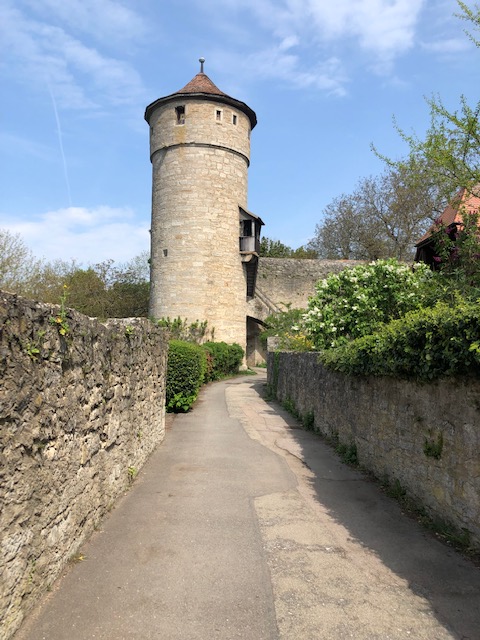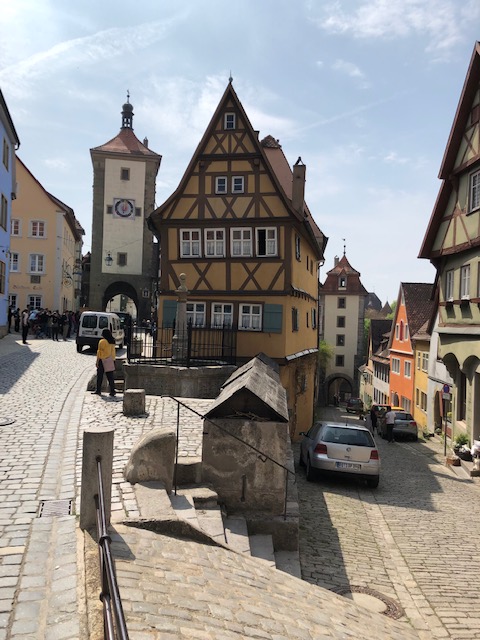 Once again I stopped off at a lovely old town – Ansbach. This is the regional centre for Franconia, the northern part of Bavaria. Tonight I finished my 3 nights in Nuremberg by having supper in the town Brauhaus. Tomorrow I go to Munich for 4 nights.
Tues 7
The weather has been cold with occasional rain for my 4 days in Munich. On Saturday I went to Dachau, to visit the former concentration camp. I visited it way back in 1974, but wanted to return after reading the book about the 3,000+ priests sent there by the Nazis. I was able to find the 3 barracks where the priests were kept: numbers 26, 28, 30. As well as the museum, I visited the modern catholic chapel, which was a project of one of the prisoners who became Assistant Bishop of Munich. I then went to the Carmelite convent directly behind it. It was sobering to see displays of various things from the prisoners chapel, incl the tabernacle, monstrance & vestments made by those prisoners.
Dachau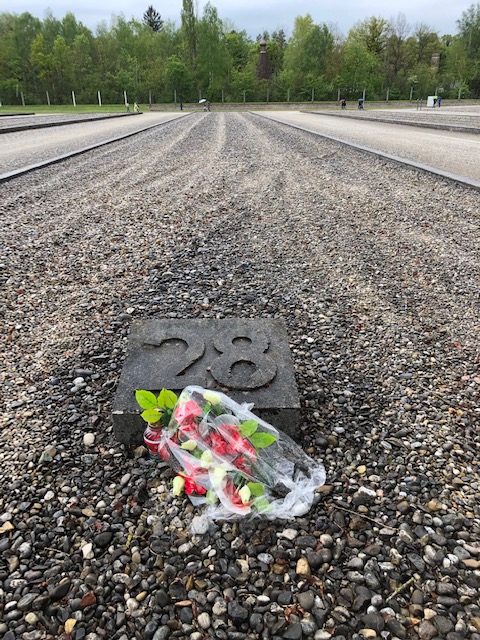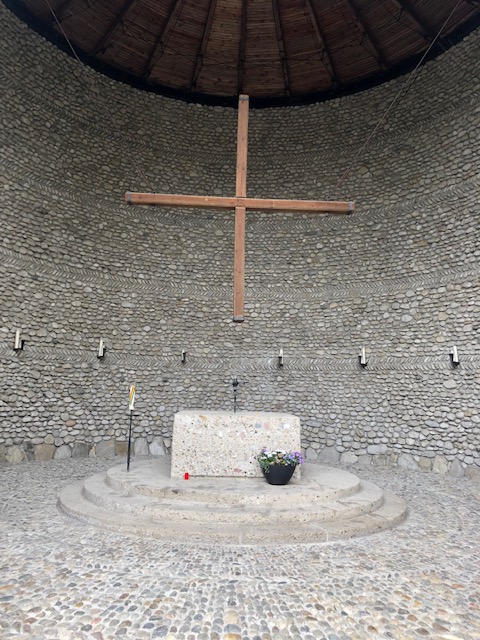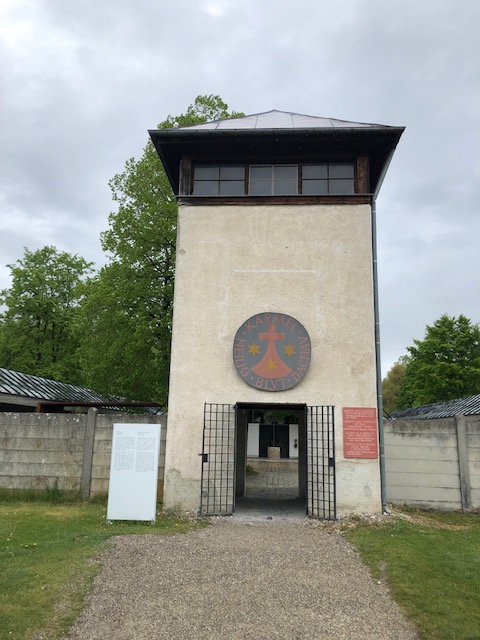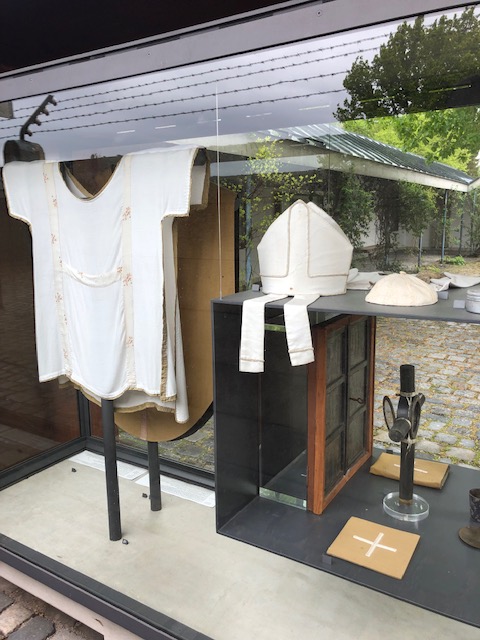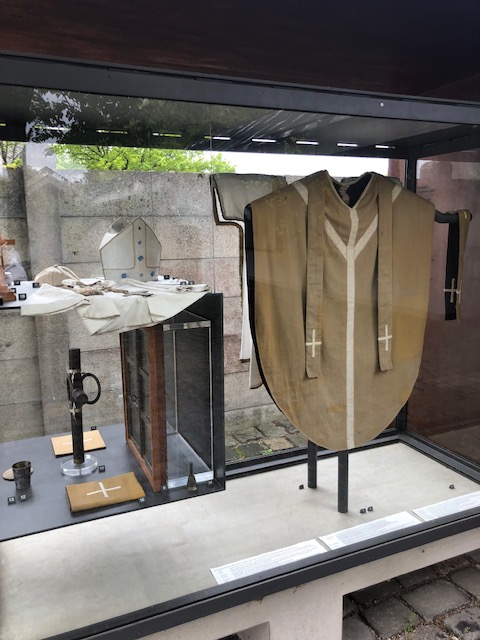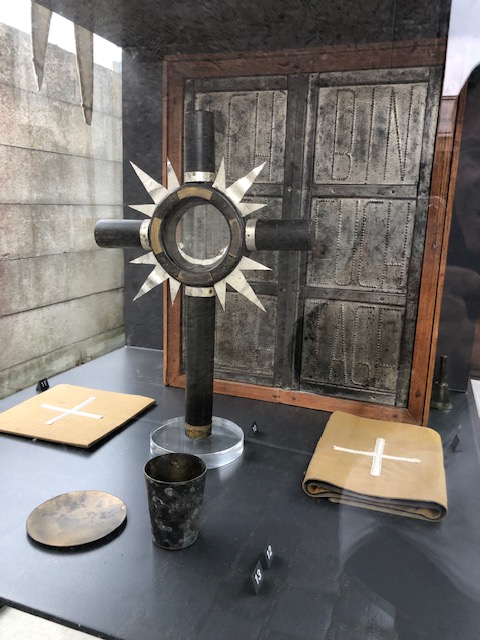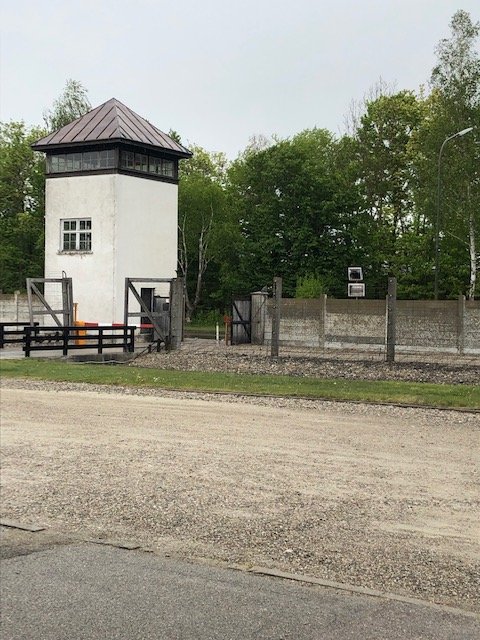 On Sunday I went to the Dom for Mass & in the afternoon visited the Residenz Museum. The Residenz was the palace of the Bavarian Elector & later, the Emperor & Kings. I particularly wanted to see the NibelungenSalle. This is a series of 5 continuous rooms with large paintings from the great German legend, the Nibelungen Lied. This was the basis for Wagner's Ring Cycle, which I saw in Melbourne in 2013.
On Monday I caught the train to Innsbruck, in Austria. The capital of Tyrol, this is one of the most prettiest towns in Europe, with a back-drop of snow-capped mountains. I enjoyed walking around, admiring the buildings & exploring the churches. I wanted to climb the nearest hill, but only got 1/2-way. In doing so, I passed 2 marvellous Schloss. My day concluded with a visit to Wilten Basilica of "Our Lady under the 4 columns" & the abbey opposite – still inhabited by the order who came here in the 12th cent.
Innsbruck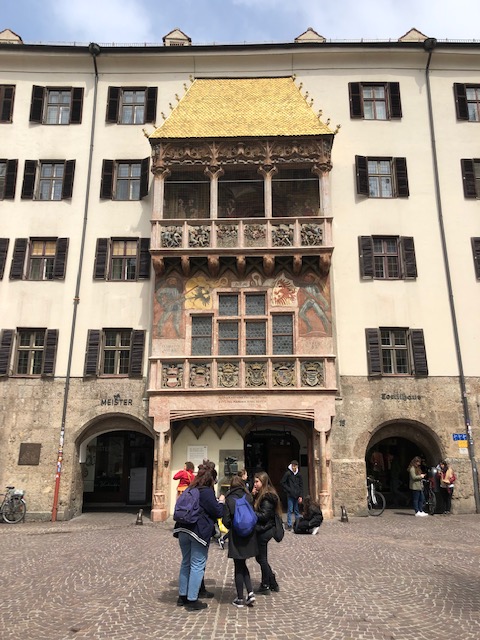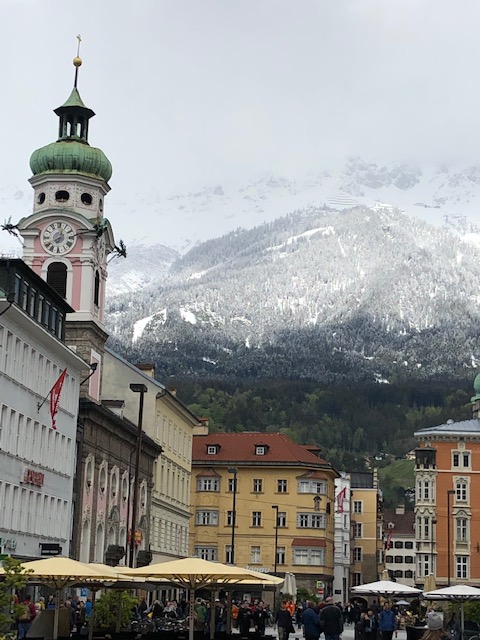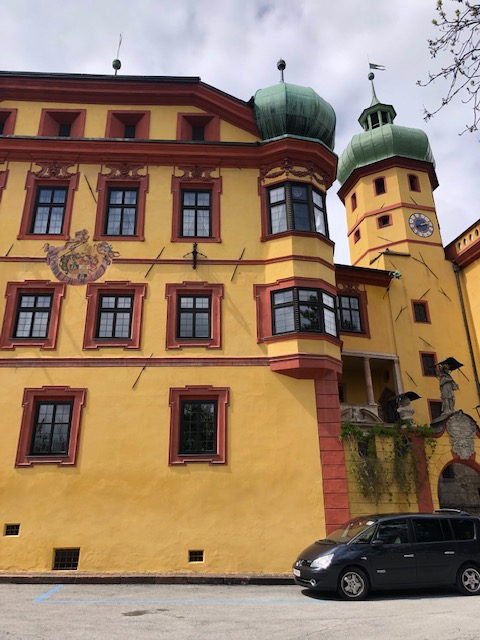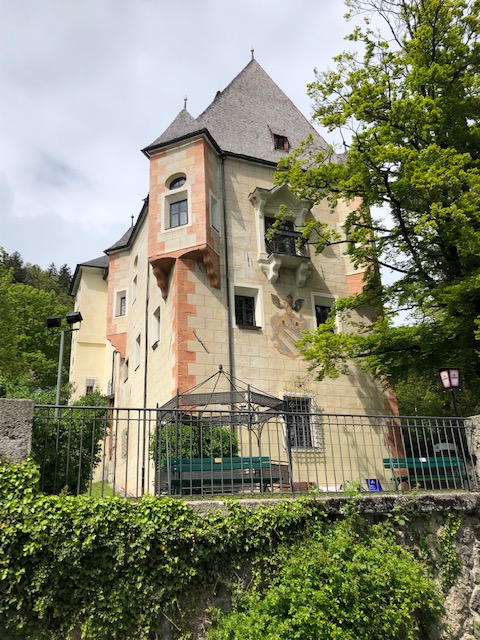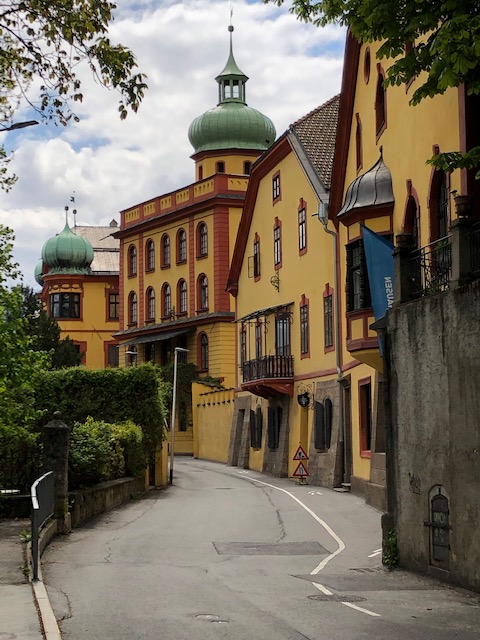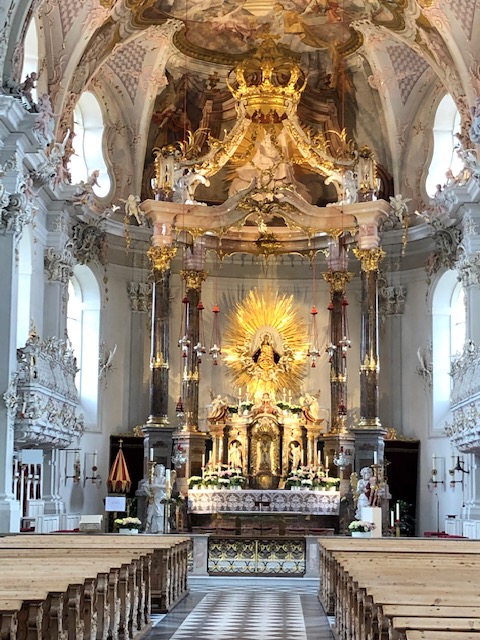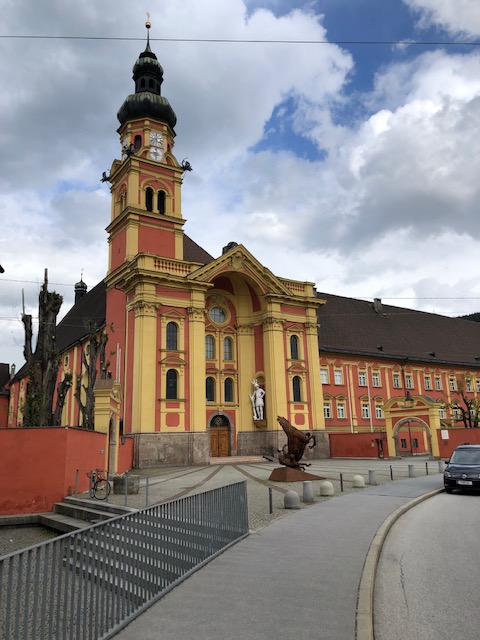 Today I caught the train to Frankfurt Airport & am staying at an airport hotel tonight. This is because tomorrow I have an early flight to Belgrade. And so to Serbia – my next adventure.
Sun 12
My 1st visit to Serbia has proven to be quite memorable. I arrived safely in Belgrade & was very impressed with the hotel. Not only is it brand new with the latest in comfort, the staff were overwhelming in their welcome. I was even more impressed whilst in the exec lounge when the guest relations manager entered & greeted me by name. It seems he had been head-hunted from the Bankside Hilton to set things up here & remembered me.
After settling into my room I went for a walk. Belgrade reminds me of Bucharest: lovely old buildings needing restoration, ugly communist era apartment blocks & lots of construction. It must be the pattern with countries coming from socialist dictatorships.
Belgrade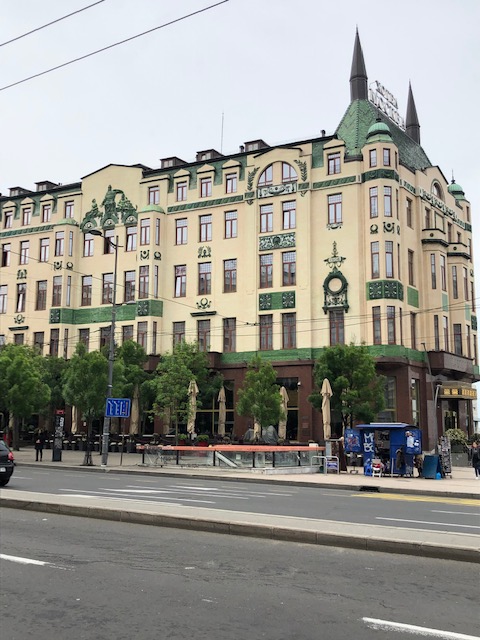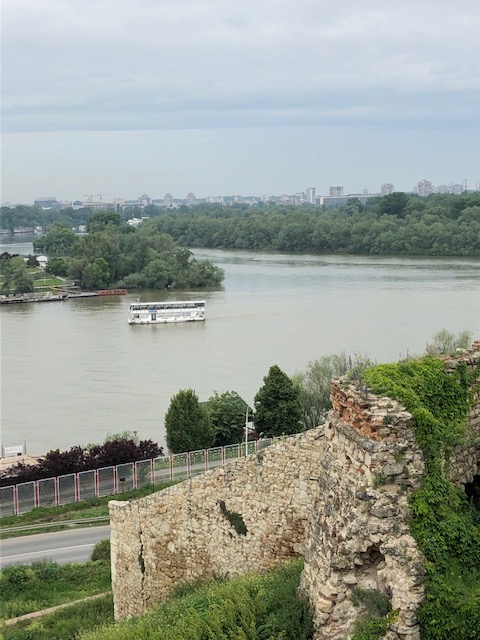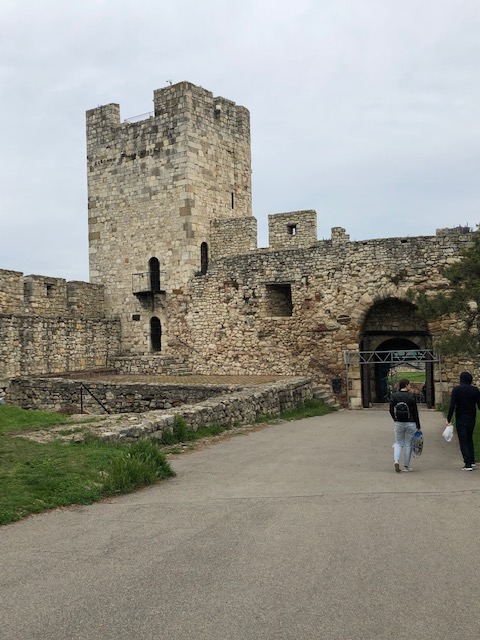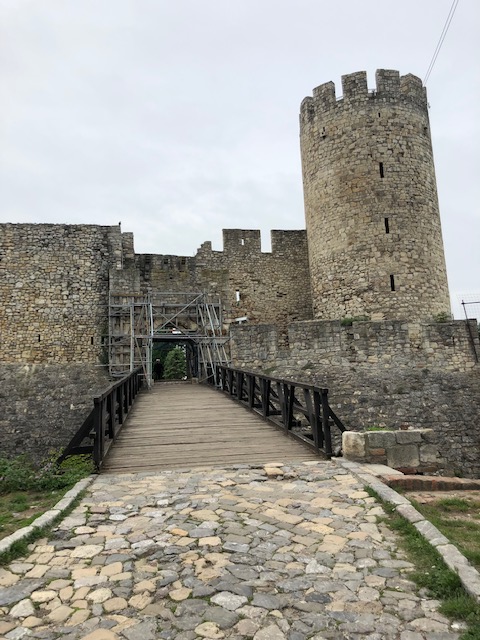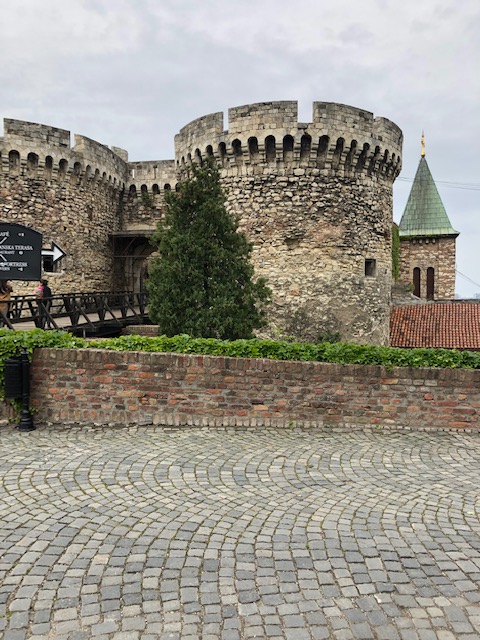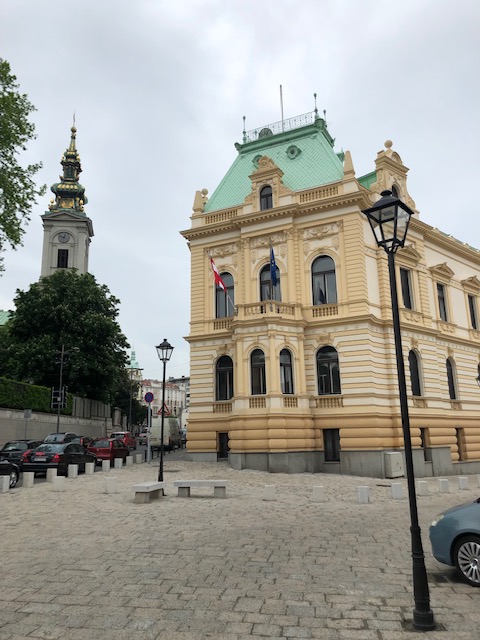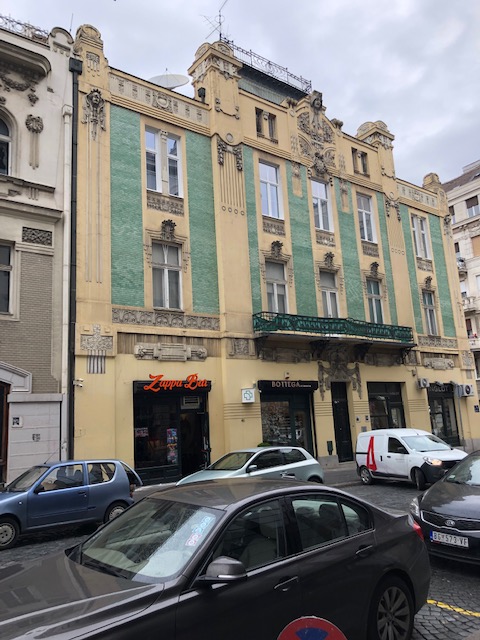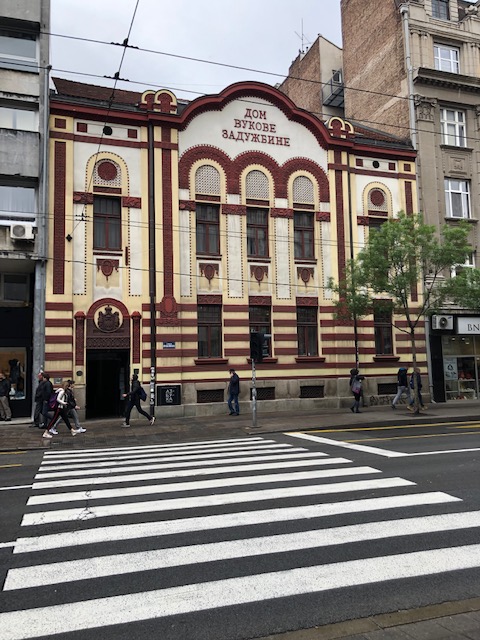 On Thursday I set out to explore the city. First I headed for the Kalemegdan fortress. This was fascinating, going back to the 15th cent. Unfortunately I slipped over whilst walking around the old paths. Both hands were in pain & blood was everywhere. In true Noble spirit, I picked myself up & continued on. After exploring the fortress I walked around the old town. There were some lovely old buildings & churches to see. The highlight was the museum of the Serbian Orthodox Church, which had a magnificent display of icons, vestments, gospel books & church artifacts going back to the 11th cent.
When I returned to the hotel I had my gashed fingers cleaned & bandaged by Emelija, the wonderful concierge. My left hand was quite painful & swollen. I phoned my travel insce co in Australia, who suggested seeing a Dr. Next morning the exec lounge hostess, Tina, noticed my hand was quite swollen. She also suggested seeing a Dr & made an appointment with a private hospital that had an orthopedic Dr for 12.30 pm. It was a 40 min walk away & after breakfast I set out to find it. Just as well, as I took 2 wrong turns!
When I returned at 12.30 pm for my appointment I found the staff very welcoming. The Dr spoke good English, so I was able to convey exactly what happened. X-rays were taken, which revealed that no bones were broken, thankfully. He bandaged my hand & ordered rest. The visit cost $120 – not bad for an orthopedic Dr + x-rays. Upon returning to the hotel a plate of cakes were delivered to my room, with a card wishing me all the best for a fast recovery. Since then, all the staff have enquired how my hand is!
My hand has felt better today – fortunately I have had the footy to listen to whilst I resting in my room. I did go out & get a haircut yesterday a/noon. Today I went to an English Mass in a church around the corner, & then walked over the Sava River, which meets the Danube at the top of the fortress. My accident has not prevented me seeing everything that I wanted to & I fly back to London tomorrow.
Wed 15
it seems that my visit to the Dr was the 1st of 3 travel firsts. The 2nd happened on Monday. My flight from Belgrade to Zurich was delayed & it looked like I would miss my connection to London. When we arrived in Zurich there was a man waiting for me at the door who took my bags & led me down the stairs to a car waiting on the tarmac. He drove me over to the VIP security & then to the plane. I got on with 5 mins to spare!
The 3rd "first" was on Tuesday. I went into Australia House to cast my vote in Saturday's election. London is the only place where there is a polling booth outside of Australia – because there are so many Aussies living here. I joined a line outside & at 11am entered for what was a simple, easy & quick process. It was nice to be back inside Australia House again. The great hall is not open to the public anymore, which is a shame because it is stunning. When I lived here in 74/75 it was a great meeting place for Aussies. There were newspapers, message boards & a book with accommodation notices – which is where I found my wonderful flat in Pimlico.
Tomorrow I go to Walsingham for my b/day, which is Saty. On Friday night I am having dinner with 6 friends at the pub. Saty morning I am saying Mass in the shrine & in the evening am preaching at the candlelight procession. Sunday morning I am celebrating the 7.30 am Mass in the shrine & then assisting at the Parish Mass.
Tues 21
My birthday w/e in Walsingham was very nice. It was good to see everyone again – word soon got out that Saty was my b/day! Dinner on Friday night was really nice & the staff made a fuss over me with a special dessert. Saying Mass in the Holy House on Sat morning was a wonderful (& rare) treat. All the Services were great – I was asked to do more, but declined because my hands are still sore. Thankfully I managed to get on the trains with my bags.
I am now in Oxford. ITomorrow afternoon I preach the Peter Toon memorial sermon at Pusey House. This is an exciting challenge & I am pleased with what I have prepared. Now to see the reaction from what will be an academic congregation.
Thurs 29
My Oxford sermon was well received. Initially I was apprehensive about preaching to academics & BCP lovers, but Dr Westhaver, the Principal was very encouraging & supportive. The sermon has now been published on various websites & in print media soon. I also took the opportunity to visit the former St Luke's, Cowley, where I obtained the Harrison organ for St Mark's, Fitzroy, in 1988.
I returned to London on Thursday & on the weekend flew to Sibiu in the heart of Transylvania. On Monday I drove to Sighisoara, where I stayed 2 years ago. On the way I called in to some of the Saxon villages with their fortified churches. I started this adventure last year & had several still to visit.
It was nice to be back in Sighisoara again. On Tuesday I set out to visit the last of the villages & finished up at Brancoveanu monastery (est 1696) where the Transylvania patriarchs are buried. On the way back to Sighisoara I decided to take a side road thru some interesting villages. As the road went on it became worse, with many potholes.
Sighisoara, Transylvania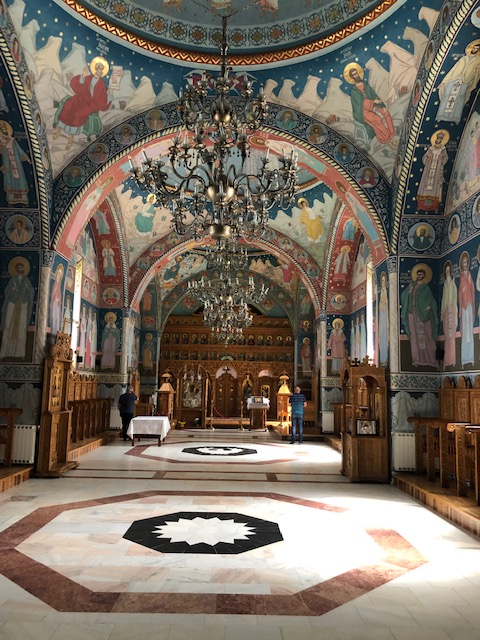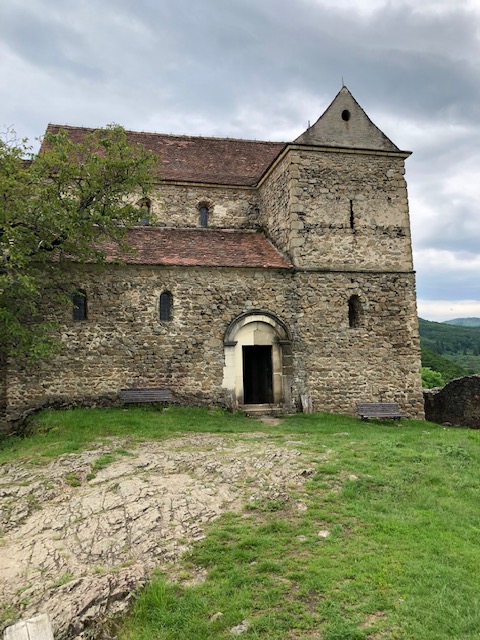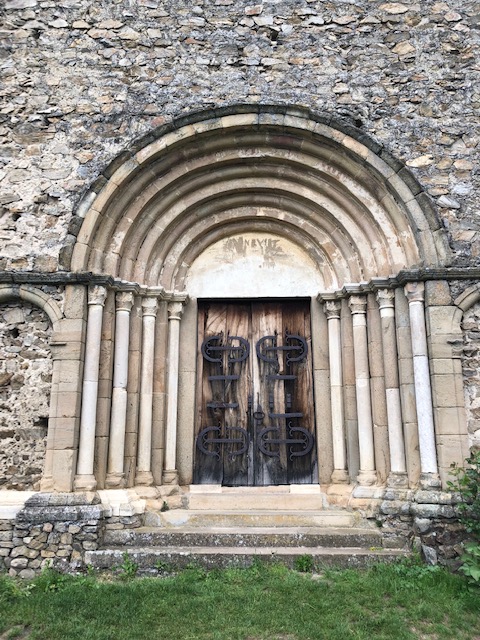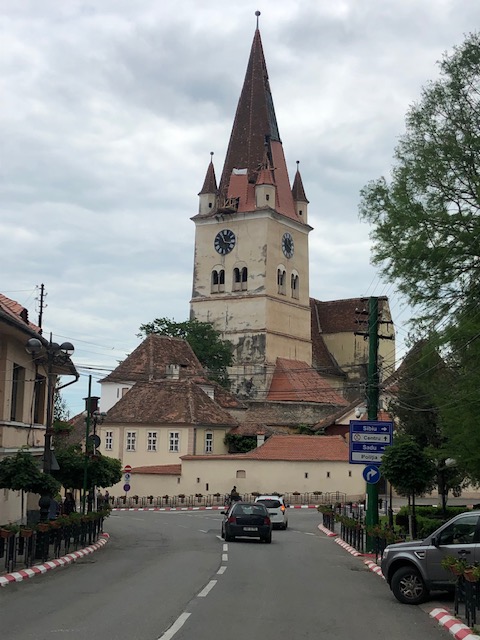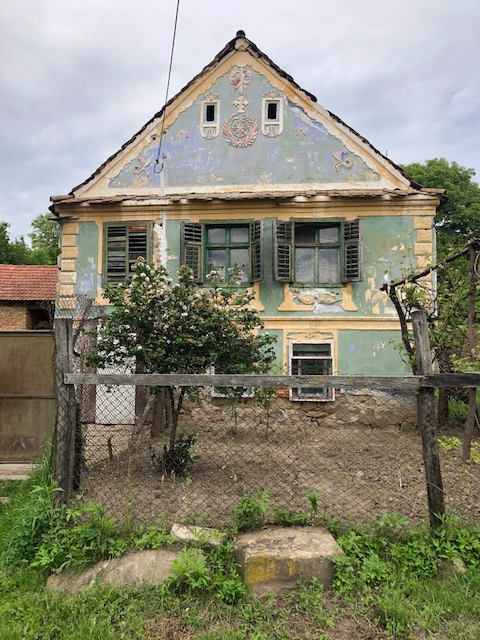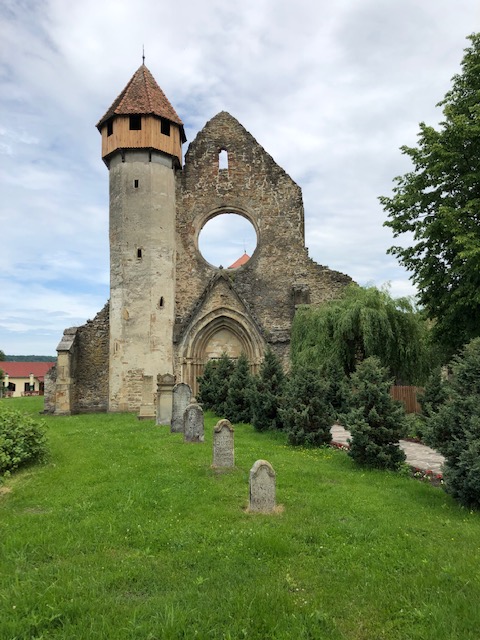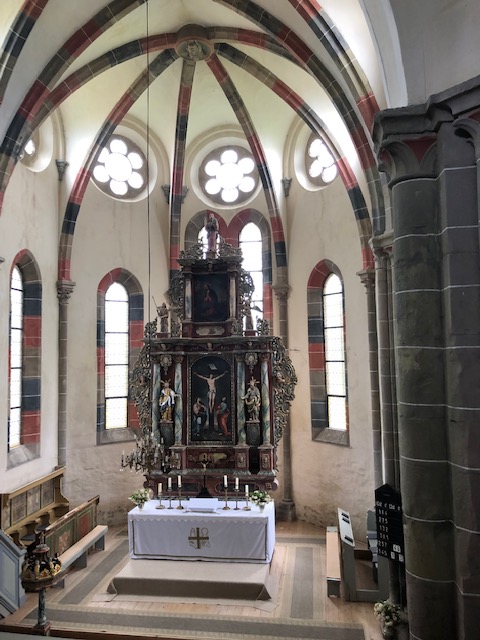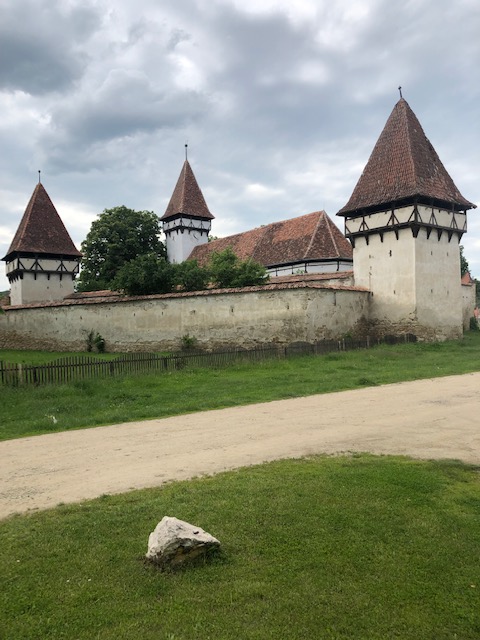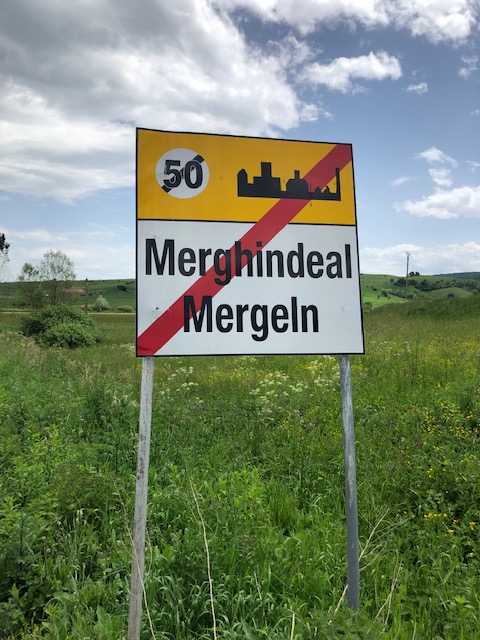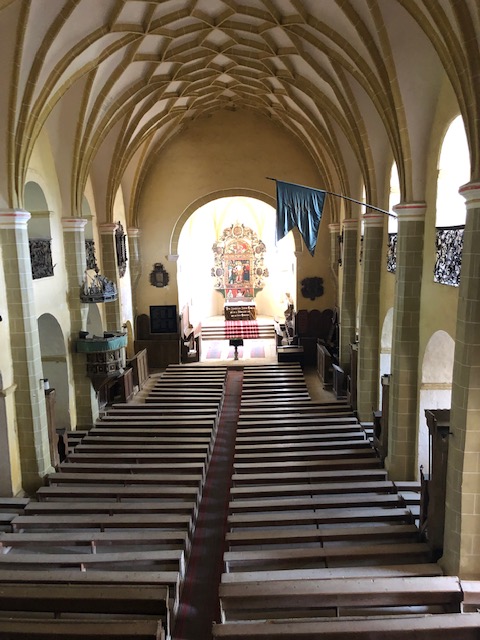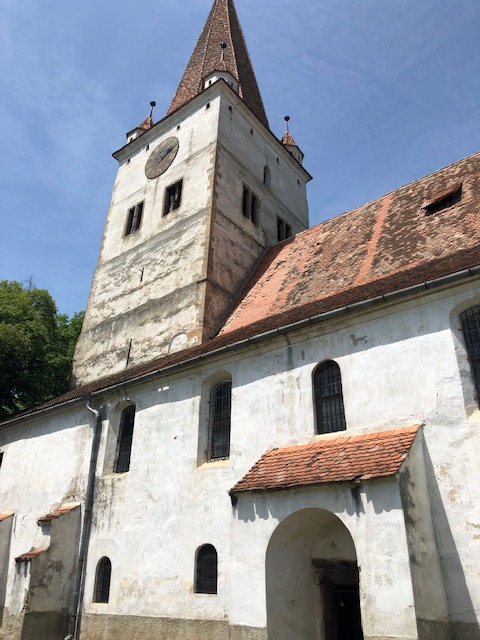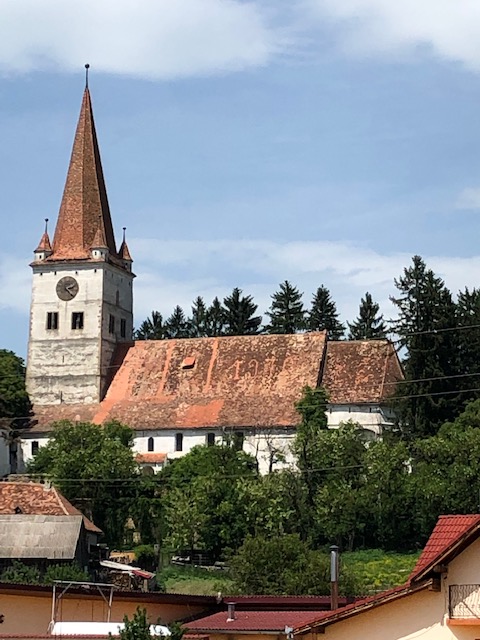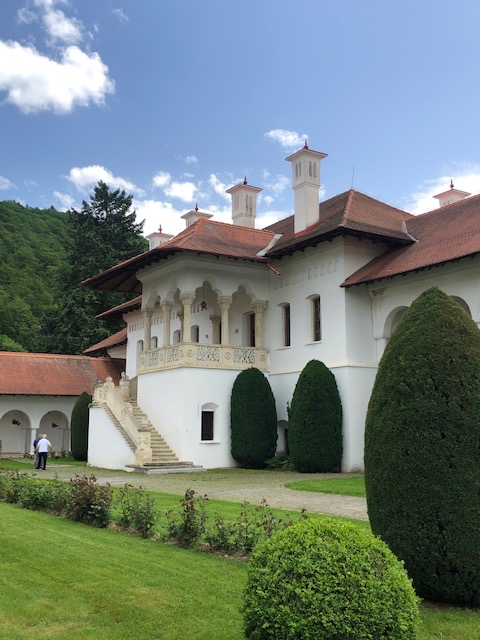 Then it happened……..I hit a piece of concrete & the car flipped over. It was a very scary experience & the car finished upside down in the middle of the road. I crawled out the window with lots of blood. Soon after a man who spoke a little English came along. He phoned Hertz in Sibiu & the local police. The police arrived 2 hours later & Hertz an hour after that. Other vehicles gradually appeared & eventually 3 men moved the car so traffic could pass.
It was quite an effort to get the car onto the tow-truck. Eventually success was achieved. The nice man from Hertz then drove me to Sighisoara……arriving about 5 hours after the accident. Thanks be to God I did not suffer serious injury – but many cuts & scratches. I felt very sore & sorry for myself & pondered my run of accidents on this trip. It was to be my last visit to Transylvania – but perhaps an end to my adventurous travels.
Today I caught the train to Sibiu & then taxi to the Hilton, using the last of my Romanian currency. I now feel the effects of shock. Tomorrow I fly to London for the w/e. I will be very pleased to be back at the Bankside Hilton & go to St Magnus on Sunday. On Monday I fly to the US.
Mon 10
I have just had 5 days in San Diego. It was good to be back & I caught up with several friends. On Thursday I went to hospital to have my leg looked at. This was the same hospital where I had my surgery in 2005 & often visited as the local priest. On Sunday I preached at All Saints & celebrated the High Mass. It was lovely to be back & my sermon has been posted above on "Recent Sermons".
Tomorrow I fly back to Melbourne. I am really looking forward to getting home!
Wed 26
I have been back home 2 weeks now. 1st thing on the agenda was to see my Dr, who gave me injections & organised x-rays. A CT scan followed & next week I am to have further scans. Nothing to worry about at this stage – except for ongoing shock. This really hit me when I got home & may last some time.
The usual things (incl jet-lag) filled up my 1st week. Then it was off to Adel for the footy. I haven't caught up with many friends, but Port Adel did have a good victory on Saty night. Football will be my main preoccupation for the next 3 months & the rest of my time will be quieter than usual.