Tues May 3
My flight from Melbourne was good – except that I seem to have caught a bad cold on the plane. This is the risk on a plane, of course. So instead of having a nice relaxing week back in the US & a weekend visit to Michigan, I have spent most of the time sniffling, coughing & downing pills! I seem to be over the worst & look forward to flying to London today – in the luxury of 1st class from SF to Heathrow 🙂
Sun 8
The cold has not gone away! The sniffles have, but coughing & feeling tired took their place. Logically I resolved that if I was going to feel unwell, I might as well be in first class on my flight & a nice hotel when I landed! Wednesday I stayed at the Intercontinental on Park Lane – mainly because they give me early check-in & late check-out. Thursday I walked thru Knightsbridge & Kensington to Leighton House. This is a museum in the home of a well-known artist who left it to the City of Kensington & Chelsea. It is dedicated to art & had a special exhibition of Pre-Raphaeliye drawings. The house alone was worth the visit.
That night I checked into the Bankside Hilton, a brand new hotel in Southwark. Since deciding not to stay at St Mary's, Bourne St, I have been checking out various hotels to stay. This was the first time that I have stayed south of the river & was one of the best Hiltons that I have stayed in. It is in an area where I worked for 2 months in 1974. After unpacking I went for a walk to rediscover an old convent I visited way-back then. The sisters of Reparation have died out now, but their convent still has the foundation stone. As I reminisced I gave thanks for the golden age of anglocatholicism over 100 years ago, which had such a great influence on me.
The Hilton Bankside is an excellent hotel with huge rooms & an excellent exec lounge. I thanked the staff & made a mental note to stay there in future. Friday I checked in at The Waldorf for the weekend. This is my favourite hotel in London & I am always looked after by Cristina in the exec lounge. A chocolate cake with "Welcome Back" was waiting in my room & was soon followed by chocolates & strawberries 🙂
Saturday I went to the national festival of the Society of Mary. A wonderful Mass was followed by a street procession past the very busy Camden Market. It is 20 years since I attended this & it was good to catch up with old friends & to meet new ones – mainly young priests. This morning I went to Mass at Holy Redeemer, Clerkenwell. I was going to have lunch afterwards with an old friend, but cancelled it because of not feeling 100%. Tomorrow I catch the train to Birmingham. I have not visited this city before & will spend 2 nights there before returning to London.
Mon 16
My 2 days in Birmingham were boring! The city itself is unremarkable – but it rained all the time & my cold was still hanging around. I returned to London on Wed & stayed at a Hilton near where I first stayed when I came to London in July 1974 – sleeping on a couch in a house full of Aussies where my brother lived. I walked around to that house & reminisced on those fun & exciting days in my youth. On Thursday I went to St Mary's convent in Chiswick to visit Mother Teresa. She has been there since having a fall in February. We were both pleased to see each other & spoke mainly about her desire to return to Walsingham ASAP! After that I went exploring to a park called Queen's Club Gardens. This was once part of a London sporting club called The Queen's Club (which is still there) & is the site of the first Aussie Rules football match in the UK. It was between teams of Aussie soldiers in London on respite from the Western Front 100 years ago.
On Friday I caught the train to Liverpool. I had never visited Liverpool before & was looking forward to having a weekend of exploring. Upon arrival I went to visit the 2 cathedrals. Liverpool is unique in that it has 2 imposing cathedrals facing each other on hills at either end of Hope St. Both struck me as ugly – tho locals may differ, of course! At the RC cathedral I stayed for 5.15 pm Mass. Coincidentally, it was the 49th anniversary of the dedication of the cathedral. On Saturday I went for a long walk along the docks. Liverpool has a big maritime history & the dock areas have been rejuvenated well. In the afternoon I went searching for a famous anglocatholic church, SS Agnes & Pancras, to attend for Sunday Mass, but got lost! I settled for 6 pm Vigil Mass at a 150 year old church near my hotel. Sunday I went searching for that church again – & got lost again! After lunch I went for my own Beatles tour, which included The Cavern, where they first performed. I had no intention of paying for a tour, nor going to the museums dedicated to them. Afterwards I enjoyed a Pentecost Fair in Hope St, which concluded with an ecumenical procession between the 2 cathedrals.
Today I catch the train back to London. Tomorrow I will have lunch with Phyl – the woman I worked with in 1974/75, who has continued to keep in touch with me all these years. Tuesday is her birthday, which I have never celebrated with her. Then on Wednesday it is my birthday. I have deliberately booked a cheap hotel with no free breakfast on Tuesday night. Wednesday I begin my birthday with silver service breakfast in the United 1st class lounge at Heathrow. Then 11 hours in first class from London to SF. I shall enjoy a unique experience to celebrate my 69th birthday 🙂
Sun 22
Flying 1st class from London-SF was a wonderful way to celebrate my birthday! That night I arrived in SD late & checked in at the Hilton where I often stay. To my surprise & delight, in my room was a selection of cheeses, fruit & nuts, with a wonderful birthday greeting from the staff of the hotel. It was the perfect conclusion to my birthday. After 2 nights in SD I flew up to Seattle for the w/e. I stayed in the Arctic Club – a 100 year-old club for men returning from the Yukon gold rush. It still seems like a gentlemen's club & it was wonderful to stay there. Weather was overcast with light rain, so I didn't get out much. I was jet-lagged, so on Friday night had an early supper in the bar & then went to sleep at 5 pm. Woke up at 11 pm & watched the Port Adelaide game on TV live from Adelaide.
I fly to Germany on Tuesday. After 2 days in Frankfurt I catch the train to Hamburg. For 5 weeks I am to be the locum priest at St Thomas' Church. This is the oldest CofE in Europe, being founded 400 years ago, & has a congregation large enough to sustain a full-time parish priest. I have already been in touch with the music director & when I submitted a hymn list he said that we have the same taste! I am looking forward to my time at St Thomas', this being like a typical parish instead of just a small number keeping an Anglican Church going. There is only a Sunday Mass, so I anticipate exploring this part of Germany during the weeks that I am there.
Tues 31
My flight to Frankfurt was good. Got 5 hours sleep, which is excellent on a plane, even in 1st class. Thursday was a holiday for Corpus Christi. I attended the outdoor Mass in the Romerberg (town square) which was excellent, then followed the Eucharistic Procession to the Dom, where we finished with Benediction. The singing & organ-playing in the packed cathedral was awesome. Friday I caught the train to Hamburg. Waiting for me on the platform was Susanne, the Warden with whom I have been corresponding. We caught the subway to the fiat which will be my home for a month. It is in a building next to St Michael's – Hamburg's famous Lutheran church. That means lots of tourists all day, regular (& loud) church bells & even a trumpet player at odd times! After being guided around the fiat we went to the church, which is 5 mins away. It is quite nice, with all one needs for saying Mass. After a walk around the area I went back to the flat, unpacked & then settled in.
Saty morning I went shopping. Shops, cafes, restaurants & an outdoor market are all just over the road. Then I spent a couple of hours preparing for Sunday Mass. I convinced the music director (who seems to run everything to do with the worship) that we should celebrate Corpus Christi. That made my sermon easy. I had already chosen the hymns – all my favourites for this celebration. Late in the a/noon the internet disconnected. So I phoned the parish expert (a Peruvian who is a diplomat at at his consulate). He & a British friend from the church called by on their way to dinner. After fixing it I offered them a drink & we chatted.
Sunday Mass was good. There was a congregation of 100 & a choir of 8. Half of the congregation were African (Anglicans from Ghana, Nigeria & Kenya) & the other half were mainly English & German. there were 25 children & a lot of people were involved in the Mass. The singing was good & my sermon went down well. There was good music all the way thru & during Communion the choir sang Mozart's Ave Verum. Afterwards (& also before Mass) I was warmly welcomed & coffee hour was noisy!
It had rained during Mass & as I left I slipped on the stone steps. This put paid to having lunch with some parishioners & I spent the rest of the day relaxing. During the week I have to attend to a home HC visit & 2 baptisms. Monday morning I did some errands, then checked how to get to the home that I must visit (a 95 year old German woman who married a British army officer) – just a 20 min walk.
So now begins 4 weeks of ministry & exploring Hamburg.
Monday June 6
It has been an interesting week. Not much work to do, but a few phone enquiries. One afternoon I went to Altona, a suburb, but once a separate town. I found an interesting 1930's Bauhaus apartment building, now used as an academy. On Saturday I went to StadtPark to see an Aussie Rules game. There is an AFL Germany league & the local team is Hamburg Dockers. They were mainly Aussies & they were playing the Dresden Wolves, who were Germans. It could have been anywhere in Australia, except for the Dresden coach giving instructions in German!
Yesterday was my 2nd Sunday at St Thomas' & I had trouble remembering who people were. This is mainly because there are over 100 (incl children). It would help if they came every Sunday – I had to introduce myself to about 25 who had not been there last week! Many expressed appreciation for my sermon & the way I said Mass. It seems the previous locums have been less lively & quite casual about the worship.
After Mass there was a cake sale…………& I bought a chocolate cake, of course 🙂
The sunny weather continues, so I take the opportunity to explore the parks & canals/rivers, of which there are many. I have a few things on this week, incl Church Council tonight. On Wed I will go to Bremen for the day (1 hour by train). I have always wanted to visit Bremen. Like Hamburg, it is a Frei & Hansa Stadt.
Sun 12
I had an interesting week. On Mon I walked thru the tunnel that goes under the river Elbe. In looking around the old wharves I found 2 plaques of interest. One commemorated the hundreds of Jews who fled Nazi Germany for the US in 1938 on the SS St Louis. Unfortunately they were refused admission into the US. The other plaque commemorated the Exodus which took 4,500 Jews to Palestine in 1946.
On Wednesday I went to Bremen for the day. I enjoyed exploring this city, which has a few historical buildings not destroyed in WW2. At 12 noon I gathered with lots of others in Bottcher St to witness the porcelain glockenspiels chime midday with a tableaux of explorers who have conquered the sea – incl SD's Charles Lindburgh. The street consists of restored houses & shops from 100 years ago. One is a museum – a town-house of a merchant containing his family arte facts & furniture, as well as a silver treasury from a guild in Riga. After walking for 4 hours I decided it was time to sit in the town square for the great German tradition of coffee & cake!
On Thurs I took HC to a 95 year old parishioner. Rosie is a German lady who married a British army officer in Hamburg after WW2 (Hamburg was in the British zone). We conversed in both English & German & she had an interesting story of her life to tell. Friday night I attended Mothers Union. Having had a branch in my 1st parish I was interested to attend & surprised to find many of the members were young German women.
Today at Mass we commemorated the 90th b/day of the Queen. We also had a baptism – the 2nd child of Gert & Sara who are parishioners. It was a challenge to combine the themes – but I received lots of comments about my sermon, particularly from the visitors. With over 30 there for the baptism, the church was full & the singing great. At the end I said a special prayer for the Queen, followed by the choir singing a special combination of "Happy Birthday To You" & " God Save The Queen". This was immediately followed by the last hymn, sung to the tune, Austria – which is the same as the German national anthem!
After a busy coffee hour (with more new parishioners to meet!) I went to the Baptism party. This was a wonderful feast of German food & beer – & Aussie wine. Gert & Sara had spent 6 months on a horse farm in Western Australia a few years ago, visiting other parts of Australia afterwards, incl Sunday Mass at All SS, E St K. I was probably in the US at the time! I was given a ride there & back by a parishioner who has been to Australia & has friends in Adelaide – & who loves AFL footy!
Sun 19
On Tuesday I went to Koln for 3 days. I had friends to catch up with & enjoyed worshipping at the magnificent Dom each day. On Wednesday I caught the local train & bus to Vogelsang. This was one of 4 Ordensburg built by the Nazis in the 1930's. They were places where youth were trained to be elite & future Nazi leaders. Only Vogelsang was not destroyed in the war, becoming a Belgian military base. 10 years ago it was given back to Germany & construction began to restore it as an education Centre. It is in the beautiful Eifel national park & has views over rivers & hills. Much of the original complex remains & is an fascinating example of Nazi architecture (see pics below).
Mass this morning went well & I talked with the kids at the end. Several people expressed disappointment that I only had 1 week left as their locum. It was announced that there would be lunch after Mass next week to say farewell. Where has the time gone?
My Sunday finished with a choir concert at St Michael's Lutheran Church next door. There were 5 choirs present & the music was excellent. We also got a 10 min sermon – which I thought was very short for Lutheran clergy! I now have a busy week ahead……tomorrow I go to Kiel, the German naval base during the 2 world wars.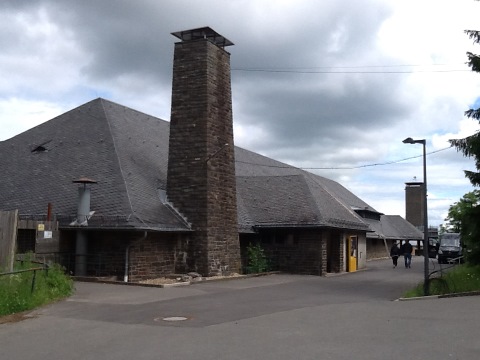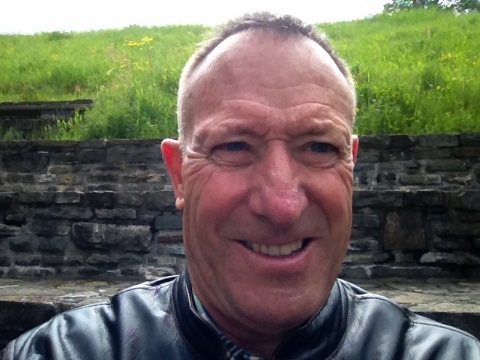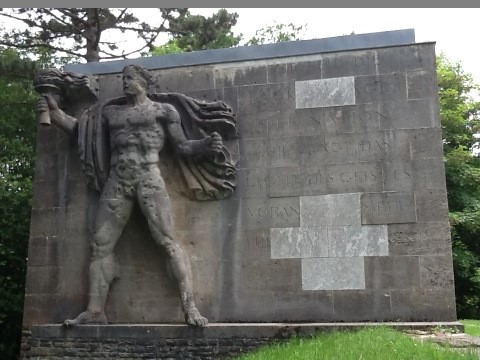 Sat 25
My last week in Hamburg has been busy & interesting. On Monday I went to Kiel for the day. This was the home of the German Navy in WW 1 & 2 & is still a major port. There wasn't much to see so I wandered around the Harbour & explored the city. Coincidentally it was the annual Kiel festival & there were about 12 locations with stages, food & drink stalls. On Tuesday I had lunch with a parishioner. He lives in a typical 1930's German apartment with a wonderful narrow elevator. We both share an interest in Germany & Romania, so it was a long lunch!
Wed night I attended the British Consular Agent's cocktail party to honor the 90th b/day of the Queen. This was held in the Anglo-German club, which was established in 1947. It was a beautiful evening & the hospitality was excellent. There were over 100 there, mainly Germans. The Royal Engineers band played & I enjoyed mixing with my parishioners as well as meeting new people.
This morning I cleaned the flat whilst listening to the footy from Australia. Tonight at 6 pm there is a concert in the church by the Cardiff University Chamber Choir. Like many University & church choirs they are touring Europe at this time of the year & giving concerts. I will welcome everyone in German & English!
So tomorrow is my last Sunday. A shared lunch will follow the Service. On Monday I catch the train to Berlin, where I will spend 2 days, then go to Frankfurt for my flight back to the US.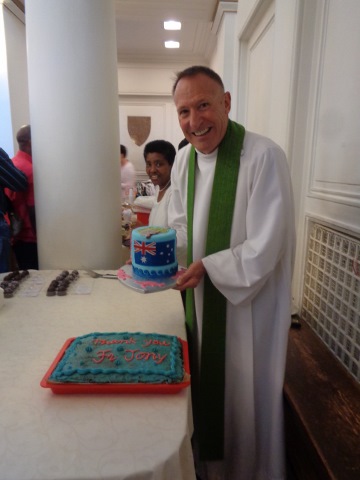 Sun 26
My final Sunday at St Thomas' was wonderful! At the end Susanne the Warden thanked me, commenting on my teaching. She then presented me with small gifts to remind me of my time there: a walking map of Hamburg (because I like walking) a key ring with a minature track shoe on it (because I walk a lot) a Hamburg pen (because I communicate a lot) & chocolates. It was all done with humour & good wishes.
I called the children up after that & taught them hand actions for the chorus of the final hymn, "I, the Lord of Sea & Sky". This was great fun. When I looked up, half the congregation incl the choir in the gallery were doing it! A lovely lunch followed. A magnificent chocolate cake had been made with a map of Australia in icing on top, the flag on the side & several koalas & kangaroos. It was amazing for just a Locum. As I circulated people expressed thanks & appreciation (particularly for my sermons). I felt sorry to leave – I had just got to know them. That is the negative with locums, of course.
pics of a roof-top cafe in Berlin which I visited

Brunch after Mass in Hamburg with Eileen & Matilda
Y
Sunday July 10
My flights from Frankfurt were all good & on time. For the July 4 w/e I went to Philadelphia. I wanted to be in an old east coast city & I chose Philly. On Sunday I went to Mass at St Clement's, a famous Anglocatholic church. I preached there 6 years ago, but this visit was disappointing. In summer Mass is held in a chapel that holds 40 & just 25 of us were present for a Mass which was so old-fashioned, the only thing I enjoyed was the hymns. Afterwards 2 people said they remembered me (must be the accent!) but there was no sign of the Rector at the door or coffee hour.
A brief trip to SF was followed by a visit to Leon Guanajuato in Mexico. This is 2 historical towns that are off the tourist trail. In fact the International Airport has just 3 gates & a single runway, on which the plane has to turn. Getting thru immigration/customs took all of 5 mins! I am staying in Leon & everything is cheap. On Saturday I went to Guanajuato. This is a wonderful old town with a beautiful cathedral, theatre & market. Squares with fountains dotted the town centre, with its narrow streets. Built in mountains, there are underground roads going everywhere. This morning I went to Mass at a church 15 mins from my hotel. It is a huge French Gothic basilica. I am always interested in local customs at Mass when I travel, & today saw something I had never seen before. When the collection was taken up a man asked for change – & he got it! In the a/noon I walked around Leon, which is a commercial & cultural hub.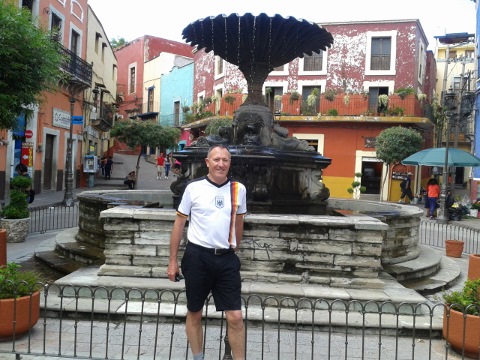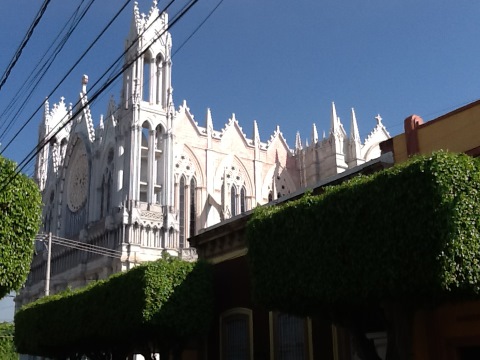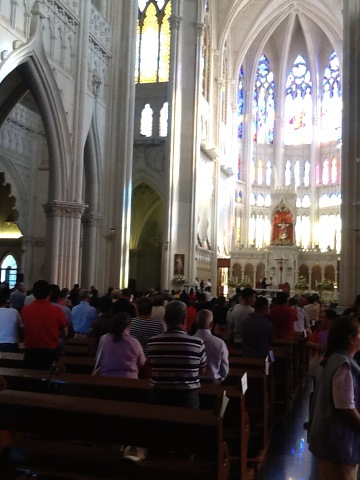 There was a reason for this trip apart from visiting a new destination. Tomorrow when I fly back to SD I will pass 3 mill lifetime miles with United. This has been my big project for the last 4 years & became my main retirement activity. When United & Continental amalgamated in 2012 my total miles passed 2 mill. I subsequently discovered that on passing 3 mill you were given 1K elite status for the rest of your life. So I decided to do it. 1K status gives you free international upgrades & boarding group 1, amongst other perks. I can hardly believe that I am going to achieve this. It has taken clever planning & a helpful loan from my bank. I have made fascinating trips (EG 3 days in Shanghai) as well as visiting new & interesting places. I guess I will be excited tomorrow 🙂
Wednesday 13
Today I fly to London for a visit to Walsingham. When I got to the United Club at SD Airport the staff were waiting for me with a 3 million miler sash made by Kathy, crown, gifts & a card signed by all the SD United staff!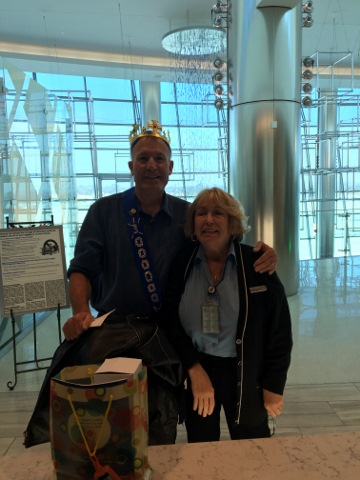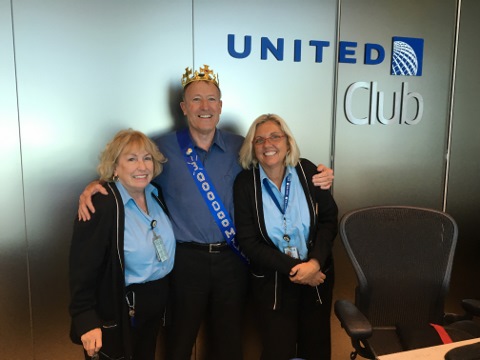 Kathy escorted me to the gate & 3 supervisors appeared with cake & congratulations. They wanted to announce about it, but I said I would be embarrassed. I was called to board first & on the flight the FA, Peggy, made a fuss of me. On arrival at the United Club in LAX I happened to mention my achievement. I was congratulated & then given a private room by the Club manager, who later sent me a bottle of wine. At the gate for my London flight I was again called to board first. When I took my seat the Captain came up & congratulated me. Then the Purser sang to me! It was a wonderful flight & a memorable day.
Sun 17
I arrived in London safely & on time Thursday. On Friday evening I attended the Patronal Festival of Holy Redeemer, Clerkenwell. This is a well-known Anglocatholic church whose congregation is mainly locals. I have often attended Sunday Mass here since a young priest whom I know was appointed Vicar about the time that I stopped staying at St Mary's, Bourne St. The Festival was inspiring: High Mass with a full church, including 12 robed clergy, began at 7pm followed by a Eucharistic Procession thru the streets. A brass band & choir led the singing, including a haunting drum when the music stopped. Being Friday night, the pubs & restaurants were full & the patrons spilling into the streets seemed stunned at what must have seemed old-fashioned religion – or maybe just strange!
We returned to the church for Benediction, followed by a marvellous party in the hall. I caught up with several people I knew & was made welcome by parishioners & clergy alike. Saturday I caught up with an old Fitzroy friend whose health is not good. I keep encouraging him to return to Melbourne!
Today I went to Sunday Mass at St Magnus the Martyr. This is another famous Anglocatholic church that I enjoy attending when in London. There are so many in London & all different – I am spoilt for choice & it is the beauty of retirement. By coincidence, I attended the Patronal Festivals of both Holy Redeemer & St Magnus when I lived here in 1975. The Rector gave an excellent sermon – a rare experience for me in my travels these days! Afterwards there was a BBQ lunch, which I was warmly invited to by several people. It is a very friendly parish & I was told that under the Rector's leadership it has grown, mainly with younger people. A Rector who is friendly, welcoming & preaches well will do that – that was my secret, I am told! By coincidence, the BBQ was cooked by 2 guys from Melbourne. They did not know me, but were interested in my adventures, both as a priest & when I lived in London like they are now.
Am now watching the Proms on TV, featuring Kings College Cambridge choir. The highlight is Faure's Requiem. I loved attending the Proms when I lived here, often going straight from work & getting a cheap balcony or promenade ticket.
Tomorrow I catch the train to Norwich & then the bus to Walsingham. I will be there until Friday – a shorter visit than usual. As always, it will be great to be back there – but no Sunday Mass at the Parish Church, unfortunately.
Sun 24
I had a nice week at Walsingham & it was wonderful to see everyone again. The weather was warm all week, which is not what I am used to, as I usually come to Walsingham in Feb & Oct. I think the last time I was here in summer was when I brought the SD pilgrims in Aug 2007. On Tues I said Mass in the shrine for all my intentions: parishes, friends, SSC, sick & departed. Wed I concelebrated the Pilgrims Mass, reading the gospel. Thursday was the St Margaret's Day festival at the Priory for associates of the community. It was a lovely day. I was one of 10 concelebrants at the Mass, which was followed by lunch. Good to catch up with friends, esp Bp Peter Wheatley, the Visitor of the community. I first met him in 1974 & as I have only seen him twice since then, we had lots to catch up on. EP & Benediction concluded the day. On Friday my friends, Stephen & Jo, drove me to Norwich for the 12.30 pm train to London.
London has been warm all weekend & full of tourists. If I return next July I will stay in Walsingham for Sunday Mass & not be in London for the w/e! Saty a/noon I went to the British Museum to see an exhibition on Sicily. I wanted to see this because in 2008 I spent the month of August as priest at St George's Church, Taormina near Mt Etna. I explored & learnt a lot about Sicily in that month & found the exhibition very interesting. This morning I am going to St Gabriel's, Pimlico, for Sunday Mass. This is not the church I attended when I lived in Pimlico in 1975, but I know the newly ordained curate, so thought I would attend. It is a 45 min walk from the hotel – the path I took when I worked in The Strand in 1975. Tomorrow I fly back to the US & have just 1 week before I fly back to Melb.
Mon Aug 1
I had a nice relaxing week in the US. 3 days in New Orleans with stopovers in SD before & after. The trip to NO was to visit my good friend, Robert. He was due to fly from Melb to NO the same day as me, arriving there 5.30 pm. I was due to get there at 10.30 pm. By a strange quirk of fate Houston weather delayed Robert's arrival & he was subsequently re-booked on my flight. This also was delayed by 2 hours, so (thanks to social media) we met up at the gate with 2 hours to chat. I subsequently got him upgraded, so we sat next to each other in 1st class, toasting our good fortune!
Today I am flying back to Melb & luck was with me again. This flight was booked via Sydney because there were no upgrades LAX-MEL when I booked the flight, but there were LAX-SYD. In Syd I connect to Melb on a Virgin flight, arriving there at 11.30 am. I hate Sydney airport, not least because you have to transfer by bus from international to domestic terminals. Also the flight arrives in Sydney at 6 am & you then have a layover of several hours, when you would rather be in Melb.
When I got to LAX & into the United Club I explained this to the staff at the desk & wondered if there was any chance of changing my itinerary to LAX-MEL. The man doubted it, but said he would see. 20 mins later he called me to the desk & said it was done……..what seat did I want? I could hardly believe it! So now I fly direct to Melb, arriving at 7.30 am & will be home just after 9 am, instead of 1 pm. I am looking forward to being back in St K very much. I have been travelling for over 3 months – the longest trip I have ever taken.