Saty Nov 18
I arrived safely back in Melbourne on Thursday…..& was greeted by a wet day. On the bus to St K I started setting up my new iPhone, which links with my ipad & home computer. Great to have a new toy! After unpacking & showering I went down the street for the usual errands, then started on the mail. At 4 pm I caught the tram into the city. I enjoyed walking thru rush hour & reacquainting myself with Melbourne before catching a tram to Fitzroy for the annual meeting of the PAFC Vic Supporters Group. To their surprise & mine, I stayed awake – but as soon as it finished I went home. In bed at 10 pm & awake Friday at 2.30 am.
Friday I had an early appointment with my Dr for post-trip check-up & annual blood tests. Nothing to worry about there. The rest of the morning I spent adding my contacts to the new phone. It was a lovely sunny day, so I went for my customary walk along the beach. The a/noon was spent at home going thru all my accumulated papers, statements, etc – & most importantly, planning my trips for the 2018 AFL season! An early night & another 2.30 am wake up this morning. The w/e will be quiet as I try to get over the jet lag. Another sunny day today, so another walk. Mass at All SS tomorrow.
Sun 26
My 1st week back was busy catching up with friends & the usual appointments. Dr's report was that blood tests were all okay. Thursday was Thanksgiving & I celebrated it for the 1st time in Australia. I had been invited my my good friends, Ian & Dale, to go to Seymour for a special Thanksgiving lunch. The cook was an American, now living here. It was an enjoyable train trip & a lovely family gathering with new friends. I am not a fan of turkey or pumpkin pie, but the food was wonderful – it must have been the Aussie touch!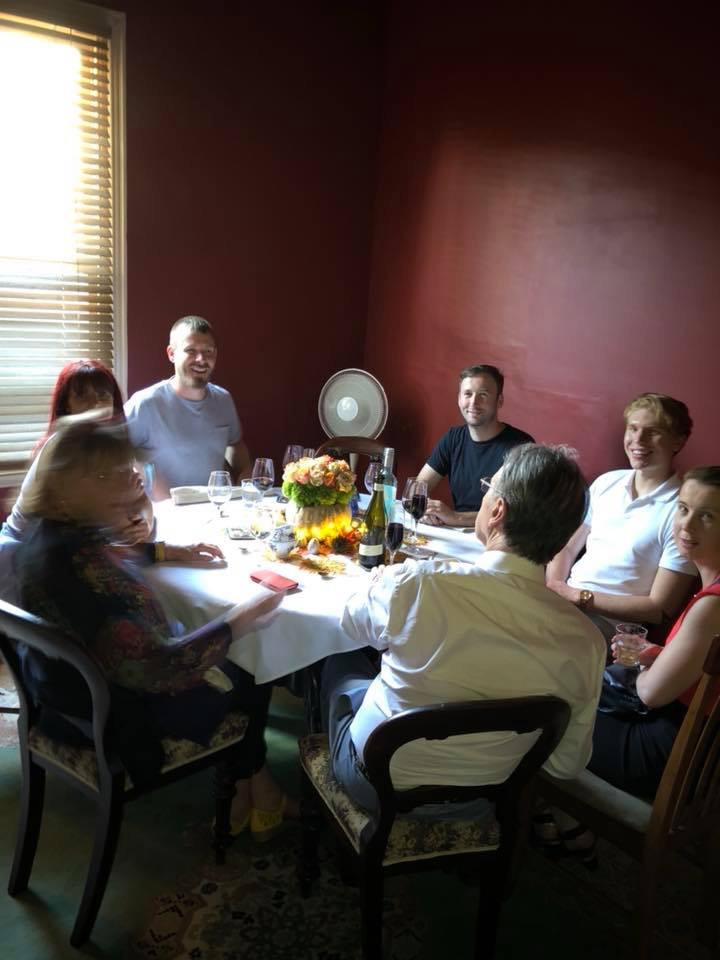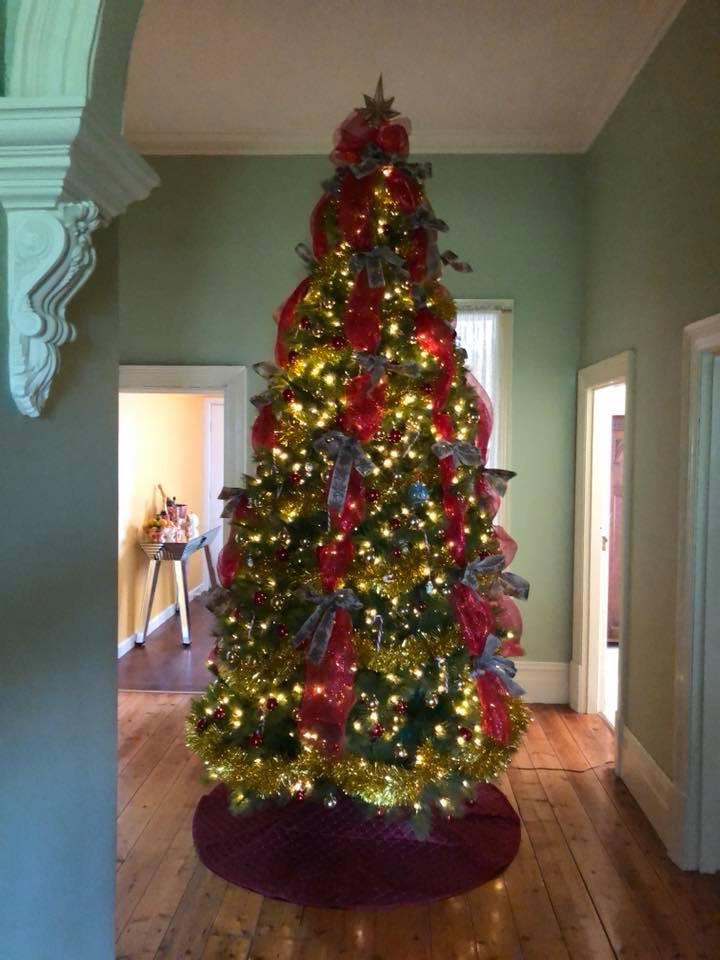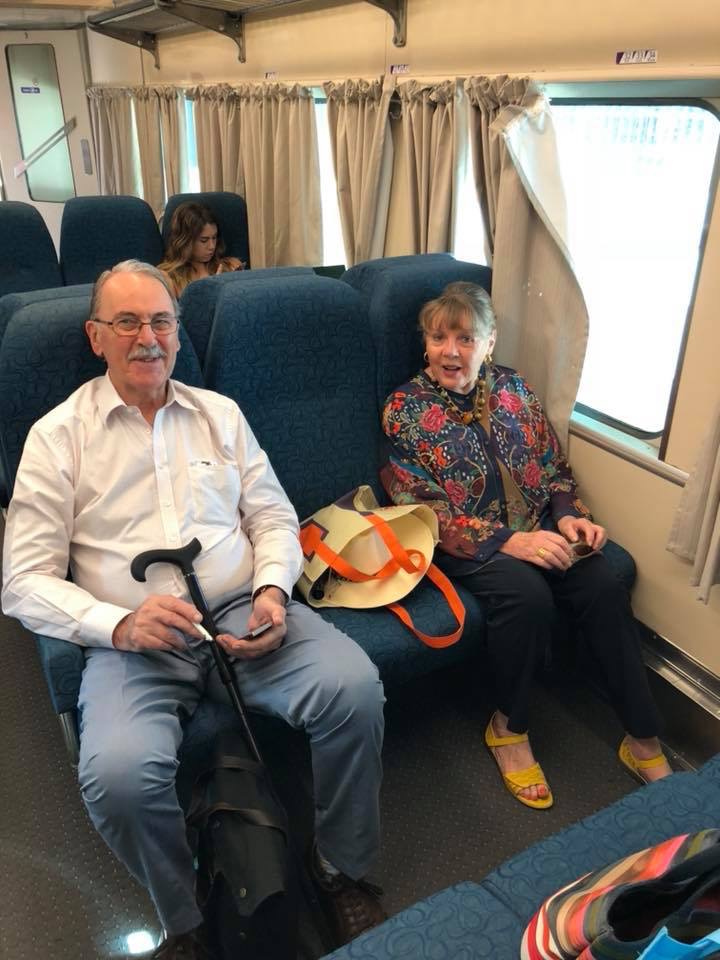 Today is a busy day at All SS…….Solemn Mass & Benediction for the feast of Christ the King, followed by a soup & sandwich lunch, then a concert by the young people of the parish. Music is at the heart of parish life at All SS & they have several young people who are musically talented.
Sat Dec 2
On Tuesday I flew up to Sydney. This was because on Wednesday I was going on the Indian Pacific – the train that goes from Sydney to Adelaide to Perth. I was only going as far as Adel. I was very excited about this trip purely for the adventure of it, like when I went on the Ghan to Darwin in 2015. Unfortunately, instead of leaving Sydney at 3 pm, the train didn't leave until 6.30 pm. This meant that it was dark when we went thru the Blue Mountains, views that I was looking forward to. Thursday morning we only stopped briefly in Broken Hill & did not have the scheduled tour – another disappointment. Nevertheless, I enjoyed the trip. My sleeper cabin was nice, I saw typical outback scenery, met some interesting people in the club lounge & dining car…….& won a pen in a quiz! We arrived in Adelaide at 6 pm & my cousin was waiting for me at the station. I flew back to Melb on Friday, into a huge storm. It has rained non-stop since, with big winds at St K. I have a busy Sunday planned & hope the weather will not affect it.
Thurs 7
A quiet week – on Tuesday I continued my exploration of Australia & caught the train to Bendigo. I visited Sacred Heart Cathedral (which I last visited at its reopening 40 years ago), went on the tram, visited the Chinese Joss House & walked around the town. This Saturday I am going to Geelong for the 70th birthday of my friend from seminary, Fr Tim Gibson. We sat next to each other in chapel when we arrived at St Barnabas' College in 1976 & have remained good friends ever since.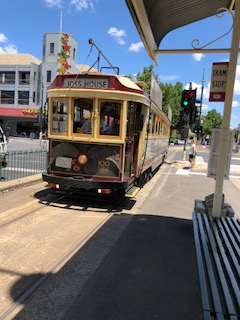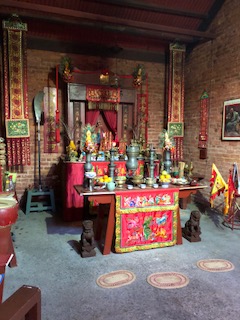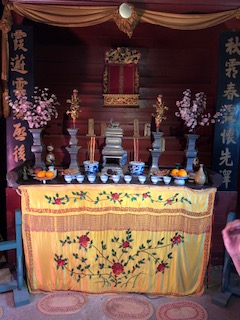 Mon 18
Last week was busy, with a quick trip to Adelaide Tues-Thurs for a Port Adel FC lunch. It was nice to be sitting next to a woman who went to school with my brother & remembered me starting the Cheer Squad – said back then she thought I was a passionate supporter! Yesterday on my way to Mass at All Saints' I passed a breathalyser station. No doubt catching people on their way home from parties the night before! 3 friends came for lunch after Mass. Then at 5 pm there were Christmas drinks in the courtyard for residents of my complex. This was a first & not all came, but we had a happy gathering. Tomorrow I am off to the Gold Coast – an annual trip I make to earn Virgin status points. Then Christmas will be here……& I am remembering that this time last year I was on my way to Germany 🙂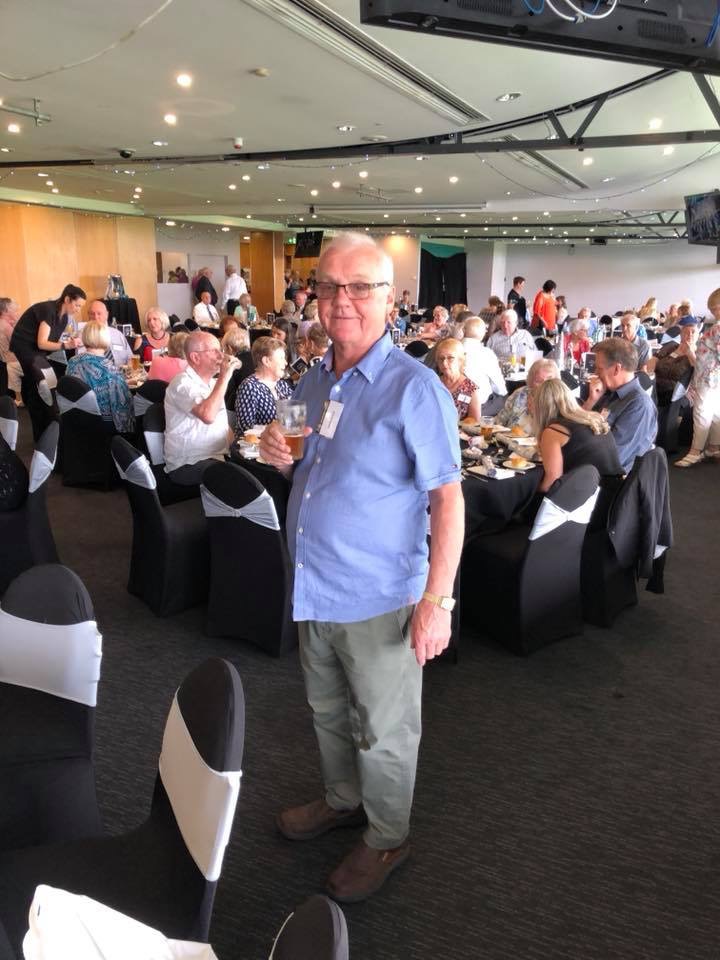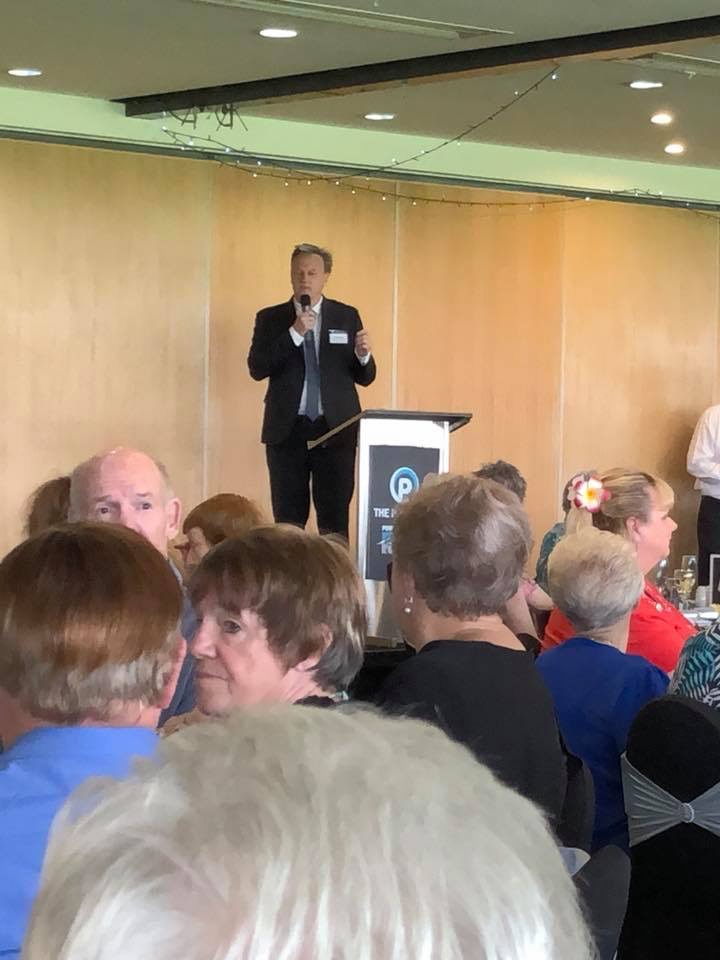 Tus 26
The Christmas Services at All Saints were wonderful. The church looked stunning, with wonderful flowers in the church & for the crib created by my friend, Lindsay. The music at both Midnight Mass & Christmas morning was excellent & the attendances were good. When I got home from Mass St K beach was being invaded by 5,000 backpackers, mainly Brits! They were pouring off the trams & trains when I left at 3 pm to have Christmas dinner at Lindsay's. By the time I got home the beach had been closed, thanks to the drunken behaviour of our backpackers – with subsequent news reports of "mayhem"! Fortunately alchohol is now banned on St K Beach until Jan 3 🙂
2018
Jan 2………a new year!
I had a quiet week catching up with friends. New Year's Eve I attended an early "at home" of friends from All SS. At 8 pm I returned home to St K, then walked along the beach & watched the 9.30 pm fireworks. In bed by 10.30 pm, woken up at 12 midnight by the noise & then went back to sleep. That is how it is with me these days! New Year's Day I attended 10.30 am Mass at St James', E St K, followed by champagne, which was nice. It was a nice sunny day & St K beach was crowded, but not rowdy. Melbourne is great at this time the year…..not much traffic on the roads & St K is quiet except at the beach. Today I went to the movies (The Last Jedi) which served to make me want to see the whole series (again) in consecutive order. The rest of the week is quiet, with a friend from Adelaide visiting Melb on the w/e.
Fri 12
It was good to catch up with my old friend, David, last w/e. We went to All SS on Sunday – a nice Epiphany Mass, followed by a parish BBQ in the vicarage garden. Fr Rene' is an excellent host. This week was mainly coffee/meals with clergy friends. St K is still wonderfully quiet in the mornings, tho the trams are crowded with beach-goers. Old friends from my time at St Mark's are coming for lunch on Sunday. Then it is the countdown for my return to the US – this means going to bed early & waking at 4 am (which = 9 am in SD).
Fri 19
It has been a busy week as I prepare to fly off overseas. Meals every day with friends have been enjoyable. All the usual practical things were attended to, along with confirming arrangements whilst I am overseas. I will be away 7 weeks. The 1st 2 weeks I will be based in SD, but travelling around the US – New Orleans, Honolulu & Guam (which is a new destination). I will be saying Mass at All SS on Feb 2 for the 38th anniversary of my ordination to the priesthood. On Feb 8 I fly to London for my usual February visit to Walsingham, after which I go to Germany for a week. Then it will be back to SD & onto Melb.