Christmas Eve
I have had a nice week in London after good flights from Melbourne. Jet-lagged, of course! Have caught up with various old friends & definitely enjoying being here for Christmas. I also managed to visit an exhibition on Troy at the British Museum & the London Mithraeum – the newly opened remains of a Roman temple.
Now for Midnight Mass at St Magnus the Martyr tonight. I am privileged to be the celebrant & preacher, thanks to the kind invitation of the Rector, Fr Philip Warner. After the Mass there is a candlelight supper in the crypt. Pics should be in the parish website: www.stmagnusmartyr.org.uk
Sat Jan 4
It was a real joy to celebrate the Midnight Mass & preach at St Magnus. A beautiful Service, followed by champagne & a marvellous dinner for 60. When I got back to the hotel there was a stocking full of chocolates on my door! On Christmas Day I walked to St Agnes church, Kennington, to join my friend Eileen for Mass. We then went to her place for a traditional Christmas dinner. Eileen only lives in a small council flat, but she turned on a magnificent dinner, complete with Moet champagne.
On St Stephen's day I went to St Stephen's, Gloucester Rd, for their patronal festival. In 1974 I lived around the corner & this was my parish church. I remember going to the same Mass all those years ago. The rest of Christmas week I caught up with various friends. New Year's Eve I watched the fireworks from my hotel room. I had a good view & turned off the lights, with the TV still on.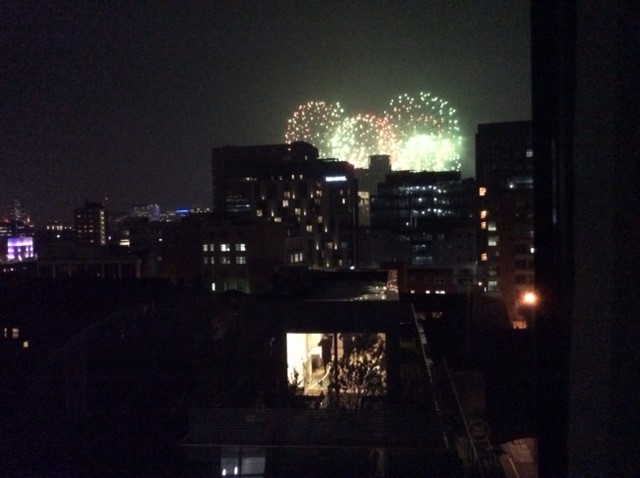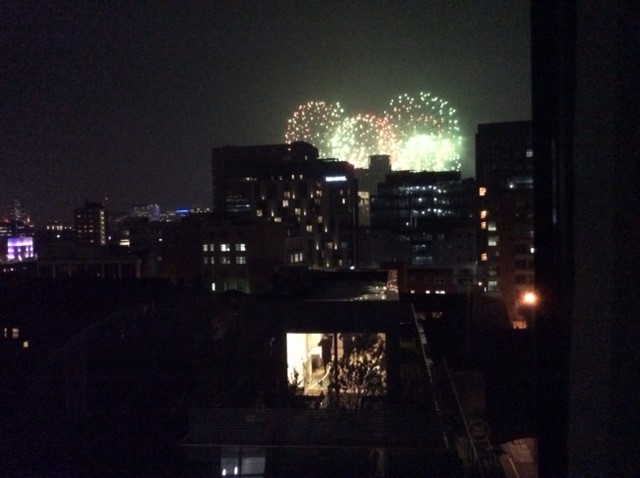 New Year's Day I went to St Mary's Rotherhithe (just 3 tube stops away) for a special Jan 1st Mass. The celebrant was the Bishop of Fulham, who is my bishop when I am in London. The preacher was the bishop of Southwark, who preached a marvellous sermon on the 400th anniversary of the sailing of the Mayflower from Rotherhithe. Several people I know were there, incl 2 Aussie priests.
Yesterday I caught the train & bus to Walsingham. I am here for 1 week & staying with the sisters in the priory. The village is quite empty now, as the shrine accommodation does not open until February. I will enjoy the quiet & catching up with friends before returning in 4 weeks time to celebrate my anniversary.
Saty 11
I had a wonderful week in Walsingham. It was cold, but that fitted with the quietness of a 1/2 empty village. On Sunday I concelebrated the Parish Mass at St Mary's & everyone was pleased to see me. My 40th anniversary is already being advertised & I was asked to write something for a website. On Monday I concelebrated the Parish Mass. This was in the Priory chapel & followed by a shared lunch. Tuesday I said my own Mass in the Holy House. Wednesday was the Funeral Mass for Sr Alma, followed by burial in St Mary's churchyard. Another excellent lunch followed. Thursday I concelebrated the Sisters' Mass with Bishop Peter Wheatley. I first met him in 1974, when he was ordained to the priesthood. After he was ordained a bishop I contacted him again & now I see him regularly at Walsingham, as he is the Visitor to the community.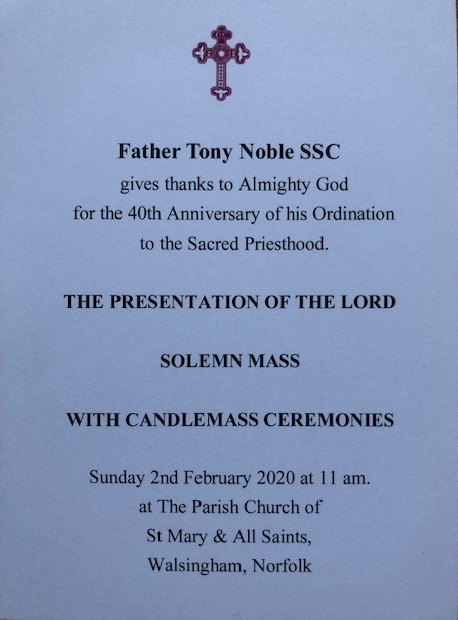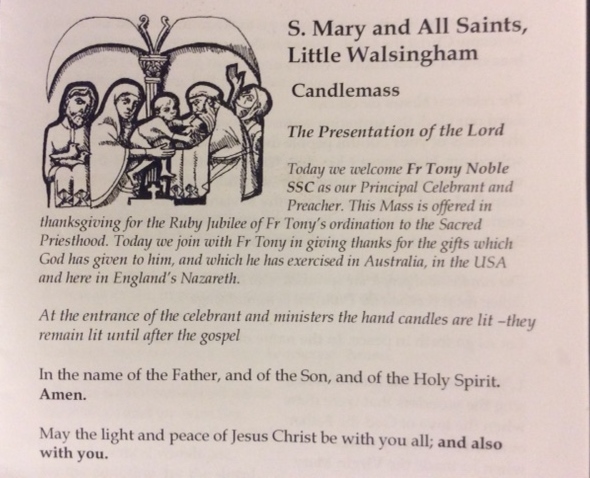 Yesterday I caught the train back to London. Today was the Bishop of Fulham's Epiphany Festival. It began with Solemn Mass in Southwark Cathedral. The music & ceremonial was wonderful. Over 150 people + 50 priests concelebrating. I was pleased to catch up with many friends. The day finished with Pontifical Benediction at St Magnus – another beautiful Service.
Tomorrow I will be involved with the High Mass at St Magnus, which is followed by the traditional blessing of the Thames from London Bridge. On Monday I fly to Madrid for a week in Southern Spain.
Sun 19
I have had a nice week in Southern Spain. 3 nights in Madrid, staying in same hotels as last Feb. Was very nice to be back in Madrid. On Thurs I caught the train to Cordoba, which I had not visited before. I loved it – a wonderful city. On Fri & Saty morning I attended Mass in the cathedral, which is at the heart of the Mezquita. This is the mosque built by the Moors when they conquered Spain in the 8th cent – previously there was a Visigoth cathedral & when Cordoba was reconquered the Spanish converted it back into a cathedral Because I attended Mass I could roam the Mezquita afterwards, without paying the €11 tourist fee! Fascinating Moorish architecture all around in Cordoba & I was intrigued to see other churches converted from mosques.
As well as churches I enjoyed discovering various cafes, restaurants & tapas bars. My hotel was opposite the Mezquita & I had a view of the huge belltower. The hotel was like a Spanish home, with wonderful furnishings in the common areas downstairs. On Sunday morning I caught the train back to Madrid. I stay here tonight & tomorrow fly to Athens via Frankfurt.
Sun 26
I am now in London after 4 nice days in Athens. My hotel room had a wonderful view of the Acropolis. It was awesome to see it all lit up when I arrived on Monday night & was beautiful to look at when the sun rose each morning.
On Tuesday I spent the day at the Acropolis. I was last here in 1975 & it was great to explore it again. Of course, nothing seemed to have changed – except for the marvellous new Acropolis Museum. Wednesday I spent wandering around the heart of the city, exploring churches & ruins. On Thursday I explored more of the city, visiting the Byzantine Museum & St Paul's Anglican Church, where I remember attending Mass in 1975.
Today I will attend Mass at St Magnus & this week will be catching up with various friends. On Friday I go to Walsingham for my 40th anniversary. Have been doing a lot of reflecting on the past 40 years – particularly the 3 wonderful but very different parishes I have served. I am also reminiscing on 45 years ago, when I lived here & felt the call.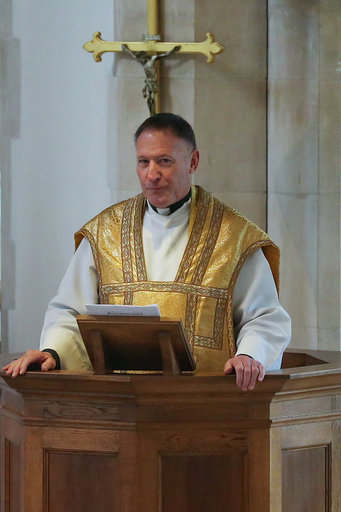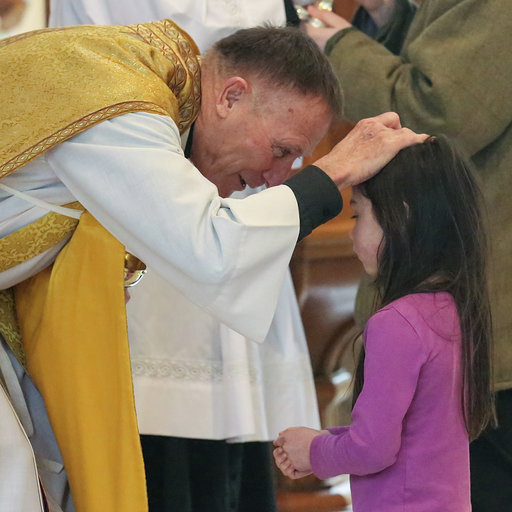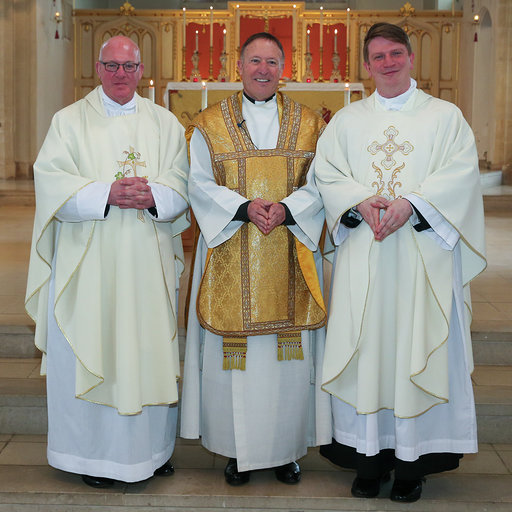 L. Fr Kevin Smith (Shrine Administrator)
R. Fr Harri Williams (St Mary's Vicar)
Sun Feb 9
I am now in the US & will be in LA tomorrow before flying to Melbourne on Tuesday. It is now a week ago that I celebrated a wonderful 40th anniversary of my ordination to the priesthood in Walsingham. Fr Harri, the Vicar, was most generous inviting me to be the Principal Celebrant & preacher for St Mary's parish Mass. There were over 100 in attendance, which was excellent seeing as there were no pilgrimage groups in the shrine. The Mass (beginning with Candlemas ceremonies) was beautiful & an ad hoc choir sang an anthem.
In the notices Fr Harri gave a glowing tribute to my ministry – no doubt schooled by the Church Warden, the former director of Forward in Faith! I felt both privileged & humbled. Afterwards there was bubbly, a big cake, a toast to me & my thank-you to Fr Harri & the parishioners. The day concluded with Evensong & Benediction in St Mary's, followed by a fabulous dinner for me in the vicarage. It was a fantastic day which I shall treasure.
Fri 21
I had some relaxing days in LA (which I am enjoying getting to know since I switched from United Airlines to Virgin) before flying to Melbourne. I have now been back back home in St K 8 days. Apart from jet-lag I have developed a cough. This was from my flights & travelling in different climates & I saw my Dr just to be sure it wasn't the Coronavirus. I just have to ride this thru whilst feeling tired & lethargic. Have caught up with a few friends as well as doing necessary chores & appointments. A wonderful surprise was to get in the mail a book of all the pics taken at my celebration. It is really beautiful & a wonderful momento.
Wed Mar 4
I have just had 5 busy days in Adelaide. On Fri night I attended the Gala dinner celebrating the 150th anniversary of the Port Adel FC. This was a great night attended by 1,600, with a wonderful panorama of the club's 150 years. I have been a member of PAFC since 1965 (you had to be 18 to become a member) & it was great to catch up with people I have known over the years.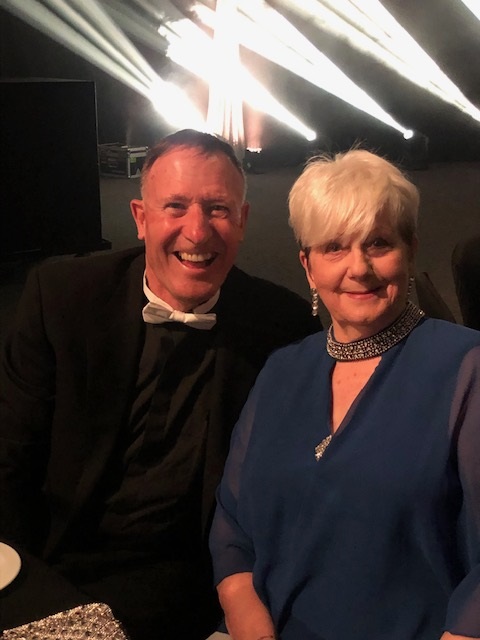 On Saty I had launch with my friends, Nigel & Ali. Nigel turned 70 on Jan 1st & I was sorry to miss his celebration. Sunday morning I attended Mass at St Paul's, Port Adelaide – the church I was a member of before ordination. At the end of Mass I spoke about my 40th anniversary, my life as a priest & the influence of St Paul's on my spiritual life. Only 6 people knew me from those days 50 years ago & the parish is different, with only a part-time priest – but I enjoyed reminiscing. On Sunday night I went to a performance of Mozart's Requiem with an old friend, Rosemary. This was a major work of the biennial Adelaide Festival of Arts, which I have not attended since I left Adelaide in 1985. It was an excellent performance by the Adel Symphony Orchestra & Harmony Choir, with the addition of a dance performed to give it a modern interpretation.