Wed June 7
I arrived safely in SD on Monday. It was a nice United flight in which 2 flight attendants remembered me from previous flights! Weather here is typical for what they call June Gloom. I am staying, for the 1st time, at a time-share in the downtown district of Gaslamp. Yesterday I passed my drivers licence test. This was a written test (using a computer screen) & now my Calif Drivers License is renewed for another 5 years. Today I am catching the train to LA. I will meet up with my dear friend, Fr Stephen, for lunch. Tomorrow & Friday will be meals with various parishioners. Saturday I have business to attend to & on Sunday I fly to Berlin.
Thurs 15
My flights to Berlin were good & on time – however I got hardly any sleep. As a result I was very tired during my 2 days in Berlin. When I checked in I was told that I had been chosen as "Member of the day" & had been upgraded to a wonderful 3 room corner suite. Fantastic view! I woke very early on Tues & Wed, & this enabled me to take stunning pics of the sunrise at 5.30 am on Tuesday & 4.30 am Wednesday.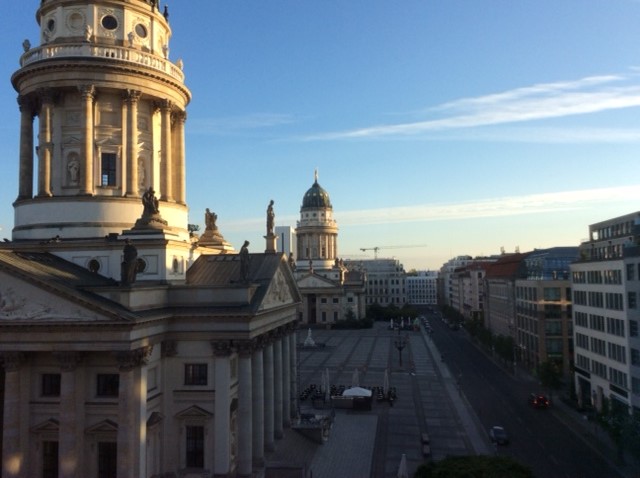 View Tuesday 5.30 am
View 4.30 am Wednesday
Wednesday I caught the train to Cologne. Thursday was the Fronleichnam holiday (Corpus Christi) & I had planned to be here for the Mass & Procession. This the 3rd time I have been in Germany for Corpus Christi, the previous being Frankfurt last year & Munich in 2011. This was the biggest & best!
The outdoor Pontifical Mass in front of the Dom was good, with a choir of 80 providing good music. After Mass the Procession of the Sacrament wound its way thru the old city. Various groups in their traditional costumes, as well as a large number of bishops, clergy & servers made it very colourful. Returning to the Dom for Benediction, it was a packed house (1,000+). It began with the choir singing one of my favourite modern hymns (in English) "Be still for the Presence of the Lord". This was a nice surprise as I enjoyed singing the German hymns. The whole event lasted 3 hours. As a result, I missed the traditional procession of boats along the Rhine. Afterwards I went to a 250 year old inn & had bratwurst & beer 🙂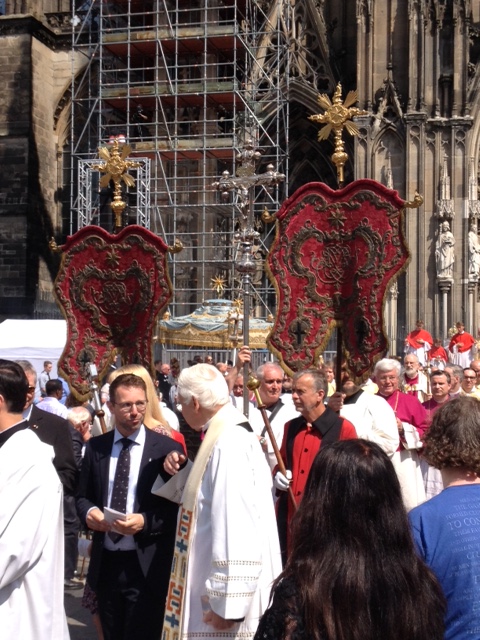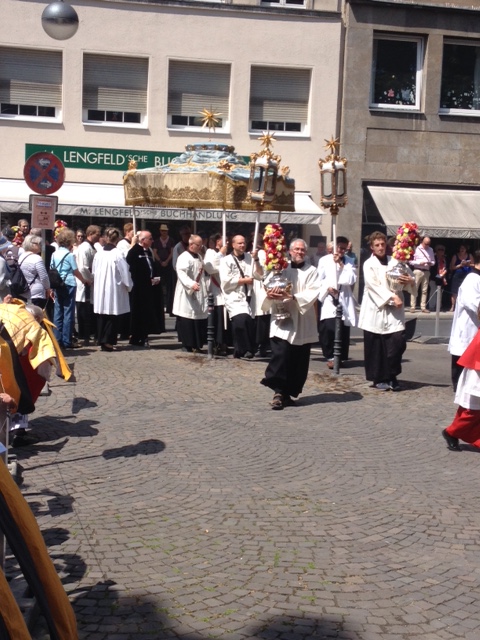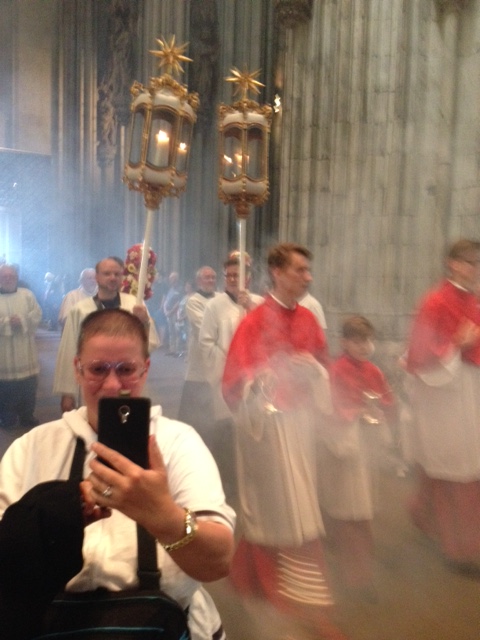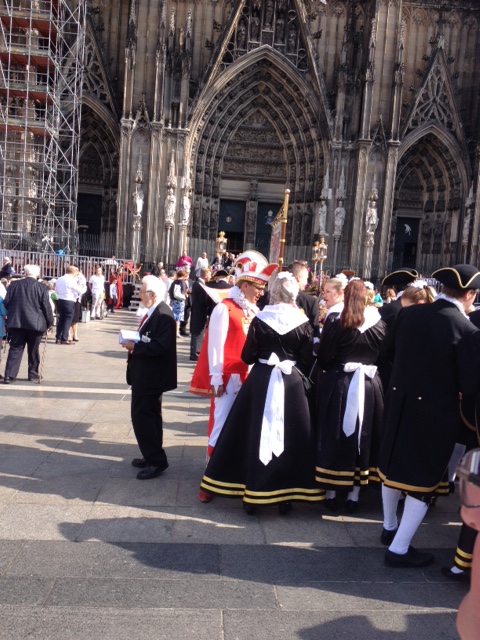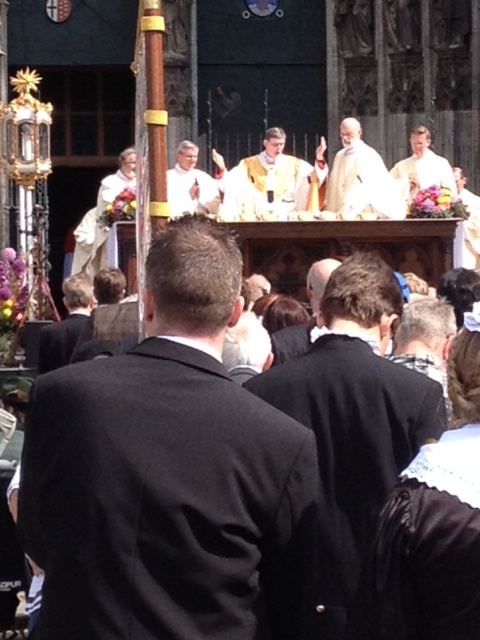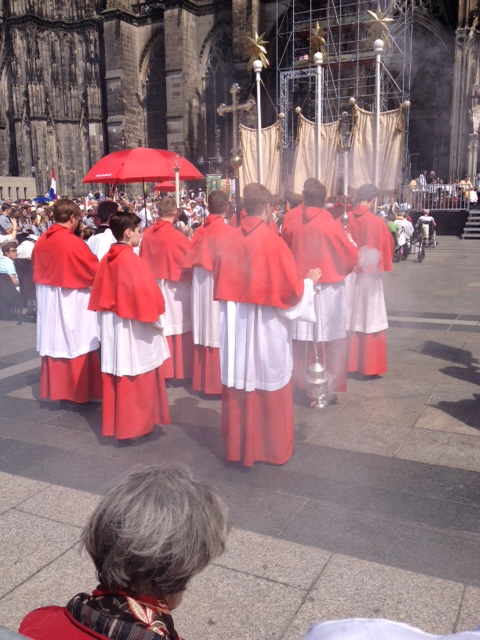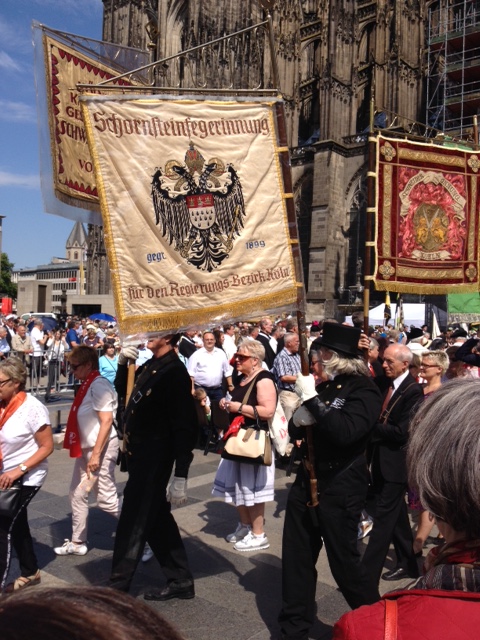 I catch the train to Munich tomorrow & will be there 2 nights – enough time to go to the laundromat!
Thurs 22
2 relaxing days in Munich concluded with yet another Corpus Christi Mass & procession at St Peter's church. A beautiful Latin Mass with great music & a colourful procession. Great to see people in Bavarian clothing.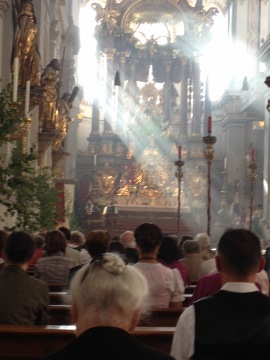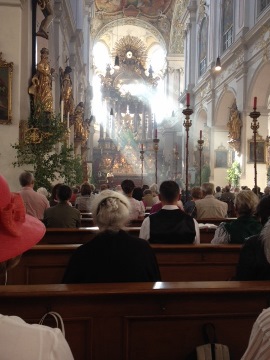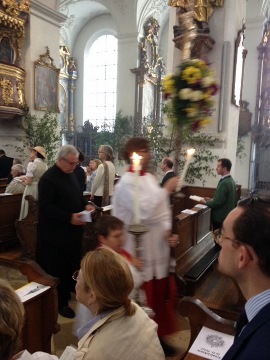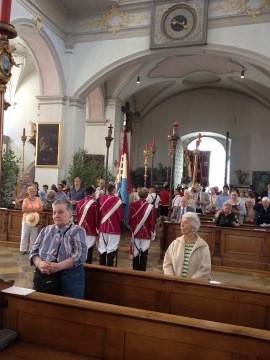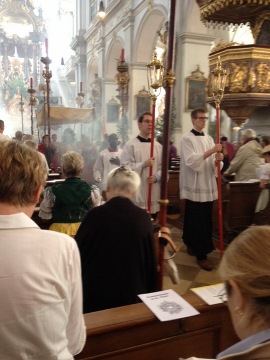 On Sunday a/noon I caught the train to Dusseldorf – my 3rd visit there. Whilst there I caught the train to Schalksmuhle, a small village an hour away. This was a trip down memory lane – in 1974, when I travelled around Europe for 2.5 months with my best friend, Waine, we stayed in this village & spent a happy evening in the local inn. The friendly proprietor shouted us dinner & in return he asked me to send him a post-card from Australia, with lots of stamps on it.
I asked my father to do this & last year found the note that I had sent him all those years ago, with the inn's address. So I decided to go there on this trip. It was interesting to return. The inn has been replaced by a small hotel called Verdi. As I walked around the village I wondered why we stopped here all those years ago………probably because it was late & there was a welcoming inn!
Walking around Munich: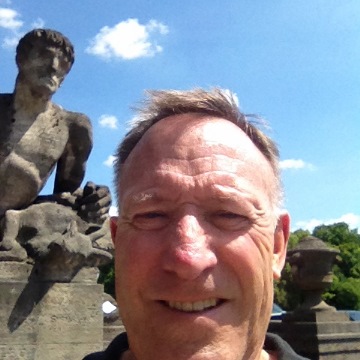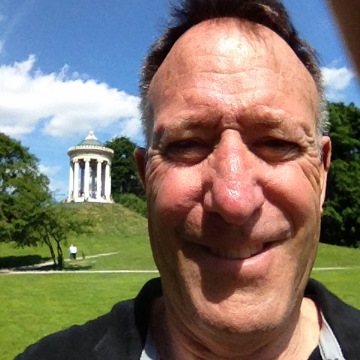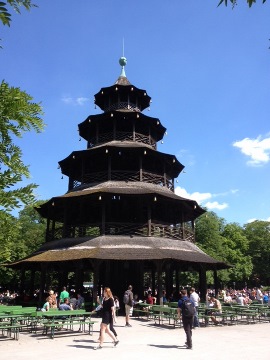 Walking around Schalksmuhle: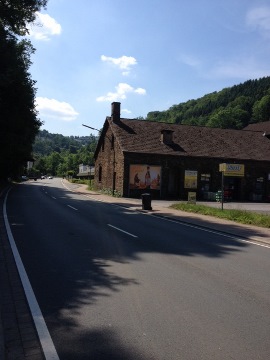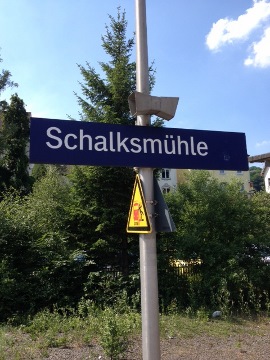 Yesterday I caught the train to Frankfurt. I now have a relaxing few days before the next stage of this trip – Italy & Romania.
Thurs 29
On Wednesday I flew to Milan. I explored this city 2 years ago & this was just a stopover on my way to Genoa. The Hilton welcomed me back by upgrading me to a suite almost as big as my St K unit! Today I checked out where the local laundromat is (Saty is washing day). I then went to Mass at the stunning Duomo. Being the Feast of SS Peter & Paul, I was expecting a Mass at the high altar with music, incense & a cast of thousands – but instead got a Low Mass said by an old priest whom I could neither hear nor understand. Not that my Italian is any good! At 3.10 pm I caught the train to Genoa.
Sat July 1
There is a narrow gauge train from Genoa, thru the hills to Casella. First planned in 1915, WW1 interfered & it was not built until 1921. 2 years ago, when I was here for a month as the Anglican priest at the Church of the Holy Ghost, the railway was not working. Last year it was re-opened & so I decided that I would return. It was nice to be back in a city I was familiar with & yesterday I walked the 40 mins from my hotel to the station. Unfortunately a rock fall meant the train only went 1/2 way. The 30 min ride was fascinating, with wonderful views & quaint little stations. It was the reason I came to Genoa & another nice travel experience.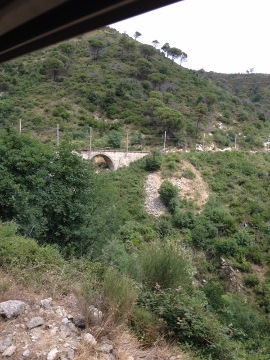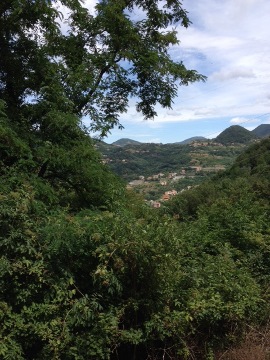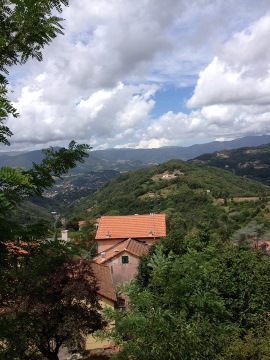 Today I catch the train back to Milan.
Tues 4
I had a wonderful Sunday afternoon with a 2nd cousin, Tricia, who lives near Lake Como. Her daughter, Zilla, with husband, Kurt, live nearby on Lake Maggiore. I met Zilla in 1989 & visited her in Milan in 1991 (on my way to Transylvania). They all came to visit me 2 years ago in Genoa. So it is my turn to visit them.
I caught the train from Milan to Sesto Calende, was met there by Tricia & we drove to Zilla's. After lots of chat we went out on the lake in their boat. It was a perfect day (apart from me getting pink knees!).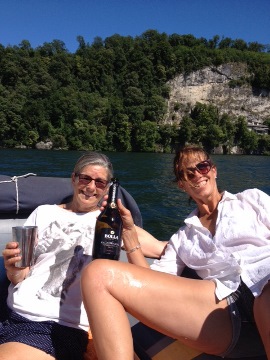 On Monday I flew to Bucharest, arriving there at 8.30 pm due to a weather delay…….3 hours on Frankfurt airport tarmac. In the US Lufthansa would be fined. My hotel is the Athenee Palace – an historic hotel noted as a meeting place for spies & journalists in the old days!
Tuesday I explored Bucharest. I visited it briefly once before in 2001. After walking to the main station & booking trains with my 4 day Eurail pass I then walked around the city. Wonderful buildings everywhere, some already restored, many waiting to be. The pics I took do not do justice to this city, called the Paris of the East. I managed a tour of the Atheneum concert hall – a marvellous building reflecting the grandeur of 19th cent Bucharest.
In the evening I was joined for drinks on the hotel balcony by Razvan. I met Razvan when I was touring Transylvania in 1991. He was a university student who lived in Sibiu. We chatted on the train to Sibiu & he insisted on my staying with his family instead of the communist-era hotel. They were wonderful hosts & I learnt so much about Romania from him. We continued in contact & I visited Sibiu again in 1992 & Razvan in Bucharest in 2001. After 16 years it was great to see him again.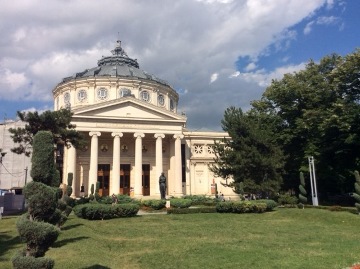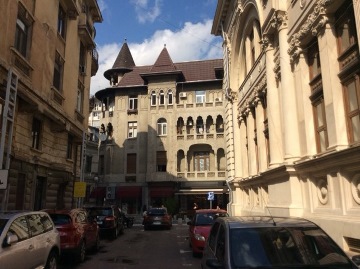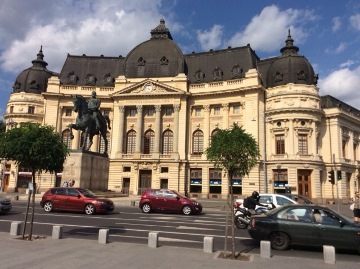 Thurs 6
Yesterday I was up early to catch the 6 am train to Sighisoara. This is in the heart of Transylvania – one of the famous 7 fortified Saxon towns. It is also the birth-place of Vlad Tepes (Dracula) & was one of my destinations in 1991. I remember catching the train there on a cold, gloomy afternoon & being so excited to see this walled town on a hill. I am sure I was the 1st Aussie to visit there since the revolution. I promised myself to return & I finally did, 26 years later!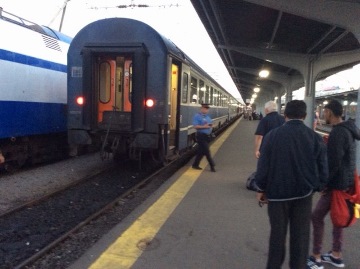 My train in Bucharest station
View from my hotel room
View of clock tower inside fortified town
Clock Tower (14th cent) one of original 14 towers along fortified walls
House where Dracula was born
I arrived at midday, checked into my hotel & immediately explored the old town. It is wonderful. I climbed the covered steps to the 15th cent church on the hill, as I did in 1991. Back then I knocked on the caretaker's door & asked him in German to open it for me. We had a fascinating conversation in German – one of many wonderful experiences I remember from that trip to Transylvania.
Covered steps leading to the church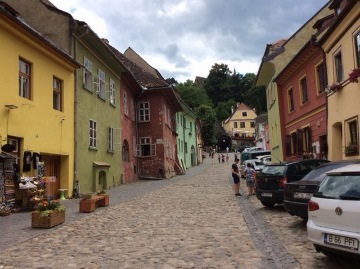 View up to the steps
Church & tower
Side chapel with old frescos revealed
Sanctuary
This morning I wandered around the town, just enjoying being here. It has changed since 1991 – no longer a communist-era backwater (apart from the railway station & bus depot!). Lots of pensions, cafes, restaurants & shops – but it still remains a quiet town with the most wonderful old buildings.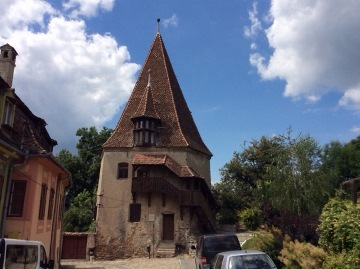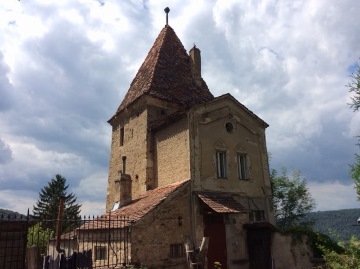 Saty 8
Yesterday I caught the train to Sibiu. This was a long journey. Not only are the trains old & slow, but there is major construction work with a new main line & tunnel being built. This is good & long overdue. But stations resemble work zones & a single line operates thru most of Transylvania. So the regional trains stop at stations for 20 mins to allow the major ones to connect & pass. It took 3 hours both ways. However we passed thru rolling hills, green fields, iconic villages & little stops which were colourful.
I had a lovely a/noon in Sibiu. It was my Transylvanian base in 1991 & 92, but 25 years later I had to rediscover it. The old town has undergone a transformation. The main square & its buildings have been been restored. There are cafes & restaurants aplenty, all full of patrons. In the surrounding streets renovations are ongoing, with crowds thronging so many new shops, bars, hotels & pensions. 25 years ago it was a quiet town with no tourists (except me). It was always the cultural centre of Transylvania & is a remarkable mediaeval city.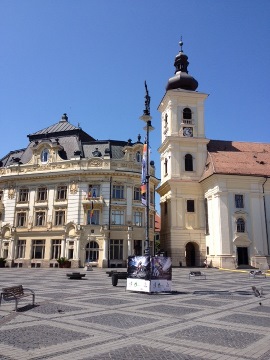 Tues 11
I had a relaxing w/e in Sighisoara, which included Sunday Mass in Romanian, listening to Port Adel win in Perth & a long walk thru the beautiful countryside. On Monday I caught the train back to Bucharest & that evening visited Razvan at his lovely apartment for supper.
On Tuesday I went to Sinaia, a 90 min train ride from Bucharest. This is the home of Castle Peles, the 19th cent palace built for King Carol I – the 1st king of the reunited Kingdom of Romania. He was a Hohenzollern, so the castle is a wonderful example of German Romantic & Rennaisance architecture, & rooms have different themes.
The castle is at the top of a hill – a 45 min walk past nice homes. 1/2 way up is a monastery built by a Wallachian prince after a pilgrimage to Mt Sinai – hence the name of the town. At the castle there was a long line of tourists waiting for the English tour, but the Romanians went straight in. So I tagged on the end of them & just did my own tour 🙂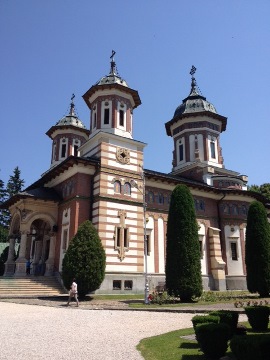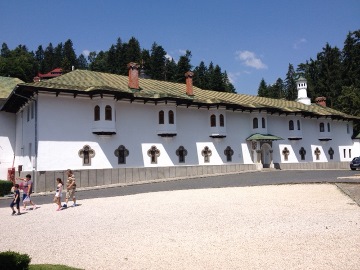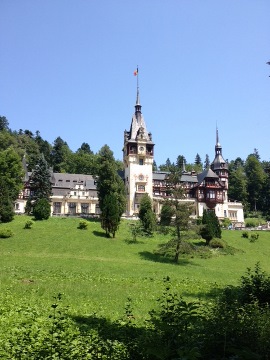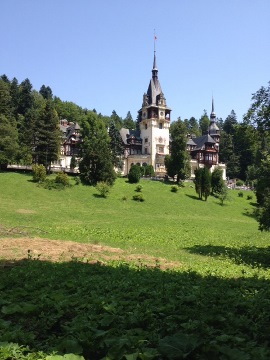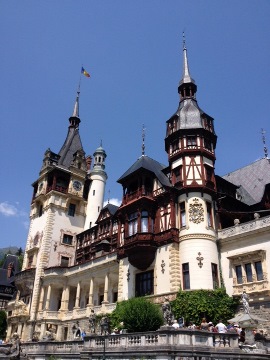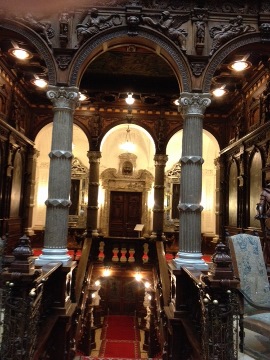 Fri 14
On Wed I flew to London. It was nice to be welcomed back to the hotel I now regard as home. On Thursday I had lunch with Phyl, my work-mate in 1974/75. It has become a custom when I visit London that we meet out the front of our old office & go for lunch nearby.
At 6.30 pm I attended Solemn Evensong at Holy Redeemer, Clerkenwell. This was the Eve of their Festival – last year I attended the Mass on July 14. Holy Redeemer is one of the London churches that I like to attend since I no longer stay at St Mary's, Bourne St. Afterwards there was an excellent talk about the founder & 1st Vicar, Fr Eyre.
At 11.30 am today I caught the train to Norwich. This blog is being updated on the train – the joys of 1st class, along with free juice & crisps! From the station I catch the bus to Walsingham, arriving there at 3.45 pm. I will have 10 days in Walsingham & look forward to being back & seeing old friends. The main purpose is to attend the Sisters festival on Thursday 20th.
Thurs 20
I have had a lovely week here in Walsingham. Weather has been warm to hot – so shorts weather except when I am involved in Services. The staff have been pleased to see me back & I have enjoyed meeting new pilgrims. By coincidence Fr Stephen Gallagher was here for the w/e. He was the assistant administrator during the 5 years that I have been assisting here every October & we became good friends. On Sunday he celebrated Mass at the parish church & I assisted him. It was like old times!
On Tuesday I visited East Barsham Manor with my friend, Jo. This is an amazing Tudor mansion built in the 1520's, 2 miles from Walsingham. Henry VIII stayed there on his way to Walsingham. In recent years it was owned by the manager of the Bee Gees & they stayed there. In all my years of visiting Walsingham it has never been open to visitors & a hugh fence kept people from looking in. However, the eccentric owner now allows visitors – so Jo & I went. The property is amazing – but in great need of repair & the rooms a real mess.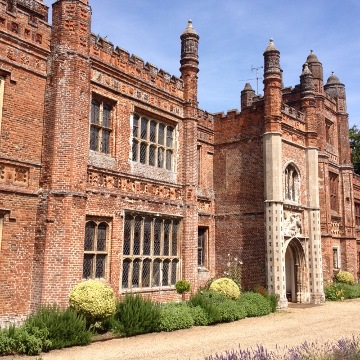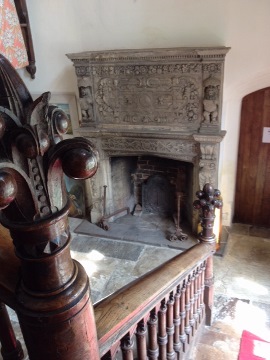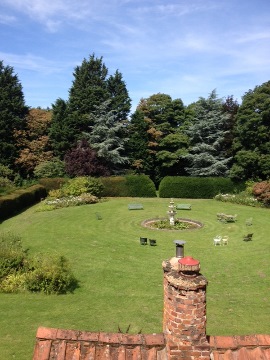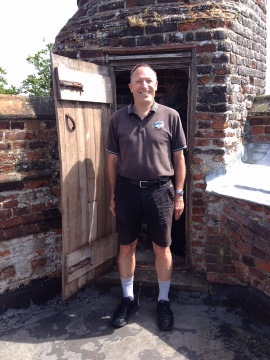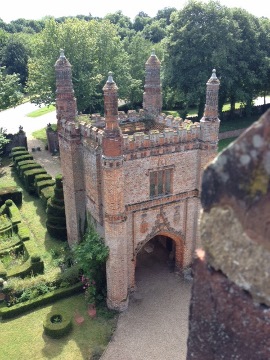 Today was the Patronal Festival at the Priory. Bp Peter Wheatley celebrated the Mass & I assisted at the altar. We first met when I lived in London in 1974 & now enjoy seeing each other every July at Walsingham.
Tues 25
Friday morning I said Mass in the Holy House for all my special intentions. The w/e was a bit wet – but I was spoilt, as 4 priests who are friends came on pilgrimage with their parish groups. It was good to see them all again & I joined in with their Masses as best I could.
On Monday I said goodbye to all the staff & caught the train from Norwich to London. Just a brief overnight stay. Today I fly to Berlin & on Thursday I return to the US.
Wed Aug 1
After 5 nice days in SD & SF I am now at LAX, waiting for my flight to Melb. I have had a wonderful 2 months of travels & am now looking forward to getting home.