Sat Jan 30
I am at Newark airport, waiting for my flight to London. This time last week it was snow-bound & all flights cancelled. Today the sun is out, there's a little snow on the ground & NYC looks nice in the distance.
I have had  10 interesting days since I left Melbourne, starting with a brief stopover in SD. I then a few days in New Orleans, meeting up with Mike, a local who is the friend of Robert who looks after my St K condo when I am away. On Monday I flew to Bogota, Columbia. This was to be an adventurous 2 full days in a country I had never visited – but it did not turn out as I thought.
Because of fog (a regular problem) we could not land at Bogota on Tuesday at 6 am. So we were diverted to Panama. Most passengers were put on flights next day, but I managed to get an evening flight to Bogota. So, instead of having Tuesday to explore Bogota, I spent it in Panama airport! I duly arrived in Bogota at 9.30 pm & crashed into bed.
Wednesday was now to be the only day of discovering this new place. However before setting out I tried to check-in for my Thursday flights, but I was unable to. Unperturbed, I set out to walk to the old city. By chance I soon came across the United Airlines office. So I called in & asked if they could check me in. To my horror & their bewilderment, my itinerary had been cancelled – no doubt because of the non-arrival on Tuesday. An hour later (which included going back to my hotel for my passport) my itinerary was re-instated & I had my boarding passes.
So at 1 pm I set out, getting as far as the old bull-fighting ring & the national museum, which I found very interesting. In the end I had just 3 hours exploring Bogota instead of 2 whole days 🙁
Now I am heading for London. It is a strange visit. Instead of seeing my friend, Joan, & driving to Walsingham with her, I will attend her funeral on Tuesday & catch the train to Walsingham via Norwich on Monday Feb 8. It will be strange to be at Walsingham without her this time – we first met there 20 years ago. I will be saying a Requiem for her in the shrine when I arrive & in the evening go to dinner at the local pub with our mutual friends, Stephen & Jo, when we will toast our dear friend.
Ash Wednesday, Feb 10
I am now in Walsingham. It was a good week in London. Especially good to participate in Joan's funeral vigil & Solemn Mass for Candlemass on Tues 2nd. On Sunday I went to Mass at Holy Redeemer, Clerkenwell – a church I have been wanting to visit. As well as the 2 priests in the parish, I was pleased to meet up with 2 other old friends in the congregation – incl one I was in seminary with & had not seen for 20 years.
On Monday I caught the train to Norwich & stayed there overnight. Yesterday I caught the bus to Walsingham. It was sunny, if cold, & everyone was pleased to see me. At 4 pm I said a Requiem in the Holy House for Joan, which was attended by 10 people. She would have been pleased. In the evening I went out for dinner with Stephen & Jo to toast Joan's memory. Today I concelebrated the 11 am Solemn Mass & in the afternoon met with the new Interim Administrator, Fr Philip. I knew him 12 years ago, when he was the Assistant Priest at the Shrine & we enjoyed catching up on what we have been up to. It is good to have him running the shrine whilst we all await a new appointment.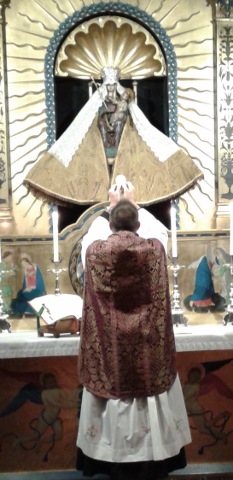 Tues 16
Today I fly back to the US. I have had a nice week in Walsingham – apart from a throat virus that started last Wednesday! This meant that I mostly stayed in my warm room apart from Services & meals. On Thursday I said a Mass in the shrine for all my intentions, incl several people recently diagnosed with health problems. The Partnership Weekend was very good, with excellent talks & entertainment. On Sunday it was good to be back at the parish church & see various friends. in the evening I went to the pub with the young people who work at the shrine (despite my Greta Garbo voice!). Whilst we were there it snowed & the shrine looked lovely. I was driven to Norwich next morning, spent an hour with my old friend, Fr Martin Smith, then caught the train to London. Last night I stayed at the Crowne Plaza Gloucester Rd. I have stayed here before & like it because in 1974/75 I lived & worked near here.
Mon 22
I am in Quito, Ecuador. I have been wanting to visit here for awhile & am not disappointed. Quito is a lovely city with a well-preserved Spanish Colonial centre. And I think Ecuador is the nicest of the 7 Latin American countries I have been to. I arrived at midnight on Saturday night. After a blissful sleep I headed out for the national basilica. This is a huge French gothic structure rising up on a hill in the city. It has beautiful shrines but not much art work. Mass started 15 mins late & included a 20 min sermon (in Spanish, of course)……….sometimes Sunday Mass is more duty than joy!
After Mass I wandered around the old city. Cars are banned on Sunday, so was pedestrians & bikes only – a mix of locals & tourists enjoying a sunny day. Entertainers, incl bands, added to a colorful atmosphere. I managed to visit 3 Spanish Colonial churches which were magnificent in their extravagance. The Jesuit church was covered in gold from the roof down. All were obviously houses of worship & Mass was still being celebrated in 2 of them.
Wed 24
On Monday I had one of the most exciting experiences of my travels – I went to the equator. Ecuador is named after the equator, so it would be a shame not to actually see it. The bus ride there was as adventure in itself, reminding me of how I would happily take busses/trains to remote places in my early travels in the 80's & 90's.
The actual site of the equator is within a park managed for many years by a family. It is adjacent to the official government park – Mitad del Mundo – which is 300 m away. I latched on to a group of 5 young people from various countries who were also looking for the real location. Being with them reminded me of my travels 42 years ago. On arriving at the smaller park a guide gave us a tour of their displays of the history/culture of Ecuador. Then we were taken to the actual line of the equator. Various experiments were done for us, incl water going the different ways in the 2 hemispheres, then straight down on the actual equator. We all had photos taken standing on the equator..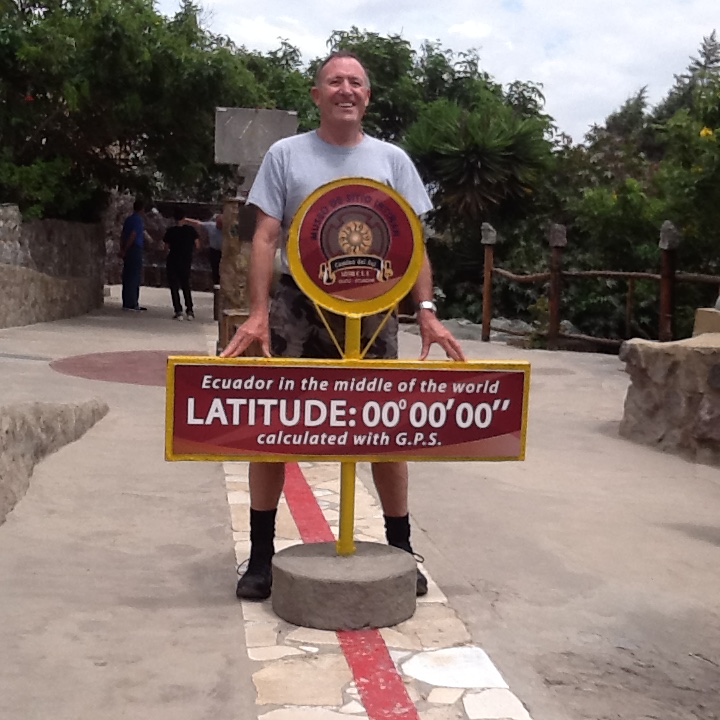 On Tuesday I ventured into the old city & visited 3 special churches: the cathedral, St Francis' & Our Lady of Mercy. Each were stunning (esp the cathedral, of course). I finished the day by going on a tour of the Presidential Palace. I was the only non-Spanish speaker & the guide kindly gave me an individual commentary in English. He was obviously proud of his country & the palace. Of particular note were the various gifts given to the president by other heads of state.
It has been a wonderful 3 days in Ecuador. I am now back in SD (in order to do my tax filing) & on Friday fly to Munich.
Sat Mar 5
I arrived safely in  Munich a week ago. After checking in to my hotel I went out to the Hofbrauhaus. I have been there before & have pics to prove it, but wanted to look at the painted ceilings – a remnant from the 1930's. At 5.30 pm I attended Vigil Mass in the iconic Frauenkirche. Sunday I caught the train to Berlin. I had 5 nice days there, despite it being very cold.
In Berlin I didn't do as much walking as usual because of the cold & threat of rain – also because my knee was still sore from the fall in London. On Monday morning I went to the DDR museum, which was really for tourists, not an amateur historian like me! In the a/noon I went to the Stasi museum, which is in the headquarters of the former DDR secret police. This was sobering – & people can still access their files there. Those 2 visits concluded my project about the Nazis & Cold War, which has been my mission for visiting Germany since I retired.
On Tuesday I went to Charlottenberg Palace, where the Prussian crown jewels are on display. I think they are better than the English – simpler & more striking. Wednesday I went to the famous zoo. After so many years visiting Berlin & using the Zoo station (the main West Berlin station before reunification in 1990) it was about time I went there! Thursday I went to Spandau Citadel. This is a mediaeval fortress & is still being renovated for tourists, because it was in the border area until 1990. After exploring it I went into the old city centre.
I caught the train to Frankfurt yesterday, staying overnight. Right now I am in the train to Munich – yes, Deutsch Bahn has free wifi on its trains! Tomorrow I fly back to the US & have just 1 more week of travels before returning to Melbourne.
Sun 13
My flight a week ago back from Munich was good & on time. On Tuesday I flew to Winnipeg (where it was very cold) then onto Toronto. I wanted to catch up with an old friend in Winnipeg & then enjoy Toronto, which is a lovely city. And it now has a new train from the airport to city. Take note, Melbourne!
Now my 8 weeks of travel is at an end. It had been quite different, starting with Joan's death before I left, her funeral in London when I was there, a throat virus & other ailments, falling over & hurting my hand & knee in London & several flight delays, incl spending a day in Panama airport. But there have been good things & new places. And, of course, a week in Walsingham.
I am now in LAX, waiting for my flight back to Melbourne. It will be good to be back in St K. I have a busy 2 weeks, incl several meals this week & the start of the footy season on the Easter w/e!
Sun 20
I arrived back safely in St K on Tues. It took only 12 mins for me to get thru customs & passport…..very unusual! The rest of the week was busy, incl 3 visits to friends for meals. I also have the usual round of Dr, dentist, optician & podiatrist. Today I went to All SS, E St K for Palm Sunday Mass. It was a beautiful Mass with excellent music. It was the nearest to Palm Sunday in SD that I have experienced since retiring. Holy Week I will spend in Melbourne, then on Saturday I fly to Adelaide for the AFL opening round & Port Adelaide's 1st home game on Easter Day.
Mon Apr 4
It was good to be back in Adelaide – & to see Port Adel win their 1st home game. Thanks to my friend, David Dornan, I sat in a corporate box at Adel Oval – a very pleasant way to watch the footy! I flew back to Melb on Tues & had a fairly busy week. On Thurs I received a phone call from my best friend, Waine, advising of the death of his mother, Coral. At his request I will fly to Adel on Wed & conduct the funeral on Thurs. Yesterday I went to Mass at Christ Church, Brunswick, which was nice, with an excellent sermon. Numbers & singing have both improved since I was last there in January. Now to prepare for Coral's funeral.
Mon 18
A 2 week gap since my last entry shows that i have been busy! Going back 10 days, the funeral for Coral Justice went well. It was good to see all the family again & I enjoyed time with them. I stayed on for the football on the w/e, which Port won. Then back to St K & 2 dinner parties with friends. On Friday I flew up to Canberra to see Port Adel play. It was a disaster – the worst I think I have seen Port play. It is not a good sign for the rest of the season, which is very equal this year. I now have just 8 days before I fly back to the US. So there is much to do & organise.
Mon 25
Anzac day & St Mark's Day. I always remember the wonderful Patronal Festivals we had at St Mark's. Today I will go to the MCG to see the traditional Collingwood vs Essendon game – sitting in the MCC members, thanks to Jen Aldous. Then it will be an early night. Tomorrow I fly back to SD. I have spent the past week packing for the trip, organising things for my time away, cleaning my unit, etc. I am away for 3.5 months, the longest I have been travelling that I can remember.
After a week in the US I fly to London for 2 weeks, This is pure holiday & will include visits to Birmingham & Liverpool – places I have not visited before. The highlight is the last day, which is my birthday. I am flying from London to SF in 1st class. Originally I wanted to be in SD for my b/day, but I was offered an amazingly cheap fare & decided to spoil myself. Being waited on hand & foot for 11 hours sounds like a good way to celebrate turning 69!
After a week back in the US I fly to Germany on May 24th. I am to be the priest at St Thomas' Anglican Church in Hamburg for 5 weeks. It is a lively church & I look forward to my time as locum. It will also give me an opportunity to live in a famous German city & explore northern Germany. I return to the US on June 30 & then have a month of travels. This is when I will pass 3 million miles flown with United, which has been my mission since I retired 🙂