Tues Jan 5 2021
My Christmas was nice. Midnight Mass at St James & Mass of the Day at All Saints, followed by a great lunch with a diverse group of 6. The following Monday I had my new neighbour, Justine, here with Beata (my favourite neighbour) for lunch. On the Wednesday I flew to Adelaide, mainly to avoid being in St K on NYE. I was not surprised when the noisy, badly behaving crowd in St K that night made the national news next day! In Adel I enjoyed drinks on NYE with old friends & then caught up with other friends each day before flying back home yesterday. So now we are in 2021……what will it be like, I wonder.
Mon 25
I watched the Jan 6 attack on the US capital with dismay – but not with surprise. It was the logical end to Trump's reign. We shall see what the fall-out will be. By contrast, I watched the inauguration of President Biden with hope. I thought it was a wonderful occasion, especially the poet, Amanda Gorman, & Lady Gaga singing the Star Spangled Banner. Biden has a great task ahead – not least the Covid pandemic. We can only hope that he is successful & that Trump is consigned to the rubbish bin of history. How nice that the US now has a President who goes to Mass on Sunday, instead of worshipping the golf course!
Tomorrow I catch the train/bus to Kaniva to stay for 3 nights with my friend, Julie, who runs the puppet shop. I think it is very appropriate that I should spend Australia Day in a small country town where the biggest excitement is a puppet shop 🙂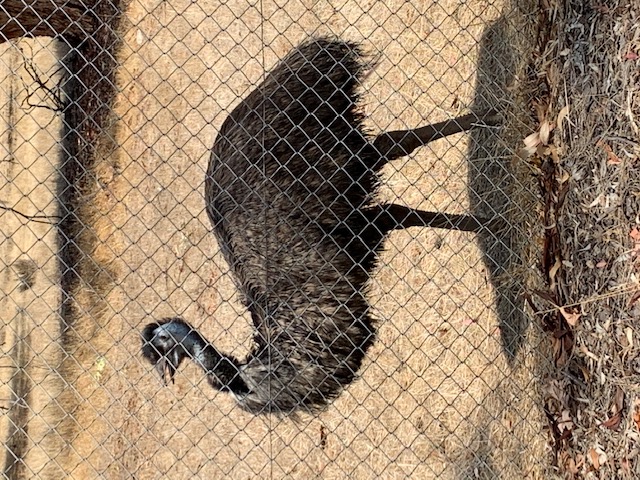 On Friday I catch the Overland train from Nhill to Adelaide, where I will spend 4 nights. On Sunday I attend Mass at St Paul's, Port Adelaide. Afterwards I will celebrate the anniversary of my ordination by enjoying lunch with friends – & remembering my wonderful 40th in Walsingham 12 months before. When I return to Melbourne I will only be there 5 nights, as on Sunday Feb 7 I fly to Brisbane for 2 nights & then to Alice Springs. After 2 nights there I will catch the Ghan train to Adelaide. I have caught it before from Alice Springs to Darwin. It will be nice to now complete the journey.
Tues Feb 16
My planned trip was changed by a new Covid outbreak in Melb & interstate border closures. I subsequently cancelled my flight to Brisbane on Sunday & then to Alice Springs, booking a direct flight to Alice Springs on the Tues. I had an interesting 2 days in Alice, discovering their cultural precinct with its 2 museums & the Albert Namatjira gallery. Adjacent to the precinct was the town cemetery. I wondered around & was thrilled to find Albert Namatjira's grave, complete with a replica of one has famous paintings.
On Thursday I caught the Ghan to Adelaide, which was a marvellous trip. On arrival in Adelaide those who had been in Victoria the previous week were interviewed & kept isolated. I had planned to spend the weekend in Adelaide, but offered to fly back to Melbourne that night. The alternative was a 14 day quarantine in Adelaide at my expense!
I was able to reschedule my flight back to Melbourne & cancel the hotel without penalty. 5 of us were then taken to the airport in a mini-van with a police escort & kept in a quarantine area until we boarded our flight. Everyone was nice to us & in the end I was glad to get back to Melbourne. The whole point of the trip was to go on The Ghan & it was worth it.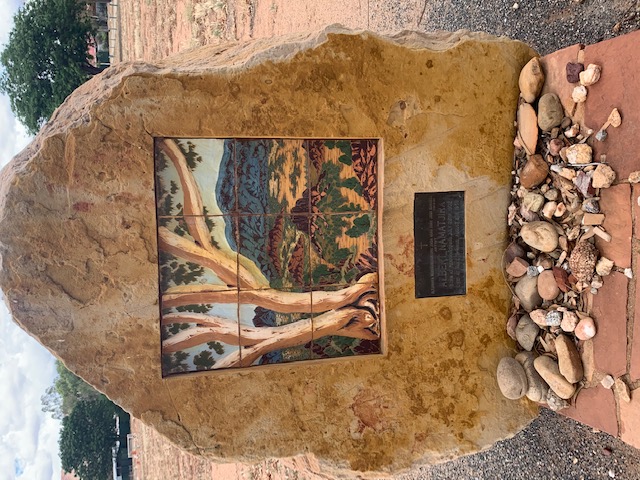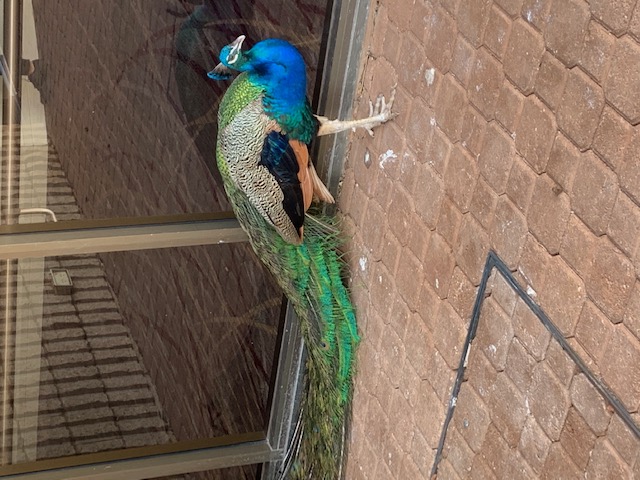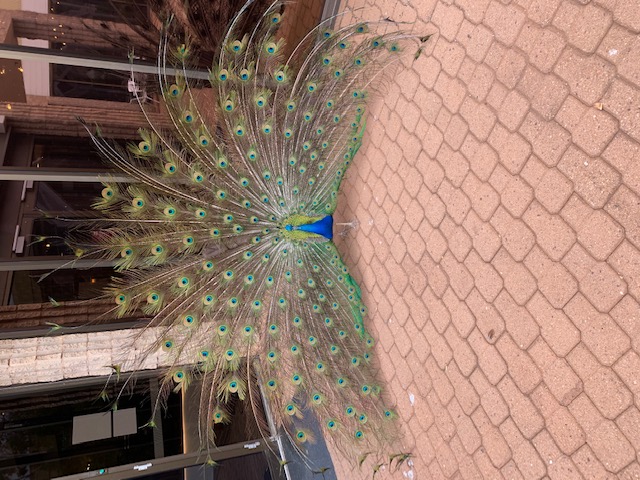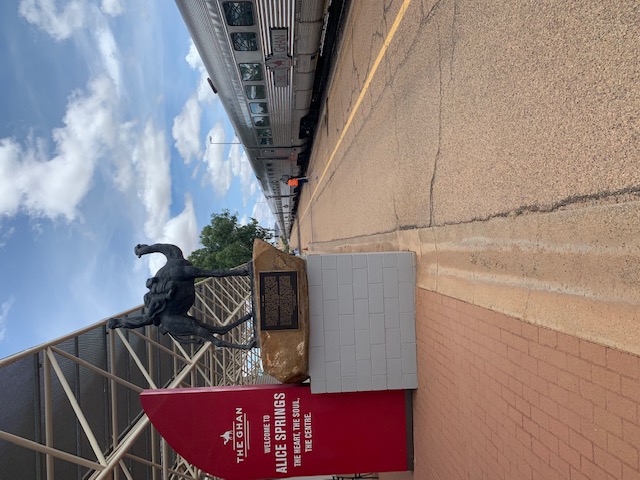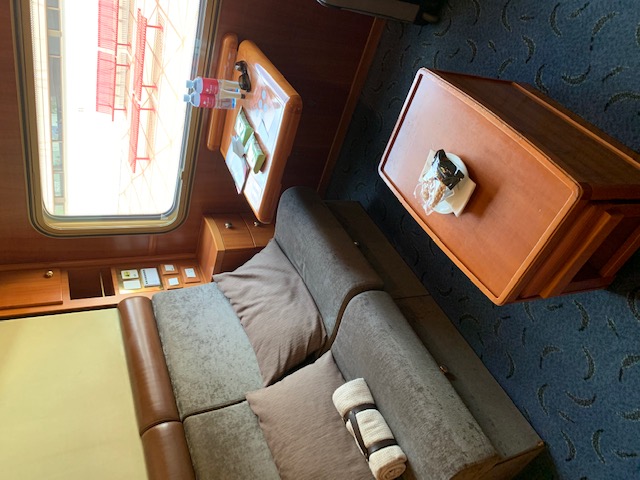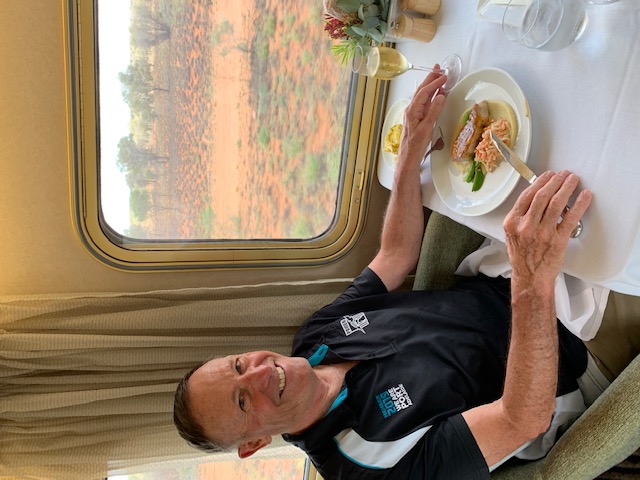 Sat 27
I have just had another trip to the country. I caught the train to Echuca, on the River Murray, which I had not visited before. I stayed in the old 19th cent post office, which has been transformed into a delightful boutique hotel. It was very nice, with personal service from Naomi, the daughter of the couple who bought it 20 years ago & restored it. Naomi provided a fantastic breakfast. Echuca is a delightful historical town, with the old port restored. On Thursday I went on a paddle-steamer cruise up the river, which included lunch at a winery. It was a wonderful 3 day break.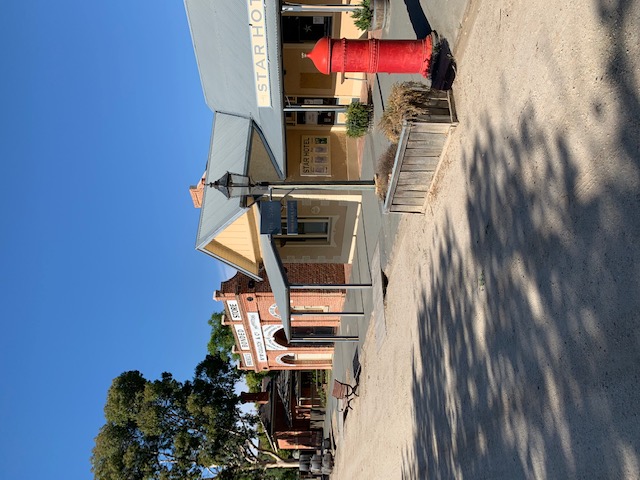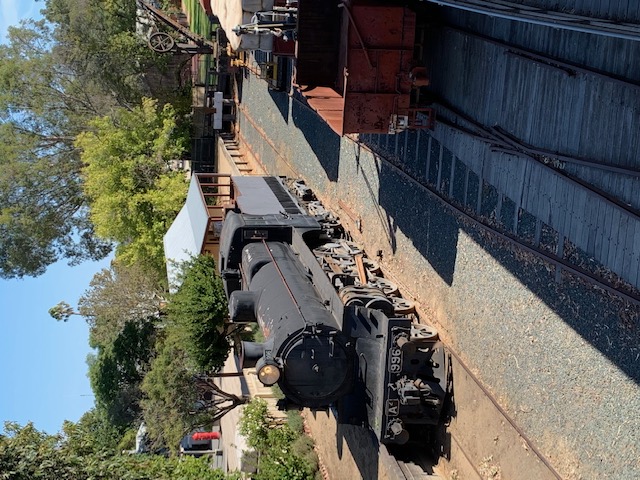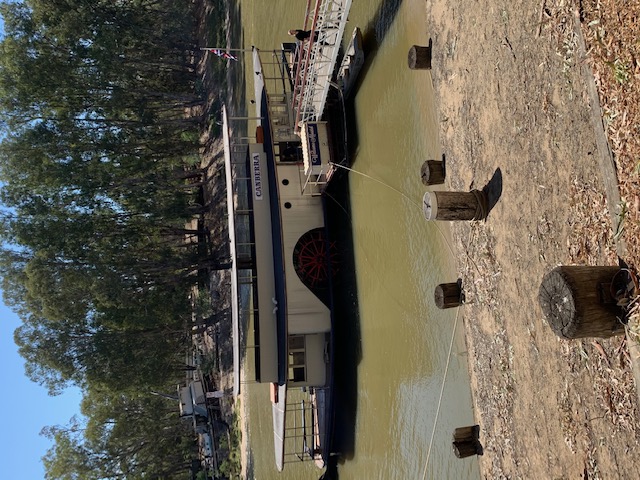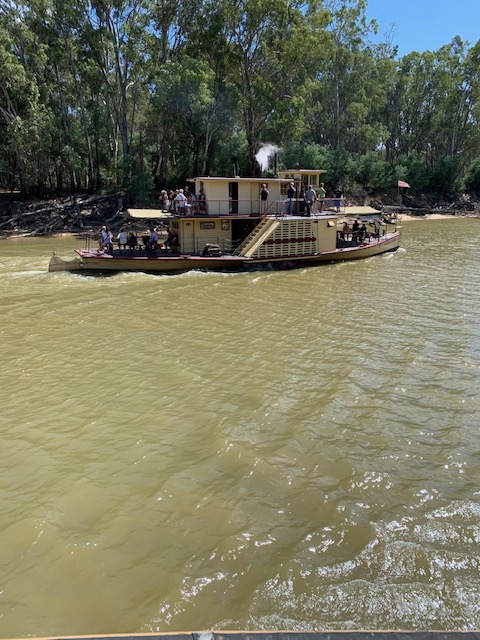 Sun Mar 7
10 years ago I celebrated my last Mass as Rector of All Saints. I had a wonderful 8 years in San Diego & give thanks to God for that & the people of the parish. It was an exciting & fulfilling time. This means I have now been retired 10 years…….where have the years gone!!
Wed 31
The football season has started! The 1st round saw Port Adelaide playing North Melb here in Melbourne on Sunday 21st. Capacity of stadiums is 50%, with members of the home club getting 1st choice. So to guarantee that I got a seat, I booked lunch in the AFL members dining room. This was very nice & great to see Port win 1st up.
Last weekend Port played their 1st home game. To support the club financially (after last year's Covid affects) I had upgraded my membership to a package that gives me 6 invites to the Chairman's pre-game function as well as 2 good seats in the Western Stand. It was a great way to watch the footy & I met several people who knew me. Port were wonderful in the 1st 1/4ter & won well.
It was good to be back into the routine of going to Adelaide for home games & having a weekend there. I also plan to go to other interstate games – but am always aware that Covid could change my plans. This will be the 1st year that I have seen Port play a whole season since I left Adelaide in 1985. Tomorrow I fly to Perth for our game there on Saty. The Easter Triduum won't be the same.
Wed April 7
I had a lovely weekend in Perth……apart from the footy. Port Adel were between very badly! Before the game I attended the Port supporters pre-game function at a local pub. The chairman, David Koch, was speaking about Port supporters coming to the game from all over the country. He then referred to the 2004 Grand Final, when he & his father sat with an Anglican priest who had come all the way from San Diego. I immediately pushed through the crowd & said, "I am here"!
The weather was warm all w/e & I was able to attend all the liturgies at St Mary's cathedral. Good music, good preaching & good crowds, with standing room only on Good Friday & the Easter Day Solemn Mass. The hotel I stayed in was only 4 months old & very nice. It is right on the Swan river & I was given a room facing the water, with wonderful views from dawn to dusk.
Tomorrow I fly to Adelaide for Port"s big Fri night game against last year's premiers, Richmond.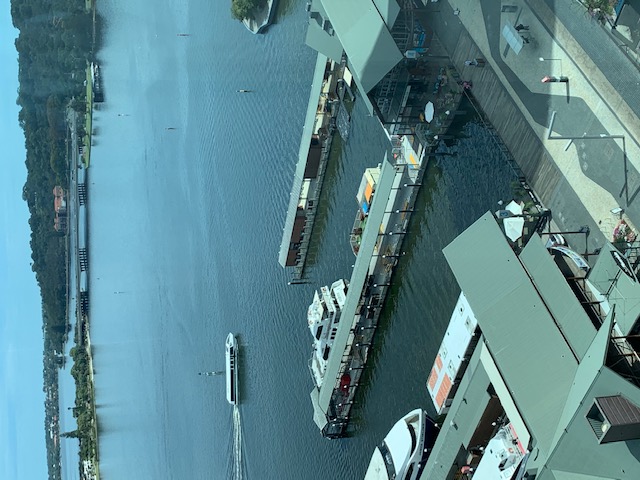 Wed May 5
I have not added to my Blog for a month because each week is much the same. On Fridays I fly to Adelaide (or another interstate city) to see Port Adelaide play. In Adelaide I catch up with family/friends & have enjoyed going to Sunday Mass at St Paul's, Port Adelaide, my home parish. I return to St K on Mondays. This only gives me 3 days in Melbourne, so I am quite busy. Apart from practical things & medical appointments, I have had meals with friends & 2 weeks ago attended the premiere of the movie, 6 Minutes to Midnight, which I enjoyed. In 2 weeks time I will have a 5 day stay in Adelaide to celebrate my birthday.
Thurs May 20
I had a wonderful time in Adelaide celebrating my b/day. This was the 1st time I have celebrated my b/day in my home town since I moved to Melbourne in 1985. I flew over on Fri 14. The Hilton knew it was my b/day & upgraded me to a suite, complete with a bottle of wine. On Saty I went to the footy, treating myself to a corporate suite with 80 others. At my table was a woman who worked in Shanghai for 2 years, 2 beautiful young women from Cornwall & an Irishman – not bad for a working class club from the Port! Before the game I was invited to go onto the oval whilst the players warmed up & then see them run out thru the banner. Unfortunately we lost!
Sunday I went to Mass at St Paul's, Port Adelaide for the 180th anniversary of the 1st church. After Mass I had lunch with 2 friends from when I started the PAFC Cheer Squad in 1965. Trevor was singer in a rock band which played at our discos & Phil was one of the original Cheer Squad girls. Later I was Trevor's sponsor for baptism. They live on the sea-front & celebrate their 50th wedding anniversary next year. Monday I had lunch with 4 friends from St Martin's, Campbelltown, my 2nd parish. We were going to eat at a restaurant, but I invited them to have room service in my suite, for which the hotel manager gave me a bottle of champagne!
Tuesday was my birthday. At breakfast I was presented with an extravagant chocolate plate, complete with lighted candle. It was very rich & I did without my usual bacon & eggs. In the afternoon I attended a special High Tea for a small group who support the PAFC. As the clubrooms are having a major renovation, it was held at a hotel overlooking the water at Westlakes. It was very nice & a wonderful way to celebrate my b/day in Adelaide. I flew back to Melbourne on Wednesday. Port are playing at the MCG this Sunday & I shall conclude my b/day celebrations by having lunch in the AFL Members dining room 🙂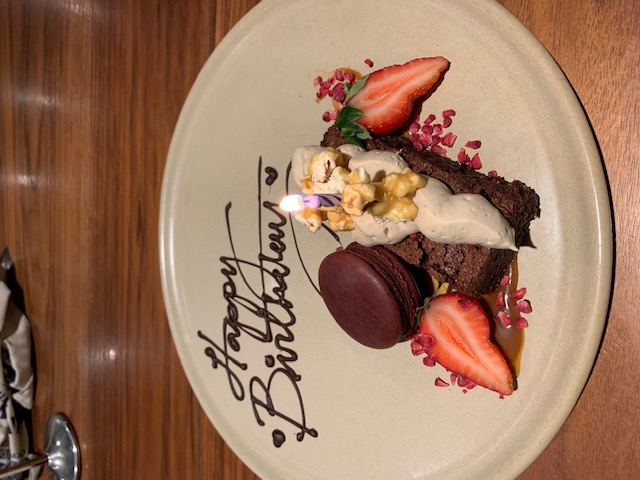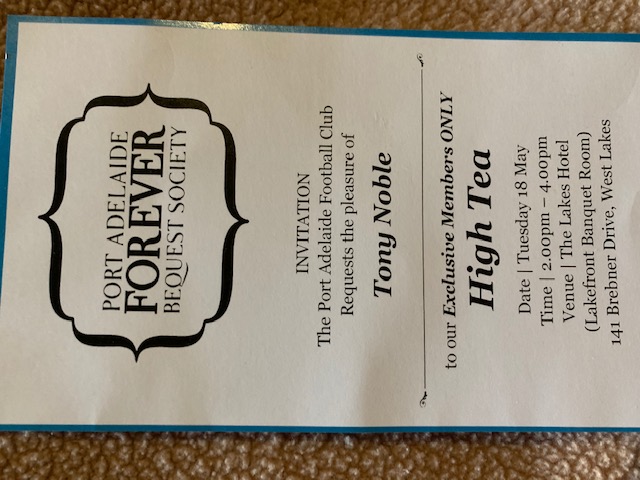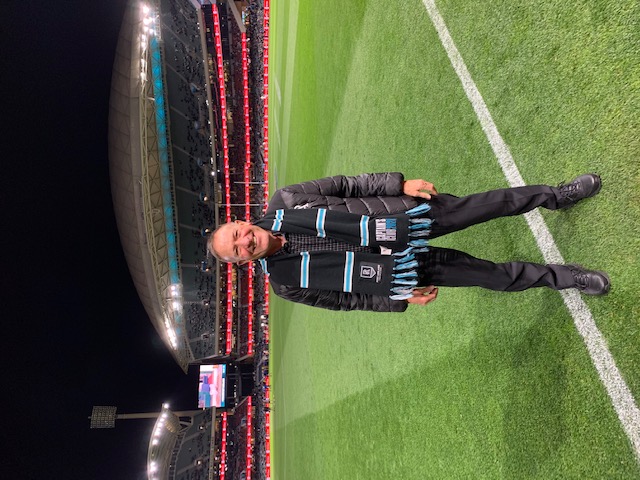 Fri June 18
It is a month since my wonderful b/day celebration. Once again, Melbourne has been in lockdown – our 4th & I am well & truly over it! 4 weeks stuck at home, no church, no footy, no going out, apart from 2 meals with neighbours. I had to cancel 2 trips back to Adelaide & 2 other interstate trips. We are almost back to normal now & am hoping I am allowed to travel to Adelaide next week for the footy.
Mon July 19
After 4 weeks of lockdown #4 we had 3 weeks back to normal. I went to Adelaide for 2 footy matches & had a weekend here when Port played. Then we went into lockdown #5. Once again no footy, no church & no going out. I have cancelled my planned visit to Adelaide this weekend & we hope this only lasts a week!
Tues Sep 28
It has been awhile since I updated my Blog. You guessed it…………no sooner had we come out of lockdown # 5, than Melbourne went into lockdown #6. So no church, no footy, no eating out & no dinner parties! This included several church festivals & Port Adelaide playing in the finals. Unfortunately they fell at the last hurdle, so just as well I couldn't be there! Now we are waiting for this lockdown to end – it could be another month. But even then we are not sure when interstate travel will be allowed. What a year it is turning out to be!
Sat Oct 30
Last night Melbourne finally came out of lockdown! We now have the distinction of going from the world's most liveable city to the world's most locked-down city – having passed Buenos Aires. Last Sunday I was able to attend Mass for the 1st time since mid-July & today I will go shopping. Earlier this month distance restrictions were extended, so that I was able to go on train trips & explore parks in the suburbs. I have also enjoyed meals with more than 1 person & had my 1st dinner party a week ago. And, of course, I have booked a trip to Adelaide, as well as 3 train trips to the country.
The big thing, tho, is that from November 1st Australians will be allowed to go overseas & return without doing quarantine. So I have planned my 1st overseas trip for 2022. This will be my usual February trip to Walsingham. It will have been 2 long years since I was last there & I am so looking forward to it. I plan to spend February in the UK & then 10 days in Europe. This is using 2 vouchers on the Eurostar train from my cancelled bookings in 2020, which expire December 31st. For the whole trip I will be using points from all my 2020 cancellations because of Covid. But I am not going to book my flights & hotels until January because I am cautious & travel is still dicey. And I am trying not to get too excited 😉
Wed Nov 24
Melbourne has come back to life & St Kilda is humming….life is almost back to normal! It has been a special joy for me to go to Daily Mass again after 4 long months. I have also made 3 country train trips to Geelong, Maryborough & Swan Hill. A highlight was spending a weekend in the new Melbourne Hilton, using vouchers from 2020 cancelled reservations. Next week I go to Adelaide for 7 days. This will be a full week having lunch/dinner with friends each day & a Port Adelaide FC Christmas lunch which I usually attend. The rules for entering SA are a little complicated, but it will be so good to get on a plane & to stay at the Adelaide Hilton.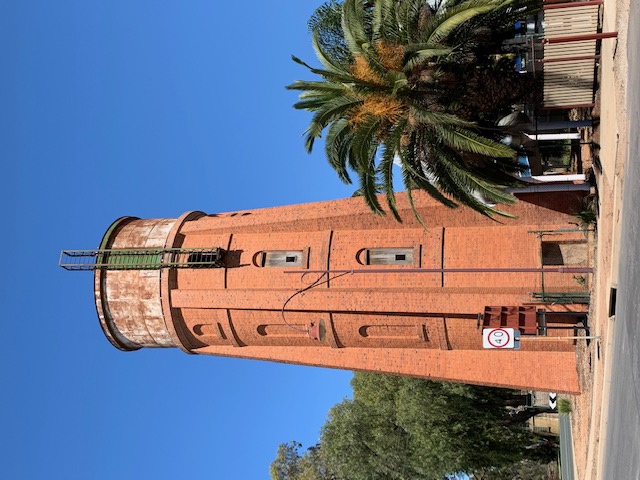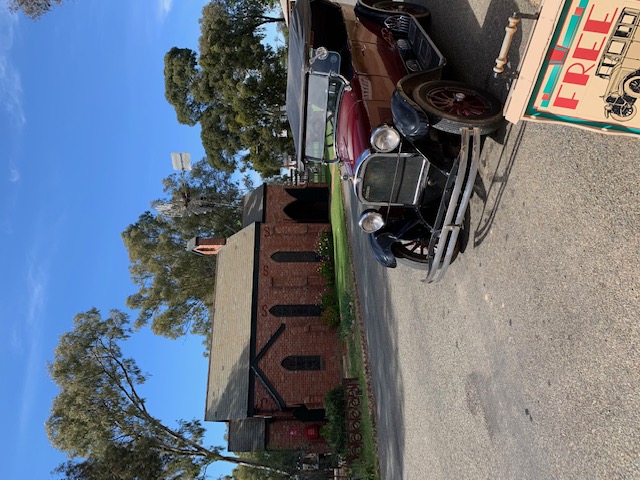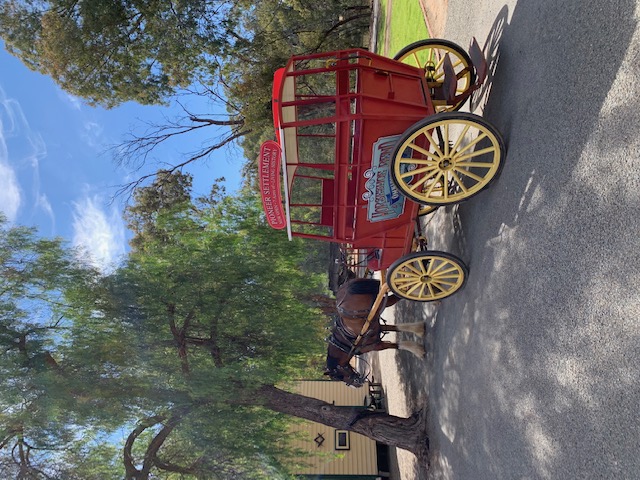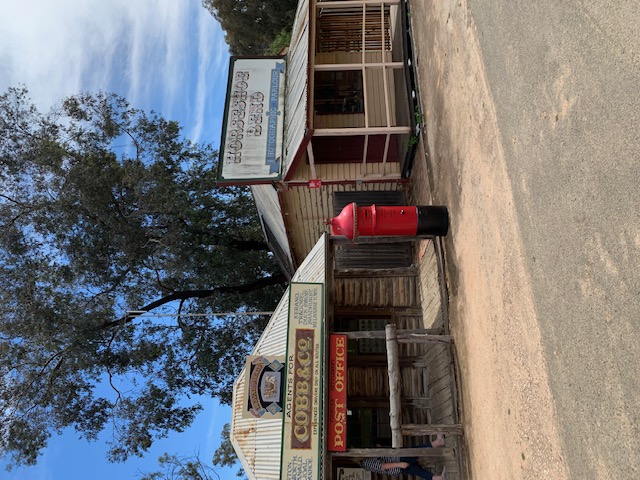 Swan Hill Pioneer Village
Sat Dec 18
I had a busy week in Adelaide – it was great to catch up with friends every day. The highlight was being given a tour of the new Port Adelaide Football Club headquarters by the CEO. I have been a member of Port Adelaide since 1964 & it is wonderful to see how it has progressed. Since returning to Melbourne I have been busy catching up with friends for meals. It is the countdown to Christmas! A highlight was going on the Q-Train. This is a restored rail line on Bellarine Peninsula which runs lunch, dinner & Blues nights train trips. I took my friend, Andrea, who had cancer surgery this year. It was a great experience & a fantastic menu. Life in Melbourne seems to be returning to normal, altho there is apprehension about the new Covid strain. St K is certainly busy. This weekend the trains & trams were full & the city busy. My Christmas celebrations will be a repeat of last year. The week after Christmas I will go to Kaniva to visit my friend, Julie, who runs the Puppet Shop, returning home for NYE.