Wed June 2
I have just had a lovely 2 days in Charleston. A pretty town with so much American history. It was also the Spoleto Festival (Melbourne used to have one of those) & I attended a marvellous concert by an a cappella choir from Georgia, The William Baker Singers. I also went for a horse-&-carriage ride around the historic city & a cruise on the harbour.
Tonight I fly to Washington, DC & then on to Europe.
Sun 6 Corpus Christi
I am a little tired from the travelling, but had a nice weekend in Munich, concluding with a lovely Corpus Christi Mass this morning. Mass concluded wIth Benediction, incl singing Adore Te in German. I have had time to relax & join the crowds in the beautiful Summer weather. I do like Munich – have been visiting here regularly since 1991. My German teacher in High School was from Munich & she gave me a love of Germany & its culture.
At 2.30 pm I caught the train to Salzburg, then the bus to Berchtesgaden. I stayed here last June & enjoyed the hotel & scenery so much was determined to return. The bus ride gave a beautiful view of the Bavarian alps. The assistant manager, Steffan, was waiting to welcome me, having upgraded me to the same suite I had last year, with its beautiful view. I arrived as the village church bells were ringing, then watched the sun set & had dinner in my room. This is just a wonderful place to enjoy God's creation & realax.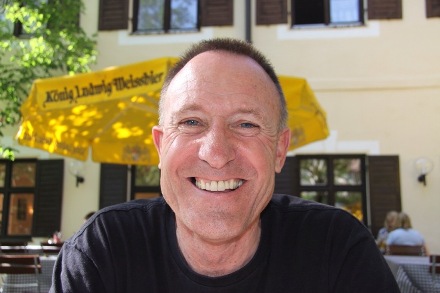 I saw a group of Americans having dinner on the terrace & pointed out to them the plaque commemorating the American army liberation in May 4th 1945. They were impressed that an Aussie knew this, & pleased to hear that I live in SD!
Mon 7
I had a marvellous sleep…..in bed at 12 midnight, awake at 7 am, & then rolled over fro another 4 hours – my best sleep in 4 months! Today I went to Konigsee – a beautiful lake I visited back in 1974, on my gr8 adventure as a young Aussie exploring Europe. I went on the boat to St Bartholomä – a church on the edge of the lake beloved by painters. I then walked an hour up to the famous Eiskapelle – a dome of ice at the foot of the Watzmann mountains. No votive candles allowed there!
Back to Munich tomorrow, & I meet up with Fr Stephen Powers for dinner. We go to Oberammergau on Wed by train. I have organised this myself rather than thru an agent – Fr Stephen & I are really looking forward to the Passion Play.
Fri 11
The Passion Play was just wonderful. After the 1st half I was left speechless with a few tears. Fr Stephen & I were in the front row, so had gr8 views. Everything about the play was magnificent….the acting, the music, the choir who introduced each act, the scenery, the costumes, the staging. 2,500 people involved – half of the village! The story itself was very well done, & one could not help but be moved by it, as well as the chief characters. We have both really been moved, & are so pleased we made this trip. I now go back to Munich this a/noon, & Fr Stephen to a US army resort 🙂
Sat 12
I arrived in Vienna by train this a/noon. The weather continues to be warm, surprisingly. I was hoping to catch up with former All SS acolyte, Michael Fudge – now a monk in an Augustinian abbey here. However he has had to rush back to Calif to see his sick grandmother. I was last in Vienna 6 years ago, & look forward to a relaxing & enjoyable 2 days here.
Sun 13
Went to High Mass at Augustinerkirche. I went to Sunday Mass here in 1991 & remember the lovely traditional Mass with stunning music. Today we had the Chiemseemesse by JM Haydn, for choir & orchestra, along with 2 choral pieces by Mozart, & a wonderful postlude by Mulet. This a/noon I will walk around the city, & maybe a museum/gallery
Wed 16
I fly to Australia tonight. After such a wonderful trip to Oberammergau, I am now looking forward to relaxing & chatting with family/friends. A reunion dinner for my friends from St Paul's, Port Adelaide 40 years ago is organised for next Wednesday night – at the Port Adelaide Football Club, of course!
Sat 19
I arrived safely in Melbourne yesterday. A good flight, but didn't sleep much. Am staying in a small flat in Flinders St, in the very center of the city. The 1st thing I had to do was go shopping for necessary supplies. Amazed to find a new Woolworths supermarket in the main street. Walking around, things seem to be busier than I remember….& driving in traffic last night was a nightmare. But Melb still has its charm, vibrancy, culture & fabulous buildings, with so many stunning Victorian-era buildings next to equally stunning contemporary masterpieces. I went to a steak restaurant for dinner – the 1st of many meals with friends. It was everything Melb is noted for: good food, excellent (if expensive) wine, friendly service, lovely atmosphere….& no tipping or taxes, of course! Watched the end of the footy on TV, then had a marvellous 9 hour sleep. Today I had a relaxing day enjoying the city, & tonight will have dinner with 2 old Port Adelaide friends. Tomorrow we are all going to the footy to see Port Adel play Nth Melb.
Sun 20
David, Geoff & I went to a disappointing Parish Mass at St Peter's – the former leading Melb Anglocatholic Church. The attendance was the same as we get at 8 am at All SS, but with no life or enthusiasm. At least we had 3 good Anglican hymns. The sermon quoted the epistle & was the usual liberal plea for justifying change. David & I choked when the preacher quoted Jefferts Schori – to think I had to come all the way to Australia to hear the ECUSA Presiding Bishop quoted as an authority!! Then we all went off to see Port Adelaide play North Melb. They were soundly defeated, which added to the bad experiences of Sunday in Melb 🙁
Mon 21
Saw the sunrise ove the city this morning, then typical Melb fog. Today I hired a car & visited several old friends all over Melb, then dinner with 4 good friends. Weather in Melb has been nice for winter, & quite sunny.
Tues 22
After a nice w/e in Melb I am now about to fly to Adelaide for 2 days. My cousin, Noelene, will meet me at the airport & I will have dinner with her & Les tonight. The rest of the time I will be catching up with lots of old friends.
Thurs 24
I've had 2 lovely days in Adelaide – tho eaten far too much as everyone fed me! So nice to be back in my hometown, & share my life with family & friends of old. Now flying to Sydney for 4 days, on an historic day – Australia has its 1st female PM!
Fri 25
I have now been in Australia a week, & really enjoying it. Lovely to have time with family/friends. Surprisingly, the weather has been nice & sunny. Last night I had dinner with Fr Andrew Duncan, who visited All SS 2 years ago. I am staying at the Intercontinental, & this morning had breakfast on the 32nd floor watching the sunrise over the opera house & bridge, with wonderful views of Sydney Harbour. Today I visit Fr Steven Salmon, at St John's, Dee Why – one of Sydney's few anglocatholic parishes.
Sat 26
Today I will explore the city, then tonight I am off to the footy to see Collingwood play Sydney at the Olympic Stadium. Tomorrow I will attend High Mass at Christ Church St Laurence – formerly Australia's leading anglocatholic parish, now a bit lifeless (like so many). I will return for Evensong & Benediction, then am having dinner with old friends.
Mon 28
I have just returned to Melbourne after 4 nice days in Sydney. It is cold –  but not wet.