Mon Aug 1
I had a nice relaxing week in the US. 3 days in New Orleans with stopovers in SD before & after. The trip to NO was to visit my good friend, Robert. He was due to fly from Melb to NO the same day as me, arriving there 5.30 pm. I was due to get there at 10.30 pm. By a strange quirk of fate Houston weather delayed Robert's arrival & he was subsequently re-booked on my flight. This also was delayed by 2 hours, so (thanks to social media) we met up at the gate with 2 hours to chat. I subsequently got him upgraded, so we sat next to each other in 1st class, toasting our good fortune!
Today I am flying back to Melb & luck was with me again. This flight was booked via Sydney because there were no upgrades LAX-MEL when I booked the flight, but there were LAX-SYD. In Syd I connect to Melb on a Virgin flight, arriving there at 11.30 am. I hate Sydney airport, not least because you have to transfer by bus from international to domestic terminals. Also the flight arrives in Sydney at 6 am & you then have a layover of several hours, when you would rather be in Melb.
When I got to LAX & into the United Club I explained this to the staff at the desk & wondered if there was any chance of changing my itinerary to LAX-MEL. The man doubted it, but said he would see. 20 mins later he called me to the desk & said it was done……..what seat did I want? I could hardly believe it! So now I fly direct to Melb, arriving at 7.30 am & will be home just after 9 am, instead of 1 pm. I am looking forward to being back in St K very much. I have been travelling for over 3 months – the longest trip I have ever taken.
Sun Aug 7
I had a wonderful flight back to Melbourne & arrived early on Wed 3rd at 7 am. It was a breeze going thru passport & customs – but it was a shock to return to cold, wet, overcast Melbourne. I was home at 8.20 am…….surely the earliest I have got home. A full day of unpacking, sorting papers from the trip, laundry, shopping, bank – did I really spend that much! I was in bed & asleep by 7 pm. Thursday was another busy day – but at least the sun was out. I enjoyed re-acquainting myself with St K & also started back at gym. I managed to stay awake until 8.30 pm. Friday I went to the big C/wood game against Richmond. Thanks to my C/wood friend, Jenni Aldous, I had dinner in one of the MCG dining rooms with 4 of her friends. I was a thorn amongst the roses (all nurses!). It was a good game, even tho C/wood lost.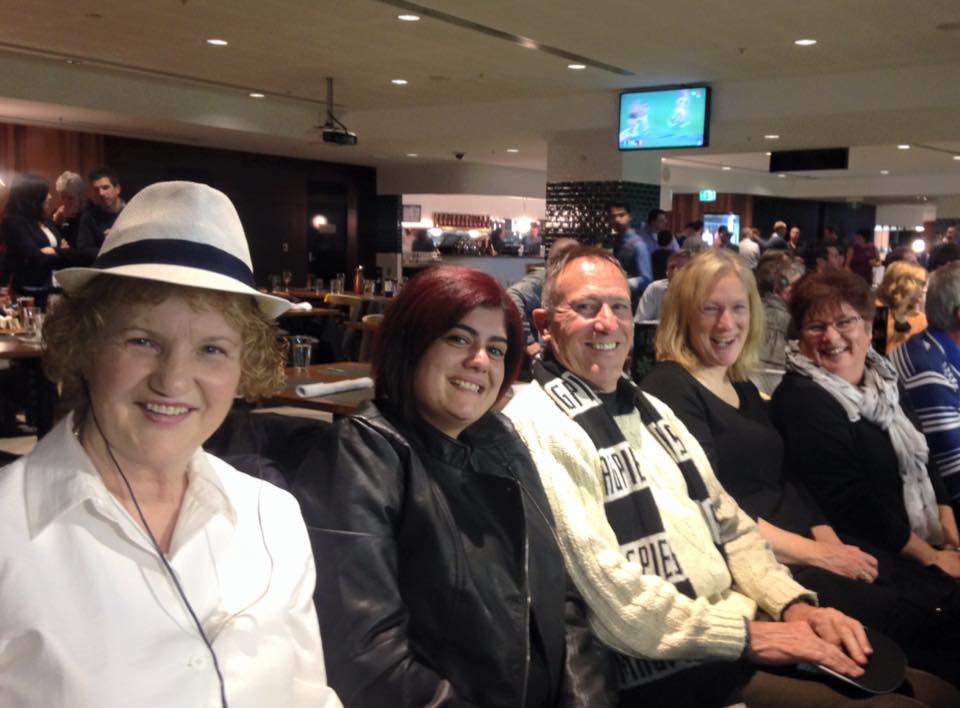 Saturday I went to the pub where the Melb PAFC supporters meet to watch Port Adel play Sydney. It was a debacle…..I really don't know what the solution to our terrible year is. I left before the end of the game & fell asleep watching the Saty night football. Today I am going to Mass at CC Brunswick. It will be good to see Bp Lindsay & everyone again. Then I have lunch with Helen & Steve, who are just a 30 min walk from the church.
Tues 16
I have had a busy week! Last Tuesday was the annual SSC Synod, held at CC Brunswick. It was good to see my colleagues & friends again, tho the attendance was low. This reflects the poor state of the Anglican Church in Australia & the anglocatholic part in particular. On Thursday I attended the 100th b/day celebration of my friend, Sr Angela, at Abbotsford Convent. This was a happy celebration & I managed to get myself (from the waist down) on the TV news! Friday I flew to Adelaide for the weekend. This was to attend the football on Sat night – which was a disaster for Port Adelaide! I also managed to have lunch with my cousins & catch up with other friends.
I flew back to Melbourne yesterday. At the airport I caught the new St K-Airport bus. This is by Skybus, who run the existing Airport express bus from the city. It was much quicker than catching the city Skybus then tram to St K. It got there in 30 mins & the 3rd stop after that was the Novotel, 2 doors up from me. The service started on Sunday & is free all week….another good thing! It only leaves every 30 mins, but I will use this to get to the airport from now on. 3 hours after I got home the doorbell rang. It was UPS with my new iPad from United for passing 3 mill miles. I then spent a happy hour setting it up & transferring all the links & Apps from my old iPad. I was like a kid at Christmas 🙂
Thurs 25
Nothing much to report since I got my nice new iPad. Catching up with various people, having friends over for dinner, going to Daily Mass & medical appointments are the stuff of a typical week! I also found time to see the new Jason Bourne movie. I am a great fan of the Bourne movies & (as a prelude to the latest) saw the 2 originals on my recent flights. Today I am catching up with someone from my time at St Martin's, Campbelltown 35 years ago. Tomorrow I fly to the Gold Coast for Port Adel's final game for the season. I always enjoy going up there for the footy, which has happened every year since I returned to Melb. Unfortunately both Port Adel & C/wood have had a terrible season & won't feature in the Finals.
Fri Sep 2
I had a nice weekend on the Gold Coast. Beautiful sunny weather…..& Port Adelaide won. Returned home Monday & have been catching up with friends for meals/coffee each day. There is no AFL this w/e (which I do not like!) so I am going away. Flying to Perth, then to Kalgoorlie. I have always wanted to visit Kalgoorlie – I imagine it as a wild west gold mining town. It is also where my cousin was born, so will be taking pics for her. I return to Melb on Thursday.
Fri 9
I enjoyed my visit to Kalgoorlie. It really is a city of 2 towns – Kalgoorlie & Boulder. Lovely old Victorian buildings & an atmosphere of an old Aussie country town. Not to mention Kalgoorlie's famous brothels! On Tuesday I did a tour on a hop on/hop off tram. I was fascinated to discover that Herbert Hoover lived here at the end of the 19th cent. His engineering skills were well used at the beginning of the gold rush. He built a very large house (5 bed, 2 bath) which stands in contrast to the small tin miners' houses. The tour included a stop at the Super Pit – the huge gold mine still in operation.
I stopped at Boulder for an hour because I wanted to see the Town Hall, built 1908, with its famous painted stage curtain. It is magnificent (see pics below). I flew back to Perth on Wednesday. By coincidence, my very good friend who shares my b/day, Ann, was also in Perth – so Ann, Garry & I had lunch together. I last saw them in 2012 & it was great to catch up again. We all agreed we are doing well for pensioners! I flew back to Melb yesterday – to some winter weather again. It won't stop me going to the Football Final tonight at the MCG, of course.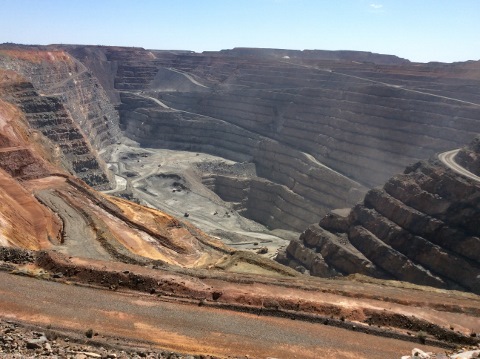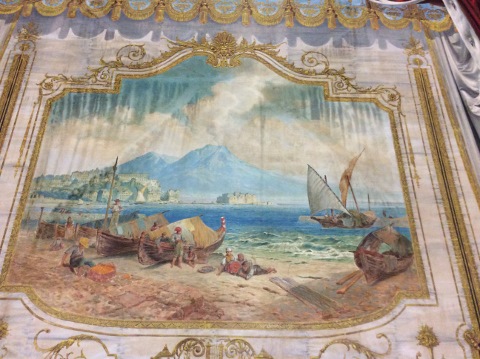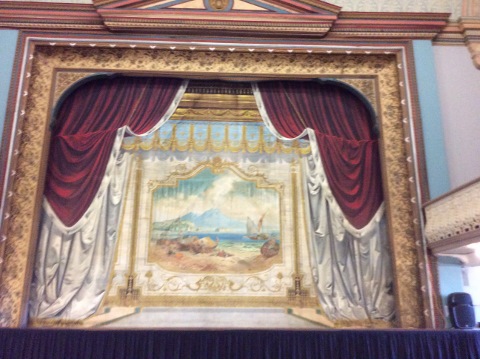 Sun 18
Last weekend & this weekend have treated me to some excellent footy finals. The games here in Melb on the past 2 Friday nights have been excellent – a real treat for footy lovers. And the results have all gone as I hoped! Now it is countdown with the Grand Final in 2 weeks. The 2 weekends have also seen me attend Mass at CC Brunswick & it was good to catch up with people there. Tues-Thurs I was in Adelaide. This was a quick visit to see family & friends before I fly off again for my annual visit to Walsingham in October.
Sat 24
Another week of the usual activities. This morning I attended Mass at All SS, E St K – the regular Mass for the Walsingham cell. Over brunch I spoke, at Bp Farrer's invitation, about developments at the shrine, the appointment of a new administrator (recently announced) & Bp Lindsay Urwin's legacy. Tomorrow I will attend Mass at Christ Church, St K. This is my local church, but I have only attended there twice. Tomorrow my good friend, Fr Ken Letts, is celebrating Mass & preaching, so I am going to support him.
Sun Oct 2
Another week of meals with friends & practical things to do. It was, of course, Grand Final week in Melb. The build up to yesterday's game had an excitement & intensity missing in recent years. The Western Bulldogs were the underdogs (55 years since they were last in a GF & 62 since they won their only premiership) & getting thru to the GF with amazing victories in the Finals. Once again I was fortunate to get a ticket & it was a great experience. A fantastic game – it was tough & close with the lead changing several times. The noise in the stadium was incredible. In the last 1/4ter the Bulldogs got up & their victory was marked by scenes of jubilation & tears. And everyone stayed for the presentations – not a usual happening. It was one of the best GF's I can remember.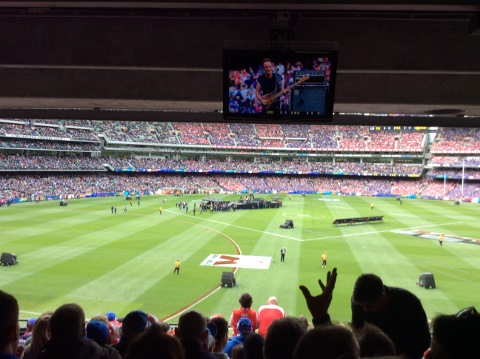 Tomorrow I fly off again! After a brief stopover in SD I fly to London. From there I go to Walsingham. Since I retired I have been assisting at the shrine every October, thanks to the kind invitation of Bp Lindsay Urwin. This year I am going just as a pilgrim, because the new administrator has not started yet. It will be good to be back & to catch up with my friends there. Then back to London & over to Berlin. From there I will travel by train thru Germany to Bratislava – a city & country that I have not yet discovered.
Wed 12
The night before I left Melbourne I attended a wonderful Walsingham Service at CC Brunswick. The church was packed & Bp Lindsay was at his best. Afterwards there was a great party in the vicarage, at which I caught up with lots of old friends. Unfortunately this played havoc with my preps for flying next morning. Before flying to US I go to bed about 7 pm & wake up at 2 am. Not only did the Service interfere with this, but I had wine & choccie cake at the party. As a result I got barely 2 hours sleep on the plane. So I was very tired when I was in the US.
In SD I caught up with friends & did usual practical things. On Wednesday I flew to London. I had a nice 4 days there, catching up with friends – but came down with the flu by Sunday. No doubt a combination of jet-lag, climate/hemisphere change & coughing passengers on the planes! Monday I caught the train to Norwich. Unfortunately it broke down at a town appropriately called Diss! So I missed the 2.20 pm bus to Walsingham, arriving there an hour later than planned, coughing & sniffling.
I have now been here 2 days & the flu seems to be abating. No doubt due to Walsingham being quiet, peaceful, a spiritual powerhouse & place of healing. Weather is nice, with occasional light rain. Everyone is pleased to see me again – tho one volunteer says he didn't recognize my voice. I have mainly stayed in my room to keep warm. I attended Mass at the sisters yesterday & the Healing Ministries last night – receiving prayer & anointing rather than giving. Didn't sing the hymns – which shows I am really sick! This morning I concelebrated at the weekly Pilgrims Mass, but didn't assist in any way.
I shall now have a quiet time here until I leave on Monday. Am staying in the College this time – the section of the shrine where the priests stay. It was completely rebuilt last year & opened at Easter. The rooms are comfy, with the best bathrooms I have experienced here. I have stayed in every part of the shrine now (except the wing for disabled pilgrims) & will make the College my preference in future.
View from my room at Walsingham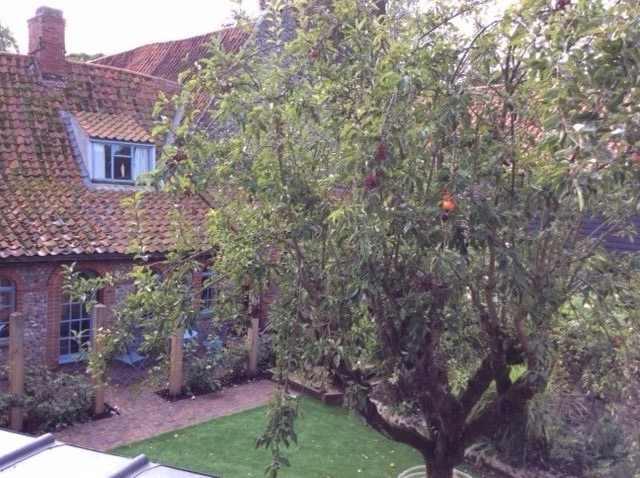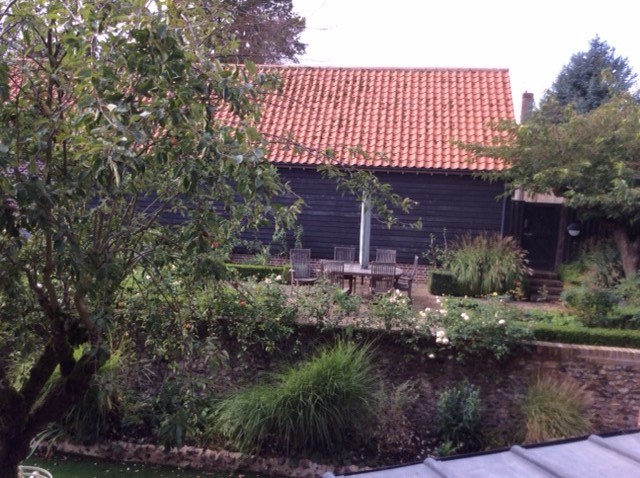 Thursday 13
I had a lovely surprise last night. Parishioners of my 3 churches may remember that I have a beautiful gold cope – a gift when I was ordained (for which there is a story). I haven't used it since I retired & when I was here last October thought I should give it to the Shrine. So I asked the sacristan, Marc, if they would like it here at Walsingham. I joked that all the altars & vestments at the Shrine are for short priests & they needed to cater for 6 foot ones! Marc was delighted & accepted my offer (without seeing it). I brought it with me on Monday & handed it over – it still looks as beautiful as the first day I wore it.
Last night was the Wednesday night candlelight procession. As I was not well & still not up to singing, I decided to sit with the congregation & take a few pics with my iPad. Meanwhile, Marc & Stuart (his assistant) decided that the officiant should wear my cope – knowing it would be a surprise for me. When the sanctuary party came out at the beginning of the Service, I couldn't believe it. Of course I had never seen it on anyone before, & it did look beautiful. Lots of wonderful memories came flooding back – it was a lovely surprise & thrilled me.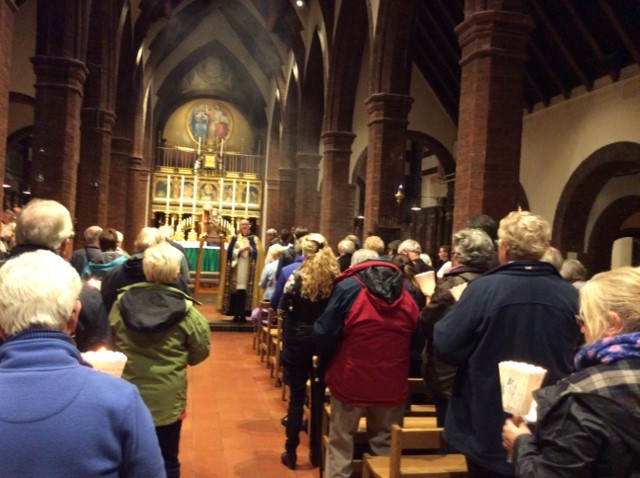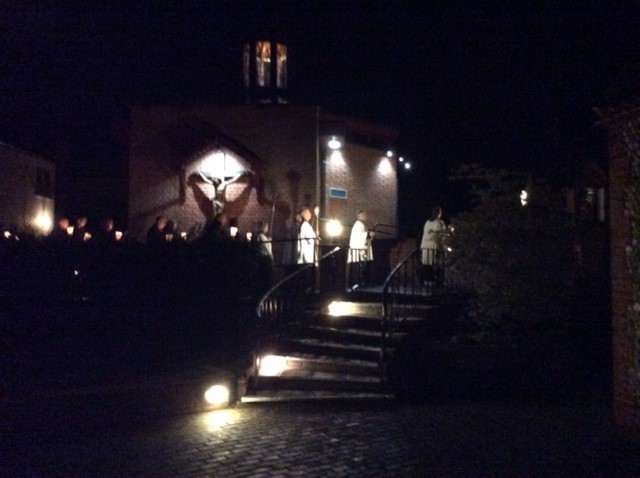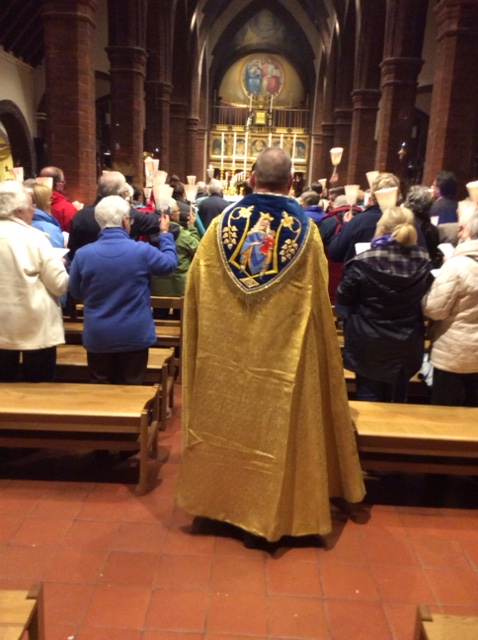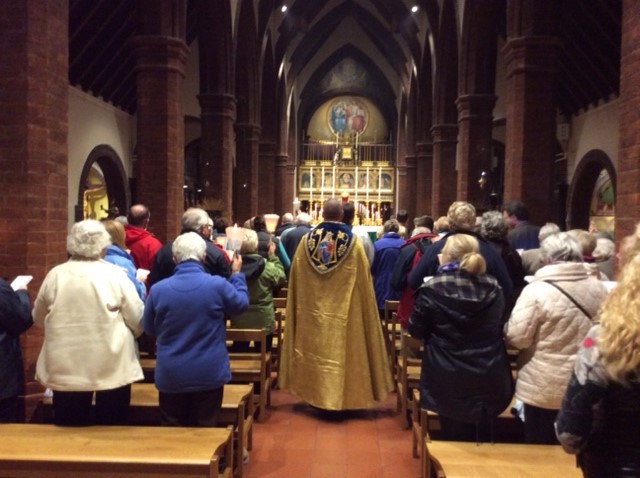 Thurs 20
The flu/cold hung around for the rest of my week in Walsingham & I mainly stated in my room. I was able to assist at the Concelebrated Masses on Saturday at 12 noon & 6 pm. However, I sang too much & consequently did not take part in the Sat night candlelight procession. I was glad I did because the procession took place indoors due to the weather. This is the first time I had seen that in my 42 years of coming to the Shrine. Subway I concelebrated the Parish Mass at St Mary's & it was good to see old friends again.
I left Walsingham for London on Monday. From Tues-Thurs I stayed at the Charterhouse in the City proper. This was founded in 1371 as a Carthusian Monastery. During the Dissolution of the monasteries the monks were martyred at Tyburn & the property sold. In 1611 a wealthy man called Sutton bought the property & turned it into a hospital. It subsequently became a school & a home for retired clergy. It was bombed in the war, but beautifully restored, so that it is like going back in time. The mediaeval cloister is still there & there are lovely grounds & gardens.
www.thecharterhouse.org
These days it is a retirement home for single men of limited means. Residents include clergy, musicians, actors, etc. There is an infirmary & a modern wing which includes a library. The Great Hall is used for meals, 3 a day being provided for the residents . I stayed there thanks to an old friend who I was in seminary with, Howard Cocks. He retired there & I stayed in one of the 3 guest rooms available for guests of residents. Quite a comfortable room & very cheap considering all meals are included. I enjoyed meeting very interesting people at the meals & also worshipping in the lovely old chapel.
On Thursday I flew to Berlin. I will now be traveling thru Germany by train. Tomorrow I go to Frankfurt, Saturday to Munich & Sunday to Vienna.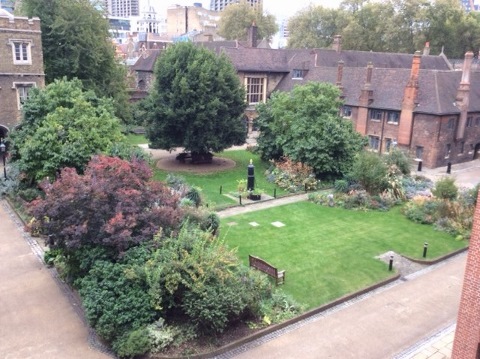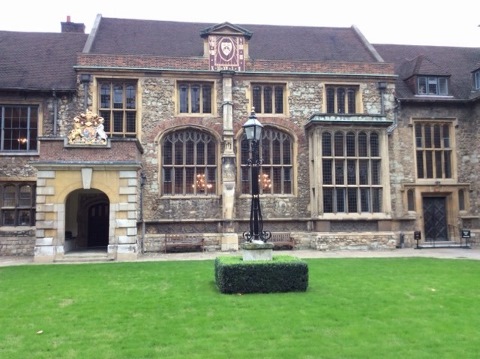 Thurs 27
My enjoyable train travels thru Germany, with stopovers in my favorite cities, finished on Sunday night in Vienna. I was able to attend Sunday Mass in Munich's famous Frauenkirche. The Dom choir was augmented by the choir from Salzburg Dom & sang a wonderful Mass. I was very impressed with the new Vienna Hauptbahnhof & also the new Hilton on the Danube, where I stayed. Monday I caught the train to Bratislava – just an hour away. I have not been to Bratislava & it was the goal for this trip.
Bratislava – Pressburg in German – was the temporary capital of the Hapsburg empire in the 17th cent & 11 monarchs were crowned in St Martin's cathedral, incl Maria Theresa. It is not a big city (420,000) & is the capital of post-communist independent Slovakia. After I checked into my hotel I briefly explored the old town on Monday a/noon. I was surprised & delighted at how quiet it is……..hardly any English-speaking tourists.
Tuesday I walked around the old town, which has lovely little streets & squares. I went to the city museum in the old Town Hall & climbed its tower. After that I attended 12 noon Mass at the cathedral, which has been beautifully restored, & then went to the castle. The grounds are nice & the walls are thick, but not much is left of the Hapsburg palace. Thankfully it is being restored & contains an excellent museum. My day concluded with getting a haircut (only €9) with a barber who spoke no English. He did an excellent job!
Wednesday I walked around the old town again & along the Danube, finishing with an exhibition in the state gallery. This was useful in educating me about Slovak history. In the a/noon I caught the train back to Vienna. Today I catch the train to Nuremberg & tomorrow go on to Berlin for the weekend.
View from my hotel room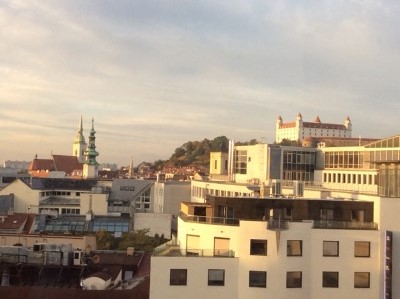 Old Town Hall


Near the castle


Baroque burgher's home


St Martin's cathedral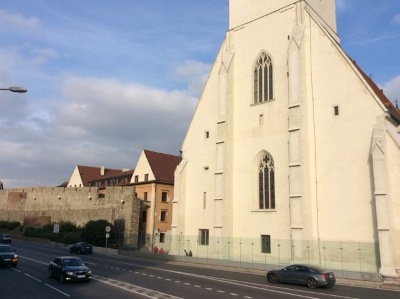 Sat Nov 12
After a relaxing weekend in Berlin I returned to London & had 3 days there. On Tuesday I caught the train to Enfield Lock, an outer suburb where Fr Stephen Gallagher is the new Vicar. Fr Stephen was the Assistant Administrator at Walsingham during the time I have been assisting there & it was good to catch up with him & his wife. Wednesday I had lunch with Fr Andrew Newcombe, originally from Melbourne. In the 1990's he was part of a small choir of uni students who sang for funerals at St Mark's. That night I attended All Souls Day Requiem Mass at St Mary's, Bourne St. A choir & orchestra performed Mozart's Requiem in the context of the liturgy & it brought back memories of the annual AIDS Requiem Mass I organised at St Mark's 1989-98.
I returned to the US on Thursday, stopped in SF for a day & returned to SD Sunday. I flew to Sydney on Monday, arriving on Wednesday. I had 24 hours there & spent most of it watching with fascination & surprise the Presidential Election – a prefect cure for jet-lag! On Thursday I flew to Melbourne & it was great to be back home in St K. Since then it has been a very busy time with the usual things that need to be done when I return home. Now I have just over 3 weeks before I fly off again!
Thurs 24
It has been a busy time since I got back to St K – catching up with people, organising my personal/financial affairs & preparing my unit to be used by the daughter of friends whilst I am away overseas for 4+ months. I leave St K for the US on Dec 7 & then on to Germany for Christmas & London for NYE. I return to SD on Jan 4 & will be living in the US until April.
Tomorrow I fly to Adelaide for 6 days. I collect a rental car at the airport & drive to Quorn, a small country town near the Flinders Ranges. Saturday I go on the Pichi Ritchi Railway – pichirichirailway.org.au – a restored railway that goes thru the hills. Then I have 3 days in Adelaide catching up with family/friends & concluding with a special members lunch at the Port Adel FC.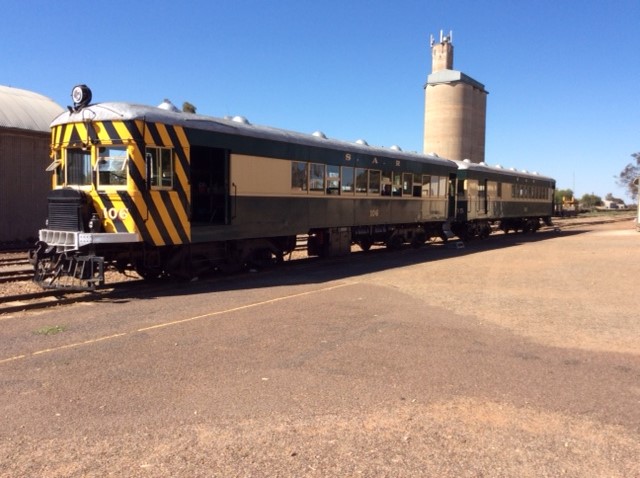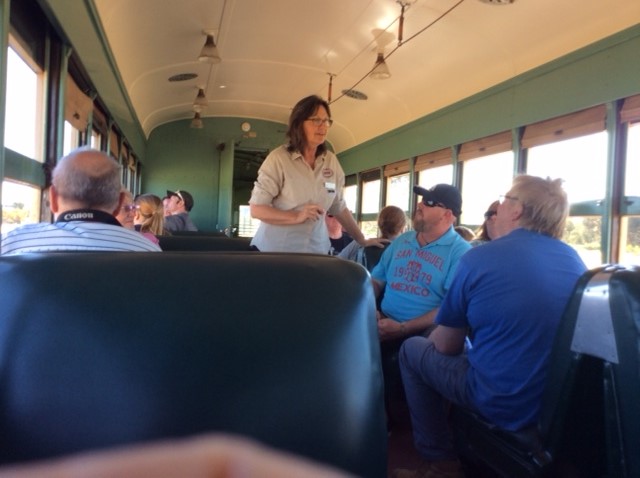 Thurs Dec 1
My weekend in Quorn was good. The train trip on Saty night was very interesting……..I saw emus & kangaroos running around as we chugged thru the hills. On Saty morning I set off on a leisurely drive for 5 hours, stopping at several little towns. Lovely scenery & plenty of historical sites. Port Germein Gorge was a wonderful example of the South Australian countryside. I finished at Port Germein, which has the longest wooden jetty in Australia. Back in Quorn, I managed to see the interior of St Matthew's church, thanks to a parishioner. It is one of the most beautiful country churches I have seen. Once the headquarters of a Bush Brotherhood, it now only has 4 Services a year.
I drove back to Adelaide on Sunday. On Monday I caught up with friends & Tuesday enjoyed a lunch with 3 cousins, 2 partners + 3 daughters of one of the cousins whom I have not seen for years. Wednesday I attended an excellent lunch at the Port Adelaide FC. This was for their bequest society & I was inducted as a new member. It was a thrill to receive my certificate from Russell Ebert, a champion of the club who was a hero of mine 35 years ago. I also caught up with several old friends from those days.
I flew back to Melbourne Wednesday night & now have just 6 days to get ready for returning to SD. I will be away at least 4 months, so there is much to do!