Mon Jan 9
I arrived back in SD from London on Tues 3. 1st thing on Wednesday I bought a Senior's monthly transport card. I am now getting used to different bus routes. On Thursday I moved into the  residential hotel where I will be based for 3 months. I had 4 suit-cases to load up at the home of Kevin & Natasha in La Jolla, then drove to Hillcrest & unload. I picked the one day it rained in SD! The move was successful & then I had to go shopping for essentials – in the rain. It was interesting unpacking, as I couldn't remember all that I had packed! I packed the largest suitcase last Sep & stored it at La Jolla in Oct.
The residential hotel is okay for the price. I live in a typical hotel room – it is not up to Hilton standard, but has all I need. There is a large kitchen on my floor (complete with electric kettle!) & on the ground floor there is a laundry, gym & some computers. After unpacking & shopping I took myself out to dinner at a familiar restaurant. It was interesting walking around Hillcrest, noting familiar cafes & restaurants & several new ones.
I was in bed by 7.30 pm & slept like a log. There was hardly any noise in the hotel, which was an unexpected pleasure. Still jet-lagged, I was awake at 2 am. At 4 am I did a load of washing. Then I completed online the renewal of my green card. It had been a challenge doing it online & I felt quite satisfied, almost triumphant – when I received a confirming email from US immigration services.
Friday was a busy day, including meeting with Fr McQueen in the afternoon. Saturday I was at All SS for the Societies of Mary monthly meeting. This was a group I started & it was a joy to once again lead them in the rosary, say Mass & then speak about Walsingham over lunch.
On Sunday I preached at both Masses at All SS & was deacon at the High Mass. Returning to one's former parish is not easy – not least because of changes in both liturgy & parishioners. But everyone was so pleased to see me. I did enjoy preaching – it was almost like old times. It was good to see so many old friends & some people came especially to see me again. The music & choir was as good as ever. Coffee hour was busy & afterwards I had drinks with parishioners who live nearby. It was a lovely day.
Today I have been busy with many practical things, as tomorrow I go to London for a week. Saturday is the 1st anniversary of my dear friend, Joan, & I will be attending Mass at her parish church. It will be cold, of course.
Thurs 19
I had a lovely week in London. I stayed at a hotel that was new to me, just near Southwark cathedral. It was very nice & staff excellent. Friday morning it snowed! I planned to visit 2 places that I have wanted to see: Olympic Park & Crystal Palace. By the time I got off the tube the snow had stopped – but it was bitterly cold & windy. I enjoyed wandering all around the site of the 2012 Olympics – like Sydney, it was an industrial area that had been transformed, with old canals now teaming with birds, ducks, etc. From there I caught the tube & overground (train) to Crystal Palace. I enjoyed walking around what was the site of a huge exhibitiin centre in the 19th cent.
On Saturday I went out to Kenton for Mass to mark the 1st Year's Mind of my dear friend, Joan. A parish council consultation was being held, so there were about 20 at Mass, many of whom knew me. It was a lovely Mass, with 2 Marian hymns, & the Vicar spoke nicely about Joan. Afterwards I walked to the tube station via Joan's home, for old times sake, then got a hair-cut (cheaper than in central London!).
Sunday morning I went to High Mass at St Magnus the Martyr, which was a 10 min walk across the river. The Vicar, Fr Philip Warner, remembered me & I received a warm greeting. As on previous occasions when I have visited, Fr Warner preached a brilliant sermon with one of the funniest lines I have ever heard! The usual lovely brunch followed & I found myself chatting with 2 other Aussies as well as a woman I knew.
At 3 pm I joined Bp Andrew St John for Evensong at Westminster Abbey. The music was very good, but the sermon dreadful, heresy really. Such is the state of the official Anglican Church today! Afterwards we adjourned to a local pub to catch up on our lives, then to supper in a Piccadilly restaurant. On Monday I had lunch with Phyl, my work-mate from 74/75, enjoying a walk along the riverbank to get there. How London has changed since I lived here! At 5.30 pm I attended Evensong in Southwark Cathedral. A choir of girls & men sang interesting music – & no sermon, thankfully 🙂
I flew back to SD on Tuesday. Since then I have been busy with practical things. Today I will watch the inauguration of President Trump. Like most Americans, I am not sure what it will mean for the US & like most Aussies, not sure what it means for the world!
Tues 31
Altho SD has had a lot of rain in Jan, the usual sunny days are here again. It has been nice to walk around my old neighborhood. Most days I have caught up with parishioners for meals or visited those who are not well. A week ago I caught the train to LA, enjoying the lovely views of the coast. I got off at Anaheim & was met by my great friend, Fr Stephen Powers, whose health is not good. We had lunch & lots of chatting! Another afternoon I rode on the SD trolley lines. I have been on the one to the Mexican border, but not the other 2. The secenery was great, esp to El Cajon.
Last weekend I went to DC. I always enjoy visiting the nation's capital with its grand buildings, monuments, parks, etc. When I got to my hotel the street was blocked off & I had to go thru 2 security checks & a sniffer dog. Men in suits with ear-pieces were everywhere & lots of people with their iphones ready for pics! It seems there was a dinner in the ballroom & Ivanka Trump was attending. In contrast, Sunday a/noon there was a demonstration at the White House. Then on Monday morning it snowed. Tomorrow I go to New Orleans – a quick trip to celebrate the anniversary of my priesting on Thursday with my dear friend, Robert, who was part of my time at St Mark's 25 years ago. My 37th anniversary will be officially celebrated at All SS on Sunday, when I am preacher & celebrant at the High Mass.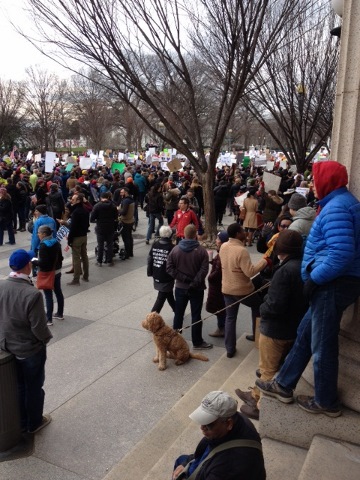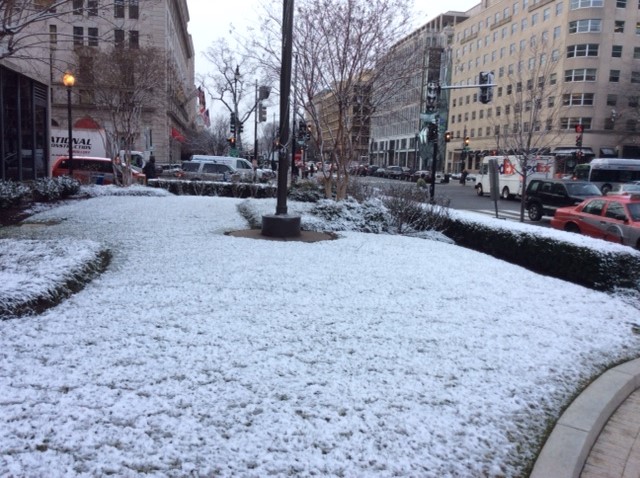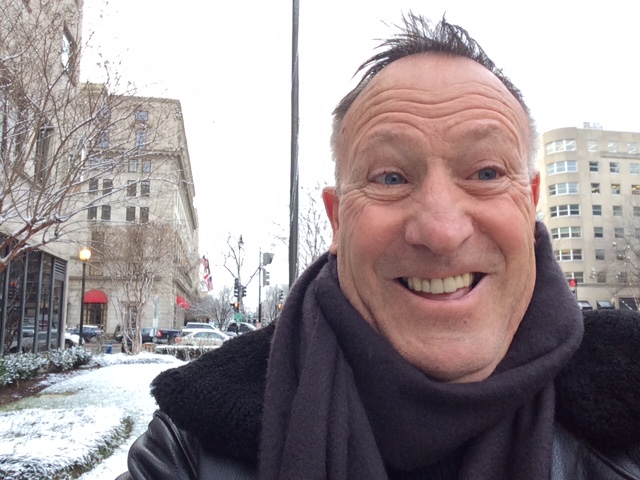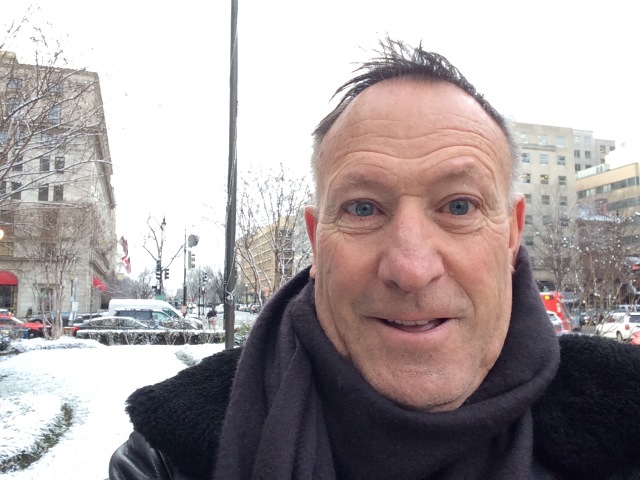 Tues 8
I have had a great celebration of my 37th anniversary. On Thursday (the actual day) I was in New Orleans & went to Mass with Robert & his friend, Mike. Afterwards we had lunch at my hotel. Then they dropped me at the airport for my flight back to SD. I would have stayed longer, but I had a very important appointment on Friday. This was the biometrics for my new green card (fingerprints & face pic) & is the reason I am living back in SD. I have been pleased at how quickly it has been processed. The office was in Chula Vista & I caught the trolley there. Now I wait for my new green card.
On Saturday I said Mass for the monthly Societies of Mary meeting. So to Sunday & the parish celebration of my anniversary. I preached at 8 am & once again there was a larger congregation than usual. At 10.30 am I was the celebrant at High Mass with the Candlemass ceremonies. We used the same service as for my 30th & it was as if I had never left. The music was superb. A parishioner wanted a copy of my sermon, not knowing that I have always preached from notes. He was stunned later as I handed him my notes, complete with arrows, abbreviations & 🙂
Afterwards I enjoyed drinks with friends then lunch with parishioners. It has been a wonderful weekend for me & everyone said they want me to keep returning! Now a few busy days catching up with more parishioners. On Thursday I fly to London for my usual February visit to Walsingham. This time I am joined by my former Warden, Clare. We shall have the weekend in London, then catch the train to Norwich, from where we will catch the bus to Walsingham.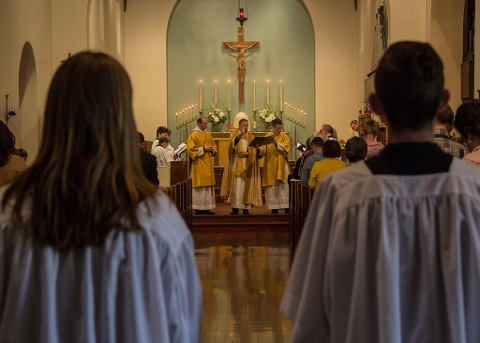 Fri 17
Clare & I had a nice w/e in London, the highlight being Sunday Mass at St Magnus the Martyr. On Monday we caught the train to Norwich, where we stayed overnight. We were in different hotels, but came together for dinner. We caught the bus to Walsingham on Tuesday & it was great to be back. The shrine had just a few guests & no weekday programme. I said Mass each day – so many people & intentions to pray for. Last night we went for dinner at the local pub with my friends, Stephen & Jo. This has become a tradition to remember my friend, Joan, who died a year ago.
Tonight the Partnership w/e begins with Mass at which I will concelebrate. Walsingham Partners are a group of people who pledge financial support to the shrine & about 120 (incl guests like Clare) are booked in for the w/e. We will hear from the new administrator, Fr Kevin, along with 2 other speakers, a formal dinner & a chance to tour local historical sites. Sunday I will concelebrate Mass at the parish church, as usual. Clare & I will go back to London on Monday & on Tuesday I fly back to SD.
Fri 24
After a lovely week in Walsingham & an overnight stay in London, I arrived safely back in SD on Tuesday night. Since then it has been a busy 3 days with the usual things after a trip. Today I go to Roswell NM for the w/e. This town is (in)famous for the supposed landing of a UFO in 1947 (about the time I was born!). As a sci-fi lover I have always wanted to visit Roswell. I don't believe it, of course, but will enjoy the kitschy museum. I may even buy a souvenir!

Fri March 3
I am now in Berlin! I will have the weekend here, then travel around Germany by train for a week. It was sunny today, so I walked around the old East Berlin. I came across the Soho House a hotel. It was built in the 1920's as a department store. Subsequently the Jewish owners were forced out by the Nazis, who used it for their Reichs Youth organisation. After the war it became the communist party headquarters.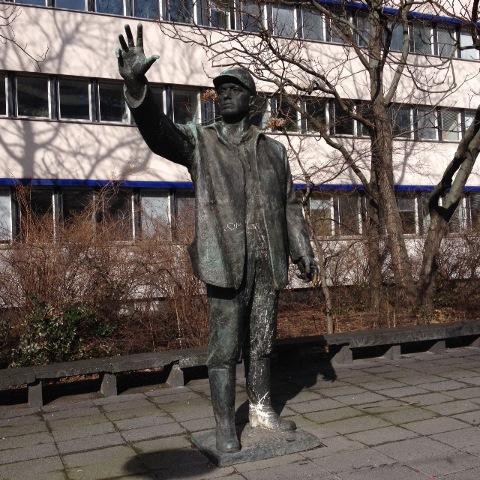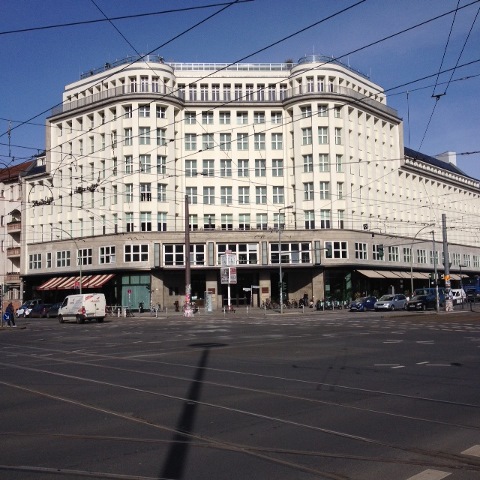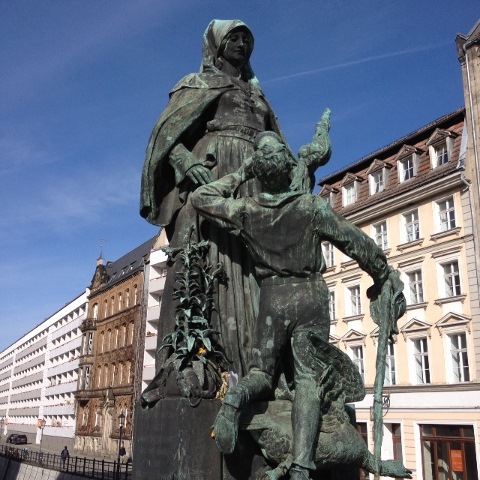 Wed 8
The weather was sunny for the rest of the weekend until Sunday a/noon. On Saturday I walked around the heart of the former West Berlin. Calling in at St Matthias Church, Dietrich Bonhoeffer's first church, I was in time for an organ recital. Sunday a/noon I went to the Berlin Film Museum to see an exhibition about sci-fi in the movies.
I arrived in Koln yesterday. It was raining today & I caught the train to Aachen. This was the capital of Charlemagne's Holy Roman Empire. The Dom is fascinating & is where 30 emperors were crowned. Charlemagne's relics are in the stunning choir. After time in the Dom I visited the treasury, then to the Rathaus. This is built on the site of the royal palace & contains the coronation hall, built in 1349 for the banquets held after the ceremony. It was a good day for me experiencing more German history.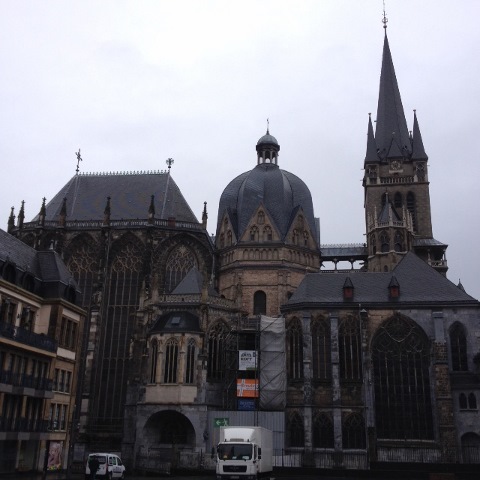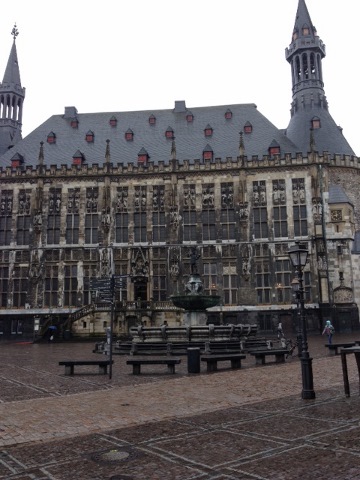 Sun 12
I have just had a pleasant w/e in Bonn. I have only been here before on a day trip back in 1991, so was interested to explore the city. 1st impression: Why on earth did they choose this as W Germany's capital in 1949? It could only have been because it is Beethoven's birthplace. And now the capital has been moved to Berlin, Beethoven is its main attraction. The town has a few interesting buildings. of these, tye Munster is quite beautiful – a mix of romanesque & gothic architecture. There are just 2 other churches of note. Sat night I attended Mass in St Remigius, where Beethoven played the organ at the 6 am Mass. No wonder he went deaf, playing at that hour!
On Sat I walked along the Rhein to the former federal government area, now the site of a UN headquarters, a "world conference centre" & several museums. I had to go to the museum of BRD history because of my interest in modern German history. I thoroughly enjoyed it & spent 4 hours there…….surely a record for me to spend in a museum! Sunday I crossed the river & walked up to a village called Schwarzrheindorf. My purpose was to visit the Doppelkirche of Our Lady & St Clement. Built in 1151 for the Prince Elector, it is actually 2 churches. The lower church is the main one & on top is another church. The prince could sit in the upper church watching Mass thru an octagonal opening without being seen by the congregation!
The church building is quite beautiful & is in the process of being restored. Inside there are stunning romanesque wall paintings. I concluded Sunday by having typical German Eis in front of the baroque Rathaus (1737). Tomorrow I catch the train to Frankfurt & on Tuesday fly back to SD.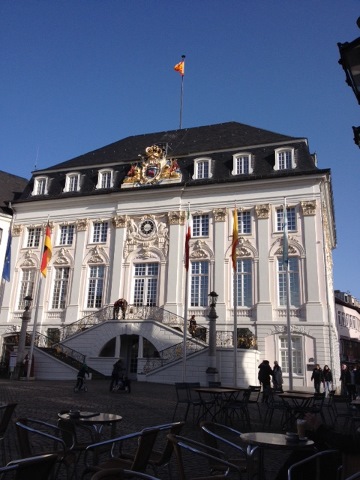 Wed 22
I have been back in the US a week now. It's been a busy time, as in a little under 3 weeks I return to Australia. So there is much to do – including filing my US tax return & renewing my Calif driver's licence (a written test!). This Sunday I am celebrating the 8 am Mass at All SS & preaching at both 8 am & 10.30 am. It will be good to be back.
Thurs 30
Where did the past 8 days go? My final visit to All SS last Sunday was nice & my sermon was well received. It was a joy to celebrate the 8am Mass (tho it is a little different to when I was Rector) & was pleased that at High Mass I sang the paricularly long gospel without a mistake 🙂
A delightful lunch followed at a parishioner's home – where I managed to spill wine over the host. Another guest managed to smash her glass also. One could say it was a riot of fun! This week has been busy having meals with parishioners as well as things to do for the move out of my flat next week.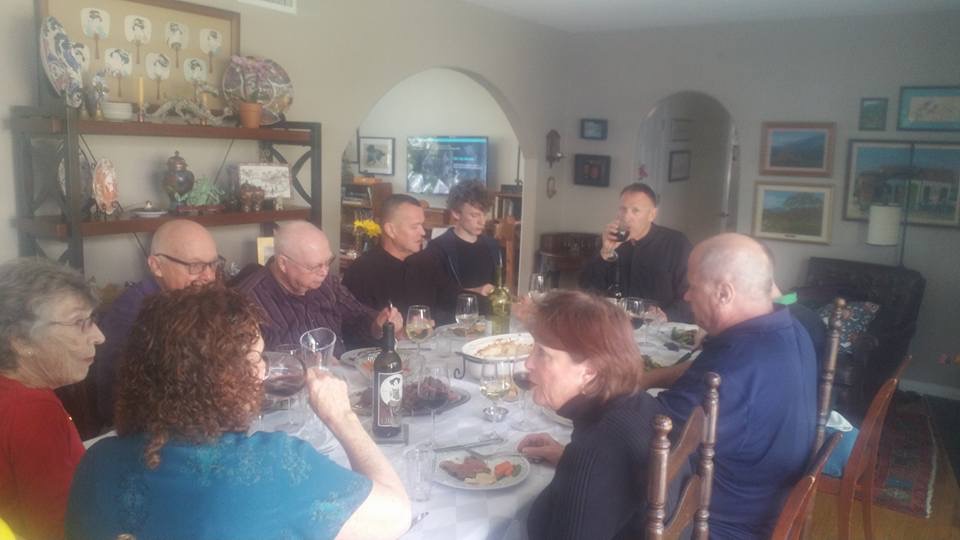 Thurs April 6
I moved out of my room at Studio 819 yesterday. Quite an ordeal! I moved in 3 months ago with 4 suitcases full of stuff + my travel backpack. I go back to Australia with 2 + backpack. I brought things from Australia that I intended to throw away, so the local Goodwill store got a suitcase of clothes, etc. I am now staying in a guest flat around the corner. I walked from one to the other – it only took 3 trips of 6 mins to move my stuff there.
On Saturday I say Mass at 11 am for the 10th wedding anniversary of Troy & Teresa. I had promised them I would return to celebrate a special Mass for them several years ago. Their anniversary is actually on Good Friday, so we settled for this Saturday, being the last day before Holy Week starts. It will be a nice finish to my time here.
On Sunday I fly back to Melbourne, arriving there on Tuesday. I have been away 4 months & had a lovely 3 months living back in San Diego. My return to All Saints on 3 Sundays was great, esp the anniversary of my ordination in Feb. I have especially enjoyed catching up with parishioners socially. I think I only had 4 meals alone! There were some wonderful travels, too – both in the US & to Europe/UK. But now I am keen to return home. I do look forward to being back in St Kilda, in my own bed. It will be good to catch up with friends……& of course, to go to the footy 🙂
Easter Tues
I have been in Australia a week now. The flight home was good & I managed to get my 2 suitcases & 2 small bags on to the St K bus & into my condo. It was a nice sunny day & felt good to be back. The unit was clean & tidy with the bed made ready, thanks to Jen who looked after it whilst I was away. I spent 4 hours unpacking the bags + 4 boxes of things I had stored in my study. Then I shaved/showered & went down to the bank, P.O. & shopping. Not much mail, but 20 Christmas cards! A load of washing was next on the agenda. I hit the sack about 6.30pm & woke up at midnight……the joys of jet-lag!
In the early hours of Wednesday I sorted all the papers, files, etc from the last 4 months. Walked to All SS for 10.30 am Mass & it was nice to reacquaint myself with St K. After Mass & the usual morning tea I went into the city to organise a new Aussie cell-phone. On returning home I made various appointments & started advising friends of my new phone #. Another early night & woke up at 1.30 am. Thursday at 8 am I met my old friend, David, for coffee at a beachside cafe across the road – it felt like I was now really home. In the evening I went to the Maundy Thurs Mass at All SS, which was nice.
Good Friday I flew to Canberra because Port Adel were playing the Giants on Saturday. My flight was late, but I arrived in time to attend the Good Friday liturgy. In the past I have stayed in south of Lake Burley Griffin, but this time I am staying in the north of the city, near parliament house – just a 10 min walk to the footy ground. So on Saturday morning I enjoyed a long walk exploring this part of Canberra. At 2 pm I went to the Eastlakes Football Club for the pre-game gathering of Port Adel supporters. At the game I sat behind the goals with the Cheer Squad. Port played well in a close, exciting game…..until the last 1/4ter. Then the Giants moved up a gear & we lost the game 🙁
The game finished at 7.15 pm & I literally walked across the road to attend the Easter Vigil at St Paul's,. Manuka. This church was built in the 1930's when Canberra was first built & is a nice building, But the Service was very disappointing. It was quite uninspiring with no sense of drama, let alone Easter triumph or joy. Thankfully there was no sermon! It was similarly disappointing at 7 am Mass next morning – made worse by the priest not even reading the words properly. It was a lovely sunny morning & I walked from the hotel to the bus stop south of Lake Burley Griffin – a pleasant 50 min walk. Was glad to be home & I had a good sleep. Yesterday was a relaxing day & in the a/noon I went to the footy at the MCG, which wasn't much of a game until the 2nd half.