Wed Jan 5 2022
Here we are – a new year with many questions. Will Covid start to abate; will Melbourne (& Australia) return to some sort of normal life; will travel restrictions & rules settle down……..to say nothing of world peace!
These questions & more will be answered soon for me. Next week I fly to Adelaide to go on the new Southern Rail train journey. This is a new luxury train which goes from Adelaide to Brisbane, with stopovers in the Grampians, Canberra & Coffs Harbour. I am going with my friend, Peter, who was great support during our lockdowns (altho he says I was the great pastoral support to him!).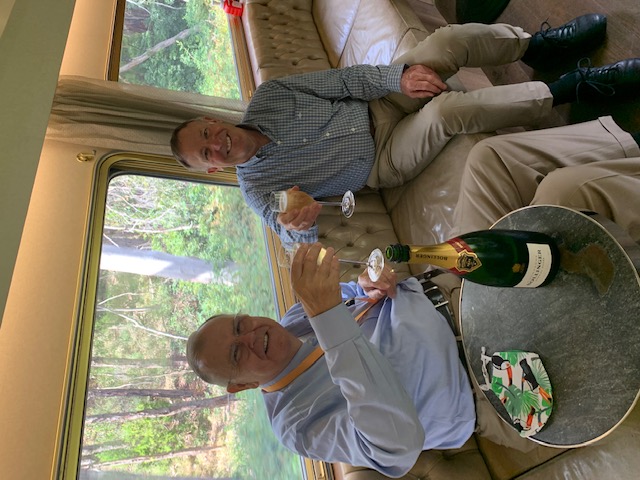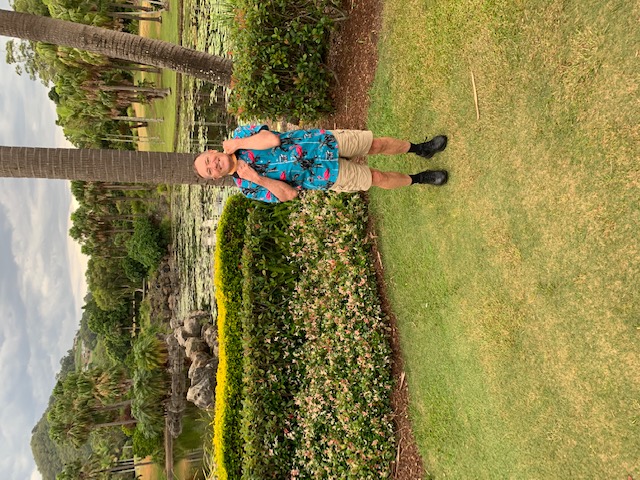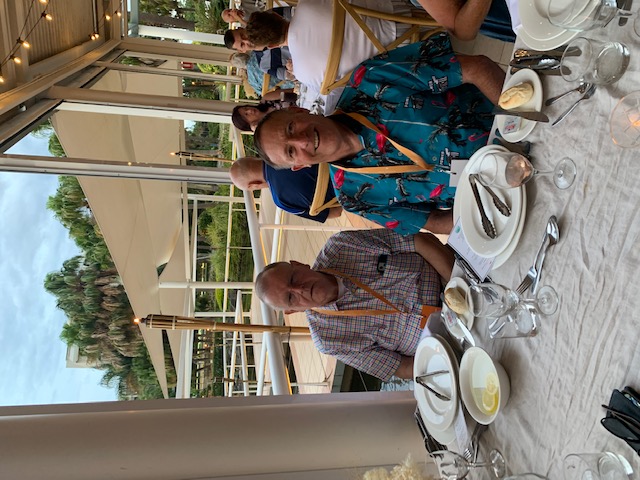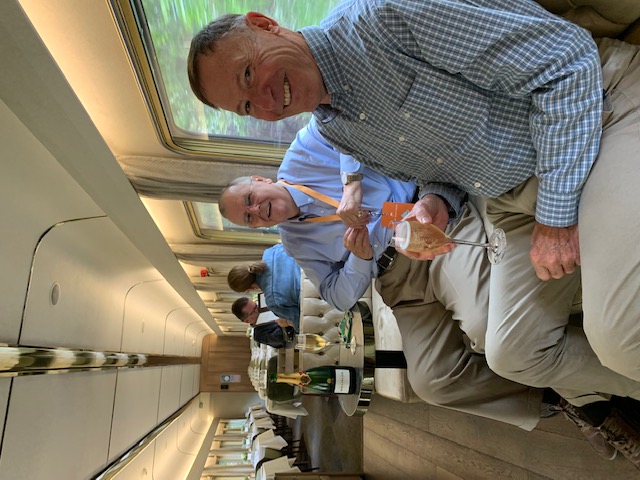 When I return to Melbourne there are just 8 days before I fly to London. It is fun & challenging to get back into travel mode – my overseas suitcase, travel notes/guides & various metro cards, etc have been resurrected & sorted. I will be in the UK until March 1st, then have a week in Europe (to use Eurostar vouchers from a 2020 cancelled trip). I am very much looking forward to this trip & being back at Walsingham, London & St Magnus the Martyr. I am not worried about Covid, just slightly apprehensive about all the new travel rules & requirements. My main concern is that I will have to cancel the trip or change arrangements. This, of course, is the new reality of travel.
Tues Feb 1
I arrived in London on Friday. Flights were okay – different with Covid rules, both before & during flights. Arrival at Heathrow was easy – strange to see the airport not very busy. Similar on the tube. The staff at Bankside Hilton warmly welcomed me back & I reminded them it was 2 years since I was last there. My room was ready & after settling in I went off to do some necessary shopping. My usual phone shop was closed, so I had to find another. It was great to be back in London & all the familiar places. Of course I was very jet-lagged & this has continued.
Saturday I went to 12 noon High Mass at All Saints, Margaret St, for the annual commemoration of King Charles the Martyr. Weather was bright & sunny, but with a chilly wind. Sunday I went to Mass at St Magnus, of course. Everyone was pleased to see me & Fr Philip welcomed me in the notices. I noted some new people – a good sign of a lively church. Lots of catching up with people at the refreshments afterwards. I was impressed with some improvements, esp 2 new toilets!
Yesterday I went to St Albans for the day. This is one of the places on "my list" which has been gathering dust for 2 years! The main attraction is the cathedral – the former abbey which has the longest nave of any UK cathedral. I remember attending a service in June 1975, when I lived here. It is an impressive building, well cared for & maintained. A lovely guide showed me the wonderful wall paintings from the middle ages – which have been revealed thru modern technology. My visit concluded with a walk around the town, then the quick train back to London.
Today I am off to the 12.30 pm Mass at St Magnus, then will do some exploring. Tomorrow is the 42nd anniversary of my ordination to the priesthood & I will be celebrating the 12.30 pm Mass, thanks to the kindness of Fr Philip.
Tues 15
I had a nice week in London catching up with friends for meals & on Tuesday 8th went to Cambridge for 3 days. Previously I had only been here for day trips in 1975 & 2006, so I enjoyed exploring this lovely city. I also visited a priest friend in nearby Downham Market. A highlight was attending Evensong in Trinity College chapel on Thursday night. On Friday 11th I caught the train to Kings Lynn, where my friends, Stephen & Jo were waiting to collect me. It was good to see them after 2 years – & even better to return to Walsingham. Covid has changed things – the shrine is quite empty & there are new staff members. Of course the daily round of prayer & worship continues & I have lit candles for various people. On Sunday it was great to be back at St Mary's for the Parish Mass & to greet familiar friends.
On Sunday night I went out for dinner with the vicar, Fr Harri & his wife, Clare. We went to a village pub in nearby East Rudham, the Crown Inn. After we had ordered drinks a young couple arrived with 2 kids & set in the corner booth next to us. Fr Harri whispered to me, That's the Duke of Cambridge. It did not register with me who it was as we usually hear him referred to as Prince William. He had his back to me & I thought he was rather young to be a duke. The kids were a bit rowdy & when I glanced over I did not recognise Kate. Just as well, as I might have spent the whole dinner staring at them!
When they left I said to Fr Harri, Who was that? He replied, The Queen's grandson. I said, Which one? Then it hit me! I hadn't even noticed the security men at a nearby table. And I certainly didn't think I would see royalty at a Norfolk village pub on a Sunday night 🙂
I am here in Walsingham for 1 more week. This w/e is the annual Partners Weekend. I have been attending this every year since I retired – except for the last 2 years – & was the guest speaker in 2013. I look forward to seeing old friends again. Pics below are from the dinner on Saturday night.
Mon 28
After a lovely time in Walsingham I returned to London last Tuesday. On Wednesday I went to Salisbury to visit my old friend, Dom Francis, at the Benedictine Priory. It is 27 years since I last visited him & he hadn't changed a bit. The Priory is in the Cathedral Close & after lunch he gave me a personal tour of the cathedral. Yesterday I attended Mass at St Magnus & was farewelled at the reception afterwards. Then I had lunch with friends in a 150 year old tavern in Southwark.
Today is the anniversary of the founding of SSC, my priests society. Tonight I will attend the London chapter meeting at St Peter's, London Docks, where the Society started in 1855. Tomorrow I catch the Eurostar train to Amsterdam. I am excited about this for 2 reasons: It is my 1st trip on Eurostar & I am using credit voucher from cancelled bookings 2 years ago. After 2 days in Amsterdam I plan to go to Frankfurt for 5 days, then back to London via Amsterdam & Eurostar again. I am looking forward to being back in Germany, but also wondering what it will be like in these Covid times.
Sat Mar 12
My week in Europe turned out to be different to what I expected. It seems I got Covid in Amsterdam! It was just like a mild flu, so I didn't worry & enjoyed being back in Frankfurt. I returned to London on Tues 8 & had a test on Wed for my flight home on Thurs. Th result came thru – but they sent me the wrong link. I thought I was neg, but on arrival at Heathrow I discovered it was pos. Boy did I panic! I had to cancel the flight & check in to a hotel, after which there were lots of things to organise. It was a little complicated – but after 3 disruptions to my travels in 2019 I am used to such things. Today I had another test. If it is neg I shall book flights home, if pos, will keep having tests every 2 days until I get a neg result. Boy am I keen to get home!
Sat 19
After 7 days staying in isolation in London & testing every 2 days, I finally got a neg result! I then booked a flight back to Australia on Thurs 17th……….to Brisbane with plans to spend the weekend there. Not only was this cheaper than to Melbourne, it meant that I could attend Port's game against Brisbane tonight. The flights via Singapore were excellent. I arrived jet-lagged, but very happy to home in Australia after the past week!
Thurs 31
My weekend in Brisbane was relaxing & I enjoyed the footy (even tho Port lost). Monday I flew back to Melb & it was great to get back home on a beautiful sunny day. I then had 3 days of organising things now that I was back home before flying to Adelaide on Thursday. This was for Port's 1st home game on Saty night. I had a enjoyable 4 days catching up with friends – but unfortunately Port were soundly defeated 🙁
I returned to Melbourne on Monday & life was back to normal with appointments & catching up with friends. A few Covid symptoms are hanging on, which seems to be the usual thing. Tomorrow night I will watch Port play Crows on TV with our Victorian supporters group & on Saty night am going to the MCG with Peter to see Collingwood play Geelong.
Wed April 20
It's been a busy 3 weeks. Unfortunately on Mon 11th I came down with the flu. This is an effect of Covid – but was much worse than what I experienced in London. So I have been staying indoors & resting. Some nights I hardly slept. I missed all the Holy Week Services, but managed to get to St James on Easter Day. I sniffled my way thru the Mass & couldn't sing the hymns. Today I am feeling a little better. I had booked to go to Adelaide tomorrow for another footy w/e……but have cancelled that. If I feel better tomorrow I will fly over on Friday.
Wed May 18
Today I am 75……which seems incredible, unbelievable & amazing! Last night I had a dinner party for my 4 closest friends & today I celebrated it by going to Mass, the dentist & having a medical video interview.
The flu that I alluded to lasted 5 weeks & was much worse than getting Covid. It didn't stop me attending the football, of course! As well as fortnightly trips to Adelaide I also flew to Cairns.
My b/day celebrations continue tomorrow by flying to Frankfurt, Germany. I will spend 5 weeks travelling around Germany by train, as well as side trips to Poznan (Poland), Villach (Austria), Ljubljana (Slovenia) & Trieste (Italy). This is a trip I had planned 2 years ago, which I had to cancel because of Covid. It seems a fitting way to celebrate my 75th b/day 🙂
Wed May 25
The flights from Melbourne to Frankfurt were excellent. I treated myself to 1st class on Singapore Airlines & it was wonderful, with the Singapore-Frankfurt leg having their luxurious 1st class suites. I spent the weekend in Frankfurt recovering from jet-lag & on Sunday caught the train to Hannover. I used Hannover as a base – on Monday I explored Celle & yesterday it was Braunschweig (Brunswick). Today I catch the train to Berlin, where I am staying 5 nights.
Celle-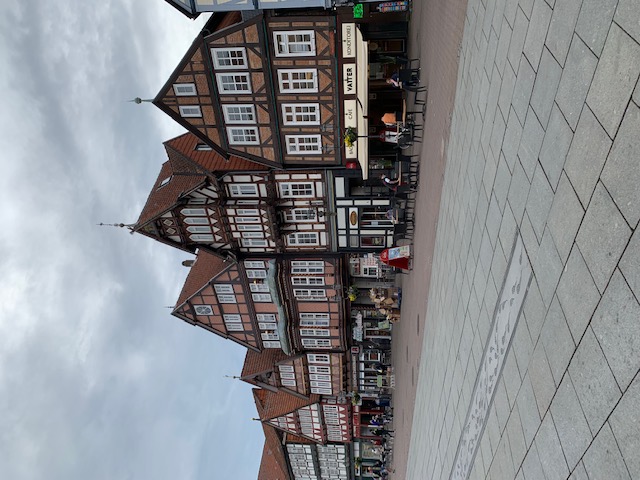 Braunschweig (Brunswick)-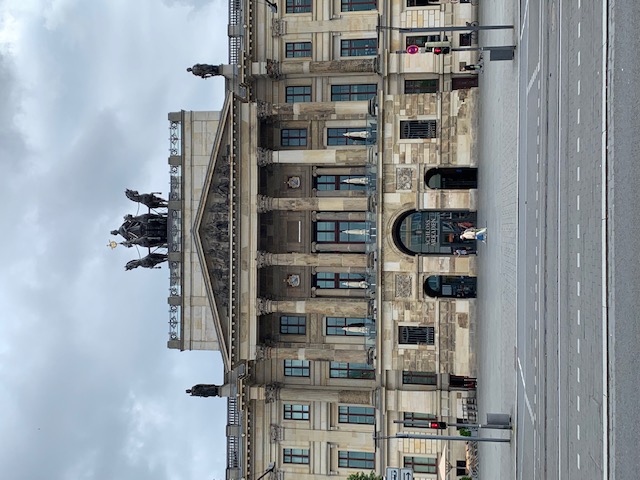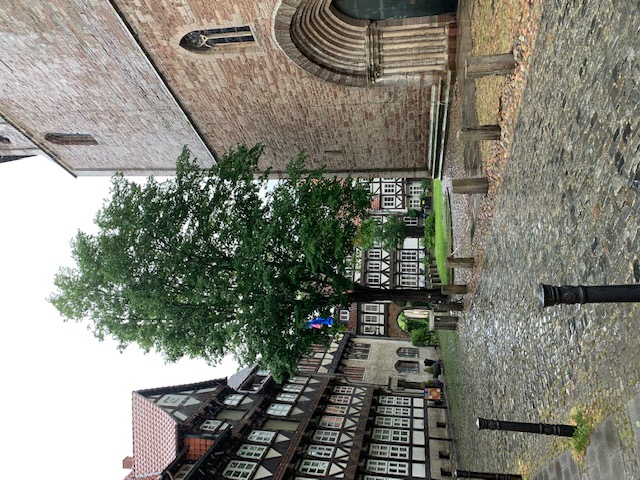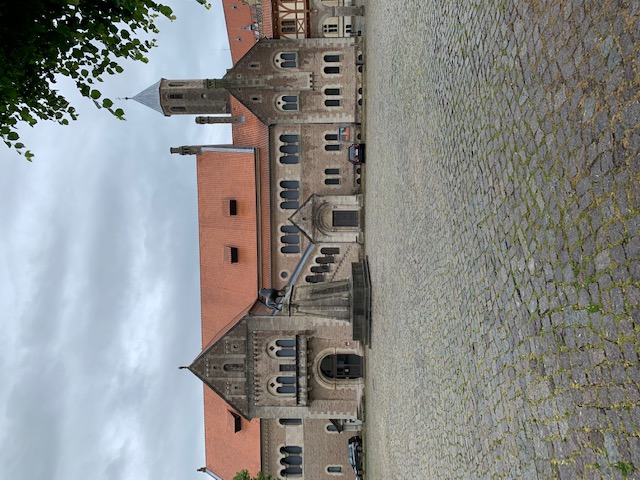 Berlin-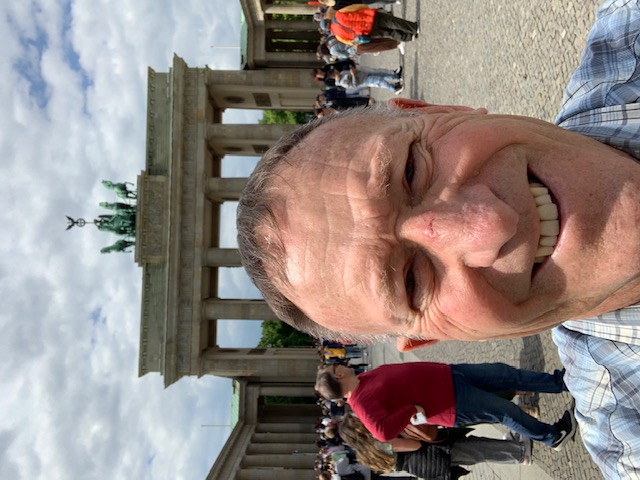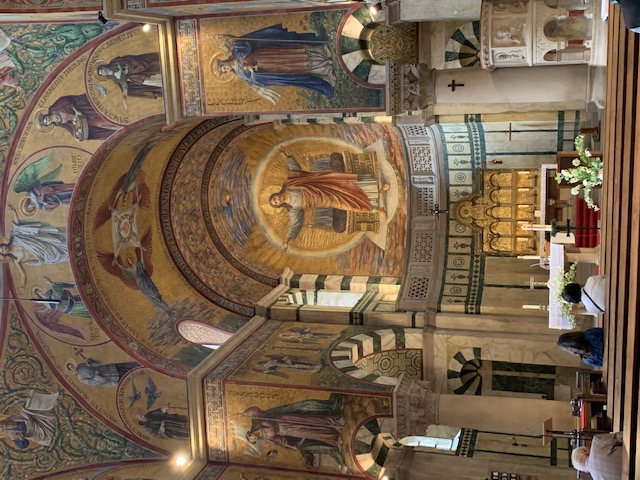 Poznan (Poland)-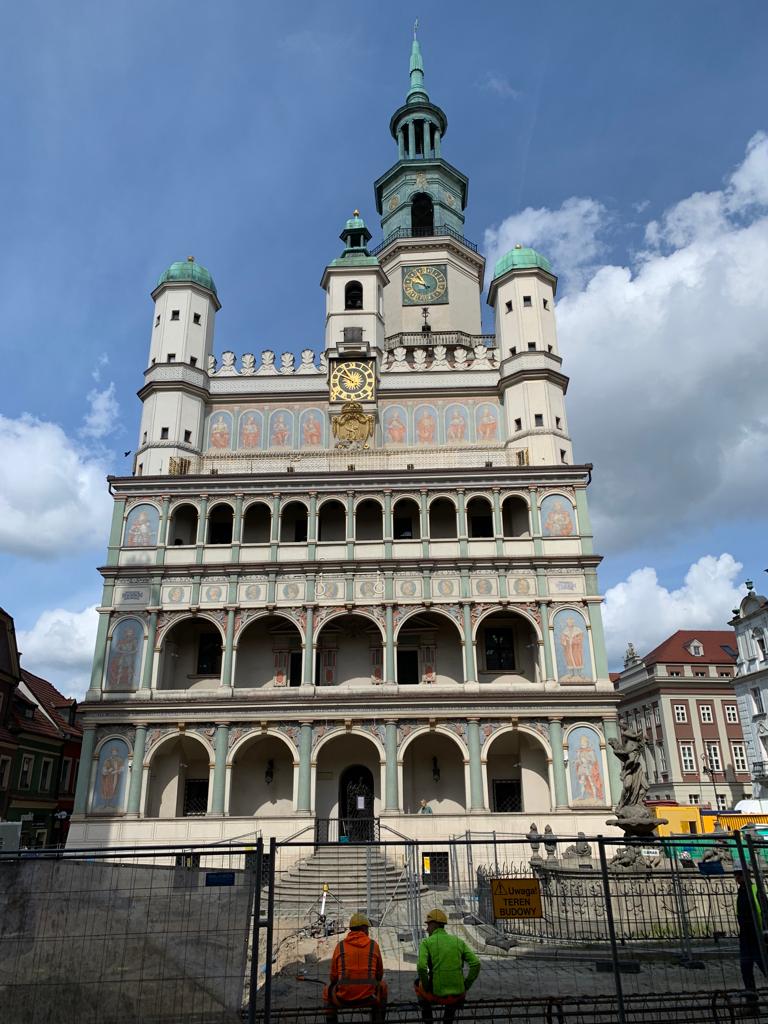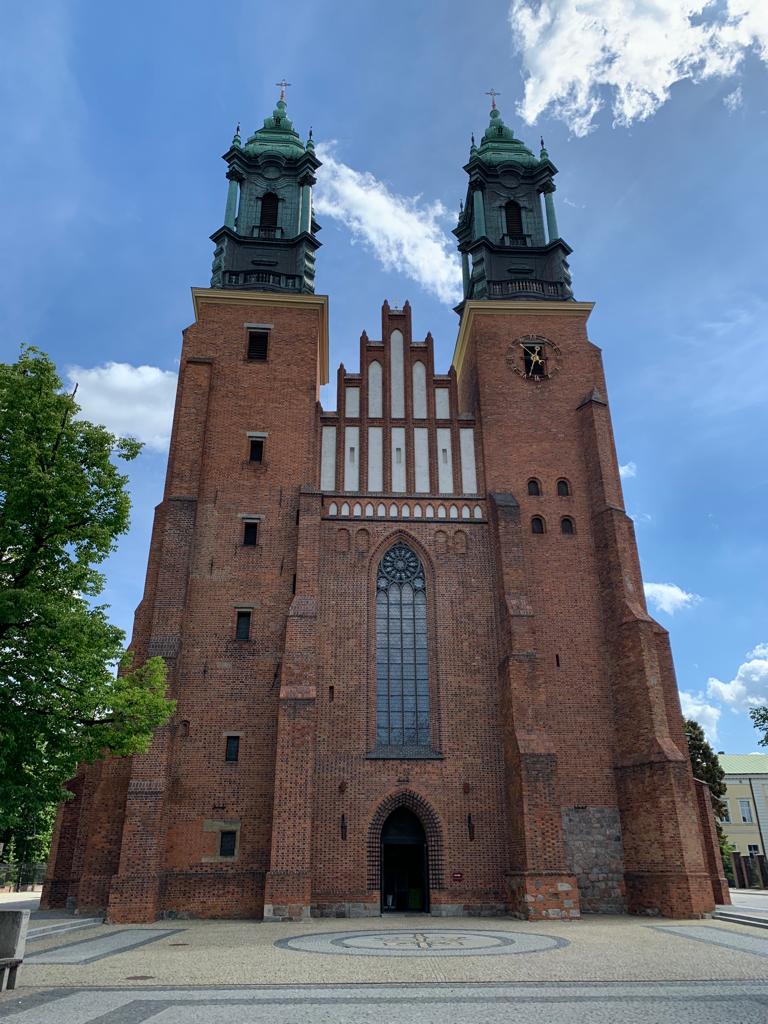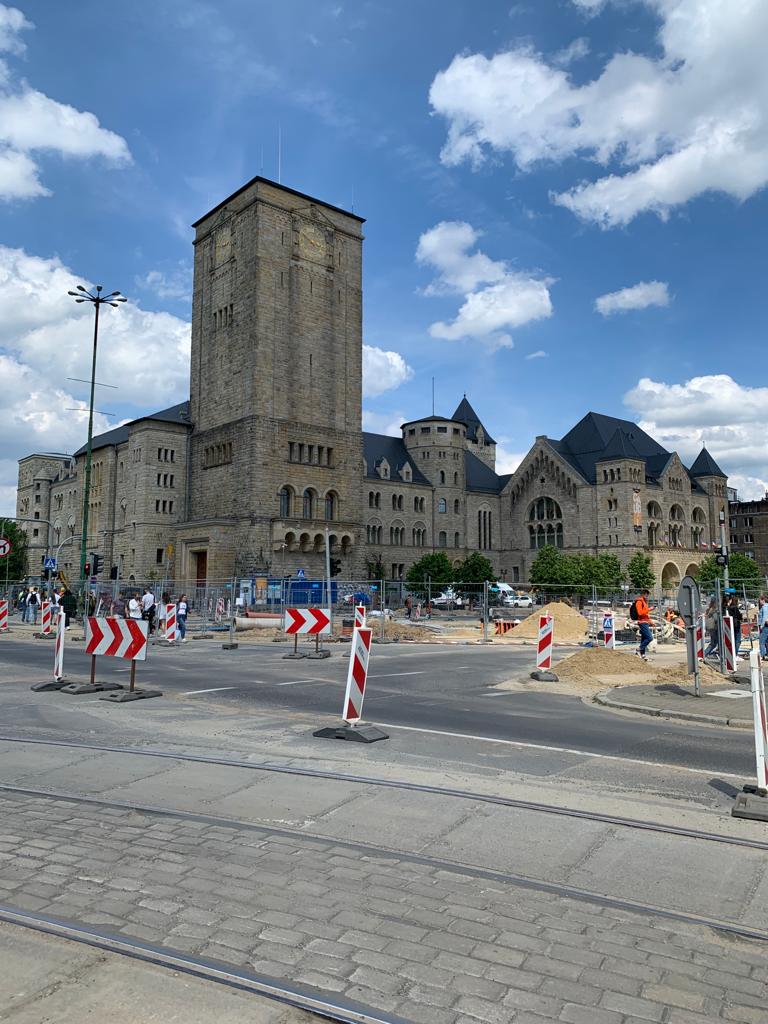 Tues May 31
It was great to be back in Berlin – esp as the Hilton upgraded me to a nice suite & remembered all my details (incl that I only want a sheet on the bed). Thursday was Ascension Day – a holiday in Germany – & I went to a lovely High Mass with great music sing by the choir in Herz Jesu church. The last hymn was "Holy God" & I sang it with gusto – the advantage of learning German in High School is that I can answer Mass & sing the hymns!
Friday morning I went to the laundromat. I have planned my itinerary so that when it is time to do laundry I am in a city where I know the location of the laundromat. Happy to share this info with fellow travellers! In the a/noon I went to an exhibition about Richard Wagner. It was well done & I learnt a lot. On Saty I caught the S-bahn to 2 different places – Grunewald Station to see Platform 17, which was where the Nazis sent the Jews to Poland, & the new airport. This was supposed to be completed in 2012 (for which I booked a trip) but took another 8 years.
Saty night I went to 6 pm Vigil Mass at St Matthias, a church I have attended over the years. This meant I was free on Sunday morning to listen to the footy – & Port won! In the afternoon I attended another interesting exhibition. This was about Schliemann, the German who discovered ancient Troy. On Monday I caught the train to Poznan in Poland. I have always wanted to visit Poznan as it was part of West Prussia – & called Posen – one of the German states returned to Poland after WW 1. It is also where my St K neighbour, Beata, came from. I spent today exploring the town & was able to attend Mass in the parish church. Tomorrow I catch the train back to Berlin.
Fri June 10
After Poznan I was in Berlin for 2 nights & went to Brandenburg for the day. I was expecting a grand city, but was disappointed. Then I went to Dresden for the long weekend. Saty I went to Leipzig for the day. This is where the 1989 revolution started. When I arrived I was intrigued to see lots of people dressed in black. It turns out that it was the annual Pfingsten Gothic Festival & the city was abuzz. Some people went to great trouble with their outfits. Sunday was Pentecost & I went to the Dom for Solemn Mass. It was standing room only & the choir was magnificent.
Whitmonday was a holiday & after another nice Mass in the Dom I visited Chemnitz. The communists renamed this Karl Marx Stadt, but after the revolution the citizens voted to restore its real name. However it still has the look & feel of an East German town – very boring! Tues I went to Cologne & Wed I visited Cochem – a pretty town on the Mosel with a Schloss up high. I climbed up to it & was rewarded with coffee & a great view. Thurs I caught the train to Munich. Today I was going to visit Regensburg, but when I read up on it realised I had already been there. So I went to Ingolstadt, another nice Bavarian town.
Dresden-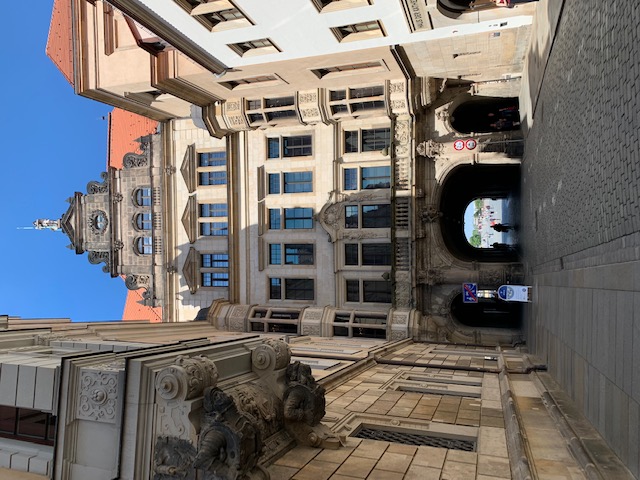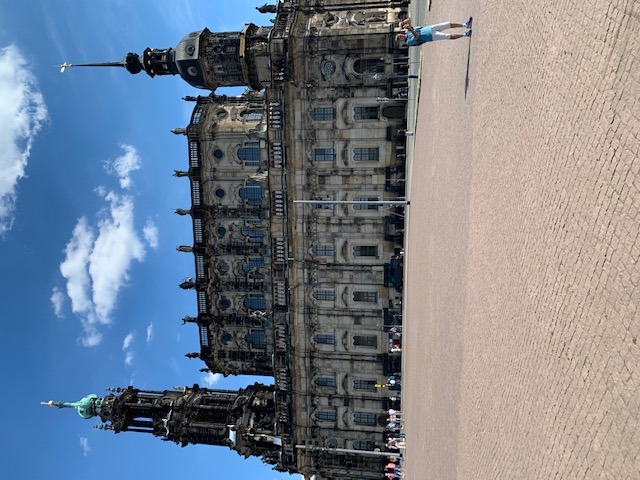 Leipzig-
Chemnitz-
Cochem-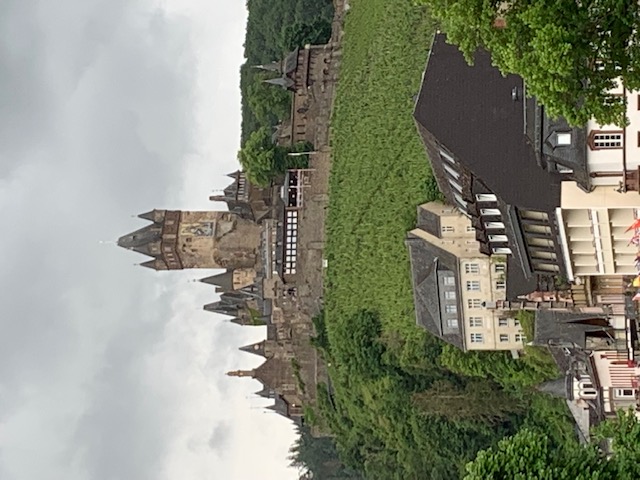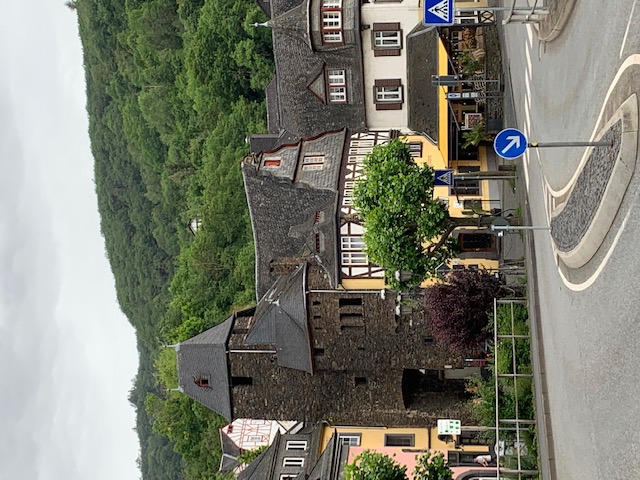 Ingolstadt-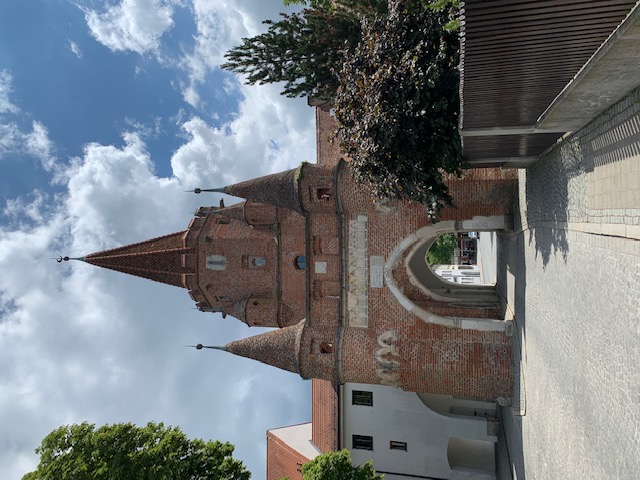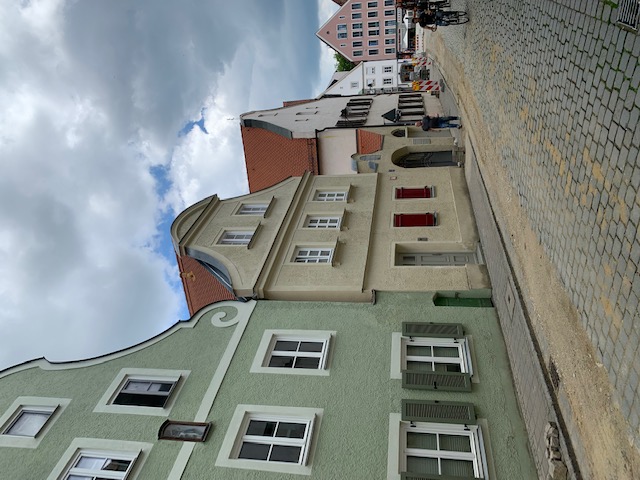 Mon 20
On Sat 11 I went to Starnberg, a town on a lake near Munich. I saw this lake on my way to Oberammergau in 2010 & vowed to visit it one day. Finally I did! That night I went to Vigil Mass in a church near my hotel. On Sunday I caught the train to Villach a nice little town in Austria – the scenery from the train was wonderful. I spent Monday exploring the town, beginning with Mass in the parish church.
On Tuesday I caught the train to Ljubljana, the capital of Slovenia. Slovenia has been on "my list" & I was not disappointed. Lovely old buildings with the castle on a hill overlooking the old town – another steep climb for me! There is also a beautiful cathedral. Walking back to my hotel I came across an unusual modern church designed by the famous Slovenian architect, Joze Plecnik. He was responsible for much of the city's architecture in the 1920's & 1930's, as well as a lot of memorials after WW2. I went back to that church on Thursday night for Corpus Christi. It was a wonderful Mass with 12 children assisting in the sanctuary.
Friday I caught the train to Trieste. I stayed in a wonderful Hilton – a classical building with modern rooms & great staff. After unpacking I walked around the city & enjoyed sunset over the Adriatic. Saturday I explored the city & its churches – almost gate-crashing an Italian wedding! And I climbed up another hill to the castle & the adjacent cathedral. Saturday night I went to Vigil Mass at the nearby church, which happened to be the largest church in Trieste.
Sunday I caught the train back to Villach. Today I went to Klagenfurt, the capital of Carinthia. There was not much to see & just a few nice old buildings. In 1 week I fly back to Australia. So I have a week to get back to Frankfurt, going via Munich, Cologne & Mainz, starting tomorrow.
Starnberg-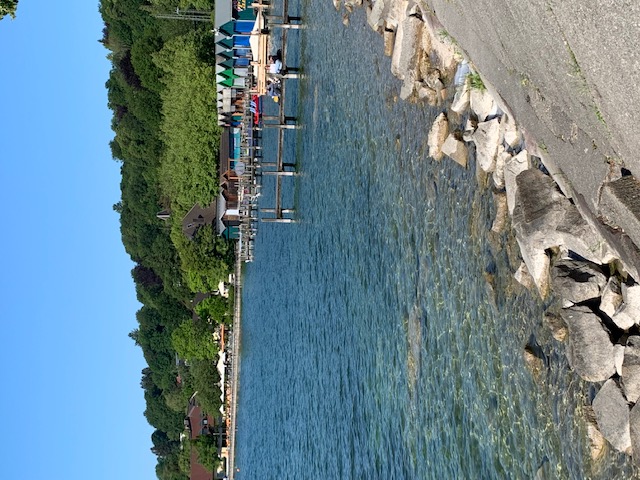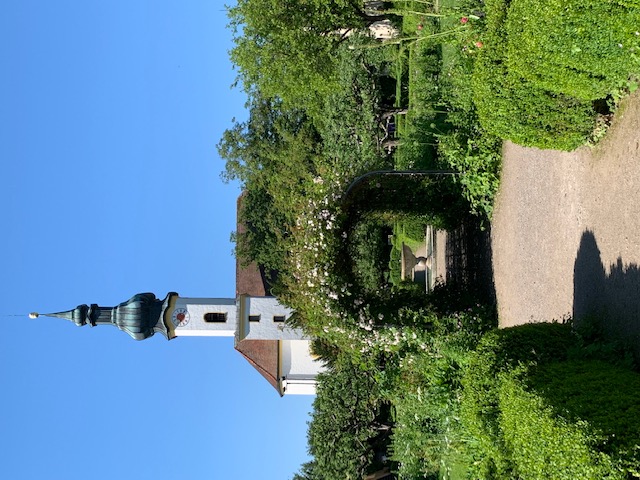 Villach-
Ljubljana-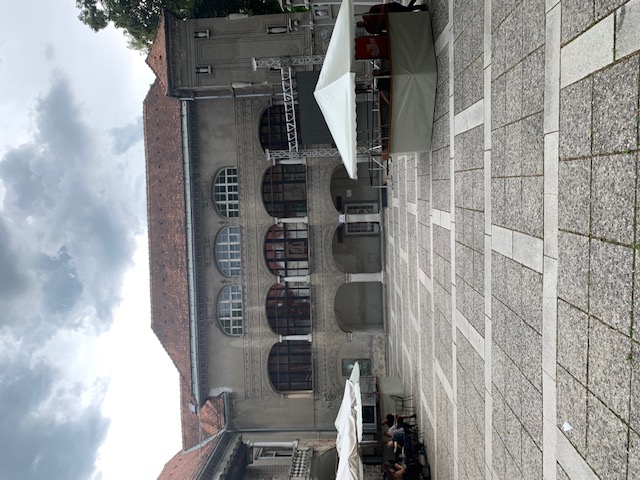 Corpus Christi-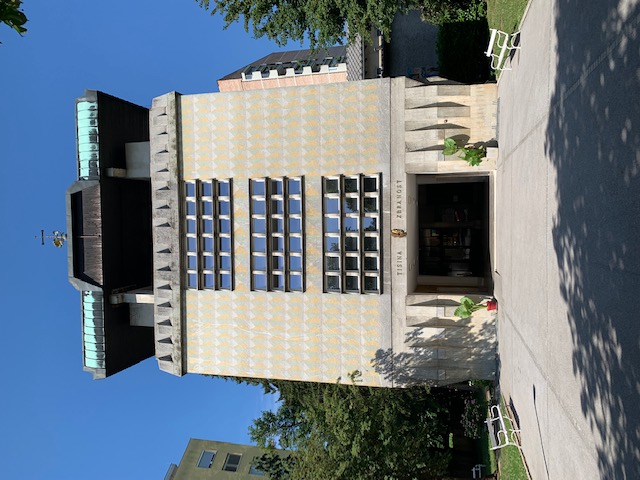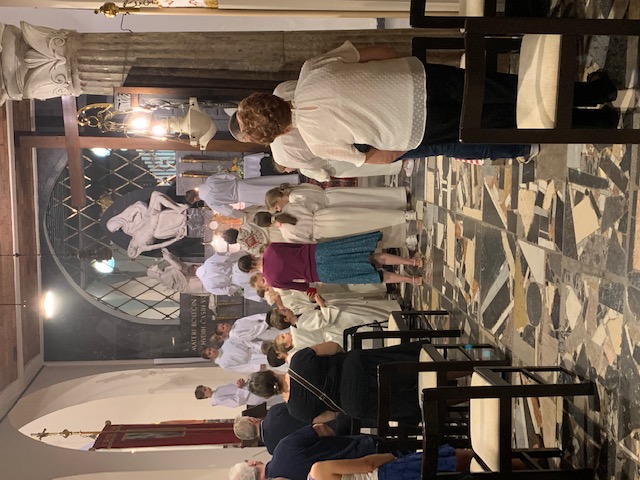 Trieste-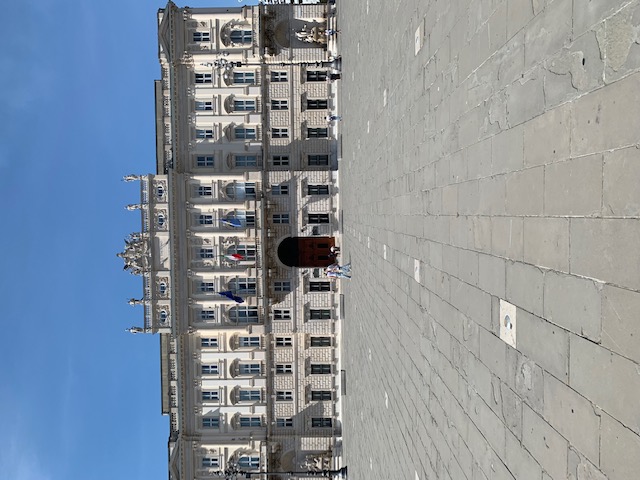 Klagenfurt-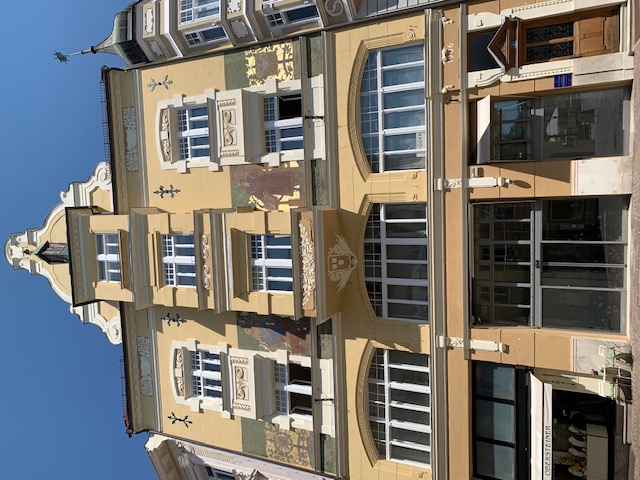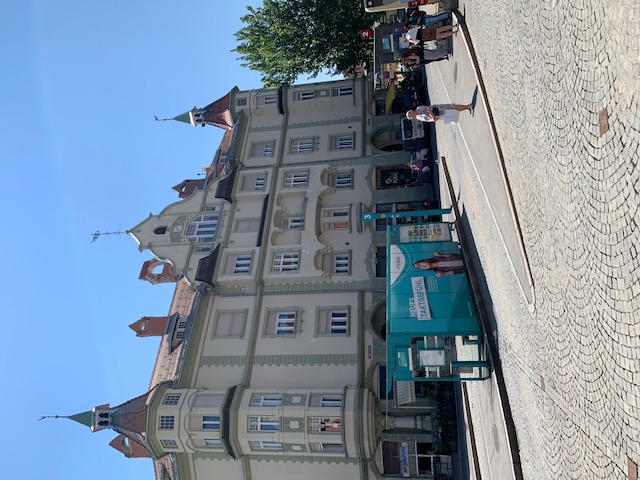 Austria from the train-
Tues 28
After 2 nights in Villach I spent Tuesday night in Munich. Next day I went to Cologne, staying in a new Hilton in an old renovated water tower. Because it was circular, the room doors opened outwards – so I kept thinking I was locked out! On the Thursday I went to Bruhl for the day. This town is 20 KM south of Cologne & known for Augustusburg Schloss, built in 1768. From 1949-1990 it was used by the Bundes Republik for welcoming foreign heads of state.
On Friday I caught the train to Mainz. Unfortunately the weather for the weekend was overcast with occasional rain. However I did enjoy wandering around the Alt Stadt on the Saturday. Sunday I returned to Frankfurt for my final night in Germany. Last night I had a good flight to Singapore & am now waiting in the Singapore Airlines 1st class lounge for my flight to Melbourne. This has been a wonderful trip & a great way to celebrate my 75th birthday!
Mainz-