Sun Dec 7
Last Sunday 3 friends came for lunch after Mass at All SS. This began 4 days of having friends for either lunch or dinner…..one of them an old friend who has just returned to Melbourne after living in Canada for 20 years. Thursday I attended the opera, Falstaff, & on Friday it was the MSO – an Arabian theme featuring the marvellous Scheherazade by Rimsky-Korsakov & Saint-Saens' Piano Concerto #5, equally wonderful.
On Saturday I flew to Cairns for 3 days. Thunderstorms threatened to disrupt flights, so I went to the airport early & Virgin put me on an earlier direct flight. I arrived at 11.30 am & my room at the Hilton was ready. The view from my room is spectacular – another nice hotel to put on my list! Main highlight of the trip will be going on the historic Kuranda train on Monday. I decided to do this after my neighbors, Beata & Bob, told me about their experience in gold class – which includes champagne & eats 🙂
Wed 17
Like all Australians I have been stunned by the terrorist attack in Sydney. Saddened & overwhelmed emotionally by what the hostages had gone thru & the awful loss of 2 young Australians who were full of life & love. All day Monday I had the news on in the background & woke up later that night at 2 am to see the awful end. The last time I felt like this was 9/11.
Such a tragedy puts a sober atmosphere on everything. On the tram next morning there was a subdued silence. I also reflected on the 2 occasions I came close to a similar experience: 40 years ago in London, when I had to walk past a possible IRA bomb scare, & in February 1991 on a train in Croatia when it seceded from Yugoslavia.
Prior to Monday I had enjoyed meals with friends each day & attending The Messiah by the MSO & chorus. This was the first time I had attended its performance for some years. I enjoyed the conductor's interpretation & was very impressed with the chorus.
Tuesday 23
I have had a relatively quiet time. No meals out with friends – just relaxing days with walks along the beach. Sunday was the exception. Bp Lindsay Urwin was at All SS, E St K, for High Mass & the Carol Service. Both were well attended & the music was superb. After Mass the All SS Walsingham cell had lunch with Bp Lindsay at the local pub.
Today I fly to Adelaide for a week – the first time I have had Christmas in my old home town since 1984. I will spend 3 days with my friend, Fr Reg, who lives near the beach. This will include Christmas lunch with other oid friends. I will then go to stay with friends in Port Adelaide. This will include Sunday Mass at St Paul's, where I have fond memories of many Christmasses in my youth. My week will conclude with lunch in Elizabeth with a woman who was one of my altar servers at St Catherine's 30+ years ago.
Tuesday 30
I have had a wonderful week in Adelaide. Not too hot, but still lots of memories from my youth. Too much romantic nostalgia perhaps? Christmas Eve & Day were quiet, causing me to reflect on 34 years of busy Christmasses as a priest. Good to catch up with old friends – esp lunch yesterday with Bronte, my altar server at St Catherine's 1982-85. She has turned out to be a fantastic young woman with a nice family. Now it is back to Melbourne for NYE.
Jan 5 2015
I had a nice NYE at the home of a St Mark's friend. His condo in Nth Fitzroy has a marvellous view of the city & we had a marvellous view of the fireworks. He lives on the direct tram to St K, so I got home easily……..on a tram that was full of interesting people in various conditions of frivolity!
Since then 40c heat has resulted in bushfires in both SA & Vic. I spent Fri & Saty indoors keeping cool & up to date on the fires. I was particularly concerned about the bushfire in the Adelaide Hills. They are the worst since Ash Wed 1983, which I remember well. I was PP at St Catherine's, Elizabeth Downs – part of my parish included One Tree Hill & the same area is affected again. It was like a furnace all day in 1983, with 47 deaths. Just before I went over to the church for the 7 pm Solemn Mass I received a phone call from my MC to say that their home was in danger & he could not make it. I announced this to the congregation before the Mass & said we would offer it with special intention for Peter & his family. The ashes ceremony had a sobering reality. It was one of the most emotional Masses I have celebrated. Fortunately no harm came to them.
Today the weather is cooler – but the Adelaide Hills are still at a dangerous level.
Thurs 15
Our crazy weather continues…..rain last Saty, beautiful sunshine on Sunday/Monday & winter weather since then! I have had a relaxing 10 days, incl 3 meals locally with friends. Tomorrow I fly off overseas for exactly 2 months. I will visit the US, Manila, Hong Kong, Berlin & London. Whilst I am in the UK I will go to the shrine at Walsingham for a week. In the US I will visit San Francisco, Seattle, Atlanta, DC…..& San Diego (of course!) thanks to some United Airlines vouchers received last year. The flight tomorrow is the new United MEL-LAX flight, which I flew back to Melb in November. The flight leaves the same time as before but eliminates a 2 hour stopover in Sydney, which will be wonderful. I arrive in LAX at 7.15 am on the same day I leave 🙂
Sun 18
My flight was nice – the new Dreamliner is a wonderful plane. I left St K on a beautiful sunny morning & it was the same in LA. It's always good to be back in the USA, esp now I am in SF, a city I love almost as much as SD. On Tuesday I fly to Manila, arriving there on Wednesday night.
Fri 23
It was quite a journey getting to Manila. 4 different flights taking a total of 19 hours with stopovers in LAX, Honolulu & Guam. I did not get much sleep & was tired when I arrived. A nice welcome at the hotel was indicative of the reputation Filipinos have for being friendly. Even the police say Good Morning. No doubt this is in part due to the Philipinnes being a catholic country & not muslim.
Manila is a metropolis of over 11 million people (1/2 the population of Australia!). I am staying in Makati – one of the many cities that are part of Manila. Here there are large hotels, condo blocks, shopping malls & office blocks. It reminds me of Singapore, incl crazy traffic & crowds of people. Thursday I walked around the area, encountering interesting churches & parks. I discovered a catholic chapel in the shopping mall across from the hotel. It is called a chapel because it is not a parish church & is circular with open walls, set on a lake teaming with goldfish in the middle if the shopping complex. It is very active, with 4 Masses a day & a lively community. I went to the 12.15 pm Mass, which was attended by over 100 people, mainly young. Sung Mass with small choir & quite an experience of devotion. After it was over they all applauded & didn't seem to want to leave.
Today I caught the metro into the old part of the city. Not that there is much to see that is old, as most of Manila was destroyed towards the end of WW2. The hotel concierge told me that the metro was very crowded…….she was not wrong! It was also very slow. I eventually got to the central area. I wandered around without a map, but there were hardly any colonial or Art Deco buildings to admire (which is what I like to do). I walked along the Passig River & found myself walking thru slums – terrible living conditions (some just made from boxes) & children playing in the dirt or wandering around naked. Roosters, chickens, cats & dogs completed the scene. Such a contrast to the golf club I later passed.
I found the catholic cathedral – the 7th on the site – but didn't enter as I was wearing shorts. I finished up at Rizal Park, a huge park where the Pope had celebrated Mass for 6 million people last weekend. Tomorrow I shall do more walking. My flight leaves Saturday night.
Sunday Feb 1
I am now in Hong Kong & fly to SD tomorrow. It is my 3rd visit & I have done all the tourist things before. This time it is a relaxing visit. I have a lovely hotel room with a view of the wonderful harbour. HK is magical all lit up at night. I have done lots of walking, taking in the culture & atmosphere, explored parks & discovered the HK Heritage Centre. HK is a fascinating city, with a wonderful mix of Chinese & Western culture & architecture. It is a pity it is no longer the final outpost of the British Empire!
Wed 4
I have had a relaxing 2 days in SD. Good to have meals with a few parishioners. Tomorrow I fly to London. I will have the w/e staying at St Mary's, Bourne St & on Wed Joan & I will drive to Walsingham. I take with me a lot of prayer intentions.
Sun 8
I arrived safely at Heathrow – but very tired. London was dark & cold at 6.45 am! I caught the tube to St Mary's & got there in time for the 8 am Mass. It was a pleasure to meet Fr Robert – the priest looking after the parish now that the Vicar has left. After unpacking & settling into the guest room in the presbytery I jumped into bed & had 3 hours sleep, which was wonderful! After showering I had coffee with Fr Robert, telling him of my long association with St Mary's & finding out about him. I then went for a walk along Kings Rd & did some shopping for food.
Saturday morning there was a Requiem in the church for the much loved organist, David Trendell, whom I knew & admired. David died suddenly last October & I was here for the Low Mass of Requiem shortly after. This time it was a full Solemn Requiem with stunning music & a large congregation. In the a/noon I went for a long walk & encountered lots of young NZ-ers on a pub crawl! They were dressed in various costumes for what seemed like a London tradition. I don't remember Aussies doing that when I lived here 40 years ago!
This morning I will attend High Mass with Joan & then we shall go to the local pub for lunch. On Monday I am having lunch with Phyl, with whom I worked in 74/75. We will meet out the front of our old office in The Strand.
Sun 15
On Wed Joan & I had a nice drive to Walsingham on an overcast day. When we arrived we received a lovely welcome from various staff. It was very good to see Bp Lindsay again. Marc, the sacristan, arranged for me to say Mass at 5pm, after which I renewed my friendship with the 4 young people working at the shrine & met the new shrine priest, Fr Graham. He is Northern Irish & full of fun.
Thursday it was cold & overcast again. I said Mass, particularly remembering that exactly 40 years ago I heard the call of God to be a priest here when I came to Walsingham on pilgrimage. Little did I think then that I would return regularly to Walsingham as a priest & would assist at the shrine. Joan & I visited the Priory & had morning tea with the Sisters.
Thursday evening I took Fr Graham out to dinner, so I could get to know him. We got on very well & I look forward to working with him. I was very impressed when I asked him why did he come to the shrine…..he replied that after 4 years since ordination he wanted another curacy. Would that more young priests had that attitude!
Friday morning I said Mass with special intention for SSC. In the a/noon 120 arrived for the Partnership w/e. This began with dinner, where we renewed friendships. I have been a partner for 10 years, but this is only my 2nd w/e – because when I ran a parish it was impossible to come the w/e before Ash Wed. Afterwards a few of us went to the local pub, The Bull.
Saturday morning it was sunny. At breakfast Joan & I had lots of laughs with Bp Lindsay & other friends. A busy programme followed, incl an exciting report from Bp Lindsay about projects, growth & future plans & a talk from the shrine archivist. Most inspiring was an interview with the 4 young people (all 19) working at the shrine. As they talked I cast my mind back 40 years ago & reflected on my decision here to be a priest, my growth as a Christian & my priestly ministry. The 6 pm Pilgrims Mass had a wonderful atmosphere. I concelebrated with Bp Lindsay & Fr Graham & read the gospel. In the evening there was a formal dinner. 2 years ago I was the after-dinner speaker & this year it was Fr Graham. He was delightful & not long 🙂
Sunday morning was a nice crisp morning. We all attended the 11am Parish Mass at St Mary's. As well as concelebrating I read the gospel (for the 1st time) & also sang the Alleluia verse – but my voice was not at its best. The parishioners were glad to welcome me back….& wanted to know when I was returning! After Benediction all but a few left. So I enjoyed the usual quiet Sunday night. Tomorrow Joan & I drive back to London.
Mon 23
I have just had a very cold w/e in DC. Snow came on Saturday night & altho it looked pretty, walking in it was scary. It was my 1st experience of walking to church in snow! Tomorrow I fly to Berlin for 6 days. I will be interested to see if the Berlin Hilton upgrades me to the luxurious suite they gave me last November!
Fri 27
Wednesday I arrived in Berlin on time & tired. The hotel welcomed me &, sure enough, had put me in the same suite as last time. It felt like coming home! The weather was sunny, but cold. After a refreshing shower I went off to an exhibition about West Berlin that I had noted on my visit last November. Next day I went to 8 am Mass at St Hedwig's (just 6 mins away) which is familiar & always a good experience, not least as I can follow Mass in German. Because of the cold I decided to spend the day visiting museums. In the morning I went to the Markischen Museum, which I came upon last Nov. It is a purpose-built museum presenting the history of Berlin. In the a/noon I visited the German History Museum. I have visited this before, but last time missed the 2nd floor, covering Germany up to 1918. I found this very interesting, given my knowledge & interest in German history & politics.
Today I visited Museum Insel. This is a UNESCO world heritage site containing 5 museums. I visited these 20 years ago, when the Berlin State museums were combined after reunification. All of them have been renovated – a project which is ongoing. The Neues Museum was so damaged in 1945 that it remained closed after the war until 2009. I was very keen to see this, as it contains the famous Schliemann collection from Troy & the Egyptian collection, the highlight being the bust of Nefertiti. The building itself is beautifully restored, reflecting the period it was built. The other museums were equally wonderful.
As much as I love museums, they can be tiring…….& today saw enough Renaissance & gothic art to last another 20 years! Tomorrow I hope to visit another museum – this one more contemporary. But first I must do a load of washing & get my hair cut!
Fri Mar 6
My 5 days in Berlin were relaxing & enjoyable. It was sunny every day, but quite cold. On Sunday I caught the train to Frankfurt – & it rained! I was welcomed back to the Frankfurt Intercontinental by the staff who have known me over the years. Next day I flew back to the US. The last few days I have been in Atlanta. Unfortunately the weather has been cold & wet – not as bad as the East coast, but it has prevented me from going for long walks. I have been to Atlanta before – this trip was to use one of the 4 travel vouchers I received from United a year ago for flight problems. They all had to be used before mid-March. The final one will be used when I go to Seattle on Monday.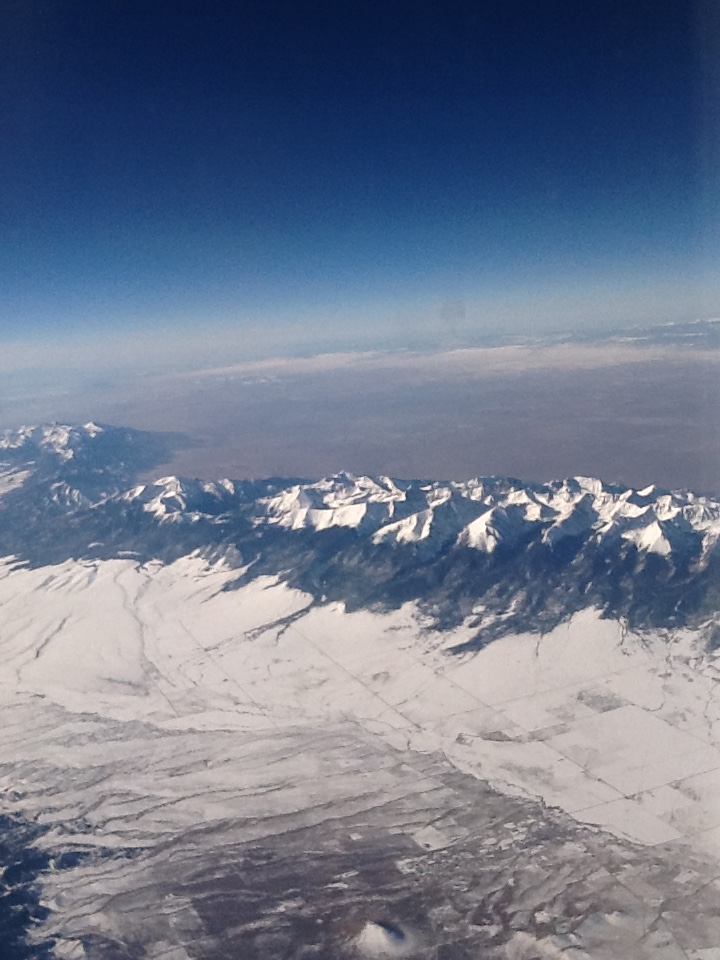 I took these pics from the window of my flight from Atlanta to SF. I don't know where it is – I just raised the blind to see the view when there was a break in the movie I was watching.
Wed 11
I have just had 3 nice days in Seattle. Sunny on Monday, foggy on Tues & raining this morning! Yesterday I had an interesting experience. Across the road from the hotel was Pilgrim Congregational Church. To my surprise, they were advertising an RC Mass at 12.10 pm. So I attended, along with 25 others. It was in a circular chapel with a round table as the altar. It was a proper Mass, but they were using the chapel communion vessels, as they were made of glass! It turned out that this was one of 4 weekday Masses celebrated in this chapel as part of the Mass schedule of an RC church called Christ Our Hope – a most unusual RC dedication.
After the Mass I decided to check out the church of Christ Our Hope, which was 10 mins walk away. The Church was the ground floor of an old apartment block now used as an RC low-cost housing project (I think for women). Next to the church was an office with various programmes, etc. The church had a full Mass schedule & parish programme. It had obviously grown out of a mission project, probably started by the pastor. I was impressed – not least because it was an unusual setting for an RC (or Anglican) church.
Back to SD tonight – & then home to Melbourne on Friday.
Fri 20
I arrived home safely in Melb on Sunday 15th. But I did not reckon with the Melb Grand Prix, which disrupted all trams to St K. It was good to be back in St K – but I am only home for 10 days. Next week I fly to Walsingham, where I will spend Holy Week & Easter. So there is no point in adjusting time zones! The week has been productive, with so many practical & financial things to catch up with after being away 2 months. I have caught up with various friends, incl a Port Adel FC gathering on Mon night (for which I actually stayed awake) & a b/day dinner on Wed at the local Greek restaurant. Tonight I am off to the symphony – The Damnation of Faust, by Berlioz. Tomorrow I shall join my Port Adel friends at our usual pub to watch the practice game against the arch-enemy, Adelaide Crows. The w/e will round off with Mass at All SS, followed by lunch with a good friend. Then just 1 day to repack for my flights on Tues 🙂
Mon 30
After a 24 hour stop-over in the U.S. I arrived safely in London last Thursday at 12 noon. I haven't flown a direct flight to London for 25 years, preferring to have a few days in SD either side of the flights. The result this time is that I have been quite jet-lagged…..something I usually get over quickly. Not so, this trip – waking at 1am each morning!
On Sunday I attended the famous Anglocatholic church of St Alban, Holborn, for Palm Sunday procession & Solemn Mass. I like St Alban's & have a vivid memory of attending the liturgy here on Good Friday, 1975. It was the first time I heard the wonderful hymn, My Song Is Love Unknown, & I was pleased that it was the Offertory Hymn at the Mass. Altho there was light rain, the procession went off well. Complete with 2 donkeys & lots of excited children, we processed around the streets & into the church for a very nice Mass.
Today Joan & I drive to Walsingham for what will be a special Holy Week. Every year at this time I think of the wonderful celebrations of Holy Week I have experienced in my 3 parishes. Jerusalem in 2011 was an even more wonderful experience……but I think this year in Walsingham will be the best.
Maundy Thursday
We arrived safely in Walsingham – the roads seemed quiet for a Monday. I was warmly welcomed back by all the clergy & staff…….it was only 6 weeks ago that I was here! At 5 pm I said Mass in the Chapel that commemorates the Carrying of the Cross. It is my favourite chapel to say Mass because it is the SSC chapel. Tuesday was a quiet day. At 10 am I said Mass in the Chapel of the Agony of Christ. I have not said Mass in this chapel before, but it seemed most appropriate, with its depiction behind the altar of Christ in Gethsemane with the Abbey arch in the background.

The above pics are of the altar where I said Mass on Tuesday & of the hail we experienced that a/noon. The view is from my room in St Augustine's, the cottage that has been restored & renovated for study groups & which contains the 2 libraries.
Wednesday was the Chrism Mass. I know bishop Norman Banks & it was an honour to concelebrate with 40 priests as we renewed our vows to him. It was good to catch up with priests I know, incl an old Aussie friend. The Shrine Church was packed & it was a beautiful liturgy. Afterwards I had lunch with several of my Walsingham friends. Today the focus shifts to the parish church, where I will join in the wonderful Services for the Easter Triduum, beginning with the Mass of the Lord's Supper tonight. These are not celebrated in the shrine as it is appropriate that we are all at St Mary's as one community.
The Mass of the Lord's Supper was beautiful. As well as the joy if concelebrating the Mass, I was privileged to be invited to be one of the 12 for the foot-washing liturgy. This was a first for me….for 30 years I have organised & done this, but never been a recipient.
Good Friday
The Shrine was wonderfully quiet & deserted – an atmosphere I embraced. It was a cold day & I froze during the Stations of the Cross! This was in the grounds of the shrine & Bp Lindsay had prepared a moving liturgy. At the conclusion we returned to the shrine church for a Service of Veneration of a relic of the Cross, which the Shrine possesses. Despite reservations some might have about relics of the Cross, it was a moving spiritual experience.
At 3 pm I joined a large congregation at St Mary's for the Liturgy of the Passion. It was good to be in the for this. As with last night's liturgy, it was beautiful, quiet & inspiring. The singing was superb & Fr Andrew's sermon was brilliant, again. Now for Holy Saturday & the magnificent Easter Vigil.
The pics below are of St Mary's parish church on Easter morning. Christ is Risen! Alleluia!!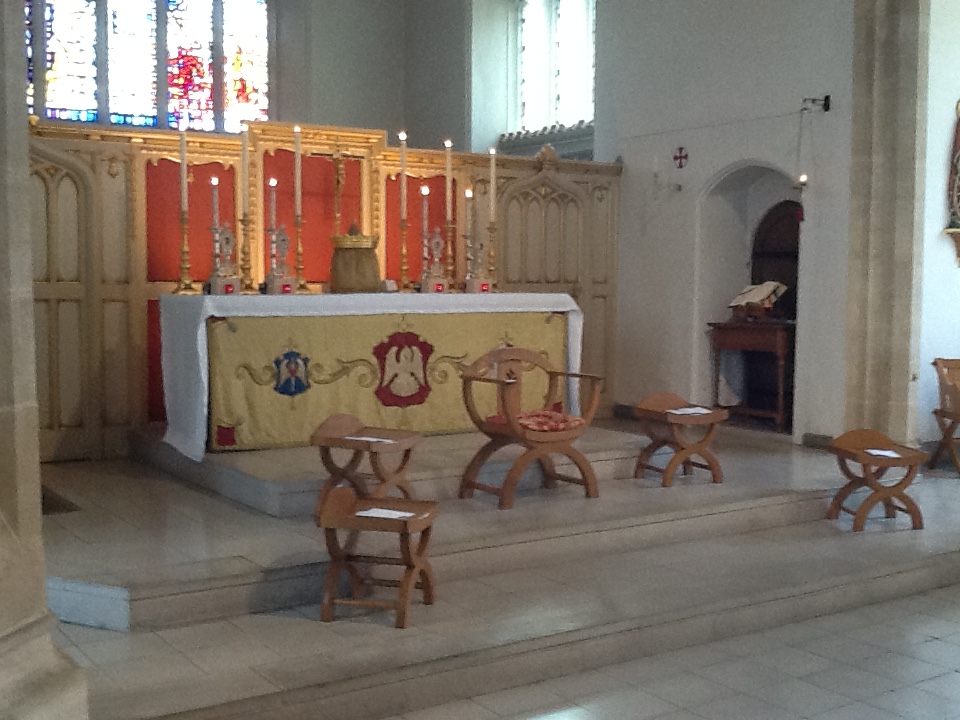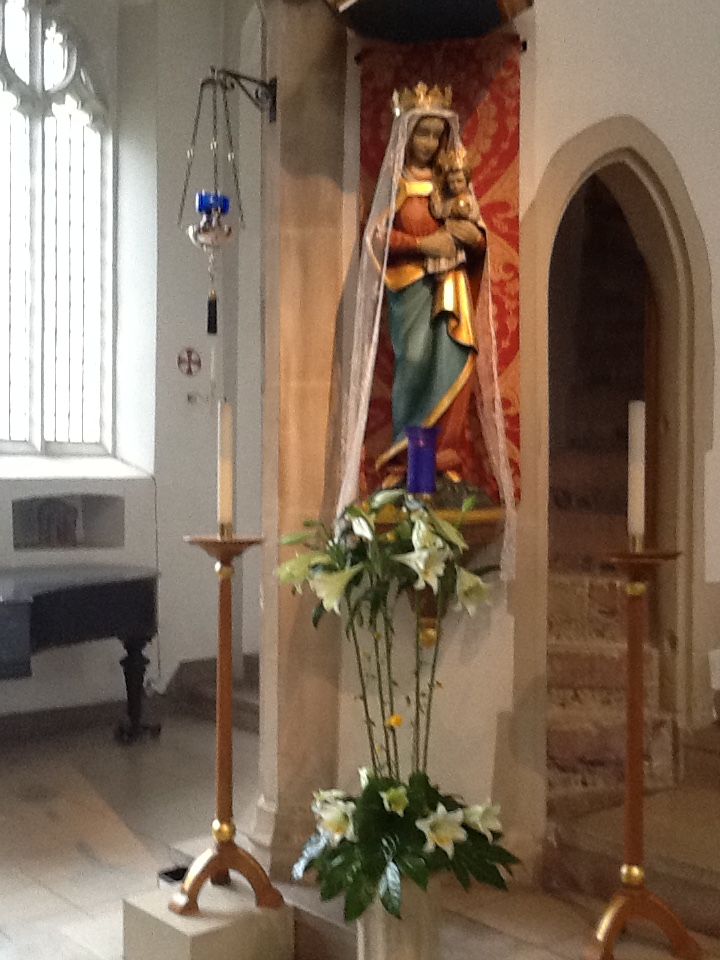 Easter Monday
It has been a wonderful Easter in Walsingham. The Easter Vigil was celebrated beautifully & the church looked superb decorated with Easter Lillies. Both the music & sermon were inspiring. A very nice party followed – I was impressed that the Churchwarden remembered that I do not like bubbly & produced a bottle of red!
At 11 am on Easter Day Bp Lindsay celebrated the Solemn Mass & preached a remarkable sermon. We returned to the shrine for the traditional lunch of roast beef & I discovered that Port Adelaide had lost their opening game by a close margin. I can expect the usual messages about Port losing when I am overseas! The day finished with a very special Service in the shrine, Maria Consolata. This comprised Evensong, Benediction & the crowning of the image of Our Lady Of Walsingham with a silver crown. For this Bp Lindsay ascended up 2 precarious sets of steps in a beautiful old cope, with attendants ensuring that he didn't fall or knock over candles! A drinks party followed, giving me a chance to say goodbye to many of my Walsingham friends.
Today I say Mass at 10 am in the Holy House, after which we drive back to London. 2 nights there, then I fly to SD for a 24 hour stopover before my flight back to Melb,