Tues May 9
As readers will have noticed, my website has been completely reconstructed. It is now very impressive – beautiful, in fact – thanks to George Dreyer. Unfortunately this meant I could not update my Blog until now. A brief report of the past 3 weeks follows.
After Easter I settled back into life at St Kilda beach. There were friends to contact & see, as well as the usual medical appointments that follow an overseas trip. It was very pleasing that during my 4 months away in the northern winter I never got the flu, & any coughs/sniffles never lasted more than 2 days…….surprising really! Each weekend I have been travelling interstate to see Port Adelaide play in Adelaide & Brisbane, as well in Canberra at Easter. Back in Melbourne I attended the traditional Anzac Day game between Collingwood & Essendon. Thanks to my friend, Jenni, I sat in the MCC members – but it was a disappointing loss. At least Port Adelaide have been winning & playing well 🙂
Now it is countdown to my trip to Shanghai to see Port Adelaide play an historic AFL game there this Sunday. I am one of 5,000 Port supporters going to the game & will meet up with several friends. A weekend of football festivities & an Aussie fair will keep us busy. It is my 5th visit to Shanghai & I am excited about it. I fly out on Thursday & return Tuesday.
Wed 17
I had a wonderful weekend in Shanghai. It was good to catch up with old friends & to see so many Port supporters in Shanghai – we seemed to be all over the city! On Friday I wandered around the French Concession area & on Saturday went out to the stadium. Saturday evening I went to the Vigil Mass at St Peter's Church, where I have attended before. A large congregation & a choir/band made for an enjoyable Mass. After that I went to the Bund for a get-together of Port people. The view as the sun set was stunning. So to Sunday & the game. I caught the metro at 9.15 am & at the interchange station came across a large number of Port supporters all decked out in Port colours – most of whom had no idea how to get there. So I said, "Follow Me" & instantly was group leader! Arriving at the stadium we headed for the Taste of Australia festival, where there was free wine-tasting & food. Here I caught up with various people, incl old & new Port friends 🙂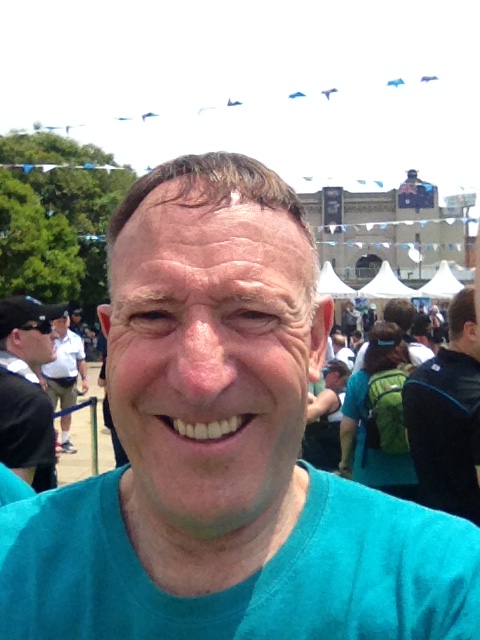 At the Taste of Australia with Lorraine, whom I have known since 1966 when I started the Cheer Squad.
Jiangwan stadium was built in 1935 for pan-Asian games, but has not been used in many years. There are primitive facilities & cement seats. It was a challenge for the AFL, but Port Adelaide did a great job with everything. The weather was warm for the game, which started at 1.15 pm. I was in the cheap seats in the original art-deco stand on the eastern side. Most of the Port supporters were in temporary stands at the southern end or in the 2 hospitality tents. You could not buy food or alcohol in the stadium & I wished I had got a hospitality ticket! Port Adelaide thrashed Gold Coast – but there were glimpses of good play that entertained the locals present.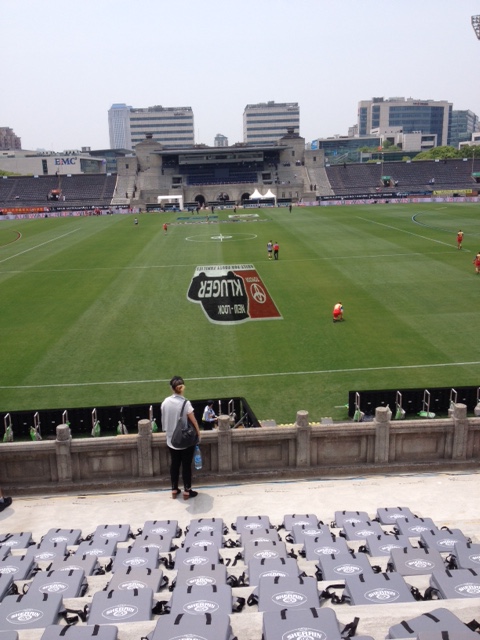 The scarf shows where my seat was……note the free cushions provided!
Next day I went for another walk around the area before going to the airport for my 7.15 pm flight back to Melbourne. I landed at 8.30 am yesterday & the cold weather was a bit of a shock after the heat of Shanghai. Now to celebrate my 70th b/day tomorrow. Today there was a chocolate b/day cake after Mass at All SS & tonight my neighbour, Beata, is taking me out to dinner. Tomorrow I say Mass for my SSC chapter & in the evening have dinner with my close friends, the Dalle-Molle family. On Sunday there is a buffet lunch for 30+ friends at Brunswick Vicarage.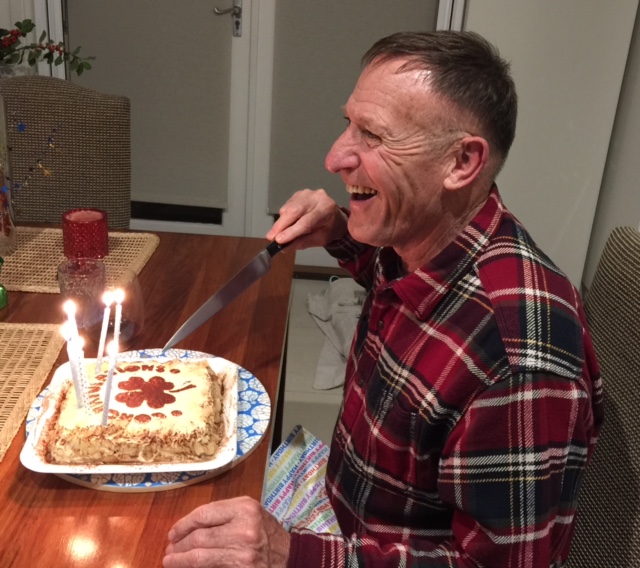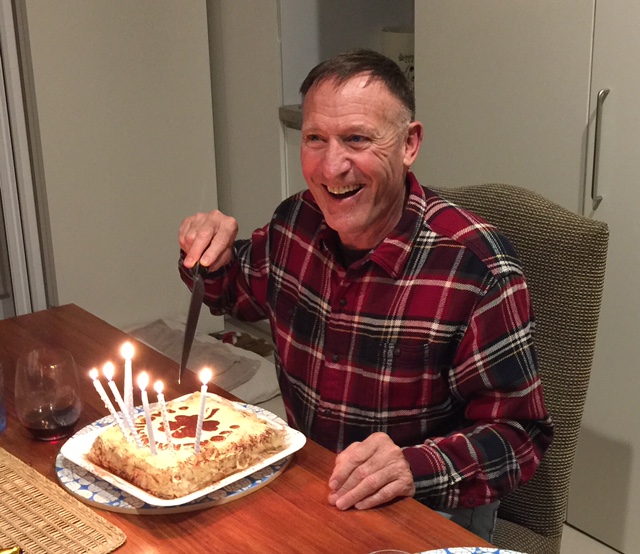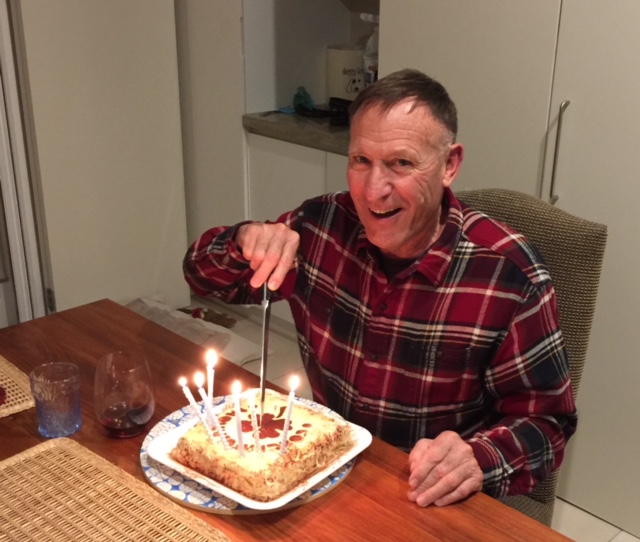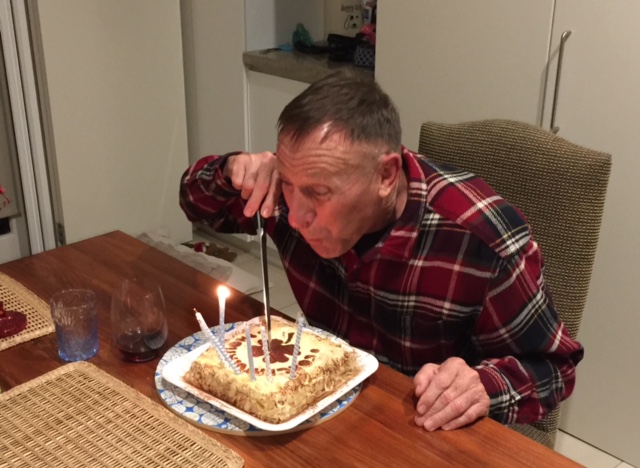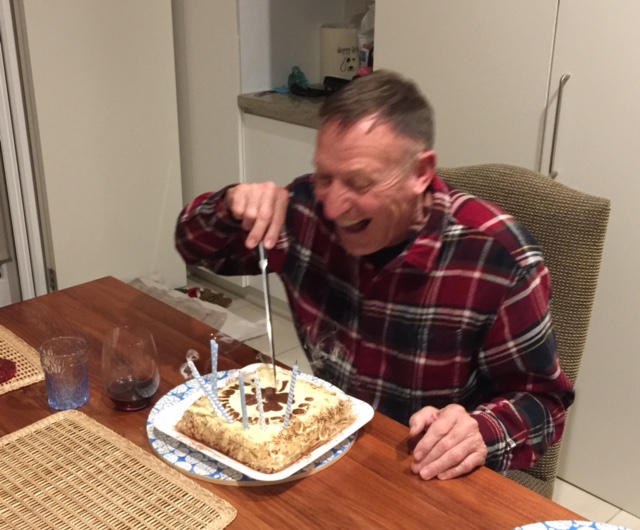 Tues 23
The celebrations for my 70th b/day have been wonderful. I had a lovely dinner with the Dalle-Molle family on Thursday evening – see pics above. Then on Sunday 32 friends crowded into the vicarage at Christ Church, Brunswick, for a sit-down lunch. My friend, Jeni, had worked hard to make it a success – incl Port Adelaide balloons at each table. A wonderful 3 course meal with wine & beer was put together by Jeni, with help from her daughter & a friend. It was superb. After I said a few words of thanks, Bishop Lindsay spoke very kind words about me. It was a lovely day.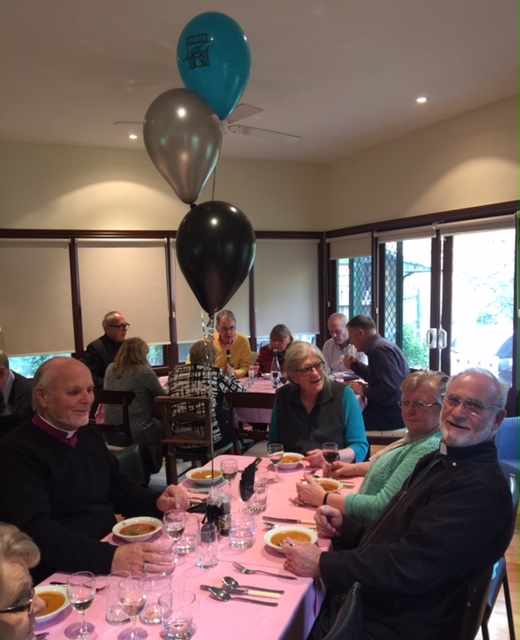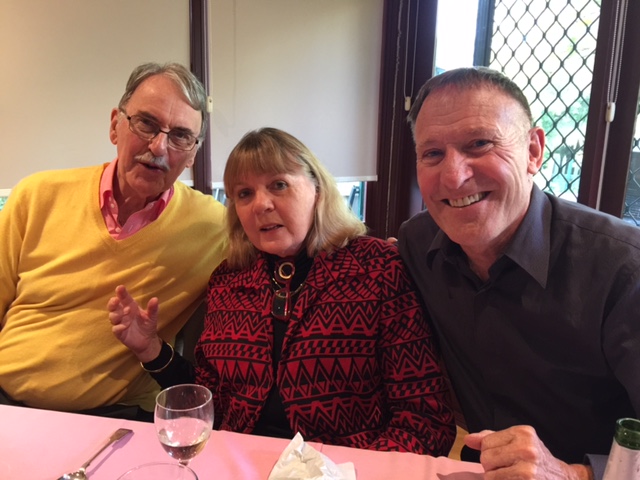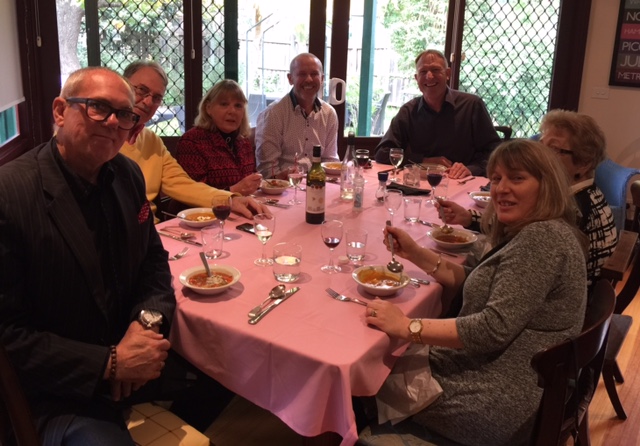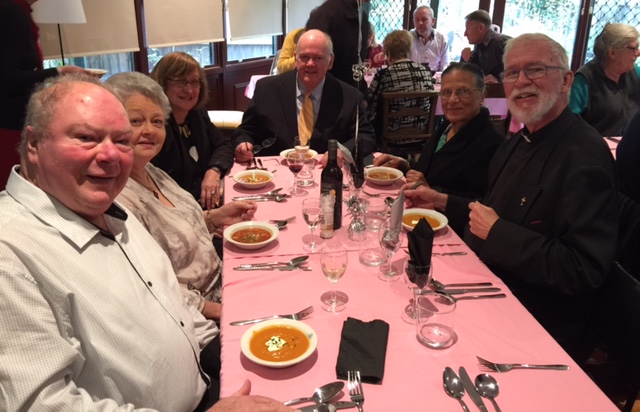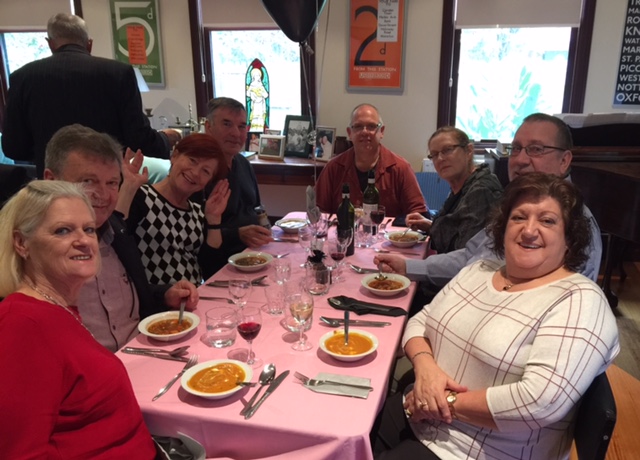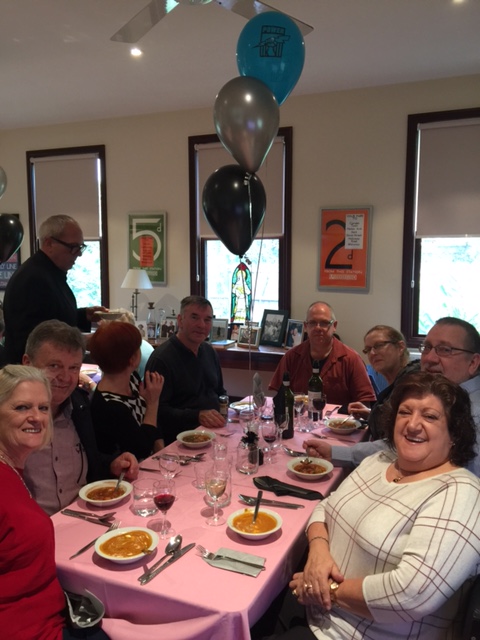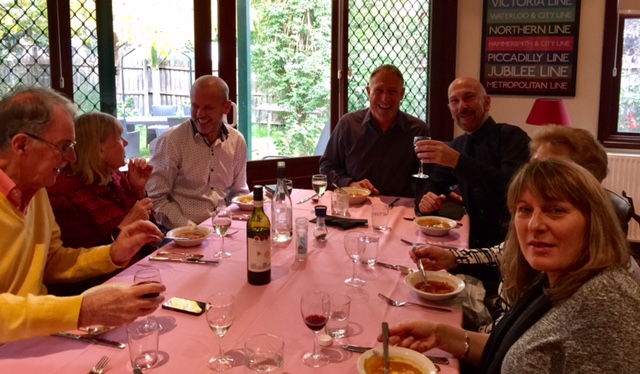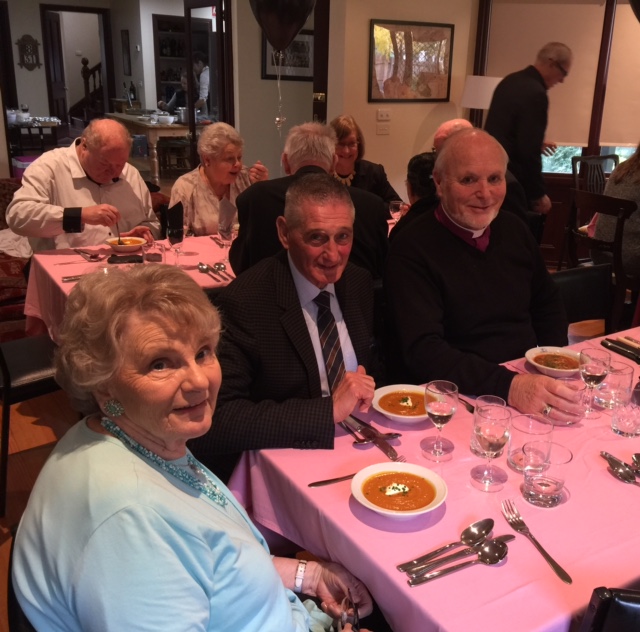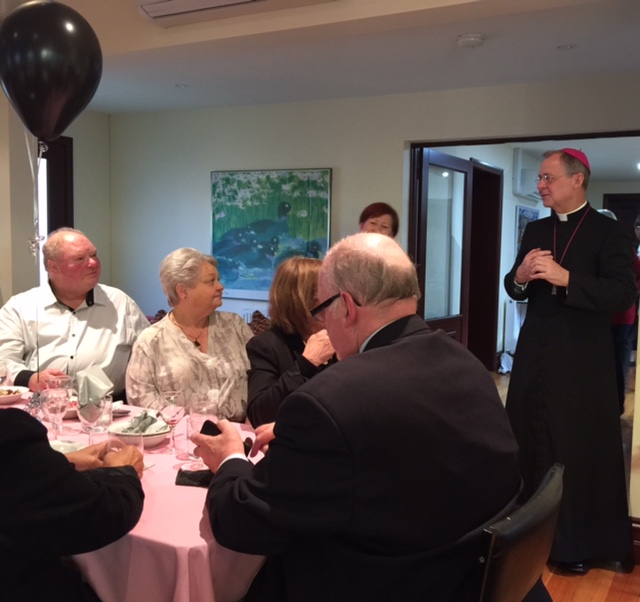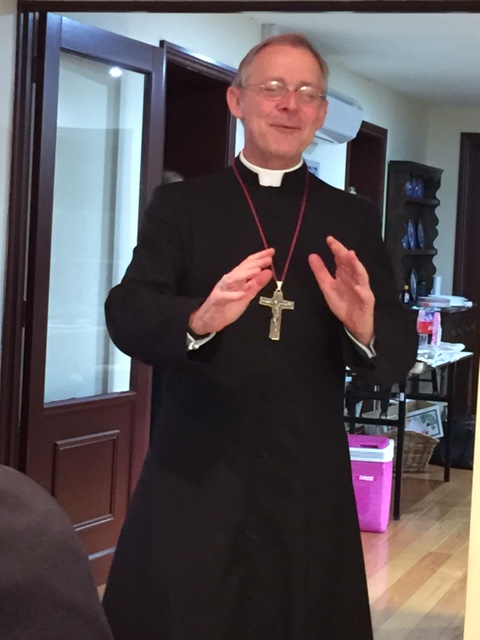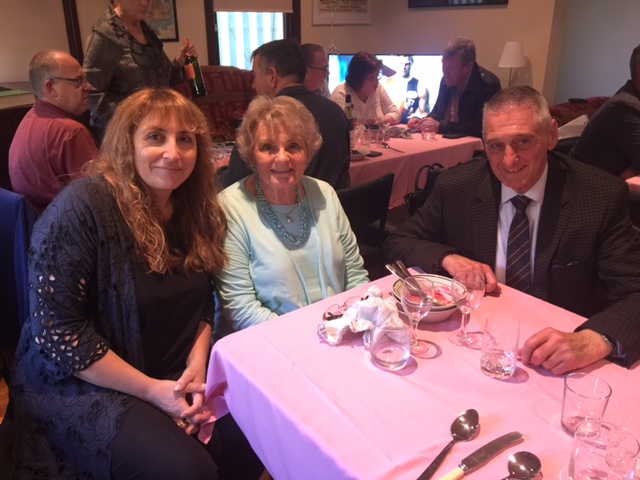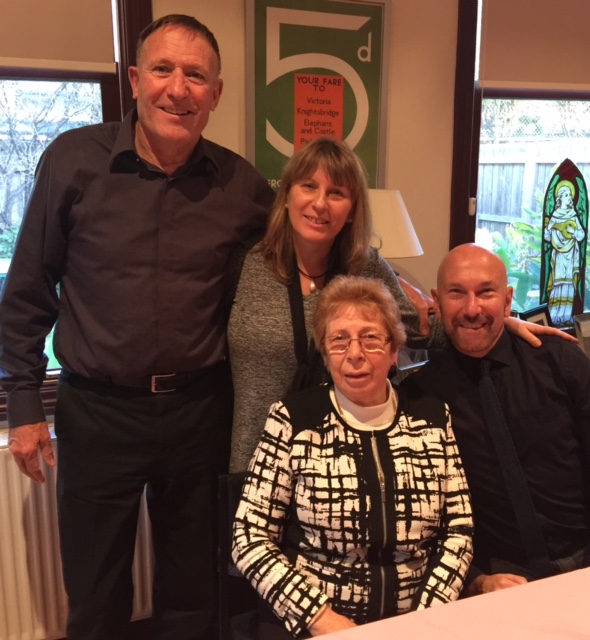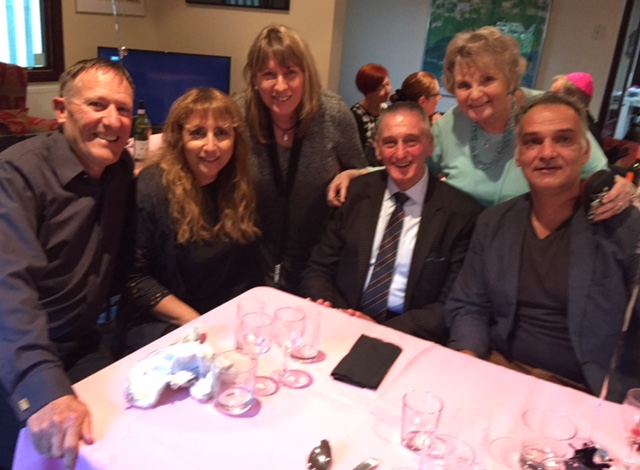 Wed 31
Since my b/day celebrations life has been back to normal, with lots of footy before I go back to the US on Monday 5th. Last Thursday I caught the train down to Geelong for the Port Adel vs Geelong game. Before going to the stadium I caught up with my friend from seminary, Tim. It was a great game -except we lost by 4 points – & I enjoyed sitting with lots of Port Adel supporters. On the weekend I went to more footy, incl the Dreamtime game on Saty night, when the AFL celebrates the indigenous community. It was another exciting game, preceded by a fantastic ceremony & watched by a record crowd of 85,000. After Mass at Brunswick on Sunday I returned to the MCG for the C/wood vs Brisbane game. This was not very exciting & I did not stay to the end.
Tomorrow I fly to Adelaide to see Port Adel play at home. This will be my last footy match for 2 months – so they must win! Friday I have lunch with my cousins as we celebrate 3 birthdays in May. I fly back to Melb on Saty. On Sunday I will go to Mass at All Saints, E St K for Pentecost & a special celebration to welcome their new PP, Fr Rene, whom I know. Then on Monday I fly back to SD, where I will spend 6 days before going to Europe for my usual Aussie winter escape.