Wed June 17
I arrived in SD last Monday. Unusually for me, I didn't get much sleep on the flight from Mel, so have been quite tired. Tomorrow I fly to Shaghai – the 4th visit to one of my favourite cities. I will spend 4 days there, returning to US on Monday night.
Wed 24
I had a relaxing time in Shanghai. From my hotel room I had a great view of one of the prominent temples – Jing'An, which has stunning golden roofs. Each day I explored parts of the French Concession I had not visited before. Always fascinating being the only anglosaxon on a subway packed with Chinese! For Sunday Mass I went to the old RC cathedral. It is a replica of Rone's Gesu Church & has been stunningly renovated inside.
Now I prepare to fly to Milan, Italy tomorrow. I will have the weekend there, then go by train to Genoa, where I am to be the Anglican priest at the Church of the Holy Ghost for July.
Mon 29
I have had a nice weekend in Milan. I was here 20 years ago & remember what an interesting city it is. However, I was too jet-lagged on Friday to do much exploring. The Central Station is certainly an impressive example of facist modernism. Saturday I went for a walk, exploring parks & churches. Sunday was a great day. I went to High Mass at the Duomo & it was an inspiring liturgy. The Milan diocese has its own Mass rite, called the Ambrosian Rite, with interesting differences in both rite & ceremonial. The Greeting of Peace is before the Offertory, as in Anglican rites, but was not over-the-top. I was particularly taken with the way they did the censings – complete circles for everything, incl the congregation.
Before Mass I wandered around the Piazza, taking in the interesting architecture. I discovered a small piazza nearby which had not been devastated during war bombing. It contained the old city hall & market. After Mass the Piazza del Duomo was buzzing. I walked to the nearby Church of St Maurizio. This is a former convent built on the side of the old city walls around 1500. It is an art treasure, with wonderful frescos by Bernardino Luini, a follower of Da Vinci. I sat there, taking it all in, then spent time looking at the wonderful paintings in both the church & sisters chapel. The old convent is now a museum of archeology, so I wandered around that, noting esp the tower of the old city walls.
I now have a relaxing few days before catching the train to Genoa on Thursday.
Sat July 4
I arrived safely in Genoa at 2 pm on Thursday. It was easy to get to the church from the station – but not much fun pulling a heavy bag uphill on cobblestone paths! I had been instructed to get the key to the priest's flat from a bar near the church, but the address of the flat was not in any of the papers I had been sent. The barman told me it was #18 & I worked out which street he meant. Fortunately the flat was labelled amongst all the door-bells.
It is a nice flat – much more spacious that the ones at Heidelberg & Taormina, where I have previously served in Europe. Thankfully there is a queen bed (the others only had single bed) & also a 2nd bedroom. After unpacking I phoned the sacristan to say I had arrived. Food & drinks had been left for me, so I had supper & went to bed early. Next morning I went down to the church & looked around. It is 140 years old & in need of care – a restoration project has been initiated. In the a/noon I went shopping, then explored the town. It is what one imagines………interesting old buildings in various conditions, narrow alleyways, lots of cafes/bars & some impressive churches (more inside than exterior). All the churches I explored contained beautiful art, reflecting Genoa's high point in the 17th cent. The Gesu has 2 significant paintings by Rubens & St Donato had similar valuable paintings. The cathedral is stunning.
Today I went for another walk in the early morning, this time down to the harbour. The weather is very warm, so long walks are not a good idea. In fact, the heat combined with jet-lag & walking up & down the city makes me tired & I am falling asleep by 8 pm! I have done all my preps for Sunday Mass & look forward to it tomorrow at 10.30 am.
My apartment – the 3 windows to left of the entrance

Church of the Holy Ghost

local park

Tuesday 7
Sunday Mass was okay, considering the heat & humidity at that time of day. Some of the regulars were away, including the organist – instead a young woman would play the violin to accompany the hymns. I sang the Alleluia – but everything else was said. The faithful sacristan was there early & we went thru the geography of the Service. The congregation numbered 10 adults & 4 young children: 1 Brit (sacristan), 1 Japanese (violinist) her Swiss husband, 2 Italians & the rest were from Africa. After Mass I invited people to stay for coffee. This got the response: This is Italy…….we have wine!
I relaxed at home for the rest of Sunday. Monday morning I was up early & went off for a long walk around the harbor. In the a/noon I walked up a large flight of steps at the end of the street & eventually found the church which has the shrine of Santo Volto. This is the pic of Jesus' face on a cloth that is well known in pictures & cards. I did not realize it had its home in Genoa, having been a gift to the Doge by the Emporer in Constaninople in 1362. I was pleased to find that Mass was about to start, so stayed. Afterwards I decided it was time to go out for dinner. Opposite the church is an outdoor bar/ristorante with huge umbrellas, so I decided to check it out. For 26 euros I got 2 drinks, a big plate of antipasto, some delicious fried veggies & pasta in pesto sauce. I even got to take the leftovers home!
This morning I went for another early morning walk, this time discovering & exploring more churches. It is good to walk before the heat descends & also interesting to see the Genoese going to walk or having coffee in the bars. This a/noon I plan to go on a nearby funicular. Because Genoa is surrounded by hills, there are several.
Old city gate

Duomo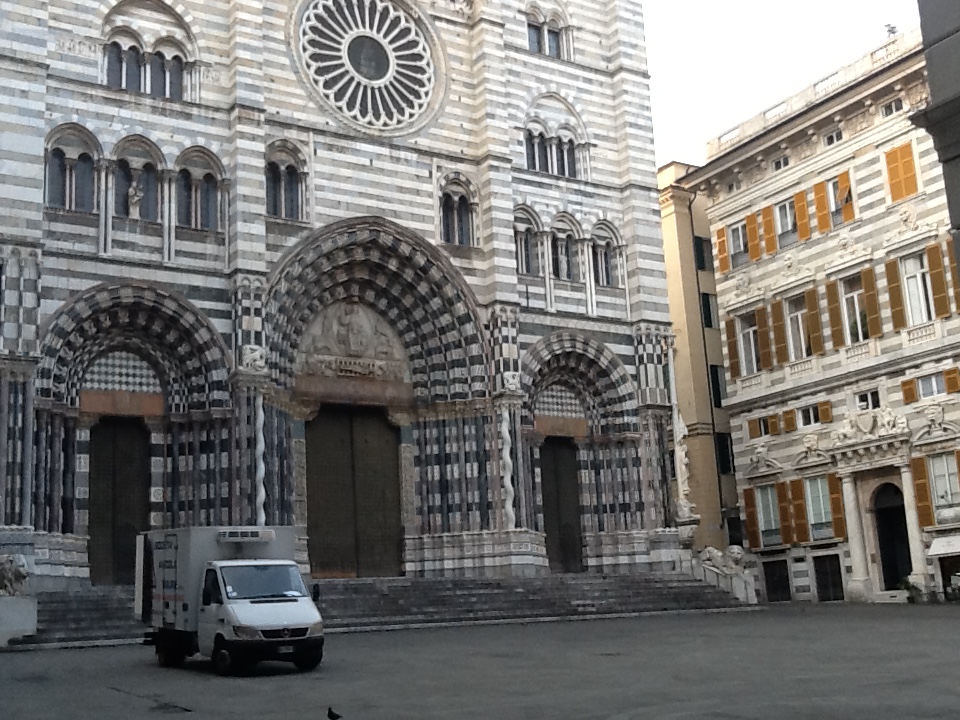 Fri 10
On Wednesday I said the usual 12.30 pm Mass. Only 1 person present! Lots of people who have asked for my prayers were prayed for. After Mass I treated myself to gelati & fruit at Caffe Gelateria Balilla, founded in 1934. The decor & atmosphere matched the icecream. On the way home I stopped at a bakery & bought a local delicacy, torta paschalina. This is a pie made with filo pastry stuffed with pesto, cheese & boiled egg & was delicious. Yesterday was an interesting day. In the morning I went to the Duomo museum. This contains ecclesiastical art-work, incl a huge silver ark for the Corpus Christi processions. There were also several dubious relics – in particular the holy grail & the plate that carried the head of John Baptist. Both were of exquisite beauty & obviously not 2,000 years old! My admission included entry to the diocesan museum, so I visited there in the a/noon. Wonderful paintings from Genoa's golden era of art were on display.
In the evening I joined some parishioners at the reception to celebrate July 4th. This is an annual event hosted by the U.S. consul agent & attracted 200 people – mainly Italians, but Americans & others were also present. It was held in the Palazzo Bianco, one of the imposing palazzi nearby. It is an art gallery these days, so I got a free tour. We gathered on the large patio above the street, which was appropriately decorated in red, white & blue! A string quartet accompanied a young soprano singing the Star Spangled Banner, followed by long speeches in Italian from the consul agent & the U.S. Ambassador. Then drinks & eats were served. I met some interesting people, including the local baseball team!
Mon 13
We had 15 adults at Mass yesterday. Most importantly, the organist was back, so we sang parts of the Mass. It was not so humid & in the a/noon I went for another walk. Saturday I caught a funicular up the hills & explored an old castle. I also visited S Giovanni di Pre, a 12th cent Romanesque church built by the Knights of the Order of St John. Attached to it is a pilgrim hostel, which was used by pilgrims embarking to the Holy Land. The previous day I had visited another Romanesque church of the same era, St Stefano.
This morning I attended a lovely Mass in the Duomo. There are so many churches in Genoa (much like inner London) & I aim to attend Mass in a different one each day – apart from my duties at Holy Ghost on Sundays & Wednesdays, of course. This afternoon I discovered a Romanesque church from the 12th cent – St Mary di Castello. It is on the highest point of the city where Genoa first started. In the 15th cent it was given to the Dominicans, who added a monastery with 3 levels of cloisters. As I was wandering around a delightful lady invited me for a tour of the cloisters & monastery. She spoke impeccable English & gave a wonderful tour, explaining the beautiful paintings, etc. She was proud of the church & pointed out that the monastery was paid for by the Grimaldi family, mentioning that although they live in Monaco they are really from Genoa!
Tues 14
Today I had a real thrill – a visit from a distant cousin whom I had not met. Tricia is the daughter of Joan Robinson, a cousin of my stepmother. I met Joan when I was living in London in 1975. I caught the train to Suffolk one Saturday & had a lovely meeting with her. I told her that I was returning to Australia to train for ordination & she was thrilled. Her father was Fr Hugh Severn, a C of E priest who worked as a missionary in South Australia 100 years ago. He lived on a boat & went up & down the River Murray, conducting Services in a small chapel on the boat & ministering to people in river settlements. The boat was called the Etona because it was paid for by Eton College. In 1989 I returned to England & visited Joan. I preached in her parish church & was a special guest in the town. I never met her daughter, Tricia, because she lived in South Africa.
In 1991 I had my 1st sabbatical. In the course of travels in Europe I visited Milan & met Tricia's daughter, Zilla. I got on well with Zilla – an outgoing young woman running a horse stud farm for a rich Italian. My diary records that I rode on a 1million Lira horse! I was subsequently invited to her marriage with Kurt – a 3 day event in a South African game park! I didn't get there as I had already used up my annual leave that year. A few years ago Joan died & I made contact with Tricia thru the priest who ministered to Joan, Fr Andrew Mitcham – an old friend who is now Vicar of Walsingham.
Tricia subsequently moved to live with Zilla. They have a lovely home on the shore of a lake north of Milan. I was eager to contact Zilla & see if I could catch up with them whilst I am here in Genoa. Fortunately they were able to visit me in Genoa today. It was wonderful to meet Tricia at last, & also Kurt. I bought some Genoese cakes, incl a chocolate tart. We had a lovely reunion.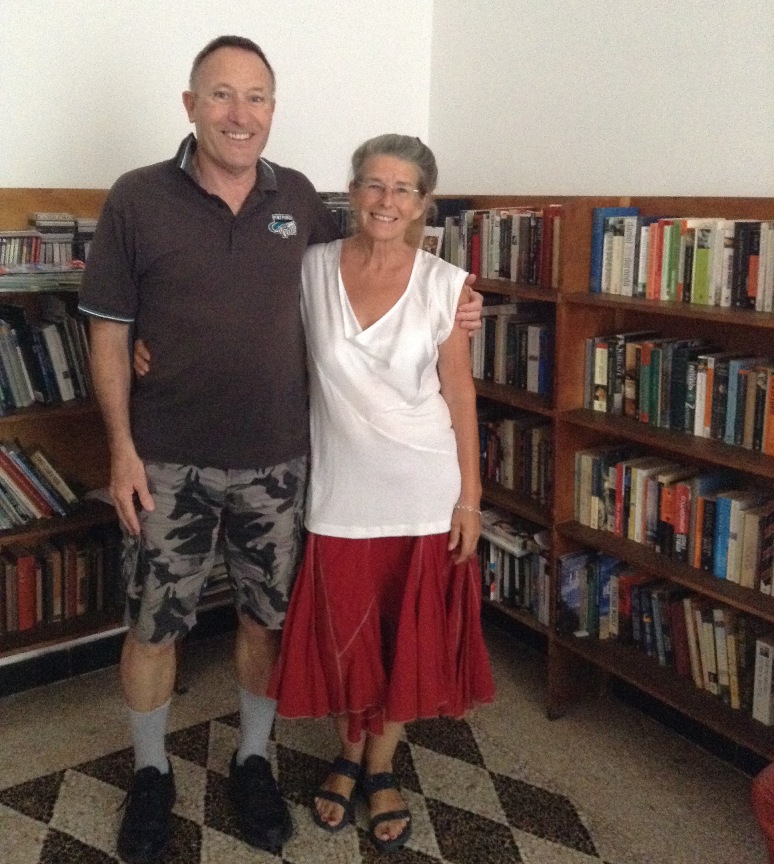 Tomorrow after the 12.30 pm Mass I catch the train to Florence. I will be there 2 nights & returning to Genoa Friday evening.
Saty 18
The train trip to Florence was lovely, going right along the coast to Pisa, then across to Florence. The ocean was a brilliant blue & as we crossed Tuscany the scenery changed. I arrived at the Florence station at 6 pm & then caught the hotel shuttle bus. The traffic was crazy! The hotel is in the suburbs & took 25 mins – but it has the advantage of being modern. From my room the views over the countryside were wonderful. After settling in I went to the exec lounge to relax…..fortunately happy hour went until 9pm 🙂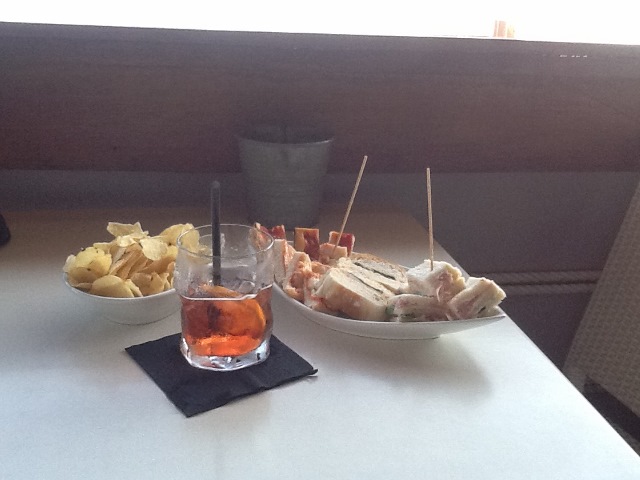 Next morning I had early breakfast, then caught the shuttle bus into the town centre. It was quiet & not crowded – great for exploring the streets. Discovering there was Mass in the Duomo at 9.30 am I attended. Not only was the Mass nice, it gave me an opportunity to explore the sanctuary end of the Duomo. Florence not only has marvelous churches, buildings & galleries, the churches all contain wonderful art. Attending Mass not only gives you an opportunity to pray in these wonderful churches – which they were built for – you see parts not open to visitors, do not have to pay admission & there are no tourists!
Coming out after Mass the tourists had descended! Groups with their flag-bearing leaders & families. There were the usual Americans – but mainly Chinese & Italians. I avoided all the places they were frequenting & continued exploring. At 11 am I caught the bus back to the hotel, as more tourists descended & the weather heated up. In the a/noon I returned to the town & spent a wonderful hour in St Maria Novella. Marvelous to look at stunning altars, paintings & crosses from the Renaissance. As well as more wonderful works of art, there is an historic cloister. The crowds were down at this time of the day & I enjoyed more exploring & churches.
Friday morning I had another early breakfast & was on the 8 am bus to the town. This time I attended Mass in the Servite church. The Servites were founded in Florence in the 13th cent & their church has a famous shrine of Our Lady. After Mass I explored a bit more before catching the 10 am bus. I checked out of the hotel at 11.30 am & caught the bus back to the station for my trip back to Genoa. Once again the views along the coast were beautiful.
Now back in Genoa & ready for Mass tomorrow.
Mon 20
Visitors from London, Scotland & Hong Kong swelled the numbers at Mass to 30 adults. It made a difference to the atmosphere & singing – as well as my sermon, I think. Or maybe it's because I am feeling part of the parish now. In the evening a lovely breeze appeared – so I went for a walk around the harbor where there are beaches. One area was covered in red & white striped umbrellas, sheds & chairs. I noticed several bars/cafes serving aperitivo & made a mental note for future visits.
Tomorrow I having a/noon tea with an old school friend of Teri, a parishioner of All SS. She is from Genoa, so I look forward to going to one of the well known cafes here 🙂
Thurs 23
I have had 3 excellent experiences in 3 days. My meeting with Teri's friend, Susy, on Tuesday was fantastic. It seems she is a former member of the European Parliament, running as an independant. And what a personality Suzy has……I was both entertained & enthralled! As well as working in politics, she is also a Dr & was about to work for a month as a Dr on a boat between Genoa & Sardinia. Her life & enthusiasm reminded me of myself. We drove to a famous cafe & Suzy calmly double-parked in the street out the front…..another Italian experience for me 🙂
Wed morning I went for my early morning walk up the hill to a train station. This is where a narrow gauge railway runs 24 k. To Casella. It is a wonderful trip, but unfortunately is currently closed – a gr8 disappointment to me. However across the road was an amazing castle. It was at the junction of the old city walls, which I enjoyed exploring. But I was rather disappointed when I discovered that it was called Castle Mackenzie & only built in 1906!
On my early morning walk today I discovered a hidden church on a salita (steep steps) near where I live. It was 6.40 am & Mass had just begun, so I ventured in. 12 nuns were offering Mass in a beautiful chapel – a sung Latin Mass with hymns. Afterwards I asked a friendly nun, Parla Inglese? A novice was summoned who spoke English. I discovered that the community is the Daughters of St Joseph & Mass is offered every day. I researched them when I got home & discovered they were established in Genoa in 1517 & are only found in Genoa. Their emphasis is on prayer & the liturgy combined with work with young people & reminded me of the sisters at Walsingham.
Sunday 26
Today was my last Sunday at Holy Ghost Church & it was very nice. During the Mass I blessed the wedding of a young African couple. Wedding blessings are quite common in European Anglican churches. However it turned out to be more than a simple blessing! They arrived dressed as bride & groom accompanied by family & friends. They also had rings to bless & exchange. Fortunately I have done enough weddings to do vows, bless & exchange rings & say prayers for their love & fidelity!
After Mass we had a parish lunch. This was the biggest meal I have had since I arrived, as I have been content with simple apperitivo if I decide to go out to eat. Very delicious it was, too. And nice words said about my ministry with them. I am here until Thursday, so my last Mass will be Wednesday at 12.30 pm, usually attended by the 4 faithful stalwart workers of the church. Thursday I catch the train to Milan.
Sunday Aug 2
My Italian adventure has come to an end & tomorrow I fly back to the U.S. My final night in Genoa proved eventful. At 1am I heard a noise in the kitchen. When I checked it out, there was a mouse on the sink! It seems that when I was mopping & cleaning the floors on Wednesday I had inadvertently knocked a cover off the wall, exposing a hole for mice to come thru.
On Thursday I caught the train to Milan, staying there overnight, & on Friday I caught the train to Padua. I wanted to finish my time in Italy by visiting the great Shrine of St Anthony. Exactly 67.5 years after I was given his name in Baptism I finally did it. I set out on Saturday morning & did the official pilgrimage. This began with prayer, then visiting the saint's tomb, then the relics, then the Blessed Sacrament, then making confession & finally receiving a personal blessing. I explained to the priest (who was African with a great accent) that I was also a priest & was named Anthony – so he gave a very personal blessing to "my brother Fr Anthony". I felt very blessed indeed.
The church itself is magnificent, in a Byzantine style. The shrine of St Anthony is very ornate, which I felt a bit much for a saint who loved poverty & whose shrine is served by Franciscans. The visit was a wonderful experience & afterwards I spent several hours wandering around the town. Padua is very lovely & was not crowded. I finished by having coffee in the famous Cafe Pedrocchi. It is built like an Egyptian temple & has never closed its doors since it was opened in 1831.
The hotel was 20 mins out of the town, as in Florence, & once again the hotel had a shuttle bus. However, because I did not want to be tied to a return time I caught the public bus back to the hotel, which went thou suburbs & villages like the bus that goes from Norwich to Walsingham. I guess if you are staying in a modern hotel in an old Italian town it will be out in the suburbs! I walked to the local church for Mass Saty night & this morning caught the train back to Milan.
Saty 8
I am now in Munich, having spent 2 days here exploring sites associated with WW2. This has been a project of mine since I retired – hence my regular trips to Germany. This interest arose when I was learning German in High School & the Berlin Wall was erected. The story of Count Claus von Stauffenberg added to this interest & I visited his home town in 2011. I have been assisted in my adventures by some excellent books I bought in Düsseldorf in 2012. These books contain maps, historical pics & notes. I still have more of Munich & Berlin to explore. Today I catch the train to Berlin, where I will spend 5 days.
Tues 11
It is great to be back in Berlin. The staff at the Hilton welcomed me back & once again I was given the huge suite overlooking the square. Sunday a/noon I set out on my exploring of Cold War sites. I caught the train to Treptower Park where there is a huge Soviet memorial where over 7,000 soldiers are buried. I came across yet another Wall watchtower & the little red brick path denoting where the Wall was. After this I walked back thru a very long park to Potsdamer Platz. This park is where the railway lines to Potsdamer Platz station used to run. Berlin, like London, had several main stations for its distance railways which were not interconnected. The WW2 bombings & subsequent building of the Wall meant some stations fell into disuse & ruin. Potsdamer Platz was one & I remember going there in 1974 & seeing the Wall turn into it no-man's land. I also remember riding on the U-bahn thru the ghost stations which had been closed by the E Germans. I have been interested in Berlin's railways ever since!
On Monday I caught the train to Wansee – one of Berlin's beautiful lakes. The trip took 45 mins. From the station I walked to the Wansee conference centre. This is the villa where the Nazis met in 1942 to decide on the "Final Solution" to the Jewish "problem". It is a beautiful villa on the lake & now houses a museum of that conference & the Nazi's antisemitism in general. It was sobering to stand in the beautiful grounds of the villa & reflect on the evil that was planned there.
After that I caught a bus to Glienicke bridge. This is the bridge that went over the lake where the border was & where the Russians & Americans swapped spies during the Cold War. I walked over the bridge & found more Wall memorials. I had now been walking for over 4 hours & I headed back to the hotel.
This morning I caught the train to Wansee again, but this time got off at the station before it. My purpose today was to walk to Schwanenwerder Is. This small island was a very exclusive area for wealthy Germans & the Nazis moved in during the 1940's. They built villas for Hitler, Goebels & Speer. These were used by the Americans after the war & then fell into ruins. Only one old mansion remains, surrounded by impressive houses for the wealthy. I then caught the bus to Schloss Babelsberg, walking from the bus stop thru a former E German enclave that was stuck in the American Zone. Babelsberg is a vey impressive castle – but alas it was closed for renovations. It is now on my list for future exploring! After another 3 hours of walking I returned to the hotel.
Wed 12
This morning I went to the laundromat (I have been here a week now). Glad to find the prices had not changed! In the afternoon there was time for a final Cold War exploration & I went for a guided tour of the former Stasi prison. This was chilling as we were shown terrible cells, fully padded isolation cells & interrogation rooms. What those political prisoners suffered is unimaginable. Here was this prison in the middle of suburban housing – yet it was not marked on any maps.
So my exploration of WW2 & Cold War sites has come to an end. Tomorrow I catch the train to Frankfurt, staying there overnight. Friday I go to Munich & on Saty I fly back to the U.S.
Sun 23
I arrived home safely on Wed 19th. All the flights were good & I saw some delightful movies, incl several new releases. It was a little cool in Melbourne, but the sun was shining. When I got to St K the bay looked stunning in the morning sunshine. A few busy days awaited me, with the usual things (shopping, banking, dry-cleaning, Dr) + several jibs I had left notes about for myself. I also had to submit my tax return. This was a little complicated, so I saw my old tax accountant join Friday. I have not had to use him since I retired – & he didn't charge me 🙂
I went to the symphony on Thursday night, but was jet-lagged & & kept on nodding off. So I left at interval, missing Richard Strauss' Ein Heldenleben. I made a mental note not to return from o/s trips the day before a concert! Friday night Port Adel were playing Hawthorn here in Melbourne. Altho I am always hopeful, like everyone else I expected Hawthorn to beat us. It was not to be. In fact Port played exciting footy in a tough game. No chance of jet-lag overtaking me & I stayed to the end, enjoying the victory. I now have a sore throat from all the cheering! On Saturday I went to the MCG to see Collingwood play arch-enemy Richmond, starting with lunch in the Collingwood dining room. This was in marked contrast to the previous night…..Collingwood were woeful. I was pleased to leave during the last 1/4ter!
Now to go to Sunday Mass at All SS & have a relaxing a/noon watching footy on TV.
Saty 29
A week later & I am on the Gold Coast for the w/e. Since I retired I have been visiting the Gold Coast every year to see Port Adelaide play the GC Suns. It was raining when I left Melbourne yesterday & sunny when I arrived here. Another sunny day today – but the forecast is for rain. Last year when I came up there was a huge downpour during the game & I got soaked. This year I brought winter clothes with me!
Fri Sep 11
Am remembering my American friends on this anniversary of 9/11. I remember it as if it were yesterday.
Have had a pleasant 2 weeks. It rained all thru the game against the Gold Coast, but we won. On the Sunday I caught up with an old friend from my St Mark's days, Jenni, who moved to the Gold Coast in 2001. So much to catch up on & talk about 🙂
Last weekend I went to Adelaide for Port Adelaide's final home game. Unfortunately my phone company blocked my cellphone because I had gone over my monthly limit – so I couldn't call anyone. There was a carnival atmosphere at the ground, even tho we didn't make the Finals. At the end of the game something happened I had never seen before. As usual, all the players went to the edge of the stadium to greet the fans – then they walked into the crowd & up the aisles, signing autographs & having selfies taken. It was fantastic, more-so because it was unexpected. As the crowd pressed around I found myself next to one of our stars, Jay Schulz. When I got back to the hotel I switched on the TV to see the post-game coverage….& there was me, standing next to Schulz with a big smile on my face 🙂
On Sunday night my friends, Nigel & Ali, took me out for dinner in Adelaide's Chinatown. It was father's day here in Australia & during the meal a woman was navigating the tables offering Lindt chocolate bars to all the fathers. When she came to our table Nigel mentioned that I was a priest, a spiritual father! So she gave me a chocolate bar. It was called Divine Hazelnut 🙂
This week was mainly catching up with friends for meals. On Wednesday I caught the train to Castlemaine, 90 mins out of Melbourne. At the station I boarded a steam train – a tourist train run by volunteers which goes to nearby Maldon. We had 2 hours at Maldon & I enjoyed exploring the town. I do love our old country towns.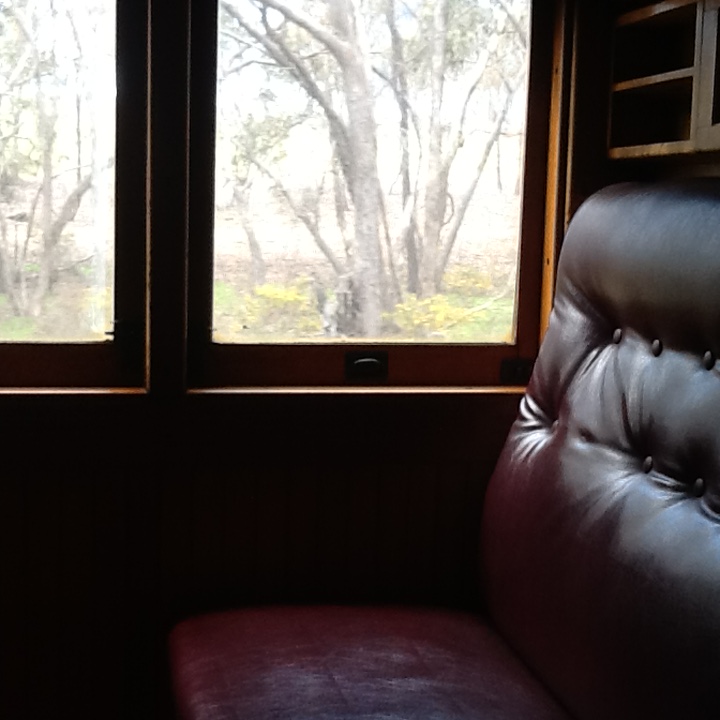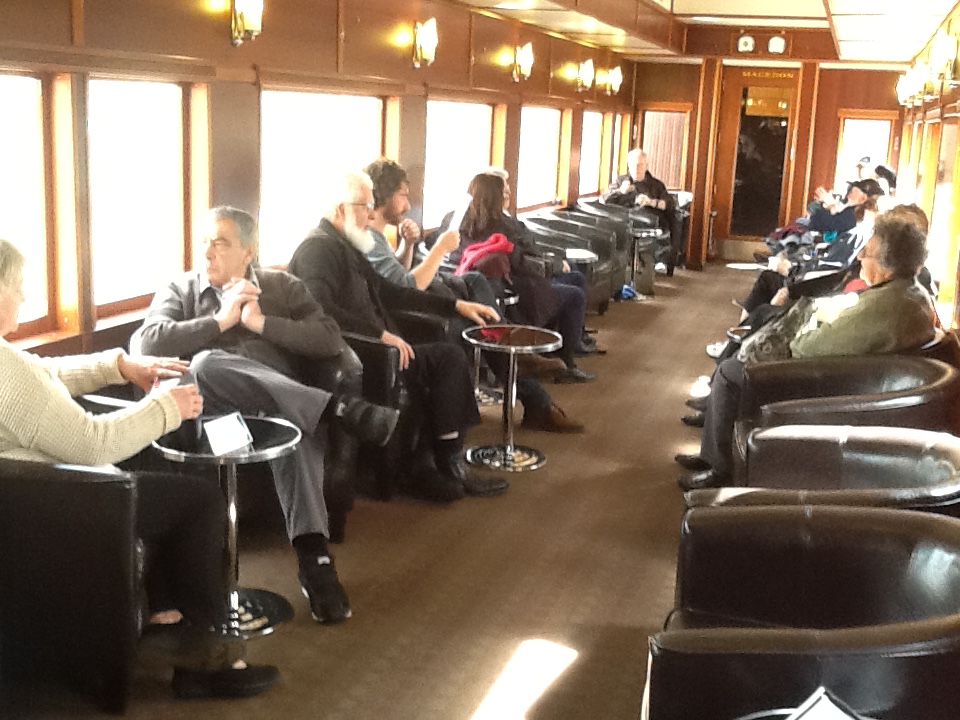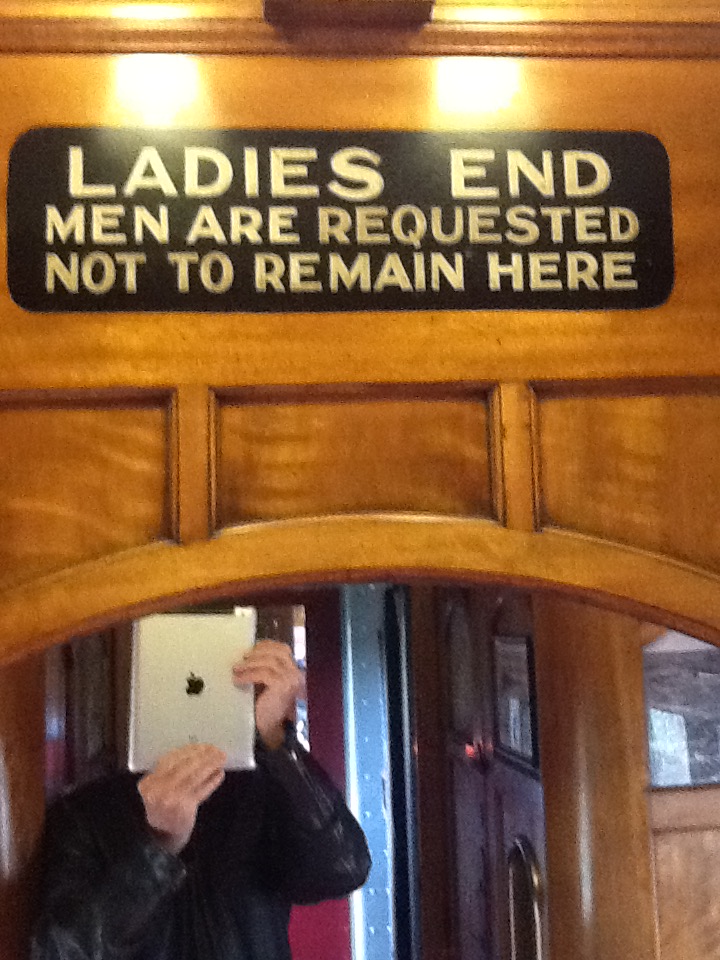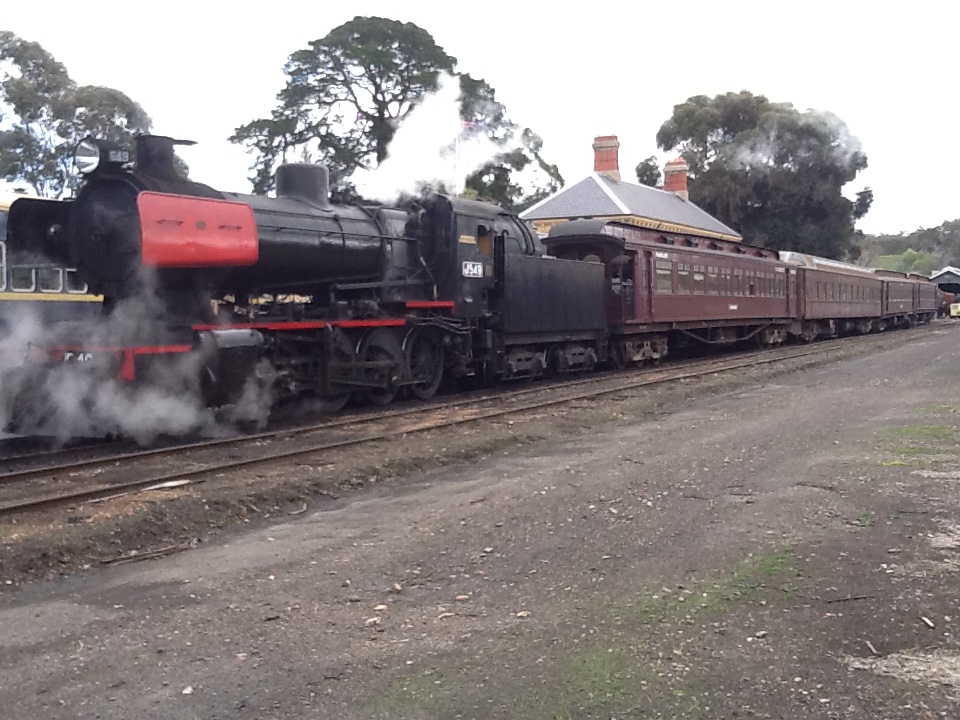 Now the weekend is here & that means the AFL Finals. I will attend the 2 here at the MCG & watch the other 2 interstate ones on TV. It's a footy weekend!
Mon 14
Tomorrow I am going to Ayers Rock (Uluru). I was prompted to do this when my SD friends, Ed & Judy, came to Australia a year ago & stayed in St K for a month. During that time they went all over the country, incl Uluru. I had never been to this very significant place & decided that I must go there. So I am!
Fri 18
I had a wonderful trip to Uluru. It started with my flight from Sydney to Uluru. I was the only person in Bus Class & was served by 2 wonderful flight attendants, Jessica & Kelly. These 2 lovely young women were some of the best FA's I have experienced. They made the fight so much fun. Flying into Uluru was amazing. The rock just looms out of the red desert. I was transfixed at the sight.
The resort has various forms of accommodation as well as a camping ground, pub & shops – all in a circle. I stayed in the cheapest hotel, which was a series of lodges & quite comfortable. Tuesday I watch the sunset over the rock from 2 different look-outs. Having been up at 4 am for my flight from Melbourne, I slept very well that night.
Wednesday I was up early & back to the main look-out to watch the sunrise. At 8.30 am I caught the bus to the rock. It is amazing to see it up close, an experience I easily describe as awesome. Like most people, I set out to walk around the rock, stopping to take selfies & look at lagoons & other interesting features. The 10 km walk took me 2.5 hours. After completing the walk I sat in a shelter just looking at the rock.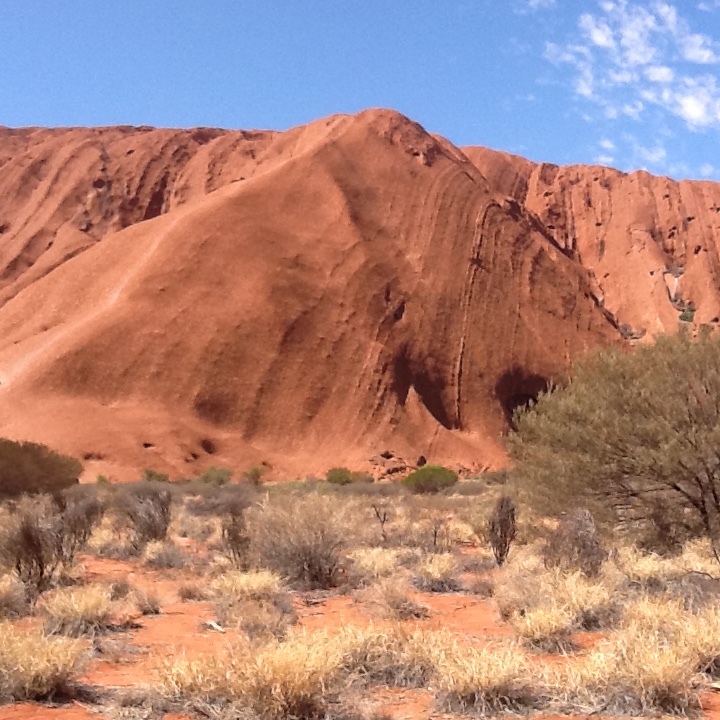 Returning to the hotel I went to a performance of an aboriginal legend & explored the galleries & gardens. In the evening I had dinner at the pub, where you cook your own BBQ in a typical Aussie setting. Once again I had a good sleep. On Thurs I flew back to Melb via Sydney. It was a lovely surprise to find Jessica & Kelly on my flight & they greeted me like a long lost friend! Once again I was the only person in Bus Class & they certainly looked after me. It was a lovely finish to a wonderful trip.
Thurs Oct 1
After my wonderful trip to Uluru I was back in Melbourne for 2 weeks. On Sunday 20th I went to Mass at Christ Church, Brunswick. My old friend, Bishop Lindsay Urwin, has moved here from Walsingham to be Vicar of the parish & I will be attending Mass there from now on. Last w/e I made a quick trip to Adelaide to have dinner with a friend from 50 years ago visiting our home town from the UK. The visit gave me an opportunity to have lunch with my last surviving uncle & auntie. They are moving to Queensland to live with their daughter at the end of the month & this was probably my last chance to see them. Now to prepare for the AFL Grand Final on Saturday – I have a ticket, as usual. Then on Monday I fly back to the US on my way to Walsingham to assist at the shrine for 3 weeks. I look forward to returning & seeing all my friends there – but it will be strange now that Bishop Lindsay is not the administrator. Will be keeping the Blog updated, depending on internet connection.
Sat Oct 10
I arrived safely in London on Thursday. I was quite tired as the flight was via Chicago, which doesn't allow for much sleep. A new experience was using the e-passport gate at Heathrow. Earlier this year I was enrolled as a frequent traveler by the UK government & my Aussie passport is now programmed to use the gates that UK & Euro residents use. It took all of 1 minute to pass thru – no paperwork or stamp in my passport! I was greeted by a sunny day & this weather has continued.
It was good to be back at St Mary's, Bourne St. They are waiting for a new Vicar, so I may not be staying here in the future. Fr Bunker, the locum, welcomed me & had the guest room all ready. After unpacking I hit the sack & had a blissful 4 hours sleep. After that I went for a walk in the sunshine, visited the bank & my favourute supermarket. The day concluded with 6.30 pm Mass & an early night.
Yesterday I walked to Westminster to meet with the staff of the Diocese in Europe. We discussed possible positions for me in 2016. In the evening I walked to Lupus St, Pimlico, where I lived in 1975. Had a beer at the pub & bought fish & chips at the local shop. The food is still terrible! Tomorrow Joan will join me for Sunday Mass & then we will have lunch somewhere. On Monday I catch the tube to Joan's & we will drive to Walsingham.