Mon Aug 18
I arrived safely home on Thursday. It was a sunny day in Melb & it was good to be back in St K. I prefer St K in winter because there are less visitors on the streets & the beach looks lovely. There was, of course, a pile of mail & other matters to be attended to. I was tired by early evening, but had dinner with Robert, who looked after my home  whilst I was away. Friday was a busy day, with many things to organise. In the evening I attended High Mass at All SS for the Feast of the Assumption. It was a lovely Mass, with the Melbourne Bach Choir singing Schubert's Mass in G Major (written when  he was a teenager). There was a very good congregation – & a wonderful warm supper followed.
Saty morning I was up early & on my way to the Gold Coast for Port Adel's game against the GC Suns. Unfortunately Melb airport was covered in fog & my flight was delayed 2 hours. We landed at 1 pm & it was raining – very unusual for the GC. I was at the hotel by 1.45 pm & after checking in, was on the bus to the stadium. I got there 15 mins after the game started – just in time to see Port's 1st goal, which was magnificent in  the rain. Port won, leading to comments that I was back – & so was Port Adelaide 😉
I spent the rest of the w/e relaxing & enjoying watching the footy on TV. So life is back to normal! Sunday a/noon the sun came out & when I left this a/noon it was back to warm GC weather. Now a quiet week awaits me as I adjust to being back in St K & catch up with friends.
Tues 26
On Friday I flew to Adelaide to see Port Adelaide play Carlton – our 1st Friday night game this year. It was a gr8 victory & a wonderful atmosphere. The rest of the w/e was spent catching up with old friends from 30-45 years ago. Saty I caught the train to Elizabeth for lunch with friends from St Catherine's 30 years ago. Saty night it was dinner with Nigel & Ali, who visited me in SD & just moved into their newly renovated home. Sunday lunch was with my 2 cousins & last-surviving uncle & Sunday night was dinner at Port Adel with St Paul's friends. Lots of reminiscing – & perhaps too much eating!
Back to Melb & a busy week. Thursday 2 friends from SD arrive. Ed & Judy are gr8 travellers & we have kept in contact since I retired from All SS. This is their 2nd visit to Melb & they have rented an apartment near me for a month, as a base for travelling. I am taking them to the footy on Friday night & have been emailing them intros to Aussie Rules. Hard to explain the laws, but I said that Hawthorn vs Collingwood was like La Jolla playing City Heights! I also forewarned them that Hawthorn's club song was to the tune "Yankee Doodle Dandy" 😉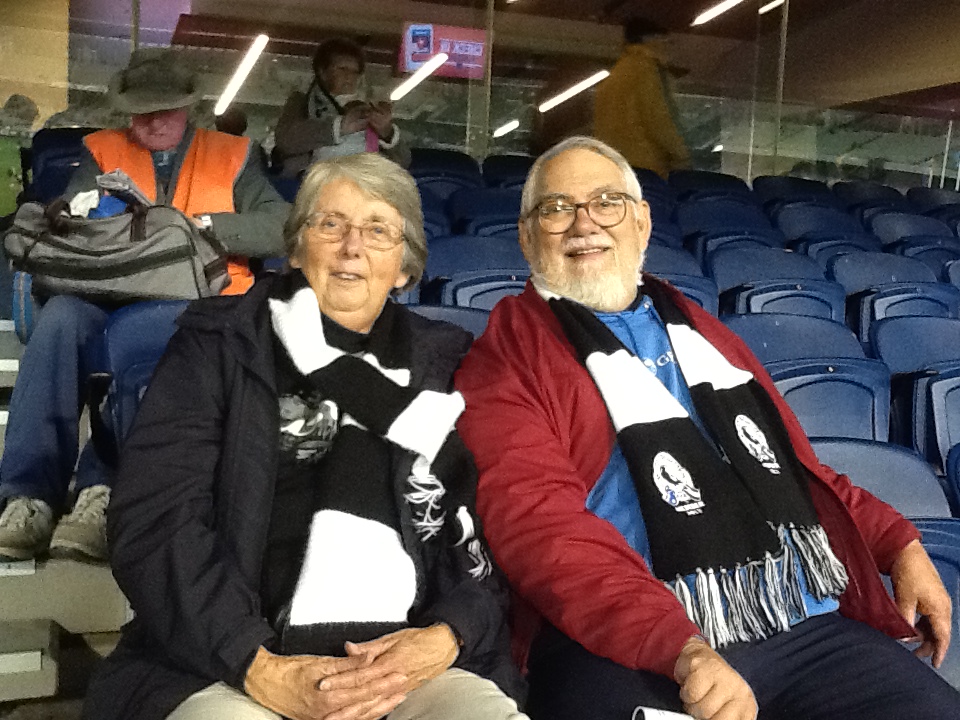 Ed & Judy at the footy an hour before the game – wearing Collingwood scarves supplied by me 😉
Thurs 4
Ed & Judy enjoyed the experience of the footy on Friday night. They also enjoyed going to High Mass at All SS, E St K on Sunday. Afterwards I hosted lunch at my condo for them & another couple who are good friends, Tony & Fiona. Lots of chatting about travel – & it must have been a good lunch as they all stayed until 4.30 pm!
Monday night I had dinner in Fitzroy with friends from St Mark's days. Tuesday I caught the train to Lara, where I met up with Fr Tim Gibson, who was in seminary with me. From there we drove to a 19th cent gold-mining town called Steiglitz. This was really interesting, with some old mines visible. Only 3 houses are still lived in, one bearing the sign "Draper's Shop". Recent efforts to attract visitors have seen appropriate signs (some with old photos) & a tourist notice board put in place. The old court-house has been restored as well as 2 churches. After walking around in light rain we drove to Geelong for lunch & then I caught the train back to Melb.
Wednesday evening I went to the opening night of "The Last Confession", starring David Suchet (of Poirot fame). Of course I am a fan of his & as preparation I watched a Poroit episode on TV in the a/noon. The play is about Pope John Paul I, elected in 1978, who only reigned for 33 days. Conspiracy theories abound about him being murdered by the conservatives in the Vatican & the play (which is fiction) explored this. It was very good. Afterwards I went to the opening night party, but Suchet did not appear 🙁
Fri 12
A weekend of footy saw me going to the pub where the Vic Port supporters group watched the game. It was very loud & happy – thanks to Port's wonderful victory! On Monday I flew to Newcastle for the SSC northern regional synod. It was good to catch up with my brother priests & the hospitality was excellent. On Wed I caught the train to Sydney – a pleasant 2.5 hour trip thru lovely scenery. A brief overnight stay in Sydney & next morning I flew back to Melb. Now for a busy 7 days – incl watching Port Adel play Fremantle in the pub with our crazy group of Port supporters 🙂
Tues 16
Well the footy was wonderful……Port Adel played an amazing 2nd half, coming from 5 goals behind to win by 4 goals. The pub was rocking! Sunday was a perfect Melbourne Spring day & I had lunch with friends on the patio of their home. Monday night I went to an MSO symphony concert. The programme included Beethoven's violin concerto & Tchaikovsky's magnificent Pathetique Symphony.
Today was the SSC Melbourne Regional Synod, held at All SS, E St K. Like last week's in Newcastle, it was very successful & the hospitality by the parish was great. It was good to be with brethren from SA, Victoria & Southern NSW, esp old friends  – as well as others whom I had not met before.
Mon 22
The weekend was busy, with old friends, David & Peter, driving over from Adelaide to see Port Adelaide play at the MCG. The sofa bed I bought 2 years ago finally got to be used! Saturday was the big game. It started at Bell's pub, where we caught up with lots of Port Adelaide friends. Then we joined the march to the MCG with 15,000 other excited Port supporters. There must have been over 20,000 Port supporters at the game – & they made more noise than the other supporters. From the AFL members it was impressive to look around & see 4 huge blocks of Port supporters. When the players ran out the Port supporters' cheering, singing, holding of scarves & waving of banners was tremendous.
The game was tense & an epic clash – but unfortunately the result was not what we wanted. A quiet, subdued night followed. So now the football season is over for me…….time to plan my next trip! A busy week lies ahead. I will attend the AFL Grand Final, of course, then on Monday 29th I fly to the US for a brief stopover on my way to Walsingham. This is for my usual October stint at the shrine. I do look forward to this & seeing many old friends again.
Sun Oct 5
After a brief & relaxing stopover in SD I arrived in London on Friday. Plane changes & delays meant that I arrived at 11.30 am instead of 6 am – but this is a much better time. This morning I went to Mass at St Mary Magdalene's, Munster Squ. This is an Anglocatholic church in Marylebone & the Vicar, Fr Martin Poole is an old friend I first met at the SSC International Synod 25 years ago. It is a small, family-centred parish & I was often the only one singing the hymns!
After Mass I met the son of one of my old Adelaide friends, Fr Stephen Nicholls. I was a groomsman at Fr Stephen's wedding in St Peter's cathedral 30+ years ago, but we lost contact when I moved to Fitzroy. It was nice to meet his son & I reminisced about earlier days in Adelaide, when the church was fun!
Tomorrow I catch the tube to the home of my friend, Joan. We will then drive to Walsingham, arriving there mid-a/noon. I am scheduled to say Mass for my intentions at 4.30 pm. I do look forward to my 3 weeks there.
Thurs 9
Altho the weather was sunny in London on Sunday, it was raining on Monday for our 3 hour to drive to Walsingham. It was wonderful to be back in my spiritual home & everyone was pleased to welcome me back. Good to see familiar faces amongst the staff & volunteers. There are not so many pilgrims here this week & all were groups I had not met before. Upon arrival we discovered that the Shrine was hosting the Guardians Chapter. The 20 Guardians are the men & women who are responsible for the Shrine. The high altar was decorated in its finest & Monday night was the Chapter Mass celebrated by the Master, Bp Martin Warner. Joan & I sat at the back with our friends, Stephen & Jo Parkinson, singing the hymns & Mass enthusiastically. Afterwards we were invited to join the guardians for drinks & it was good to catch up with those I knew.
Tuesday morning I said Mass in the Holy House & then I was right into doing things, with a counselling session & Sprinkling in the a/noon & Evening Prayer, Rosary prayers & Healing Liturgy in the evening. I gave the homily at the healing service, based on an amusing interaction I had in the bookshop earlier. The weather continued to be cold & wet on Tues & Wednesday. More Services on Wednesday & another homily in the evening – this time based on an amusing incident at the Pilgrim Mass in the morning. It is good to be back into the routine of the Shrine – tho it takes me a day to remember how they do things in church here! A quiet day on Thursday……..a chance to take a moment to reflect on the peace & quiet here, & how good for me it is to be here, leaving my busy life behind. This year I am celebrating 40 years since I first came to this wonderful place 🙂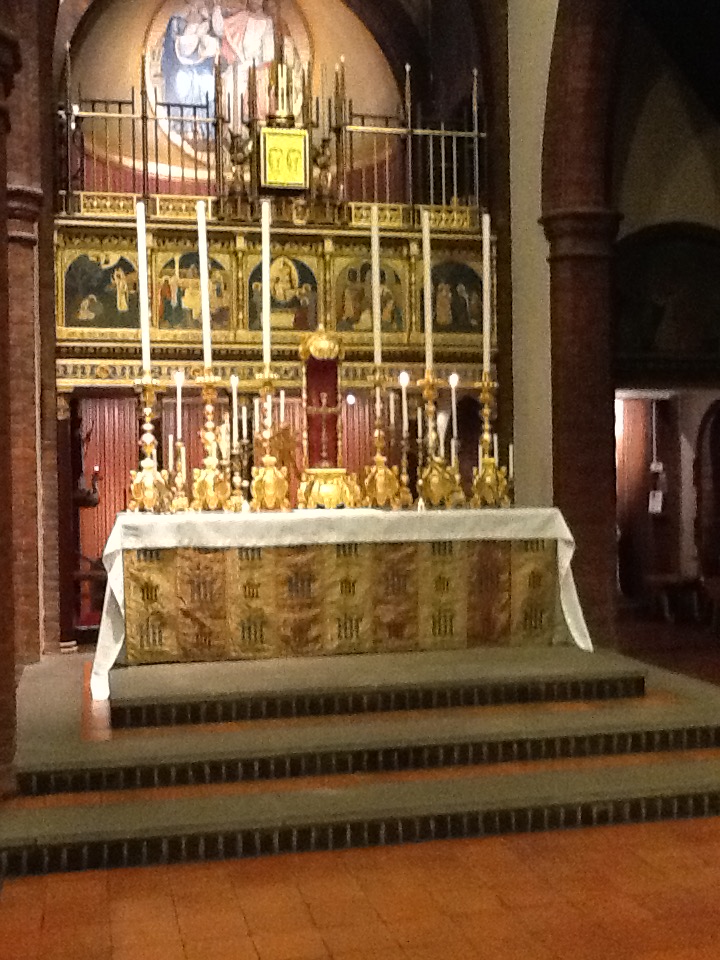 Mon 13
I had a busy w/e. On Saturday I was duty priest looking after the day pilgrims. It is a rushed visit for them, but sometimes the only chance they have to visit the Shrine. I celebrated Mass at 12 noon (for which I had to learn new Mass music) Sprinkling at 2.30 pm & Benediction & Last Visit at 4 pm. Amongst the pilgrims were 30 from St Michael's, Walthamstow. I was pleased to meet them as in the 80's their Vicar was Fr Myles Bebbington.
Fr Bebbington was Vicar of St John's, Holland Rd, when I arrived in London in 1974. I attended St John's & when I needed a place to stay I boarded in his vicarage. He became a good friend & was one of the 2 priests who inspired & encouraged me to offer for the priesthood. In Feb 1975 he took me on pilgrimage to Walsingham & it was then that I received my vocation.
I mentioned this in my 1st homily & some of them remembered Fr Bebbington fondly. We laughed & shared stories……he was the greatest martini maker I ever met! I was sorry I did not visit him at Walthamstow, but when I eventually returned to the UK in 1989 I preached for him in his parish in Sheffield. After the day pilgrimage I led Shrine Prayers at 5 pm, assisted at the 6 pm Mass & joined in the Candlight Procession at 8.15 pm. It was a full day!
On Sunday I concelebrated the Parish Mass at 11 am & participated in the Procession of the Blessed Sacrament & Benediction at 2.30 pm. It was a lovely day. Sunday night is lovely & quiet in the shrine – except last night several groups whom I know arrived for supper. Amongst them is another Fr Noble. We always greet each other enthusiastically with, Hello Fr Noble 🙂
Today I am catching the bus into Norwich. It is a lovely 90 min ride thru various villages. As usual, I will have lunch with my old friend, Fr Martin Smith. I will also do some shopping. I may catch the bus back with Clare & Ruby from All SS, SD. They are coming to Walsingham for a week's pilgrimage, having flown into London yesterday. They will catch the train to Norwich, then the bus – & it may be the one I am on. We are going to have a great week together.
Two pictures of the view from my bedroom window: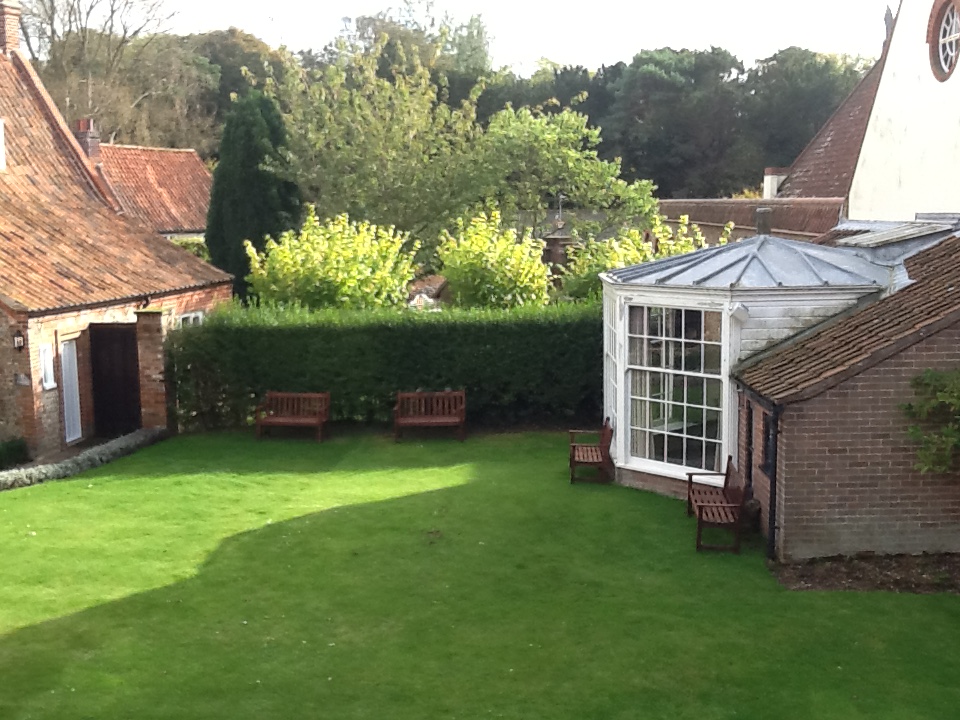 Fri 17
I have had an enjoyable week with Ruby & Clare. Tues I said Mass with special intention for the parish & people of All SS, San Diego. Wed was one of the shrine's great feasts (Translation of the image in 1931). The church was packed for the Mass. Afterwards I had a reunion with Fr Grant Brockhouse, who made a special effort to be there to see me. Fr Grant was my tutor in seminary. He left for the UK in 1978, where he has had an interesting ministry. I have not seen him since he left Australia all those years ago…..we had so much to chat about.
Wed night was the candlelight Procession, which Clare & Ruby had not experienced before. There was light rain, but we still processed outdoors. Thursday morning I said another special Mass with Ruby & Clare. It was a nice sunny day, so in the a/noon I went for a long walk around the local villages. Friday morning I said the Priory Mass for the sisters. I love doing this when I am here, as I am an associate of the community. It was another sunny day, so in the a/noon I walked to the ruins of St. Edmund's, Egmere. This was a 14c church – now only the tower remains in the middle of a field with no village nearby. A pleasant 45 min walk.
Tomorrow I am duty priest for the day pilgrims again, so I will be celebrating the 12 noon Mass + Sprinkling & Last Visit. There will be 40 from an Ely parish. The sacristan advised me that their priest would be concelebrating the Mass with me. I asked what his name was & Marc looked at me, thinking hard. He then replied, "Father" 🙂
In the evening there is the 6pm Pilgrims Mass & later the candlelight Procession. On Sunday I am preaching at the parish church at 11 am & celebrating/preaching at St Peter's at 9 am. I did this last year & enjoyed going to St Peter's – a typical country church with a small congregation of locals.
Thurs 23
The weather on the w/e was quite warm – perfect for the 2 outdoor processions. I was very pleased for Clare & Ruby, as they had not experienced these before. My preaching on Sunday went well. The parishioners know me from my visits over the years, so I felt relaxed & able to be myself. After the procession of the blessed sacrament on Sunday a/noon I was a little tired. Fortunately the shrine is quiet on Sunday nights & has a wonderful feeling of peace.
Monday there were not many pilgrims – but over 30 young clergy were here for the Bishop of Richborough's conference for newly ordained priests & deacons. This was held the same time last year & I knew those leading it & some of the priests, as well as the bishop himself. Monday morning Clare & Ruby caught the bus to Norwich for the train to London. Due to roadworks the bus did not go thru the village. We did not know this, so they missed the bus & had to wait an hour for the next one 🙁
I was invited to concelebrated the Richborough Mass at 12 noon. There were 2 bushops, 4 deacons & 18 priests………..& I am sure I was the oldest in the sanctuary! Monday a/noon a priest from South Australia arrived with his wife to stay 2 nights. This was a real thrill for me as I have known Fr Paul for 35 years & only re-established contact with him 5 years ago, when he was about to be ordained. They had not been to Walsingham before, so I gave them a brief recap of the history & ministry of the shrine, followed by a tour. I then left them in the shrine church. They attended the 3 Services that evening (2 of which I took) & were quite overawed & inspired.
Tuesday we 3 went on the light rail from Walsingham to Wells. At 4 pm Paul said Mass in the Shrine, assisted by me. In the evening they were quite moved by the healing liturgy. Afterwards Bp Lindsay invited us for drinks at his home…..4 Aussies in remote Norfolk enjoying each other's company 🙂
Paul & Helen caught the bus on Wed morning, to travel to Lincoln. The rest of the week has been quiet, with just 24 pilgrims. It has also been cold! I was privileged to be Bp Lindsay's right-hand man at the 2 Services yesterday & officiated at a wonderful Benediction last night. Alas, my time here is drawing to a close. Joan drives up from London tomorrow & we go back on Monday morning.
A beautiful sunny day in Walsingham for my last weekend.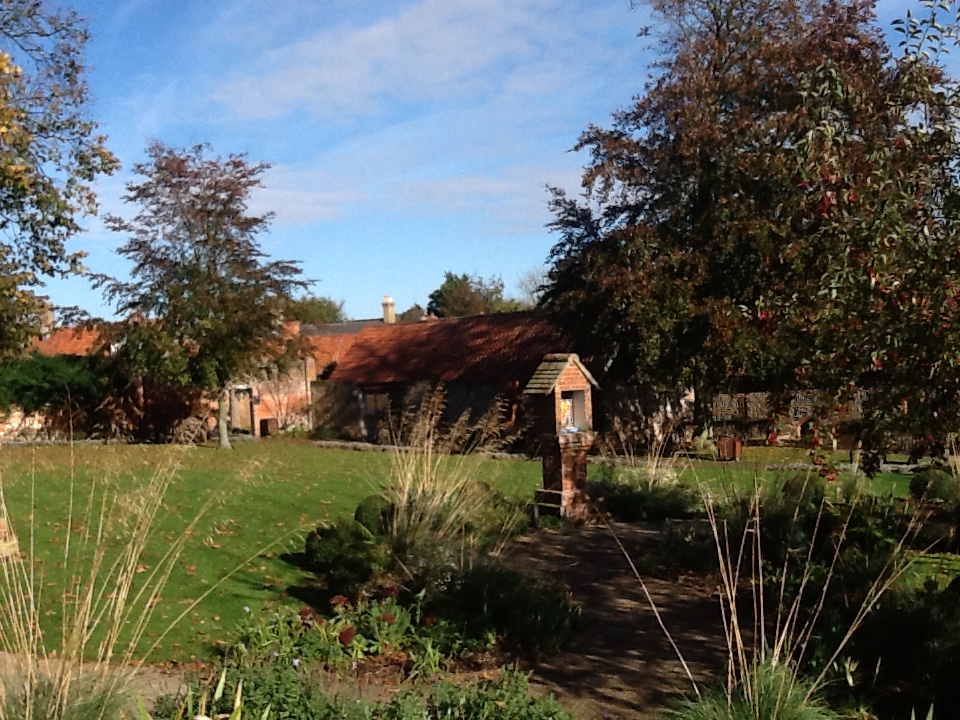 Thurs 30
My last weekend in Walsingham was wonderful. As you can see by the 2 pics, Saty was a lovely sunny day. I was once again responsible for the day pilgrims….it has been my particular ministry this year. Sunday was overcast, but not cool. All the St Mary's parishioners whom I have got to know over the last 2 years were sad to say goodbye, as I was. In fact, I can not remember feeling so sad about leaving here. The shrine staff also said they wished I was staying!
It was another sunny day on Monday. Joan & I attended the convent Mass at 9.30 am & after saying goodbye to the sisters had a pleasant drive back to London. Tues I caught the train to Brighton – another of the UK places I have wanted to visit. I came here 40 years ago for a Society of Mary event, but never explored the town. It was a beautiful sunny day when I arrived in Brighton. After checking in to my hotel I went for a walk on the seafront & along the famous pier.
Wednesday I visited the Royal Pavilion. What an amazing work of art this is – so extravagant, yet beautiful. Afterwards I attended Mass at St. Paul's Church, the church I visited 40 years ago. It is a famous Anglocatholic church, both beautiful & extravagant in its own way. In contrast to Tuesday, it was raining – so I spent the rest of the a/noon at the movies. Thursday I caught the train back to London, & am staying for the weekend at St Mary's, Bourne St. I now have a busy few days before I fly out on Monday.
Friday Nov 7
I had an enjoyable weekend in London, with a wonderful High Mass for All Saints' at St Mary's. My flights to the U.S. on Monday were good & after 2 nights in SD I flew to Berlin on Wednesday. My flight arrived early in Frankfurt – 4.30 am. This made for a tiring Thurs by the time I arrived in Berlin. However, I was excited to be here for the 25th anniversary of the fall of the Wall on Sunday. The high point is the line of white helium balloons along 15km of the site of the Wall. After settling into my hotel room I set out to walk the northern section from Checkpoint Charlie. This led me thru parts of the old E Berlin I had not explored before.
Today I walked along the southern section of the Wall. It was a bright sunny day & I set off early. Once again I found myself exploring parts of the old E Berlin that were new to me, as well as being amazed at how much Berlin has been rejuvenated in 25 years. After resting back in the hotel I walked to the boulevard known as Stalin Allee in the 1950's. It was meant to be a showcase of communism & is an impressive example of soviet architectural triumph. I walked back along the Eastside gallery, where the helium balloons begin. As it was getting dark they started to illuminate…..very impressive.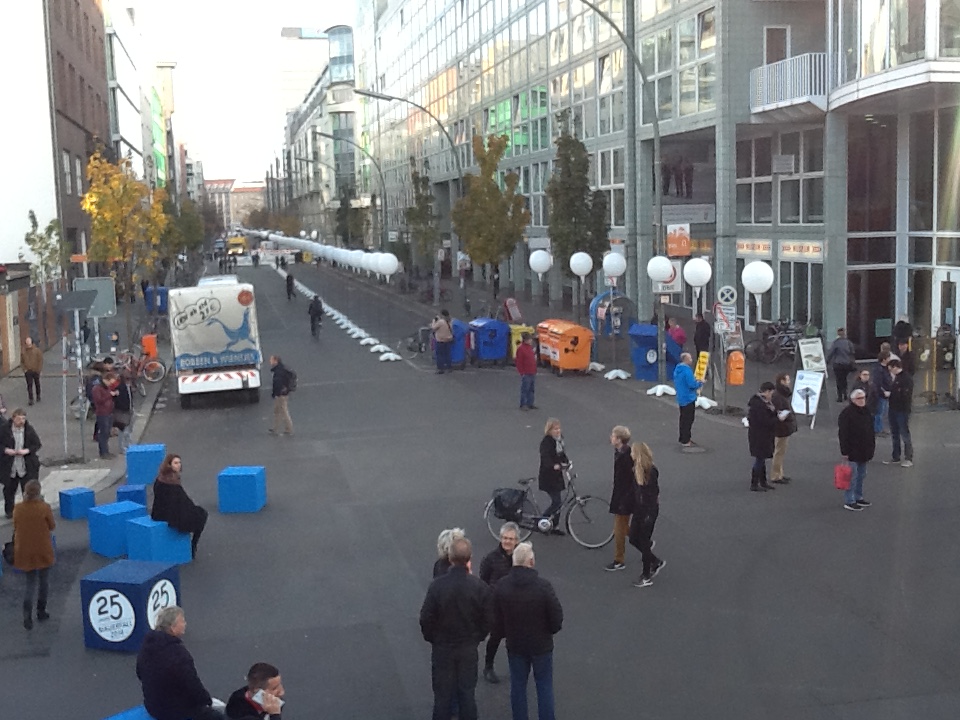 Tues 11
It has been a wonderful w/e of celebration & I have really enjoyed being here. 2 bright sunny days have made it perfect for walking. Saturday I walked to Borholmer Str, which was where the first border crossing was opened on Nov 9. The area is now named, Platz Nov 9, 1989. It was a lovely day & everyone was out walking the balloon trail. In the evening I went to the Vigil Mass at St Hedwig's cathedral. This turned out to be a celebration of the Wall anniversary – Pontifical High Mass celebrated by the Archbishop of Berlin, with 3 other bishops concelebrating, incl a Uniate bishop from Bosnia-Herzegovina. The cathedral youth choir sang a wonderful variety of music.
Sunday I walked around the city, finding more things & exhibitions to look at. Late in the a/noon I went to the Brandenburg Gate, where the celebrations were focussed. It was already crowded, so I decided to go back to the hotel & watch the activity on TV. When I reached the hotel I discovered that a special commemoration concert was being held in the Concert Hall across the road, attended by Angela Merkel, Gorbachev & other dignitaries. At 6 pm I went to Checkpoint Charlie for the balloons. Already it was crowded – as was the whole path of the Wall all over Berlin. I got into conversation with 3 young women who had one of the balloons. Some older women also got into conversation with me, & were amazed I had come all the way from Australia. At 7.20 pm a cheer went up – in the distance a balloon had been let go. Like a chain reaction, this continued along the line up to where I was & continued on into the distance. It was a great night.
Monday morning I went to the laundromat & in the a/noon did more walking & site-seeing. This morning I catch the train to Munich – 6 hours to enjoy the scenery. Tomorrow I fly back to the US, then home to Melbourne on Saturday.
Saty 22
After 2 relaxing days in SD I flew back to Melb, arriving last Monday. I was very excited about the flight as it was the new United direct LAX-MEL flight. It was bliss to arrive in Melb at 9.15 am instead of at the awful Sydney airport at 6 am & then connecting on. This new schedule was introduced on Oct 26 & features the new Dreamliner 787. This is the latest Boeing, with tinted windows (instead of a blind), mood lighting, better a/c, bigger overhead bins & bigger toilets – incl one you can change clothes in without knocking your elbows! The flight was excellent & I arrived much refreshed.
The week has been busy with things to catch up on, friends to contact, etc. Wed morning I went to the dentist & at 6 pm attended the Body Corp AGM. On Thurs I went to SSC chapter in Bunyip (75 mins out of Melb) & this morning it was the monthly Walsingham cell at All SS. Jet-lag is almost gone – have been waking at 3.30 am the last 2 mornings. A few interstate trips before Christmas now await me 🙂
Fri Nov 28
This week I made a quick trip to Adelaide. The purpose was to visit Salisbury, an outer suburb. It was formerly a country town – where I was born in 1947 & which we left in 1955. I had something belonging to my grandmother to give to the parish church, St John's. I was baptised in St John's, my parents were married there & my grandparents are buried in the cemetery. I met the caretaker, who gave me a little tour. I visited my grandparents grave & saw those of other relatives. Afterwards I walked around the town – but it bore no resemblance to the town that I remember. My grandfather was the town butcher & his old shop is part of a busy shopping street. I remembered where we lived & where my father's motor garage was. The hospital where I was born is now a Kentucky Fried Chicken car park!
I returned to Melbourne on Wed. Thursday was an arts day. I caught the train to Ballarat to meet my friend, Fr Tim Gibson. We went to the local Art Gallery to see an exhibition of icons. Not large, but very educational. After lunch I caught the train back to Melb. In the evening I attended a symphony concert – the first in the new MSO series. It featured Beethoven's Eroica Symphony & was marvellous. Tomorrow is the State election – I have already voted, like 1 million other Victorians. I hate the chaos & crowds at polling booths on voting day!