Feb 2 The Presentation of the Lord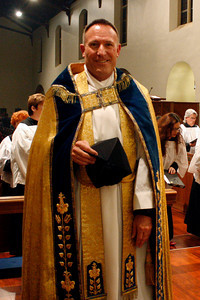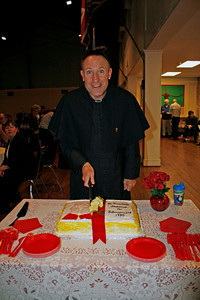 The 30th anniversary of my ordination to the priesthood. 30 years of memories….I trust I will be allowed some sentimentalism (& romanticism) today! I am looking forward to the High Mass tonight.
Wed 3
It was a wonderful Mass last night. The music & singing was excellent, with a marvellous anthem by Martin Shaw – tho it seemed more perfect for 30 years ago: Go forth with God! The day is now that thou must meet the test of youth…..Glory shall shine about thy road, if thou go forth with God! About 100 attended, & the collection for our Haiti sisters was over $1,300! A fun party afterwards….it was just a fantastic evening 🙂
The readings at Mass this morning were very appropriate for the day after my ordination anniversary: the foolishness of David & the rejection of Jesus in Nazareth!
Thurs 4
Busy day today. 11 am I take Fr Antony (Russian monk from SF) to the airport; lunch with Fr Moquin; 3 pm HC visit; 6 pm Mass; 7 pm Confirmation class. I celebrated the Mass for a priest on the anniversary of his ordination, from the missal. A very personal Mass – & the readings were so appropriate: David handing over to Solomon ("keep the charge of the Lord your God") & Our Lord sending out the apostles to teach & heal.
Fri 5
Mass & bible study as usual, then home to do sermon. Tonight I am off to the opera – my only one this year…..La Boheme.
Sat 6
A quiet day today….& it's raining!
Sun 7 Epiphany 5
Good attendances at both 8 am & 10 am – despite the weather. In my sermon I talked about Superbowl & said I was supporting the Saints. And they won!! Who dat?
Tues 9
Several staff meetings today. 4 young parishioners for dinner tonight 🙂
Wed 10
Lunch with Fr Calvert & HC visit later.
Thurs 11
A busy day. HC visit at 9.30 am, then to the office. Lunch with Fr Edwards (thank you Fr!). 2 pm appointment, 6 pm Mass, 7pm confirmation class.
Fri 12
Usual Friday: Mass, bible study, office work, then home to do sermon. Today is also diocesan convention, so I went there to register. Visited a new couple in the evening.
Sat 13
Societies of Mary today – Rosary, Mass & a nice lunch! 2 HC visits after that. 5pm I have a baptism visit.
Sun 14 Epiphany 6
With Presidents day, Chinese New Year & Valentine's day, I expected attendances to be down – but they were good. The 1st reading was ironical for Valentine's Day: "The heart is nore devious than anything…who can understand it"! After church I enjoyed a fun Mardi Gras party with a group of parishioners, hosted by Don & Karl.
Mon 15 Presidents Day
I am in Orlando, FL for the holiday – & am nowhere near a theme park! Today I walked all around downtown, enjoying the many lakes & parks that abound. For the 1st time in my 7 years in the US, I came across an exclusive American Prep School. I also discovered to my delight a wonderful old steam train in the town center.
Tues 16 Shrove Tues
I fly back to SD after a pleasant stay in Orlando. Have had time to think thru a few things on my mind & prepare for Lent. Will draw up my Lent rule when I get home tonight.
Wed 17 Ash Wed
A busy day: 3 Masses, HC visits & extra activities to prepare for, concluding with High Mass at 7 pm. Lent is rigorous, but I love the challenge. Attendance at High Mass was the highest since I arrived here – 78 communicants.
Thurs 18
Busy morning in the office, HC visits in a/noon, 6 pm Mass, 7 pm confirmation class.
Fri 19
9.30 am Mass, followed by Lent study group – the room was packed! After office work home to do my sermon, then back for 6 pm Stations. 16 at Stations. it is always moving – problems & self-pity soon dissolve on the road to Calvary.
Sat 20
10 people at 9 am Mass – Lent has started well. Children's HC class at 10 am & 2 HC visits in the a/noon. Back to church for 6 pm Exposition & Benediction.
Sun 21 Lent 1
Attendance average at 8 am, but at 10 am they just kept coming up for HC – 90 communicants. Excellent music added to the Lent atmosphere. I preached a strong sermon about self-sacrifice……after a stressful week it all comes together at Mass, & one is lifted up!
Mon 22
Am having a relaxing day away from home for my day off.
Tues 23
Lots of things to organise today, concluding with Vestry at 7 pm. As well as essential things for 1st meeting of new Vestry we will discuss appointing a new parish administrator (following Terry's resignation).
Wed 24
Mass & office work, concluding with HC visit at 11.30 am. Tonight the 1st 6 pm Mass, supper & study group for Lent.
Thurs 25
Went to the gym at 6.45 am. At the office in the morning & visit new parishioners in the a/noon. 5 pm wedding interview, 6 pm Mass, 7 pm confirmation class
Fri 26
Lent is going well for me personally, esp fasting & reading. Another busy Friday: Mass, bible study, meeting, sermon & Stations.
Sat 27
A busy day….9 am Mass, 10 am children's class, 10.30 am – 1.30 pm interviews, 2 pm HC visit, 6 pm Exposition, 7 pm Benediction. I will need that hour of prayer!
Sun 28 Lent 2
9 attended last night – excellent. I fell asleep watching TYV at 8.30 pm! Attendances good again today……it is as if Lent has already renewed the parish. Beautiful music at High Mass.