Fri Jan 1
2010 began well with 11 at 9.30 am Mass. At 2.30 pm I went to the "Salute to Vienna" concert in Copley Hall. Very enjoyable.
Sat 2
After Mass I printed & collated my Christmas sermons (I am too dumb to do it on the printer!). HC visits this a/noon.
Sun 3  Epiphany
Another beautiful sunny day – whilst the rest of the US freezes! High Mass begins with the procession of the Kings. Many comments about my sermon on "mystery" (altho I felt I lacked my usual spark!). I did a house-blessing at 12.30 pm, followed by lunch, then an evening visit. Early to bed, as I still feel unwell.
Mon 4
I seem to have come down with a cold (perhaps the result of feeling unwell last week?). It's my day-off, so can take it easy. After shopping, bank, gym & post office I attended to some parish matters, then stayed indoors reading. Such a lovely sunny day, too!
Tues 5
Still have this cold – & another lovely sunny day! A busy morning in the office….2010 is here, & lots to start on. Phoned various parishioners, incl trying to arrange some HC visits. Dentist at 2.45 pm. All my teeth are well – & came home with a spray tooth-paste

Wed 6
12th night – the Feast of the Epiphany in the calendar. Today is the day to take down the tree, creche & cards. Always a little sobering when one realises that some on my card list died during the year. A busy morning in the office again, then some HC visits & another early night at home.
Thurs 7
More work to do in the office today. Wedding interview at 5 pm & Mass at 6 pm. I cancelled the confirmation class because of my cold – which is almost gone

Fri 8
Mass & bible study both well attended. In the a/noon I have my sermon to do & an HC visit. In the evening I am off to the symphony

Sat 9
Monthly Societies of Mary today. Several away – only 13 present. In the a/noon I did 2 HC visits. A most sunning red sky tonight.
Sun 10  Baptism of the Lord
Another warm day! Attendances back to normal – 45 at 8 am, 85 at 10 am. This a/noon I get ready for my trip to China. 
Mon 11
Today I have the 1st week of my 2010 vacation time. At 6.20 am I fly to SF, then on to Beijing. 4 days there, then 4 days in Shanghai.
Tues 12
The plane arrived in Beijing at 3 pm, & I was met by Jefferson – a local travel agent who is a friend of the Tsui famiy & has attended All SS. Sally & Dennis asked him to look after me for my stay! He drove me to my hotel, then took me out to dinner at a nearby restaurant. The hotel is very nice & my room has a distant view of the Forbidden City.
Wed 13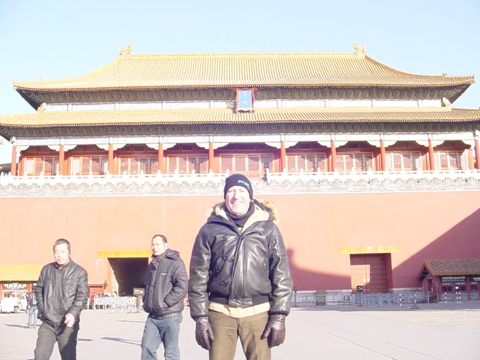 Beijing is freezing! Jeff picked me up at 8.30 am & we went to the Forbidden City. This is very impressive – huge & beautiful, & almost deserted when we arrived. For lunch we went to the home of an ordinary chinese family. After a lovely lunch we went to the Temple of Heaven – as equally impressive as the Forbidden City, with a most beautiful pagoda as the focus. Afer that we visited the RC cathedral, which seemed to be very much alive. As I am still jet-lagged, an early night followed!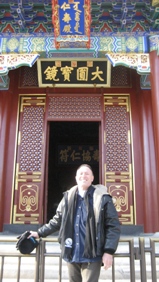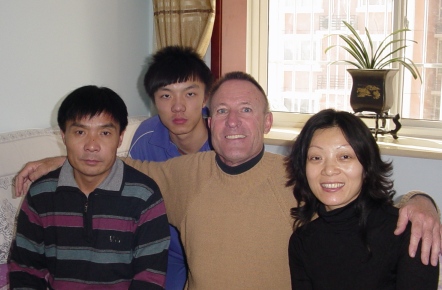 Thurs 14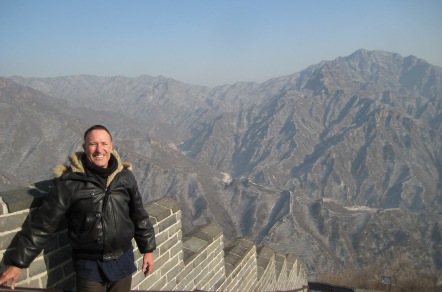 Today I climbed the Great Wall of China!! It was quite a climb, & quite an experience. It was just one section of the wall – much of the wall is in ruins, but there are several sections that are accessible. Juyong Guan pass is just an hour from Beijing. I walked to the top, then down the other side…a 2 hour climb. Afterwards we had lunch in a restaurant that caters for tourist groups. Then it was on to the Ming tombs. We visited Ding Ling (1620) & it was very impressive. The Chinese emperors sure knew how to build monuments! In the evening Jeff took me to Beijing Opera – another gr8 experience.  
Fri 15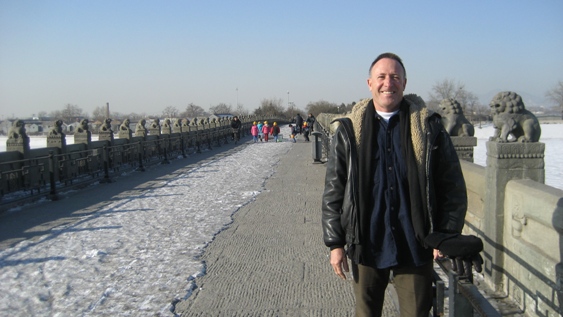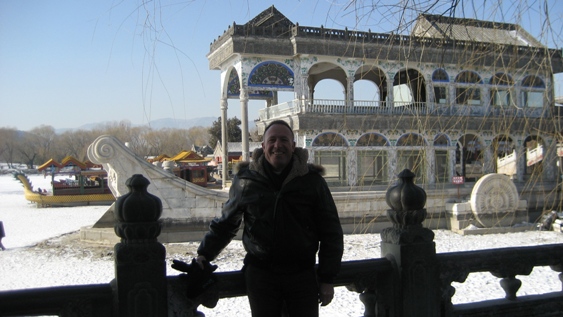 Beijing is still freezing, but with sunny days….& hardly any tourists wherever we go! Today I visited the Marco Polo bridge (the bridge described by Marco Polo in his Travels 650 years ago). The bridge is made of marble & has 501 lions on it. Then we went to the Summer Palace – quite an extensive summer retreat, with lovely buildings & a marble boat on the lake. Our final stop was the Birds Nest Olympic stadium.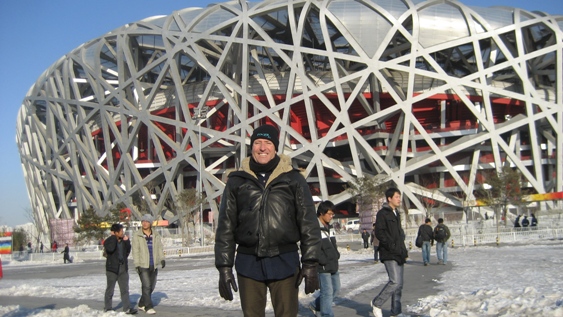 Sat 16
Today I flew to Shanghai, where it was not so cold! Flight good & arrived safely. Shanghai is an amazing western city – like something out of a futuristic movie. My hotel is in Pudong – the new financial center across the river from the old city. It is a very nice Intercontinental, with excellent club lounge that I will enjoy to the full!!
Sun 17
I slept in – up at 5 am! A beautiful sunny day. Caught the subway to the nearby Sacred Heart catholic cathedral, for the 10.30 am English Mass. I was intrigued to see what a church in China would be like, & it was a wonderful experience. Altho the offiicial catholic church is not under the Pope's authority, the Mass was just like any other RC parish – with vibrant singing. A congregation of 700 – 50/50 Chinese & European. Afterwards I walked back to the subway station thru some local markets. I then went for a walk along the riverfront. Everything is modern & the people relaxed – can this really be the country of the cultural revolution & Tinnamin Squ massacre? The view across the river to the famous Bund was nice. After checking out the Pearl Tower I caught the subway to the Bund area & walked along it. Such marvellous buildings from 1900 – 1930's. The whole area contains buildings from when this was the European area. I even found the old Anglican cathedral, subsequently converted to communist party use & now the headquarters of the official protestant church. No Evensong today!!
Mon 18
Another sunny day, & I walked miles. 1stly I caught the ferry across the river. I headed to the old city, thru colorful markets, doing what I really like on trips – looking at the architecture & observing the people. 1st stop was Yu Gardens – a marvellous complex of Chinese gardens, with rockery, pools & lots of typical chinese buildings, complete with stunning interiors. After a pleasant hour there I made my way thru the Bazaar, & then leisurely walked thru the old town. Finished up at Dajing tower – the only remnant of the old city walls. It contained a small museum (completely in chinese!) & a temple still in use. I then walked to the French Concession. In 1854 the Chinese agreed to allow France, Britain & the USA to have their own zones. These "Concessions" lasted until the communists. The French Concession has a wonderful array of 1930 era European buildings, as well as an upmarket shopping street & many restaurants/bars – it could be anywhere in the world! I enjoyed walking around & even found a German mansion. I finished by visiting 2 homes of Chinese political leaders. It was a splendid day & I caught the subway back to the hotel for a relaxing night in the club lounge

Tues 19
A cloudy day, but not cold. I caught the subway to the west side of the central city area & visited St Ignatius catholic cathedral. Just over 100 years old, it is a huge German Gothic church. Inside was like something out of Europe – complete with shrines to Our Lady of Guadalupe & Divine Mercy! The cathedral is being restored – probably at government expense! As an image of the new China, next door is the modern headquarters of the Catholic Diocese. I then caught the subway to People's Park, in the heart of downtown. This is a pleasant park on the site of the old racecourse. I was bailed up for conversation several times by young chinese – all fascinated that I was so friendly. The comment that I was Australian got the response: "kangaroo" & "koala"! All invited me to some tea ceremony….goodness knows what I would have ended up attending or buying! I explored the old racecourse clubhouse nearby – now a museum & bar – & finished up at a museum that shows Shanghai's urban development & plans for the Expo later this year, complete with huge scale model. I then wandered thru the city streets back to the Bund & along the city creek. I came across the old British consulate, now being restored – no doubt at government expense also! I caught the subway to the Orient Pearl tower & went up to the top. Quite a view. Shanghai is a very spread-out city & the largest in China – 20 million. In the basement is a the Shanghai History Mueseum. This is a marvellous museum which recreates the history of the city by imitation street scenes, etc. It was a wonderful conclusion to the day.
Wed 20
My last day in China – what a wonderful experience this has been. This morning I went to the subway station to get a refund on my card. The woman next to me translated that I must go to the next subway station. When I explained that my hotel was around the corner, she offered to take my card & refund me the amount. I happily agreed! At 10.30 am I left for the high speed train to the airport – it took just 6 mins. My flight left at 1.45 pm, & I arrived back in San Diego about the same time! Was fairly tired when I got home. Emailed China pics to George Dreyer for this Blog & did washing, shopping & gym. Then had a nice hot bath before driving to the office to check the mail, etc. An early night – & a good sleep

Thurs 21
I have come home to some atrocious weather….heavy wind & rain. I've cancelled tonight's confirmation class because of it, & drove to the church instead of walking! A busy morning in the office, catching up with all the news & the sick, & organising the Feb magazine, annual meeting & Lent. In the a/noon I did my annual report for the parish meeting on Jan 31st. Mass at 6 pm, then an early night, as I'm still a bit tired.
Fri 22
The unusual winter weather continues. Back to normal today: Mass, staff meeting & bible study. They all wanted to hear about my trip rather than discuss holy scripture, of course! Sermon in the a/noon.
Sat 23
A strange pair of readings at Mass this morning. 1stly David's lament for Jonathan & then just 2 verses from Mark, finishing with the comment: "They thought he was beside himself". I suppose that is better than, "convinced he was out of his mind" – & then saying, "the Gospel of the Lord"! In the a/noon I had a HC visit & then visited Mrs Tsui to tell her about my trip to China.
Sun 24  Epiphany 3
Cold this morning – but good attendances, considering the winter we are having. High Mass was brilliant – excellent hymns & one of my favourite anthems which always moves me (One Faith, One Hope, One Church by Craig Courtnry). A good sermon, l thought – but alas, at the end of it I discovered the tape had already stopped! Who knows how much was recorded….Terry will discover tomorrow, & I shall have to type up the rest from my notes. After church I had a HC visit. 
Mon 25
Feast of the Conversion of St Paul – a day when I remember St Paul's, Port Adelaide. Wonderful memories for my day-off

Tues 26
Today I had to type up Sunday's sermon from my notes. I have already forgotten the ad-libs & sponteaneous thoughts! A thin version resulted. Lots of other work to do today – mailings, magazine, etc. Vestry 7 pm tonight.
Wed 27
Has the rain stopped…we shall see! 2 HC visits today & dinner with Fr & Mrs Thrumston.
Thurs 28
Song of Songs 2.11: "Lo, the winter is past, the rain is over & gone"! SSC Chapter at St Michael's, Carlsbad today. 6pm Mass followed by confirmation class.
Fri 29
Usual Friday – Mass, bible study & sermon! Michael is in addressing & collating the magazines….what would I/we do without him?
Sat 30
The sunny days continue! 9 am Mass & 2 HC visits. Maybe time to catch up on reading? 
Sun 31  Epiphany 4
Attendance was down at 8 am (38 comms) but up at 10 am (90 comms) because the parish annual meeting followed High Mass. As usual, the meeting was happy – lasting just 45 mins! Now to look forward to the 30th anniversary of my priesting on Tuesday, with Candlemass at 7 pm.