Mon March 26
It has taken me longer than usual to get over jet-lag this time……a sign I am getting older! Last week there was much to do & people to contact. Friday I flew to Adelaide for the weekend – Saturday being the 1st home game for Port Adelaide. Before the game there was a picnic lunch in the car park with the friends I sit with. It was a good start to what was a great afternoon, with Port winning by over 8 goals. Now I am back in Melbourne & look forward to Holy Week at All SS. On Saturday I go to Sydney, as Port Adel are playing the Sydney Swans one Sunday afternoon.
First-game-march-2018-pinic-lunch-2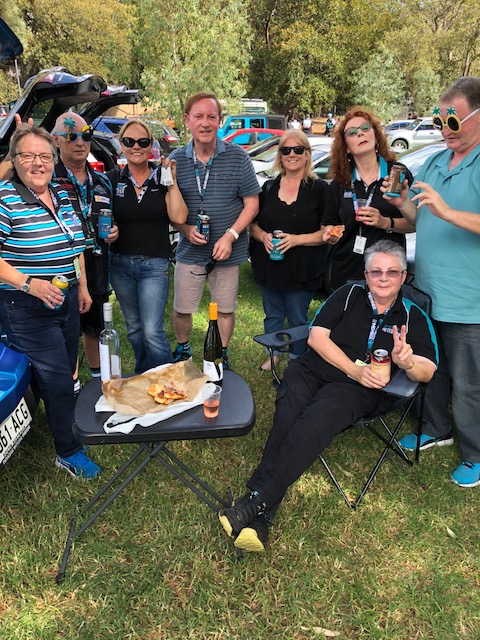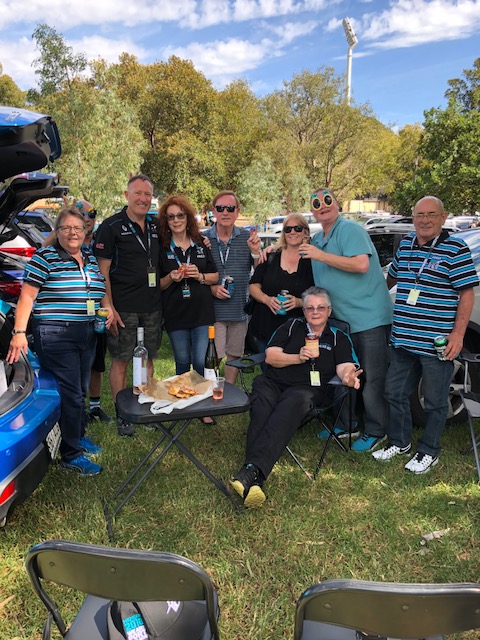 Tues April 3
I had a wonderful weekend in Sydney. Went to Easter Day High Mass at Christ Church St Laurence, the famous Sydney anglocatholic church. 50 years ago when I usually went to Sydney for summer holidays, CCSL & its well-known priest, Fr Austin Day, had a great impact on me (as on so many others). So it was nice to be back. It was a long time ago & my friends from those days have all moved on – but I am grateful for those exciting days of my youth. Then in the a/noon I went to the SCG to see Port Adel do battle with the Sydney Swans. It was a wonderful game as Port came from behind to kick 7 goals in the 3rd 1/4ter & run out winners. I was sitting with the cheer Squad only 2 rows from the fence & it was very exciting. At the end of the game the players came down to us to show their appreciation, as usual.
I flew back to Melbourne yesterday – in time to go to the MCG for the Easter Monday game. And what a game it was, won by a point in the last minute. No wonder I love my footy! Today I assisted at the funeral of Fr Ian Hunter at All SS. I have known Fr Ian for 40 years & we were great friends thru our membership of SSC. The church was packed for the Requiem with a choir of 20 singing glorious music. It was a great send-off for a fine priest whom everyone loved.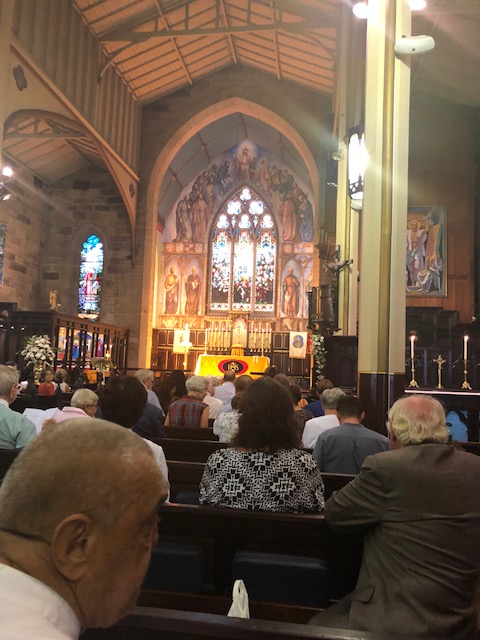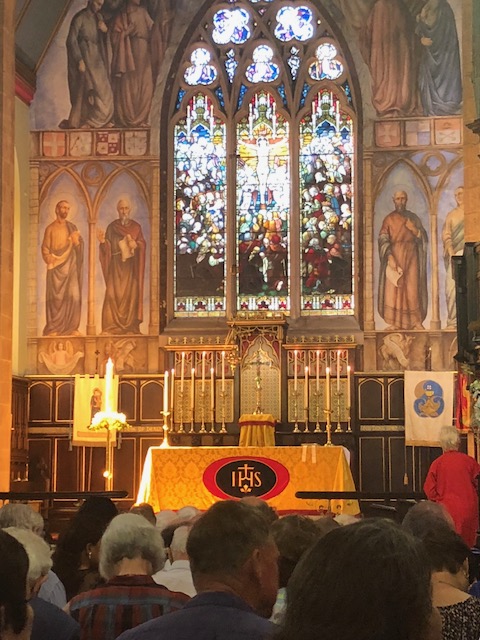 Watch this Easter 2018 Monday game short movie
Tues 17
Last Wed I attended the monthly lunch of the Royal Society of St George. This is one of the British patriotic groups that exist in Australia to promote & celebrate our British heritage. Back in 1974 I belonged to a similar group in Adelaide, the Victoria League for Commonwealth Friendship, & was able to enjoy some of their functions when I lived in London. The R S St G is a small group of interesting people & I decided to join it.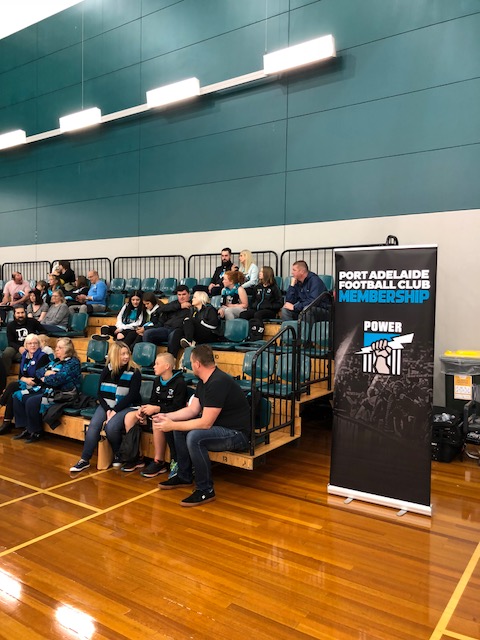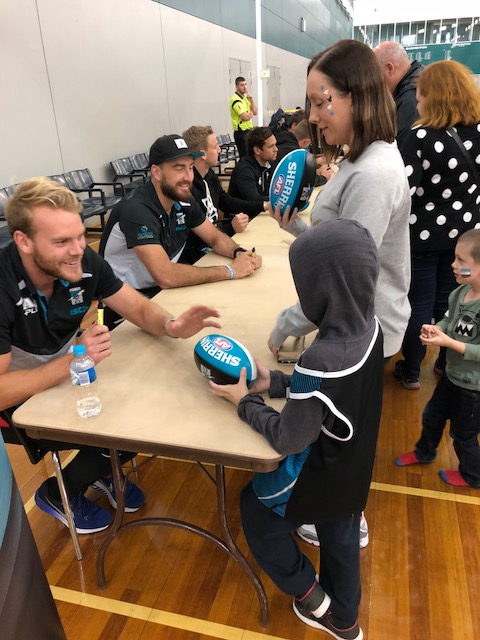 On the weekend I was in Melbourne for a change, as Port Adelaide were playing here on Sunday. On Saturday the PAFC Vic supporters group held a family day at the Melbourne Sports Centre. Despite a wet day it was a great event, with lots of supporters & all the players there. I was impressed with the way that they engaged with the fans, signing autographs & kicking footies with the kids. I got a great pic of our star, Robbie Gray, chatting to little Sophie, daughter of one of my friends. On Sunday I went straight from church to the footy. It was fun to be sitting with the Cheer Squad behind the goals & catching up with old friends. Unfortunately we lost 🙁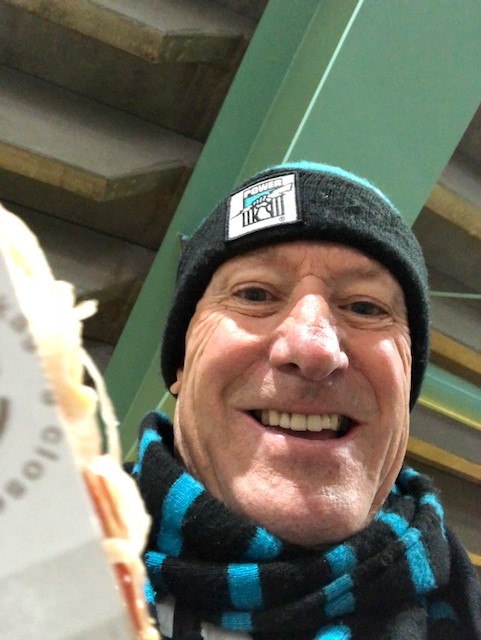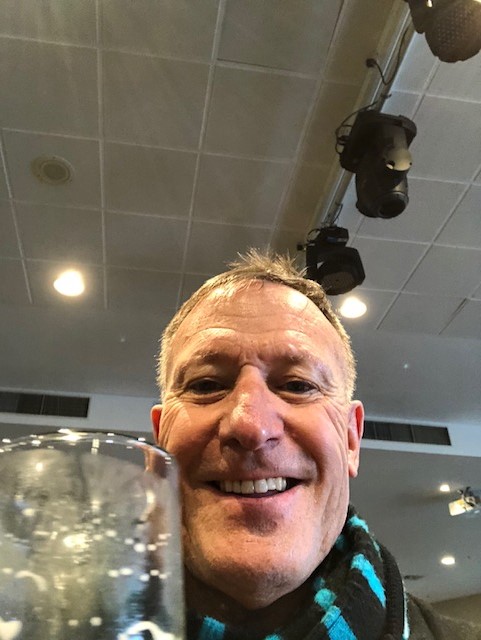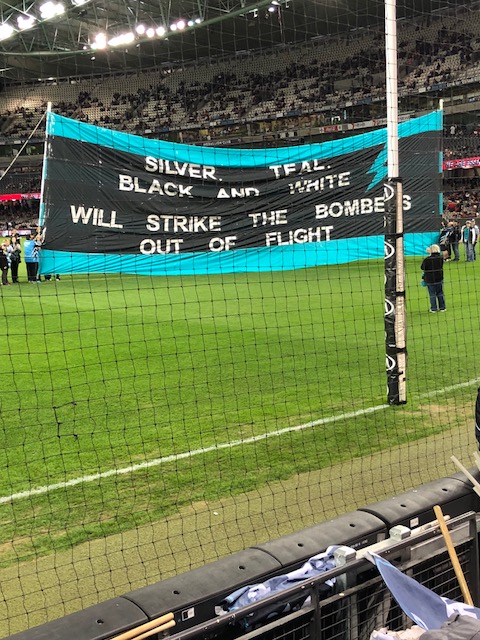 Sun 28
The past 10 days I have been occupied with watching football & catching up with friends. As usual, I went to the ANZAC Day game at the MCG between Collingwood & Essendon. The ceremony before the game is always moving. C/wood won, which made it a great day! Yesterday Port Adel were in town to play North Melb. We had a Vic Supporters Group function before the game & then I sat with the Port Cheer Squad to watch what was a fantastic effort. It was a great win after the Club has endured a terrible week on many fronts – not least with my favourite player, Hamish Hartlett, injuring himself at training & now out for the year. This morning I will attend Mass at All SS & then to the MCG for another big game – C/wood vs Richmond, reviving memories of when they were powerhouse clubs in the 80's.
Sat May 5
This has been a successful week……..my San Diego condo was sold on Tues (US time). It has been quite an amazing experience, with my signing many documents via email without actually signing. The wonders of the digital/internet age. When my agent emailed me to say it had been sold I was delighted, but also amazed at the whole process. Subsequently there were many things to do, such as cancelling automatic payments & advising my US tax agent.
On Friday I flew to Perth for the w/e. Port Adel plays West Coast this a/noon at the new Perth Stadium. Shortly I go to the gathering of WA Port supporters & from there to the footy. I fly back to Melb on Monday.
Sat 19
Yesterday was my birthday. After last year's big 70th celebration I had a quieter one this year. It began on Wed night with 3 close friends coming over for dinner. Friday morning I went to Mass & then spent several hours re-doing my Will. This was necessary since I sold my SD condo. One of my beneficiaries is the National Trust appeal for St Mark's, Fitzroy. So I phoned to tell them I was re-doing my Will & wanted the St M's a/c #. I subsequently received an email giving the National Trust bank a/c details & asking me to let them know when I gave the donation. I replied that it was for my Will & I intended to live a few more years yet! In the evening I had dinner with my friends, the Dalle Molle family.
Today I am going to watch the Port Adel game played in Shanghai at the hotel where the Vic Port Adel Supporters Group meet up. Last year I went to Shanghai – but this year my finances are tight. Tomorrow I will have another lunch with old friends after going to Mass at All SS. Then it is just 2 weeks before I fly back to SD.
Sun June 3
I have had a good 2 weeks, incl the Walsingham monthly Mass at All SS, medical appointments & watching the Handmaid's Tale. The highlight was going to see Barry Humphries – a b/day treat to myself. I thoroughly enjoyed it…….he has not lost his touch. Today I attended Mass at CC Brunswick & then had lunch with my friends, the Dalle Molle family, for Robert's 50th b/day. Tomorrow at 9.25 am I fly off to the US. I have 2 days in San Diego, then fly to Europe for 2 months of travels. 1st I travel around Germany by train for 17 days, then to Transylvania for 10 days. In July I will go to Walsingham & then back to SD.
Sun 10
I did not sleep well on my flight to US, unusually. A brief stopover in SD & on Thurs flew to Frankfurt. Another flight with little sleep & have been very tired since I arrived. It has been very hot & to get over jetlag I went for walks. As well as a nice walk along the river, I visited the former headquarters of IG Farben, built 1928-31 in the modernistic style popular in Germany then. IG Farben was the world's largest chemical co & coperated with the Nazis in using concentration camp labour & developing Zyklon B – the gas used in those concentration camps.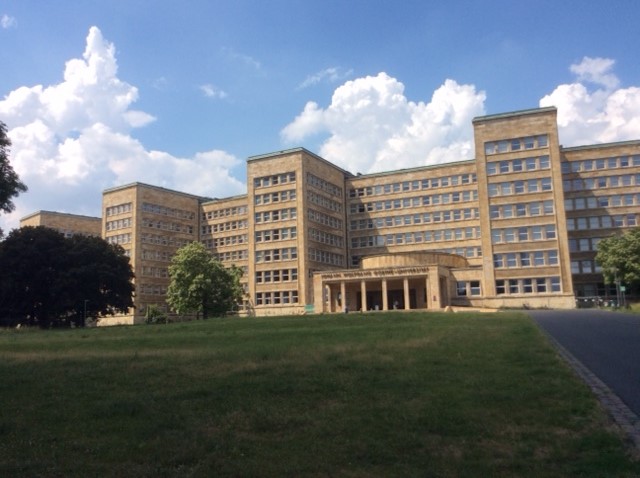 Today I catch the train to Berlin, where I will stay 2 nights before going on to Hamburg.
Fri 15
It was nice to return to Hamburg on Tuesday. I was there exactly 2 years ago when I looked after St Thomas' Anglican church for a month & it was good to walk around the familiar streets & places. On Wed I caught the train to Schwerin to see the famous Schloss. Built in 1845-57, onto a 16th cent castle built on the site of a fort from 963, it was the home of the Grand Dukes of Mecklenburg. A stunning building with a magnificent collection of porcelain & silverware.
On Thurs I caught the train to Dusseldorf. I had 2 purposes for this visit, both of which I achieved today, thanks to DB trains. This morning I went to Kevelaer. Here is a Marian shrine erected in 1654 – a small hexagonal chapel with a miraculous picture of Our Lady, comforter of the afflicted. I arrived in time for the daily Solemn Mass in the basilica next door. It was a wonderful Mass in a stunning church. There is also the chapel of the Candles built next to the small chapel & other interesting buildings. I have wanted to visit this shrine & it was a real pilgrimage for me.
After Kevelaer I went back to Dusseldorf, then caught a train to Wuppertal. Last year when I passed thru Wuppertal I noticed an old elevated railway running thru the city. I discovered it was the Schwebebahn & determined to experience it. Built in 1901, it is the world's oldest electrical elevated railway with hanging cars. There are modern cars now, but the structure is old & unusual. When the cars stopped at stations they swayed! I enjoyed going to the end of the line & back, then returned to Dusseldorf.
Tomorrow I go to Munich & will be there 4 days.