2003 with Auntie Betty at St James' Blakiston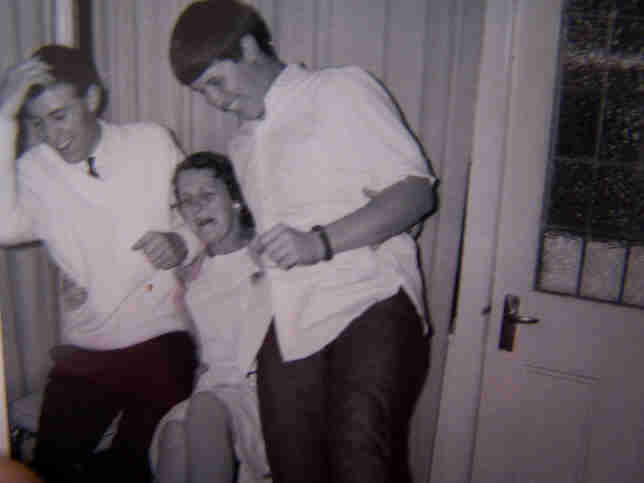 1965 with Auntie Betty & my brother Peter at Semaphore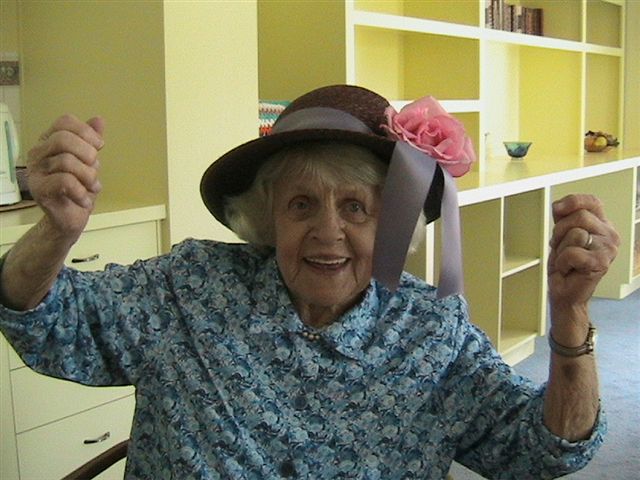 2006 Auntie Betty – still smiling
---
EULOGY FOR BETTY STEWART
On my computer in San Diego is a picture of my Auntie Bet. It was taken by Noelene in 1965. This was just after my mother had died, and Noelene & Betty used to drive regularly from Mitcham to Semaphore to visit us. The picture is of my brother Peter and I, with Betty in the middle. We had been doing something silly – maybe dancing – & at that moment we 3 fell down in heaps of laughter. Betty has that wonderful smile that went with those gales of laughter. You all know her laughter – it was one of the things that we not only loved about her, but it drew us in to her love of life. In fact, in all the photos I have of Betty she is always laughing – & I wouldn't have it any other way. She was a wonderful woman – so generous & so humble. She never thought of herself as important, & would be taken aback by our tribute today – and amazed that candles have been lit for her in Westminster Abbey & Walsingham in England, and in churches in San Diego & New York. Not bad for a woman who lived most of her life here in Mitcham.
What made her so special was her love. Her love of life was infectious. She loved everyone and it was unconditional. Most often it was expressed in gifts of cakes she had made. She loved animals, too. Katrina tells of how on walks she would have dog biscuits in her bag, just in case. Sure enough, there were dogs to be fed – & kissed, of course! The love that she radiated and shared is all the more remarkable because her life was far from easy, and she had her share of disappointments.
Betty was the only Noble relation we had in the city. As a child it was a great adventure to drive from Semaphore to 26 North Parade, Mitcham to visit Noelene, Betty, Uncle Roy & Auntie Ada, her mother. Following the death of my mother in 1965 our relationship became one of mother and son. It is now my privilege, on behalf of Noelene & myself, to pay tribute to her. First let me express my gratitude to Fr Frank Kernot. Fr Frank was assistant at St Michael's 25 years ago, so knows Betty well. It is wonderful that he has been looking after St Michael's since last year, and was able to visit Betty on her birthday, and administer to her the last rites of the church.
Let me start at the beginning. ADA BESSIE LOUISE BRIGHT was born in Unley on October 5th, 1912. Betty Bright, with her bright blue eyes. Surprisingly, she was born with pigeon feet & bandy legs, & had to wear stirrups. I am sure the pain she endured then enabled her to share other people's pain so lovingly. However, Betty had the spirit of our family, & was determined to do well. So much so, that in her teens she became an A grade tennis player for Mitcham & was #1 ladies double player with her sister Olive. She played with her cousins Phyllis & Shirley – & how wonderful that they were with her on her 95th birthday recently. Betty's father died in 1914, and she lived with her mother, Ada, from then on – even after her marriage. They lived in the old Mitcham Post Office. There is a funny story from those days which shows that even from childhood she was over generous. One holidays she went over to the West Coast – where all our family came from. She was asked to feed the prize calf with a bottle – but she felt so sorry for it, she gave him a whole bucket of milk!
It was during this time that Betty probably developed 4 characteristics that defined her life:
+ her joy in singing
+ her loyalty to her wider family
+ her love of the church
+ and, of course, her unwavering love for the Double Blues!
On Dec 31st, 1940 she married Roy Stewart, here in this church of St Michael. It was 110 in the shade, & the best man fainted! Roy was from WA & a handsome man. He was in the air force, & the photo of him in his uniform stayed with Betty until the end. I remember him as a gentle man, with a sense of fun like Betty. Alas he returned from the war with heart problems, and died from a stroke in 1964. Her love for him was so strong that she remained a widow for the rest of her life. After their marriage Betty lost 2 children. Finally Noelene came along – when Roy & Betty were both 36. They were so thrilled – & so proud to have this beautiful daughter. Noelene has been a wonderful daughter to her mum, & Betty was always proud of her. Our hearts go out to Noelene today, as we are celebrate the life of her mother.
During the war Betty worked at Birk's Chemist. For many years she celebrated her birthday with 3 women from those days at Birk's – Judy Hall, Joy Netting & Betty Crago. After Noelene was born Betty worked at the local greengrocer, run by the Spry's. And when I say she worked, she really did. Then in her spare time she baked scones and cakes for everyone. Not to mention the Christmas cakes! Anyone who was lonely or sick got a visit from Betty. She used to catch the bus twice a week to Julia Farr centre, laden with those cakes & scones. And looking nice was an important part of that – makeup, lipstick, rouge, hair, clothes. She had to look nice. I can still hear her saying to me when I would take her out: "Do I look alright, dear?" I remember one day about 10 years ago I phoned her, just to say hello. "What are you doing today, Auntie Bet?" I said. She replied: "Making cakes for the old people". She was, of course, in her 80's!
Betty's eagerness to do good was a practical expression of her great love, particularly for people in need. It also extended to the priests of this parish. Fr Frank can testify to the offerings of her cakes & scones! And she extended her love to many others in need. This is how she met her great friend, Laurel, Katrina's mother. Betty was cleaning the home of Laurel's parents, who were sick – for nothing, of course. Laurel was a vivacious, wonderful woman & Betty just loved her. When Laurel was diagnosed with cancer Betty was there for her – often on the phone for hours. The sadness she must have felt at Laurel's death just led her to surround Katrina with love. That was how Betty was.
Betty's willingness to reach out to those who suffered brought her & I together after my mother died. We had 2 particular things in common – church & football. Of course she was Sturt & I was Port Adelaide. And during those years Sturt seemed to always be defeating Port. She was gracious in victory! This brings me to another photo on my computer. It is a recent photo – & Betty is once again laughing. This time she is decked out in Port Power colours, just for me. Who would have thought? Les tried to tell her they were not Sturt colours, but with no luck!
But our real bond was the church. In the early days, when I would visit her she would ask me what hymns we had sung at St Paul's, Port Adelaide. Then she would start singing to me the hymns they had at St Wilfred's the previous Sunday! She loved singing in the choir at St Wilfred's – which lasted until she was 82. She also sang in the Legacy Choir for years, and was as committed to that as everything else.
Betty always dressed well – especially for church: high heels, immaculate dresses & jumpers, Fletcher Jones skirts & usually pearls. After St Wilfred's closed she attended St Michael's, where she had been married. Although always effervescent, occasionally we had some serious conversations about our faith & life. I have never forgotten one day when she showed real emotion as she talked about how Our Lord had suffered so much on the cross for us. Jesus was real to her, and she loved him as much as anyone. Betty was a loyal Anglican with a simple faith in God. Obviously her faith undergirded everything else about her.
When I returned to Adelaide in 1975 after 2 years in London, I announced to Betty that I was offering for the priesthood. She was over the moon! She always wanted me to be a priest & prayed for me every day. She thought I was wonderful! This caused problems, as when any of my fellow students from St Barnabas' College came to this parish, Betty would proceed to tell them how wonderful I was. Poor Fr Frank had to endure this for over 2 years! On the day I was ordained to the priesthood there was no one more proud than Betty. And what fun she had at the big lunch afterwards, which was held at the Port Adelaide Football Club. The stairs to the dining room had a carpet with Port magpies woven into it. We could hear her laughing as she tried to tread on each one!
Another photo I have of Betty is from 1983. I was parish priest at St Catherine's, Elizabeth Downs, and we had just built a new rectory. She wanted to be the first to visit it, so she caught the bus all the way from here to Elizabeth, with cakes, of course! I took a pic of her ringing the sanctuary bell that I had affixed next to the door. She wanted to give me a gift, of course. So I bought a beautiful crucifix to go in the entrance hall, as the first thing that people would see. She loved me unconditionally & believed in me. I would not be the priest I am today if not for her. She was immensely proud of me and my progress as a priest. It was a great moment when Noelene & Les brought her over to Melbourne 7 years ago, and she attended Mass at St Mark's, Fitzroy – the church where I had achieved so much. It must have been sad for her when I announced that I had been appointed to a church in the USA – but she only expressed pride, commenting that she always knew I would do well!
So to recent years. Noelene and Les have been marvellous to Betty. Often she would phone Les to chat about the footy or cricket or tennis. The difficulties of her deteriating memory and health became a trial for her. Noelene wants me to express her deep gratitude to the staff of the Charles Young Centre for the great care and love they gave to Betty. Now she is at peace. God now holds her in his hands – and it is a very familiar place to Betty.
There is so much more I could say – but I want to conclude with words from another source. On Thursday nights in my church in San Diego, we have a Mass at 6 pm. Last Thursday I celebrated the Mass as a Requiem for Betty, as we are doing today. In choosing the readings I looked first at the readings set for that day. They were so appropriate that I used them – & particularly the 1st reading, from the book of the prophet Malachi. Let me share it with you: "The Lord heeded and heard them, and a book of remembrance was written before him of those who feared the Lord and thought on his name. 'They shall be mine', says the Lord of hosts, 'my special possession'……..But for you who fear my name the sun of righteousness shall rise, with healing in its wings."
Betty's name is surely written in that book, and she is truly the Lord's special possession. And righteousness is the quality that Betty has revealed to us. So I am reminded of words we find in the book of Wisdom: "The souls of the righteous are in the hand of God, and no torment shall ever touch them……those who are faithful will live with him in love; for grace and mercy await those he has chosen." Our Lord Jesus Christ, whom Betty loved and served all her life, now welcomes her into his heavenly kingdom. I am sure there is much laughter going on – & perhaps she is already checking out the oven!
May she rest in peace and rise in the glory of his resurrection.